Damnoen Saduak Floating Market
Tour Thailand's Popular Floating Market Near Bangkok
Damnoen Saduak is the most popular floating market in Thailand, great for photo opportunities, food, and for giving you an insight into a bygone way of life. An early morning start is worth it to avoid the heat and catch Damnoen Saduak at its liveliest.
Most visitors who come to Thailand want to visit a floating market and many of them will end up here. Don't let that put you off though, as it's an enjoyable morning out of the city and if you avoid the tourist shops you can get a real sense of the place. The market is over an hour's transfer out of Bangkok, and the easiest way to get there is to join a tour.
Damnoen Saduak Floating Market - one of the highlights of 28 Best Things to Do in Bangkok and 10 Best Group Tours in Bangkok (Read all about Bangkok here)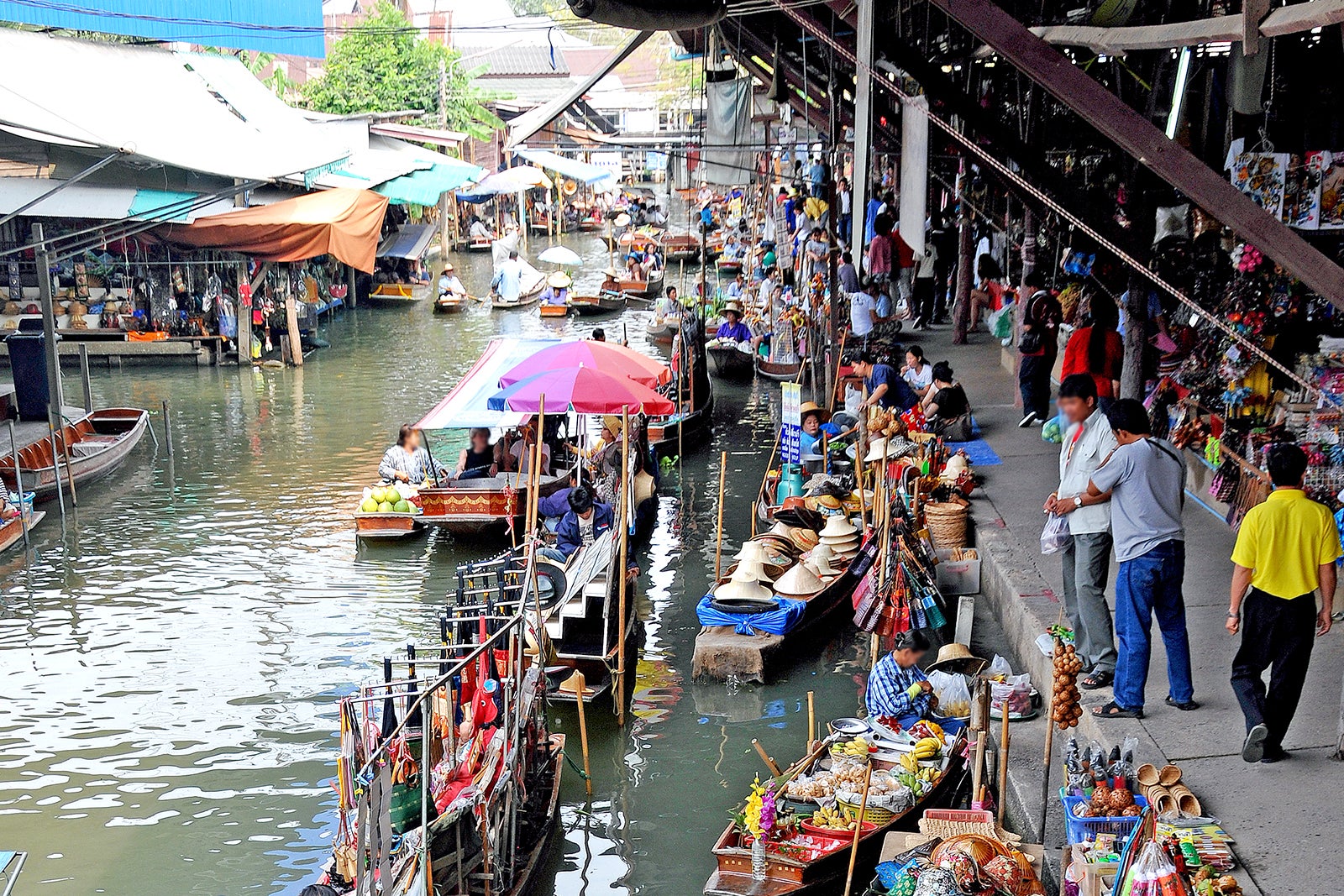 A typical tour to Damnoen Saduak Floating Market
The bus leaves Bangkok just after 7am. Your guide would usually give you a potted history of Thailand and points out the interesting sites as you whizz out into the provinces. High rises are quickly replaced by salt farms and lush countryside.
First stop is an Orchid Farm and coconut producer. It's impressive how many uses there are for coconuts and the small workshop has managed to turn the entire tree into a business, young shoots boiled for palm sugar, squeezed for oil, lampshades, ladders, and even fueling their fires with the husks.
Next to this hive of activity (beware of the sugar-hungry bees) the orchids seem less exciting, but it is still beautiful to see them in their natural habitat, especially if you are used to seeing them on window sills in plastic tubs.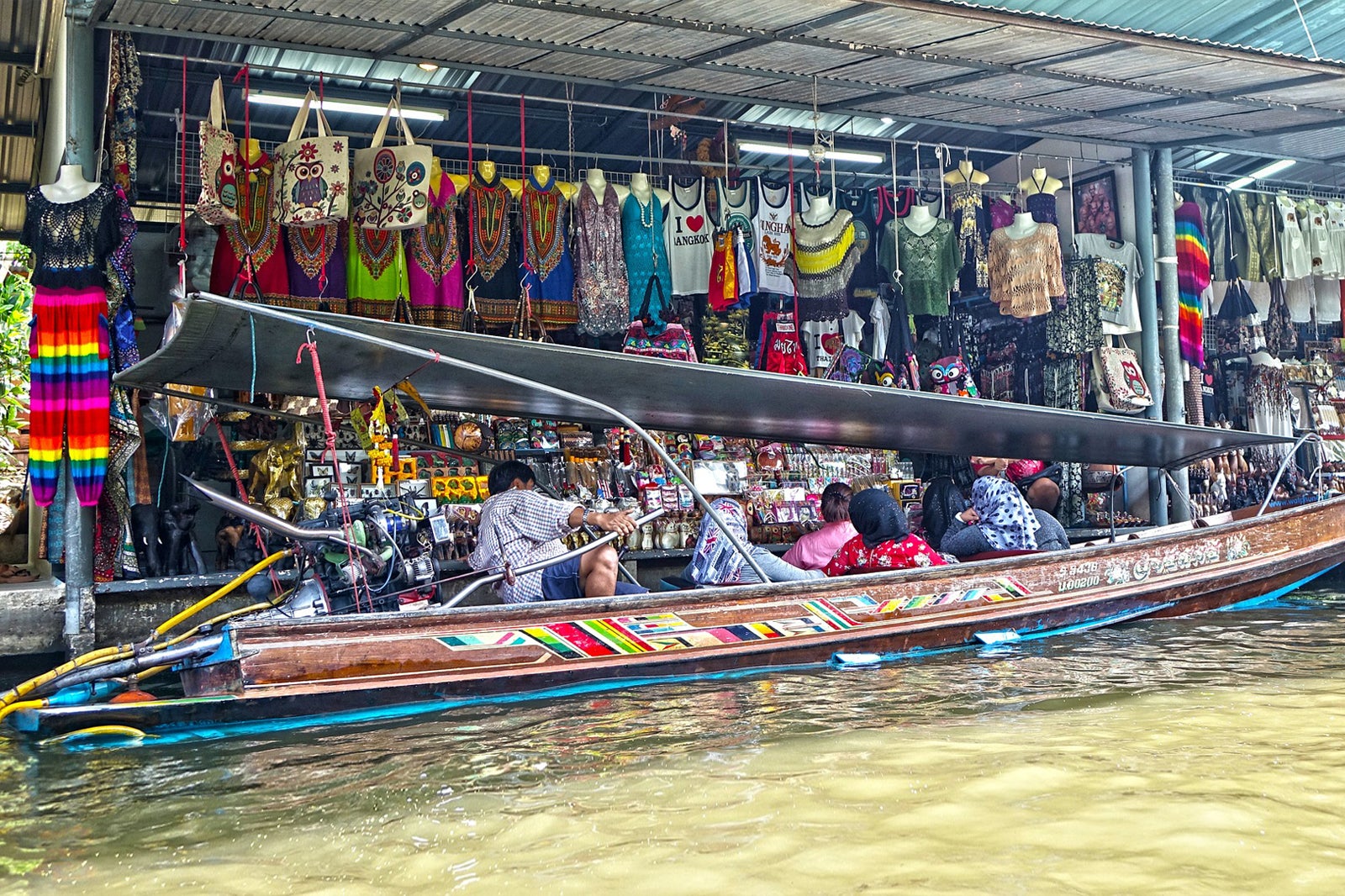 Long-tail boats down the river
After this brief stop, it's only a 10-minute drive to the pier to hop onto decorated long-tail boats that are waiting to take you to the market. The roar of the engine disturbs the quiet as the boat glides down the narrow canals, small wooden houses on stilts fringe the banks, some with larger ponds than lawns.
The boat driver slows down to let you appreciate the winding waterways and get a brief glimpse of those who live on the river. The journey takes around 20 minutes and it's great to enjoy the peace before the hectic pace of the market. It may feel overcrowded at first glance, but visitors and sellers bring noise and color to the area.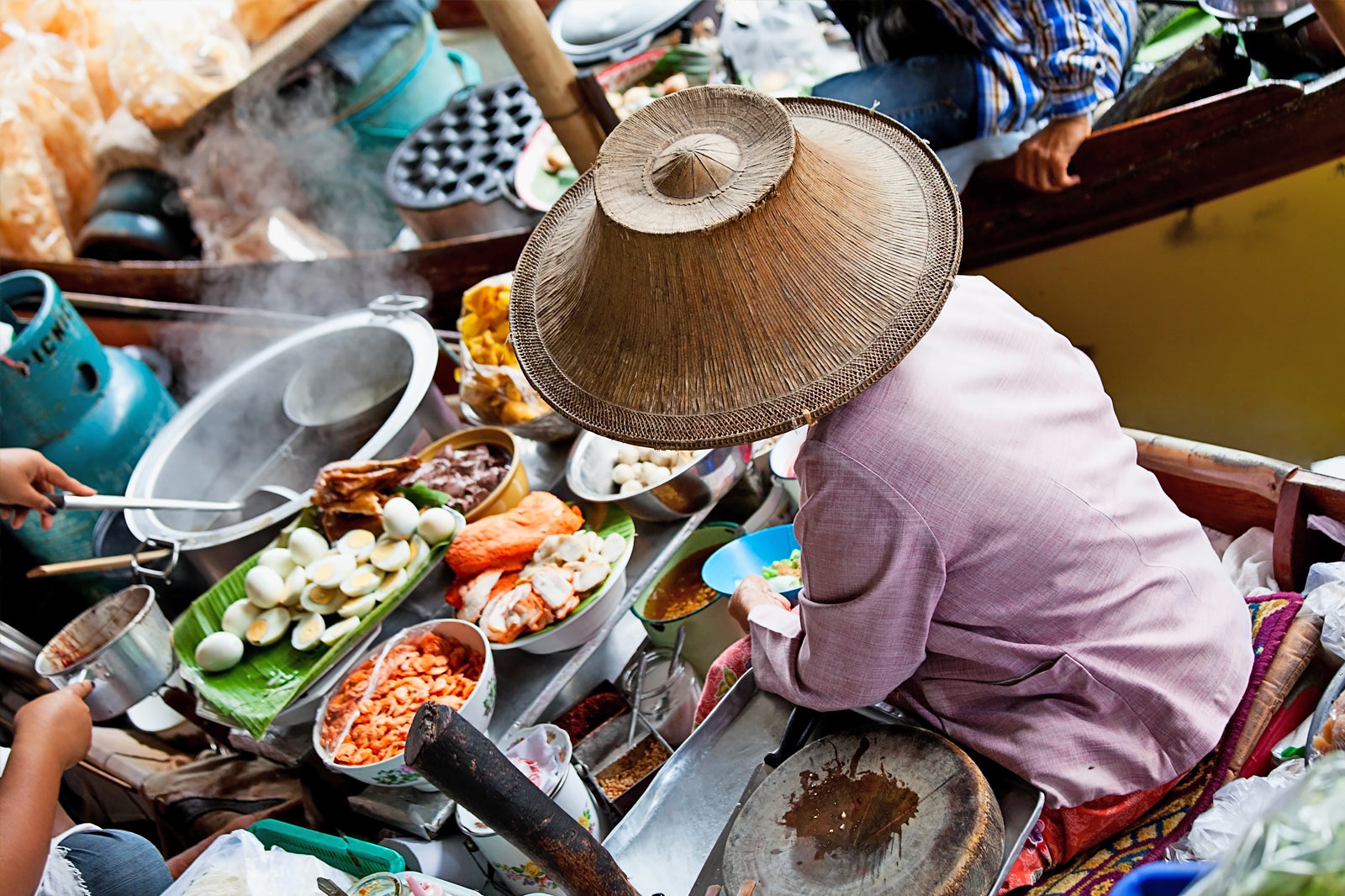 Explore different stalls at Damnoen Saduak
Stepping off the boat, you find yourself among busy stalls selling similar products to those you can find at Chatuchak Weekend Market: small toy elephants, tiger balm and the compulsory 'I was here' T-shirts. It's not surprising to find this at the most famous floating market in Thailand and it can feel a little commercialised, but if you walk further, you'll find the food sellers, who not only look more photogenic but also have some far tastier goods.
Unlike most of the other floating markets, the popularity of Damnoen Saduak attracts many fruit sellers rowing their boats along the narrow canals, meaning that you're guaranteed great pictures. There's plenty of tasty food to try along the docks, from freshly-made mini coconut pancakes to boat noodles in their rich, meaty broth.
You'll usually have plenty of time to wander around, taste some local produce and take plenty of pictures. Damnoen Saduak is the most popular market for a good reason; it guarantees the floating market experience, even if it doesn't always feel totally authentic.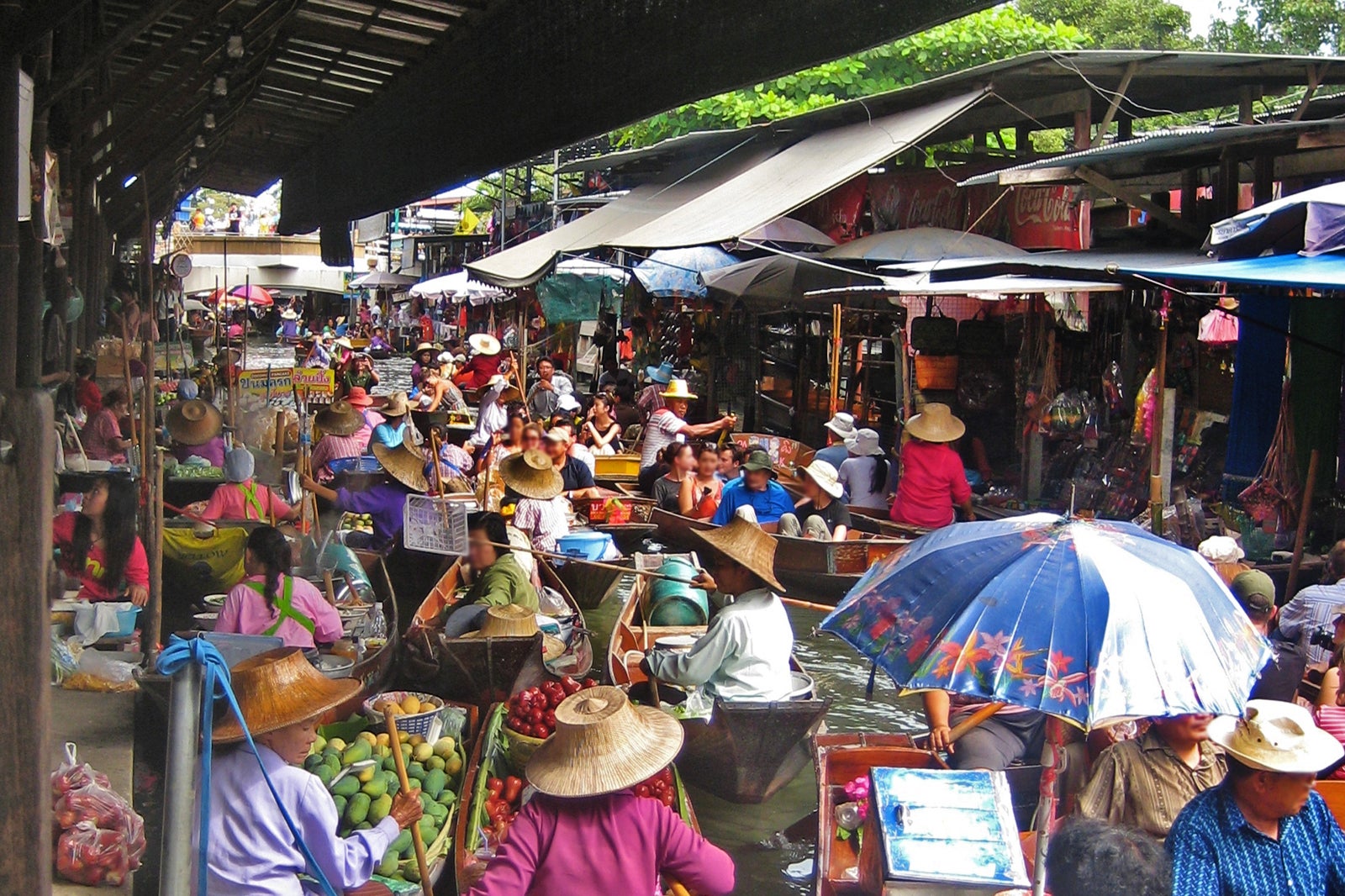 Damnoen Saduak Floating Market
Location: Damnoen Saduak, Ratchaburi 70130, Thailand
Back to top