The EM District in Bangkok
The Emporium, EmQuartier and EmSphere Shopping District in Sukhumvit
The EM District on Bangkok's Sukhumvit Road is an ambitious multi-billion-baht retail project comprising 3 different luxury shopping malls. All set around the central Phrom Phong BTS Station, EM District comprises the long-standing Emporium Mall, the impressive EmQuartier and the EmSphere mall – a futuristic glass dome-shaped structure next to Benjarisi Park.
Find an overview of the 3 shopping venues in Phrom Phong, which are headed by The Mall Group, a leading Thai department store and mall developer, below.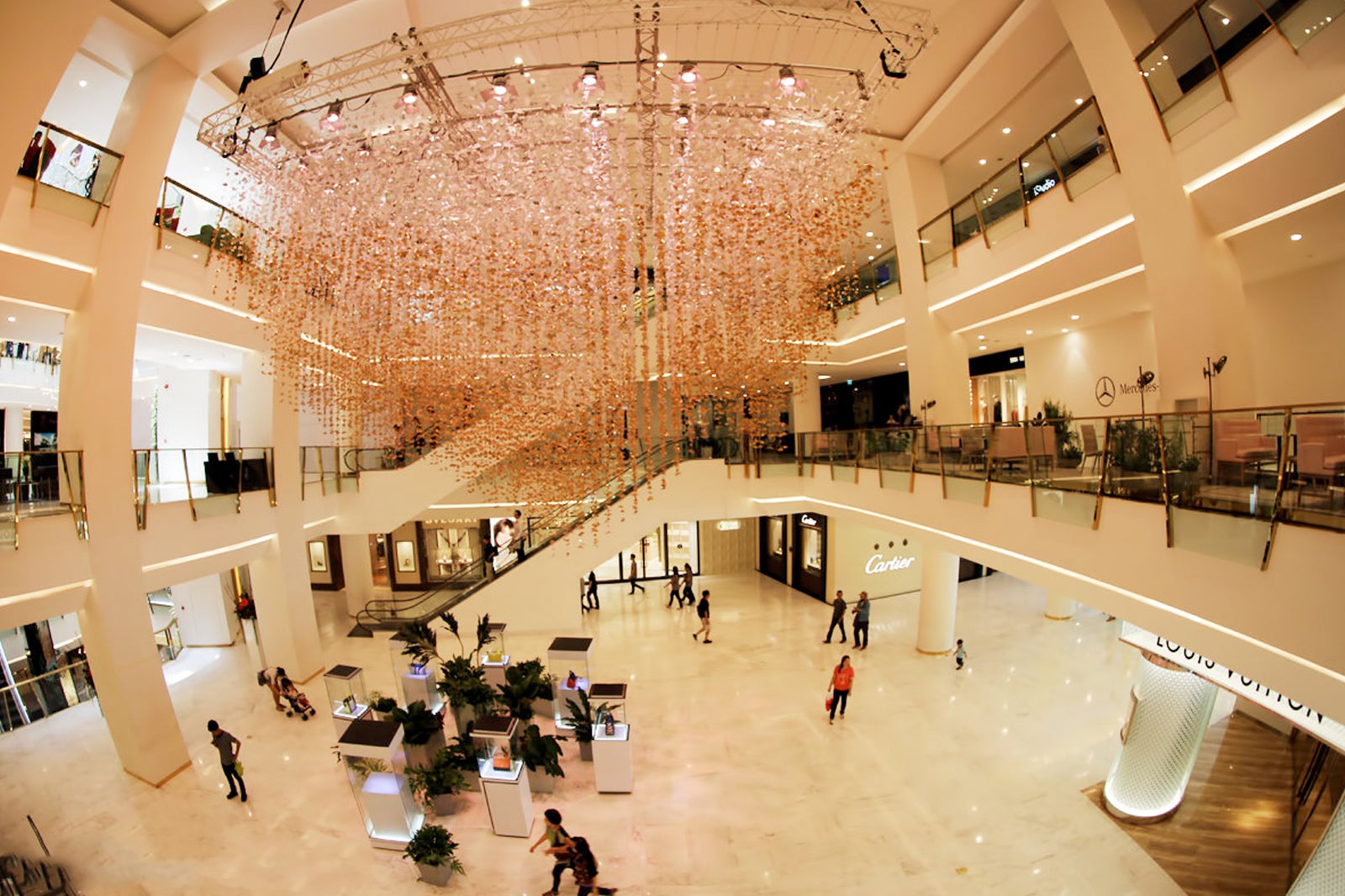 Emporium Mall in Bangkok is all about luxury brands, upscale restaurants, and sleek white interiors. Spread over 6 floors, this upmarket shopping complex houses plenty of high-end labels, including Chanel, Louis Vuitton, Dior, Prada, Hermes, Cartier, and Mont Blanc. You can also find a few mid-range fashion stores, a movie theater, supermarket, food court, and a children's play center. There's direct access from the Phrom Phong BTS Skytrain Station via 2 entrances. Emporium Mall is also attached to the 5-star Emporium Suites hotel.
Read more
Location: 622 Sukhumvit Road, Khlong Tan, Khlong Toei, Bangkok 10110, Thailand
Open: Daily from 10am to 10pm
Phone: +66 (0)2 269 1000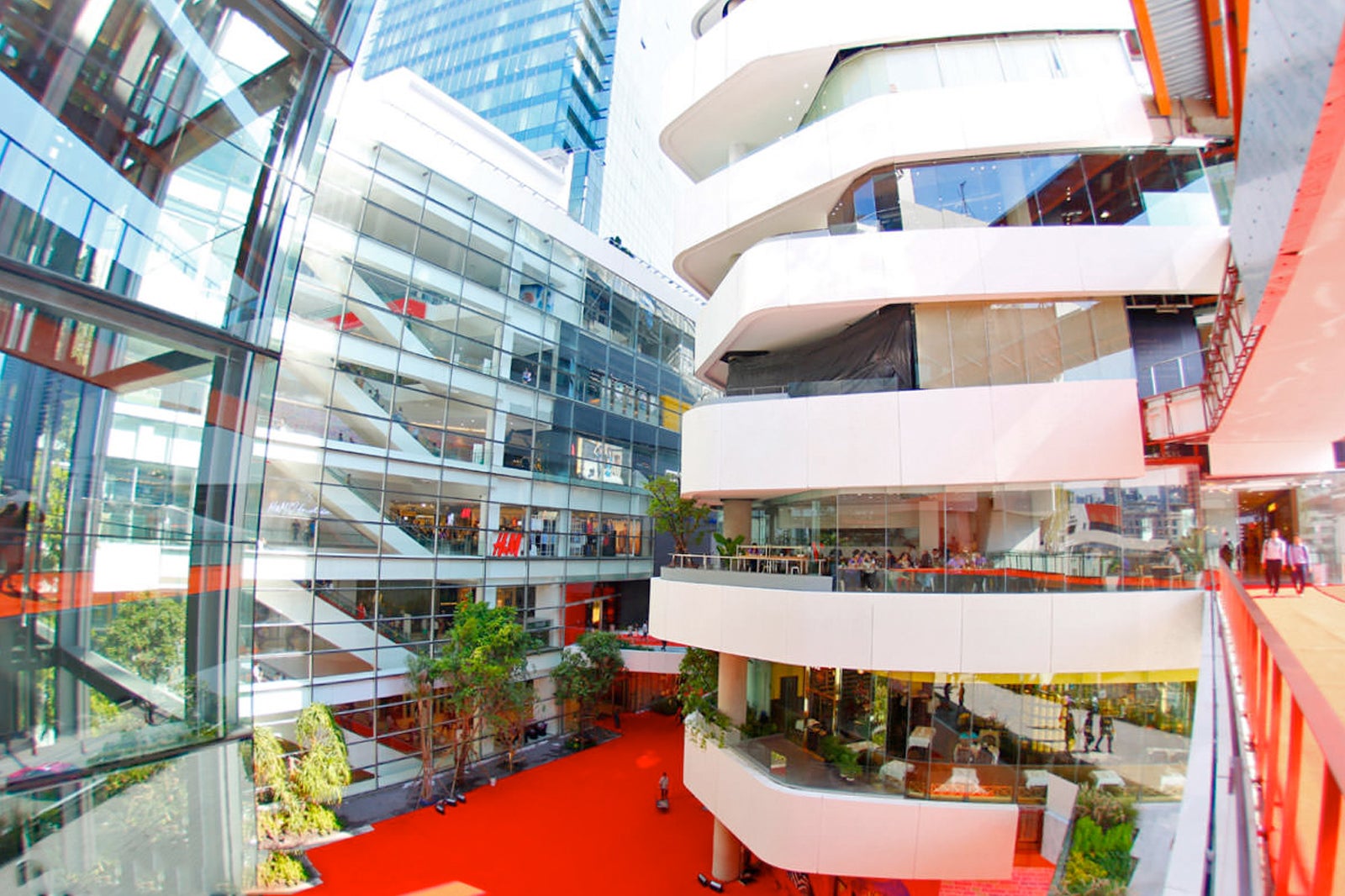 EmQuartier is easily one of Bangkok's most glamorous and visually-stunning shopping mall. Even if you can't afford designer brands, just the architecture is enough to lure in the crowds, with highlights including a multi-tiered façade lit up by giant LED screens, a rooftop garden, central atrium with cascading waterfall, a 100-meter-long 'rainforest chandelier', and skywalks with floor-to-ceiling windows.
Designer brands include Louis Vuitton, Gucci, Chanel, Prada, Dolce & Gabbana, Dior, Jimmy Choo, Valentino and Fendi. EmQuartier also has more budget-friendly options, such as Zara, Uniqlo, H&M, Gap and Super Dry.
Read more
Location: 693, 695, 622, 626 Sukhumvit Rd, Khlong Tan, Watthana, Bangkok 10110, Thailand
Open: Daily from 10am to 10pm
Phone: +66 (0)2 269 1000
EmSphere Bangkok is part of the EM District's expansive retail project. It might also just be the most ambitious. The shopping mall takes on an incredible glass dome design as its central building, with 2 other structures either side.
The site is next to Benjasiri Park, just a short walk from the Phrom Phong BTS Skytrain Station and the rest of the EM District complex. You can expect more in the way of luxury fashion, lifestyle brands and upscale dining at this lavish mall.
Location: 444 Sukhumvit Rd, Khlong Tan, Bangkok 10110, Thailand
Back to top