15 Best Things to Do in Phi Phi Islands
What is Phi Phi Most Famous For?
Discover the best things to do in Phi Phi Islands, otherwise known as Koh Phi Phi in Thailand. Located 43 km west from the coast of Krabi, this small archipelago consists of 6 islands: Koh Phi Phi Don, Koh Phi Phi Leh, Koh Bida Nok, Koh Bida Nai, Koh Phai (Bamboo Island), and Koh Young (Mosquito Island). The only inhabited island – and the largest – of the group is Koh Phi Phi Don.
Our list of top things to see and do in Phi Phi below features the most popular sites the island have to offer. The natural beauty of the area is second to none and provides a great choice of tours and activities – you're easily spoilt for choice on things to do in Phi Phi.
What are the best things to do in Phi Phi?
1
Koh Phi Phi Leh & Maya Bay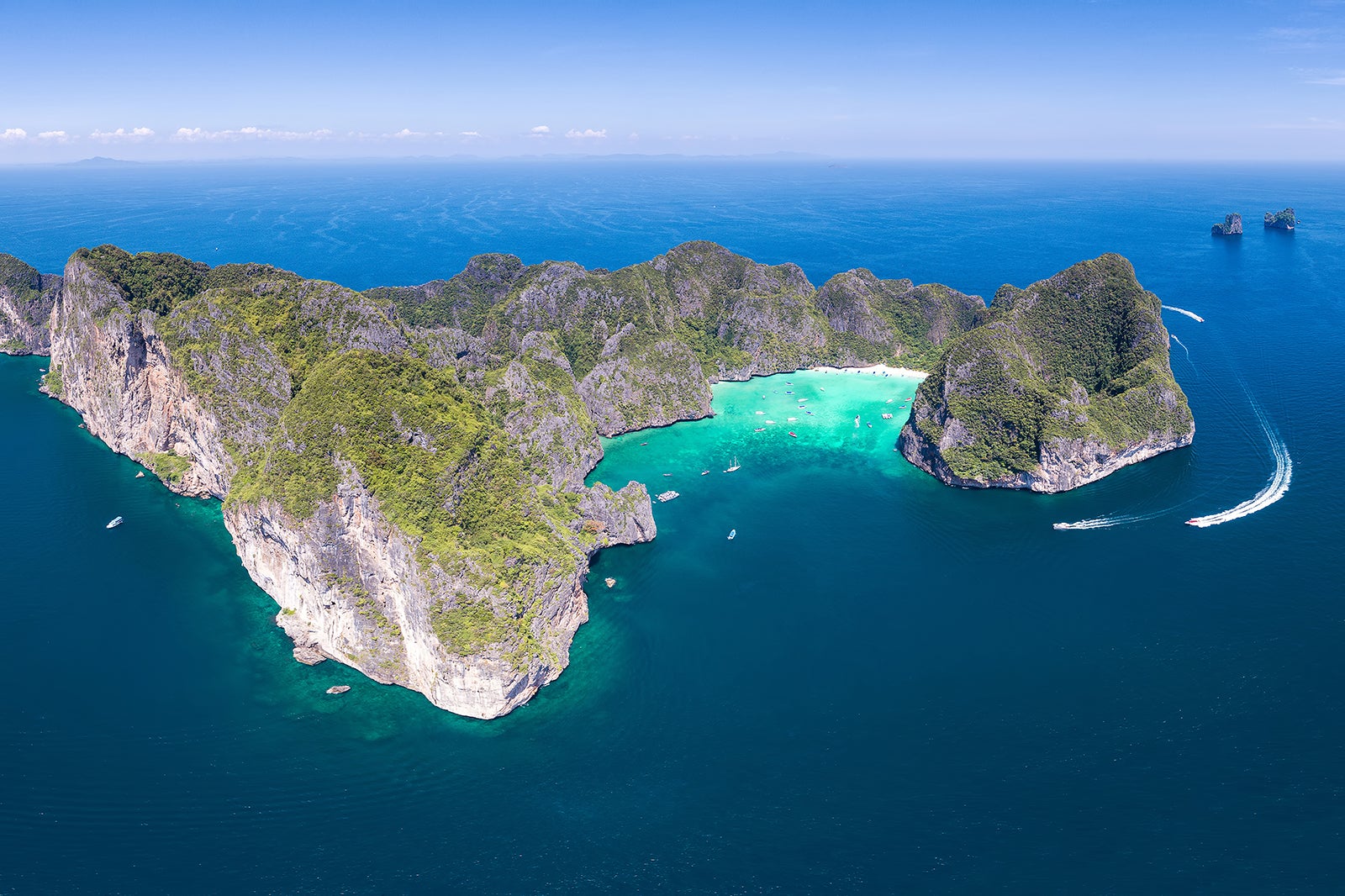 Koh Phi Phi Leh is the second-largest island in the Phi Phi archipelago. The uninhabited island (apart from rangers stationed in Hat Nopharat Thara-Mu Koh Phi Phi National Park) has only 1 beach that's located in Maya Bay.
With clear-crystal waters, white sand, and lush tropical vegetation, Maya Bay gathers all the postcard clichés in one place. During high season (November to April), its international fame attracts visitors from around the world. Another cool spot on the northeastern side of Koh Phi Phi Leh is the Viking Cave, which has rock paintings of what look like Viking ships.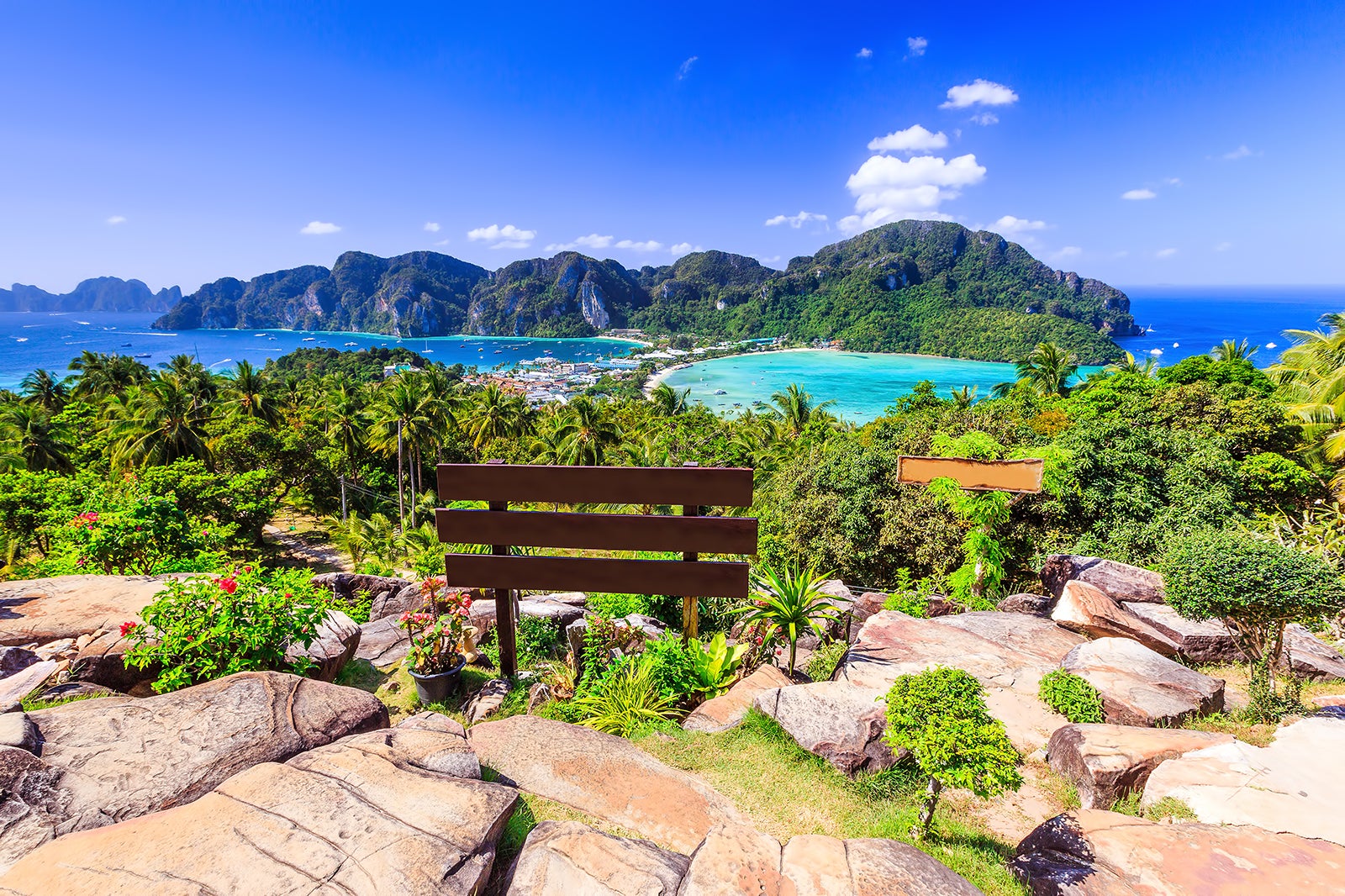 Couples
Families
Photo
Budget
Phi Phi Viewpoint is one of the most popular landmarks on Koh Phi Phi Don. This large island has an unusual shape – like an 'H' – with its main village built on the horizontal bar, a 100-metre flat strip of sand between Dalum Bay to the north and Tonsai Bay to the south. You can find the viewpoint to the east of the flat strip of sand and overlooks the village and the 2 bays.
At an altitude of 186 meters, it roughly takes between 20 and 40 minutes to get there on a well-trodden and paved path. Photographers should consider climbing up there right before lunchtime to benefit from the best lighting (the viewpoint faces the sun in the afternoons). There's a small store selling beverages and snacks at the top of Phi Phi Viewpoint.
Read more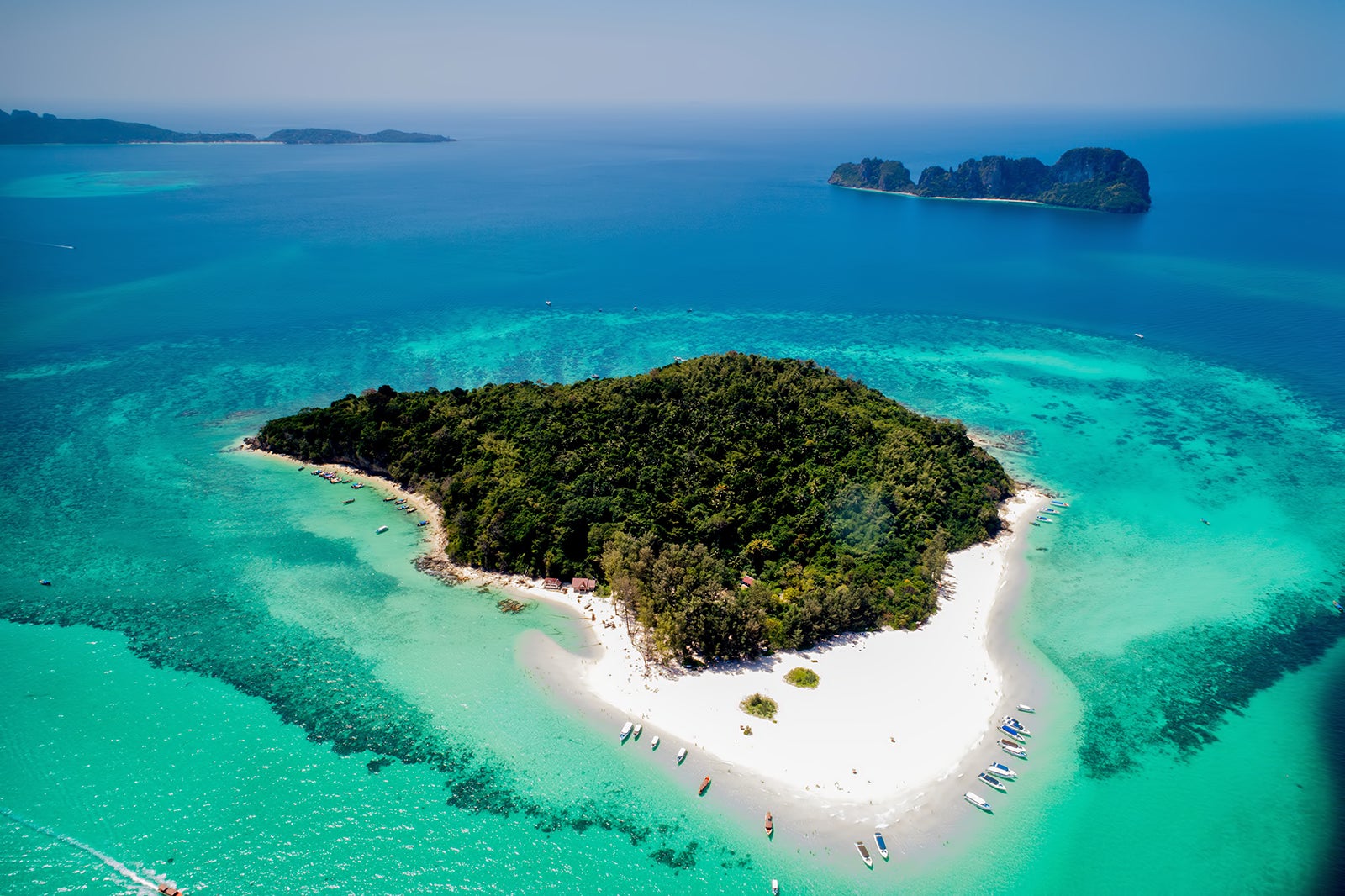 Bamboo Island ('Koh Phai' in Thai) is one of the 6 islands belonging to the Phi Phi archipelago in the southern Thai province of Krabi. Approximately 5 km northeast of Koh Phi Phi Don, it's a tropical dream come true. The island measures around 600 meters wide by 700 meters long, and is entirely surrounded by a strip of white sand.
Bamboo Island hosts great snorkeling opportunities with the presence of superb coral reefs lying at a short distance off its shore, mostly on its western side. A small bar serves beverages and snacks. Day and overnight trips (sleeping in tents) are available from Koh Phi Phi Don, or you could visit the island on a Phi Phi day trip by speedboat from Phuket.
Read more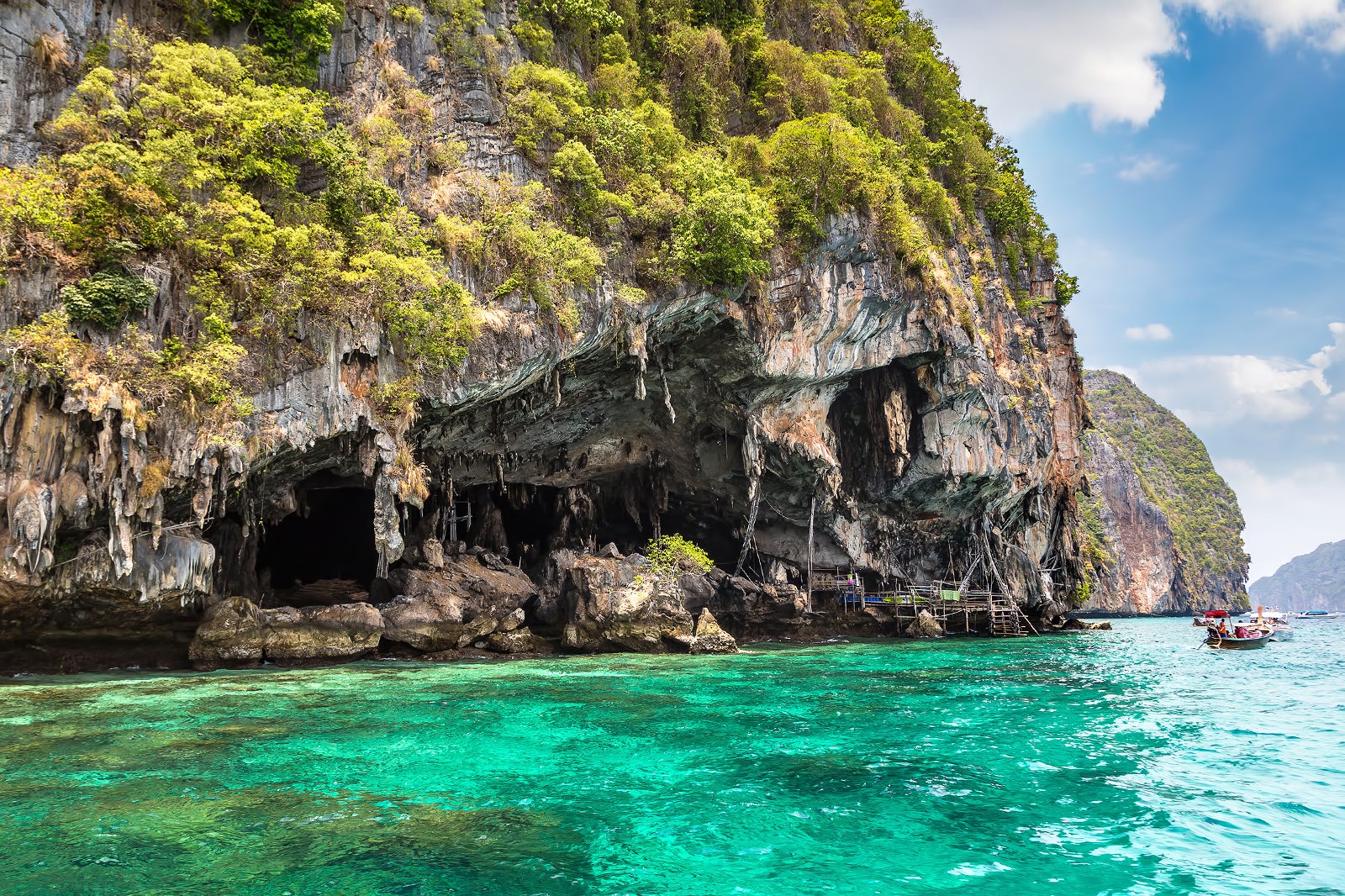 Viking Cave is one of the most notable sites on Koh Phi Phi Leh, located at the bottom of a tall limestone cliff on the north-eastern side of the island. It takes roughly 30 minutes to get there by long-tail boat from Tonsai Bay (the main pier in Phi Phi Islands).
Known as Tham Phaya Nak in Thai, Viking Cave owes its name to the paintings found on the eastern southern walls of the cave: they represent various types of boats, including what resembles a Scandinavian Drakkar or Viking ship. These paintings were possibly done by sailors taking shelter in the cave during a storm.
Read more
Diving is one of the prime activities in Phi Phi. The island counts a large number of serious and professional PADI dive centres dispensing courses – from Discover Scuba Diving to Divemaster – and day trips to the many world-class dive sites available in and around Phi Phi's waters.
Among the most notable dive sites of the area, Shark Point, Anemone Reef and the King Cruiser Wreck are located to the west between Phi Phi Islands and Phuket. Maya Bay, Koh Bida Nok and Nai are located on and near Koh Phi Phi Leh – all of these sites can be reached in less than 40 minutes from Koh Phi Phi Don.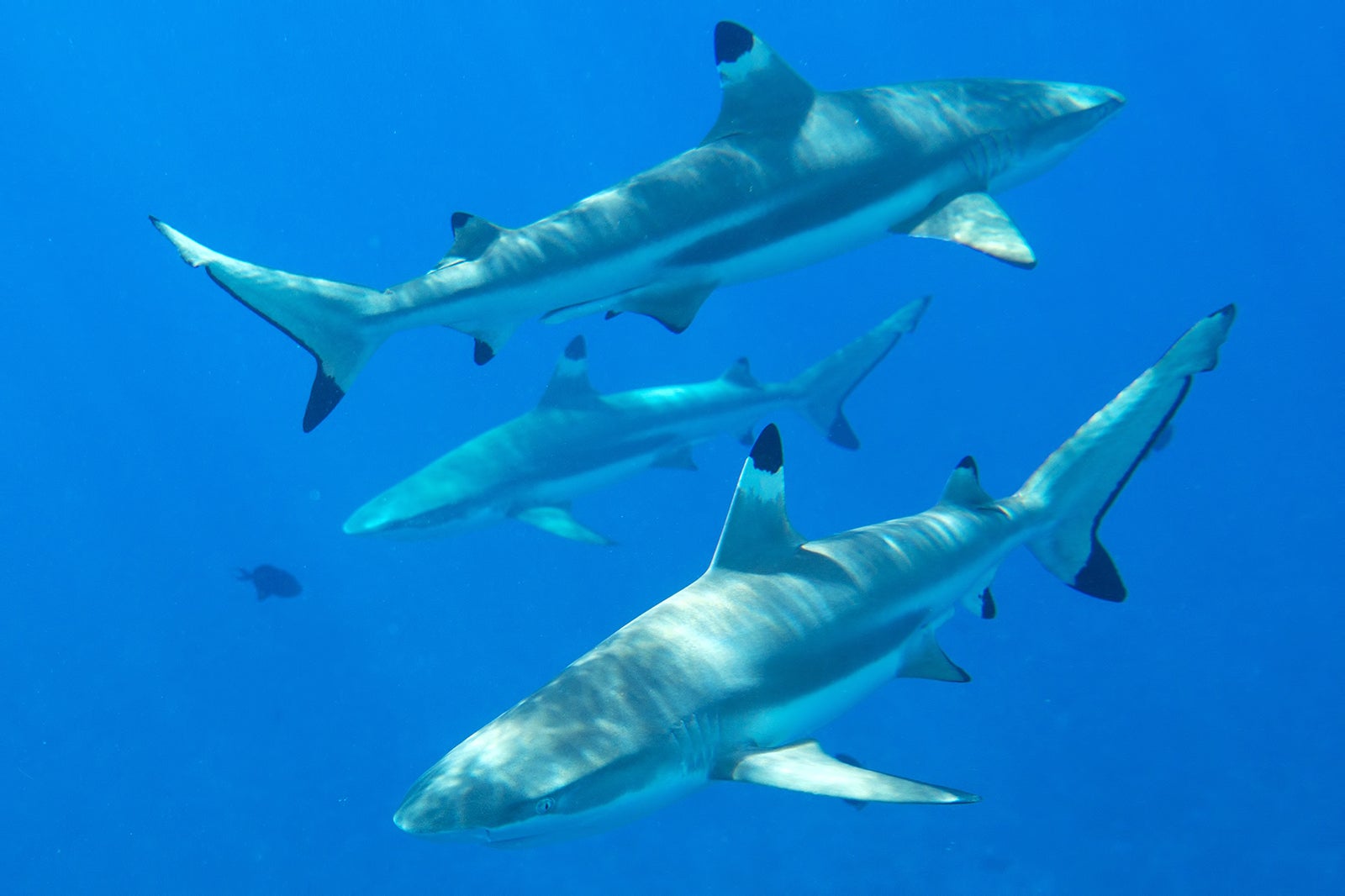 Shark-watching tours on Koh Phi Phi Don are one of the most popular things to do on the island. The waters around Phi Phi Islands host a good number of placid black-tip and leopard sharks. Phi Phi's shark watching tours usually start very early – about 6am – and last half a day. Led by a professional guide, these tours are done in small groups with full snorkeling equipment provided.
The most renowned site for shark watching is the small 'shark point' located 800 meters off Long Beach (there's another Shark Point off Phi Phi Don's west coast, which can only be visited on diving tours. Exciting and educational, a shark-watching tour will leave you with unforgettable memories. One of the most experienced shark tour companies is The Adventure Club.
Read more
Location: Central Tonsai Village, Ko Phi Phi Don, Ao Nang, Krabi, Thailand
Open: Daily from 8am to 10pm
Phone: +66 (0)81 895 1334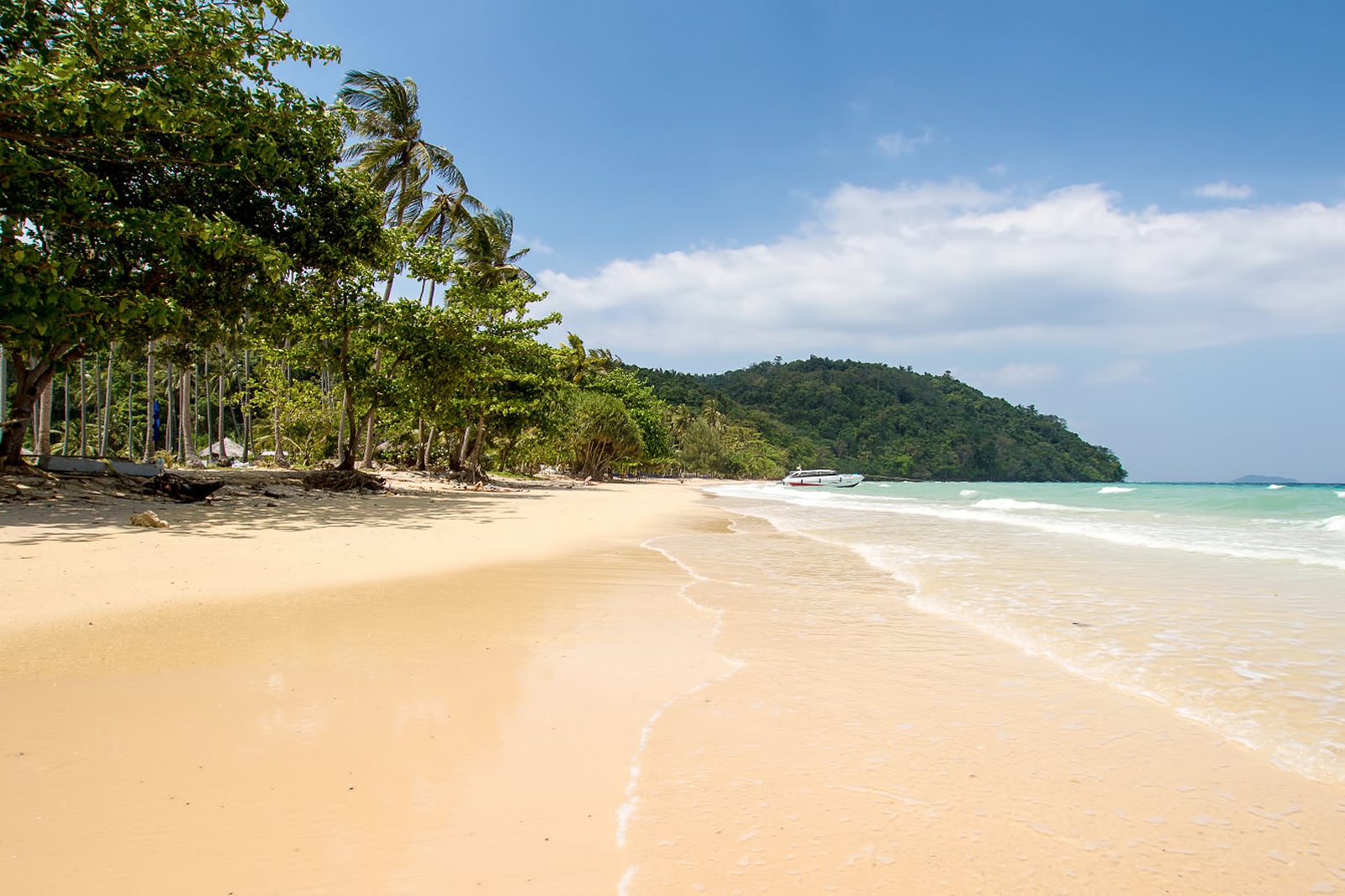 Couples
Families
Photo
Budget
Moo Dee Bay ('Loh Moo Dee' in Thai) has a 500-metre-long white sand beach that offers pleasant snorkeling opportunities, mostly at both ends. Situated on the east coast of Koh Phi Phi Don, it's an excellent escape from the crowd.
A Rastafarian shack sells food and beverages here. The easiest way to get to Moo Dee Bay by hiring a long-tail boat near Tonsai Pier, which will take you to the beach in about 20 minutes – you can put your bargaining skills to the test when asking for the fee, with around 200 baht being the norm.
Read more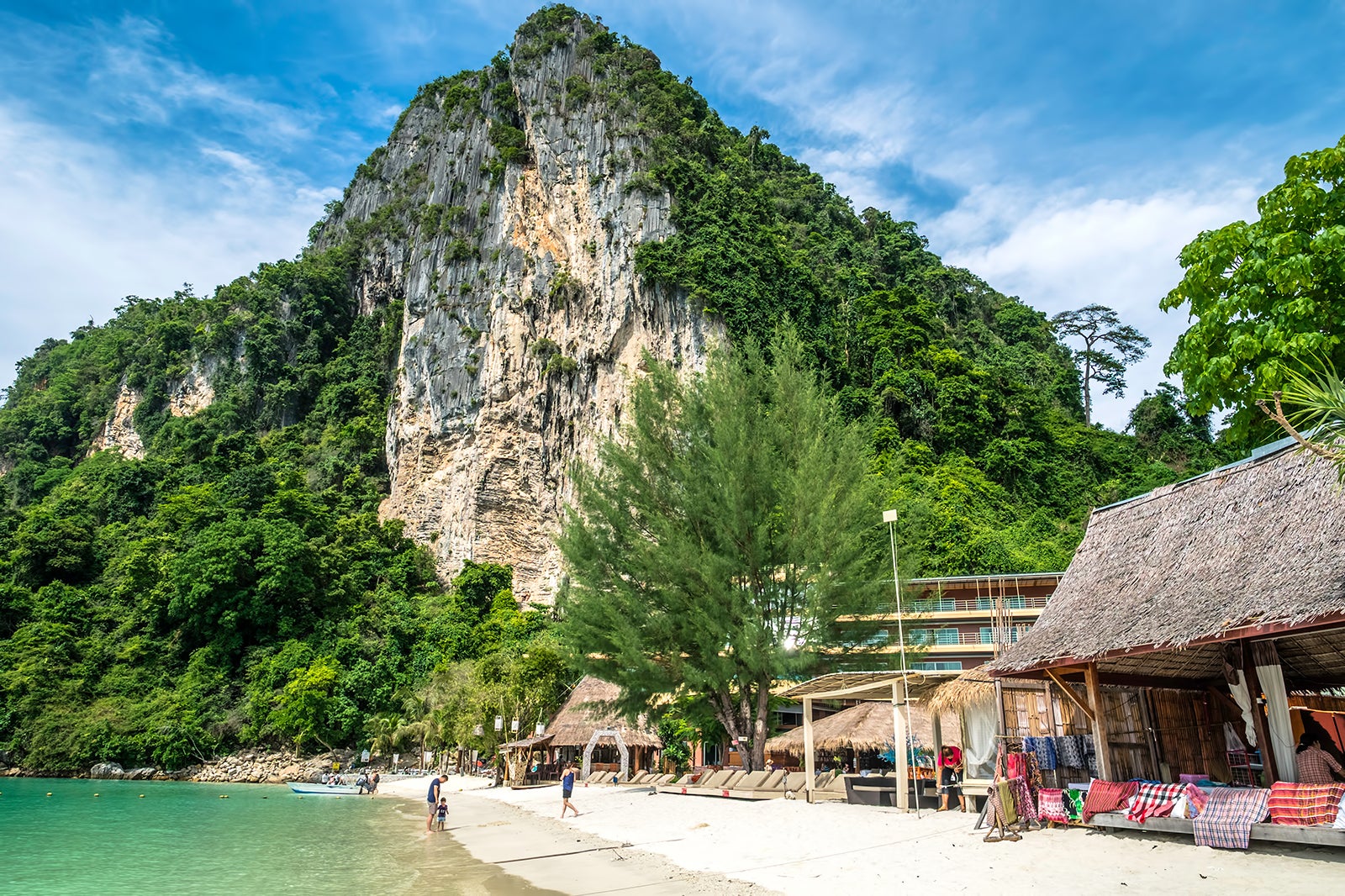 Krabi is a prominent rock-climbing spot in southern Thailand, thanks to its tall limestone cliffs which are also natural landmarks of the province. It offers world-class sites such as Tonsai Beach and Diamond Cave in Railay, and all along its coast. Phi Phi Don may lie 42 km off the Krabi coast, but it has the same topography.
Tonsai Tower, located at the western end of Tonsai Bay, is the rock climbers' paradise in Phi Phi. This 200-metre-tall limestone tower hosts 48 different bolted routes featuring all levels of difficulty, from beginner to experienced climber.
Read more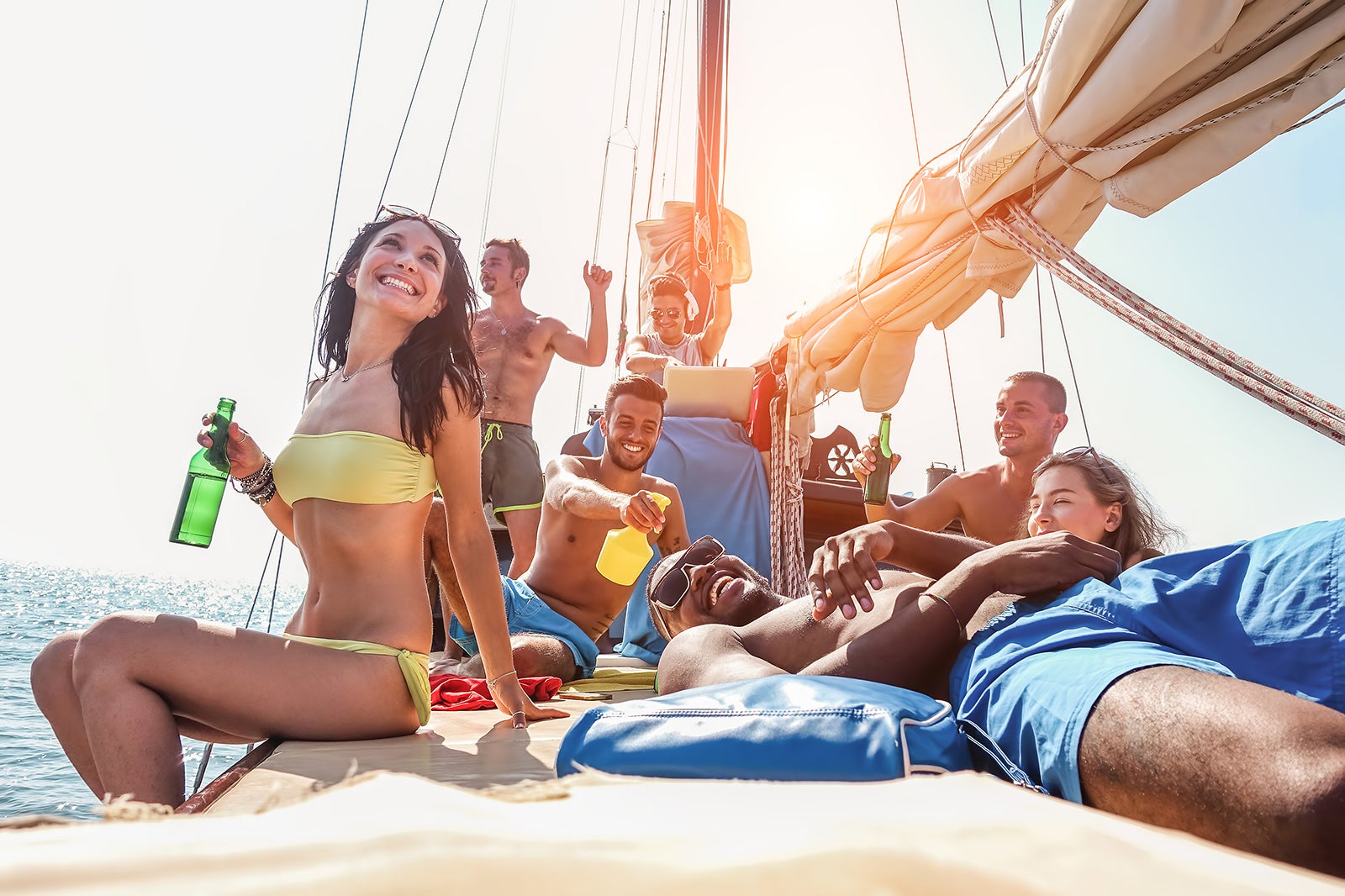 Captain Bob's Sailing Booze Cruise is how partygoers and groups can enjoy a fun day of discovering beautiful sites of the Phi Phi islands. Even if it sounds boozy, it's undoubtedly exhilarating. The cruise typically departs at 1pm from Tonsai Bay, stopping by Maya Bay, Monkey Beach, Loh Samah, Wang Long Cove, and Pi-Leh Bay. It also offers opportunities for snorkeling, fishing, kayaking, cliff jumping, and monkey feeding.
Lunch, fruits and snacks are included, along with unlimited beer (hence the cruise's name). The climax of Captain Bob's Sailing Booze Cruise – at least for those still able to see it – is the sunset view from Wang Long Cove, on the west coast of Koh Phi Phi Don.
Read more
Location: Phi Phi Cabana Bookings Office, 12/37 Moo 1 Chalong, Muang, Phuket 83130, Thailand
Open: Daily from 10am to 8pm
Phone: +66 (0)89 678 0898
10
Pum's Thai Cooking School
Pum's Thai Cooking School is one of the most renowned places to learn all the secret techniques and ingredients of Thai cuisine. Its main restaurant/school is located in Patong Beach, with a second branch in Tonsai Village on Koh Phi Phi Don (its third branch is in Chiang Mai).
Located in central Tonsai Village, Pum's Thai Cooking School offers a great choice of cooking classes, from quick 30-minute lessons (1 or 2 recipes) to 3 hours (including 3 recipes, learning about essential herbs, vegetables and sauces used in Thai cuisine). Educational and fun, learning how to cook Thai cuisine will surely be the best memory of your trip to Thailand – one you can share with your friends and family back at home.
Location: Central Tonsai, 125/40 Moo 7, Ao Nang, Krabi, Thailand
Open: Monday–Tuesday and Thursday–Saturday from 11am to 9pm, Wednesday and Sunday from 1pm to 9pm
Phone: +66 (0)81 521 8904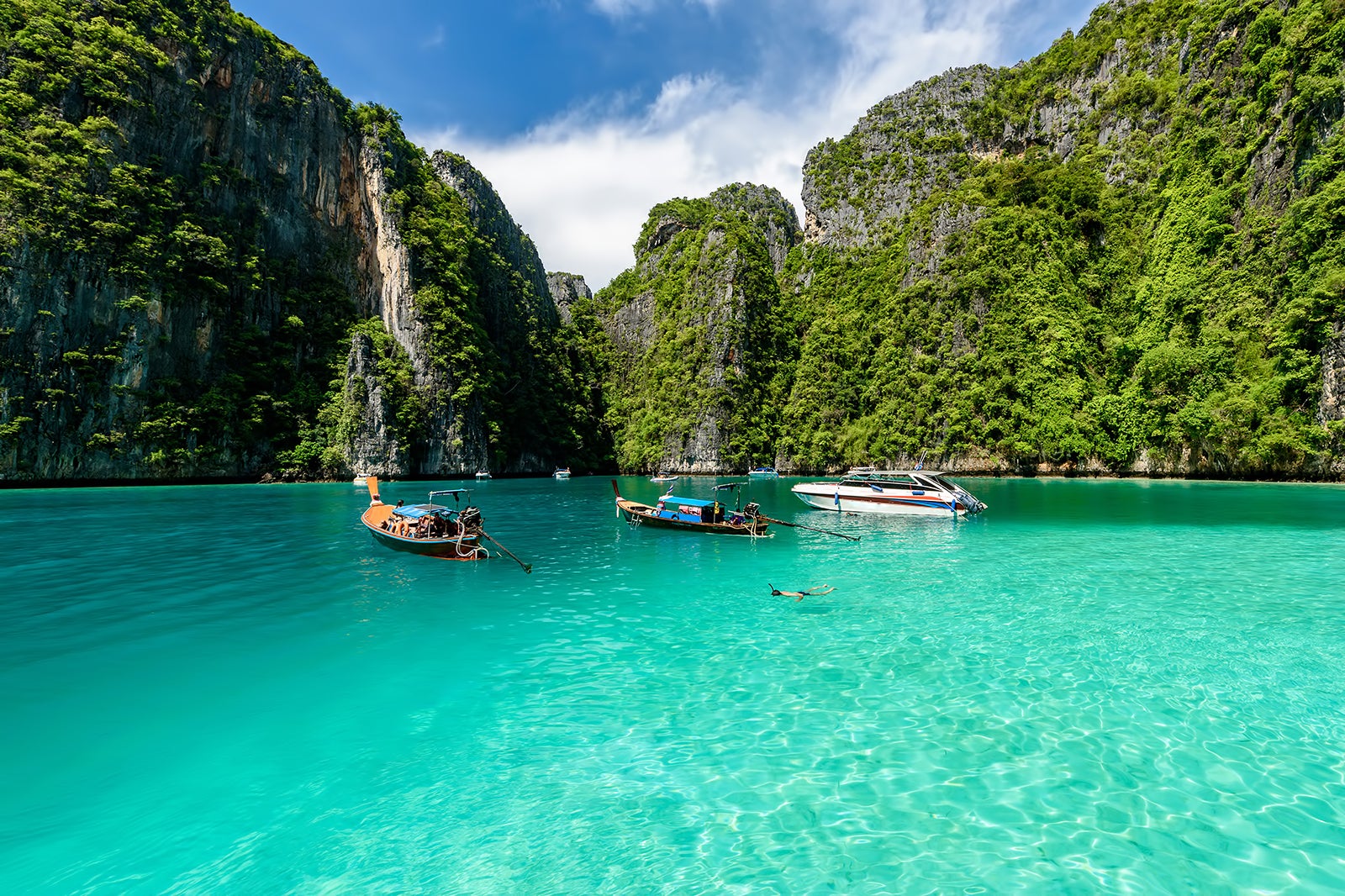 Shipwrecked Boat Trip travels off the coast of Phi Phi Island, combining exotic seascapes with a party atmosphere. You get to sail to some stunning spots in the Andaman Sea while sipping excellent cocktails. It's a party on a yacht, attracting a younger set of travelers, but everyone is welcome to join the fun.
Shipwrecked Boat Trip is excellent if you're craving for a unique adventure. The boat visits 7 famous destinations in Phi Phi, including the famous Maya Bay, Monkey Beach, Viking Cave, Table Coral City Reefs, Pi Leh Lagoon, Snake Cave, and a secret location to watch the sunset from.
Read more
Location: Shipwrecked Bar Phi Phi (behind Slinky Beach Bar in Loh Dalum), Ao Nang, Krabi 81000, Thailand
Open: Daily from 11am to 11pm
Phone: +66 (0)62 021 9903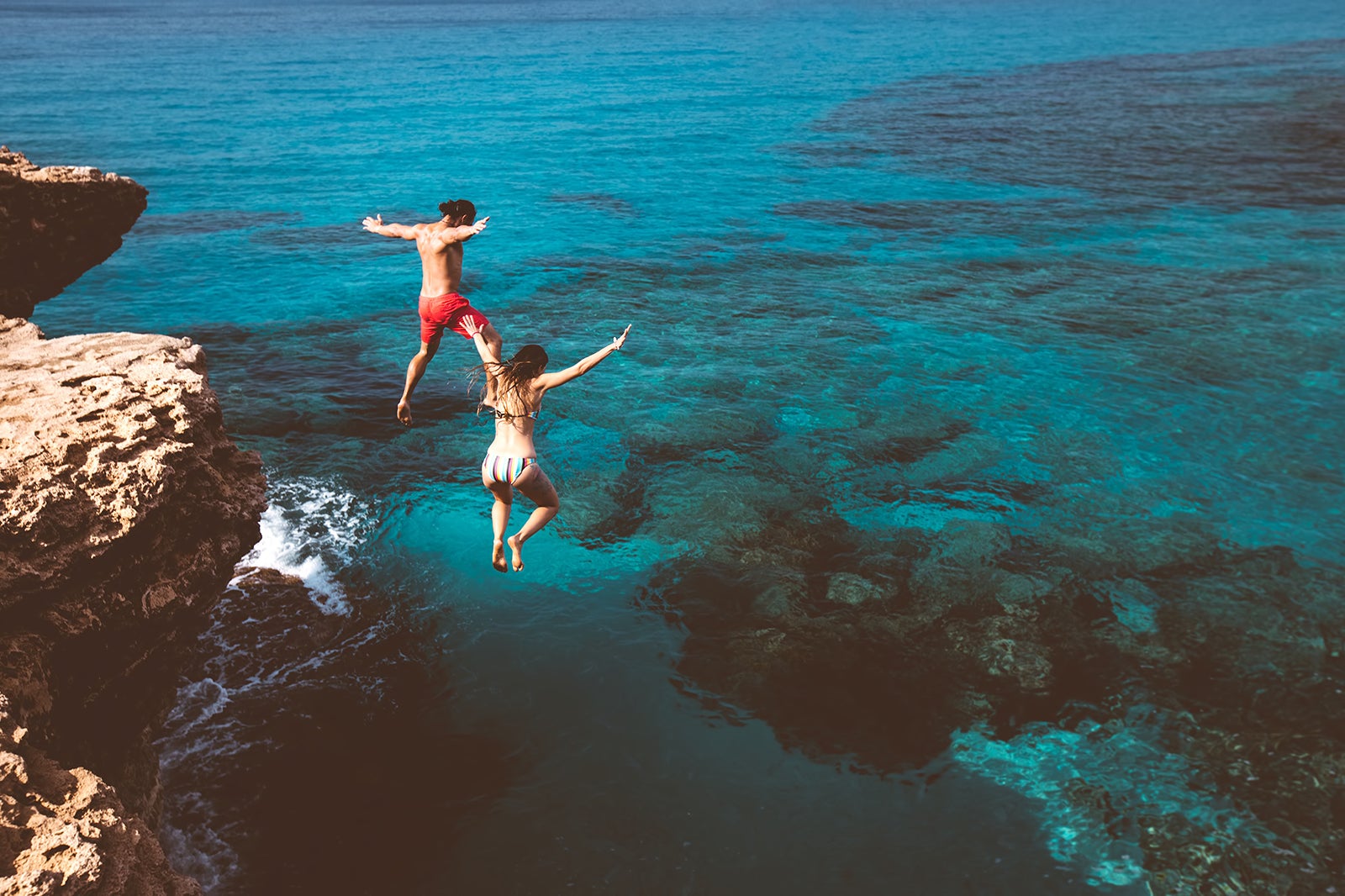 Cliff jumping is a thrilling sport that's quite popular on Phi Phi Island, thanks to the abundance of fantastic jumping spots. Not without its risks, it should be approached with an organized tour. Participants should try lower jumps, starting from 3 meters, and gradually working their way up to a 20-metre leap into the briny. It should be noted that combination tours are available, which include snorkeling with cliff jumps.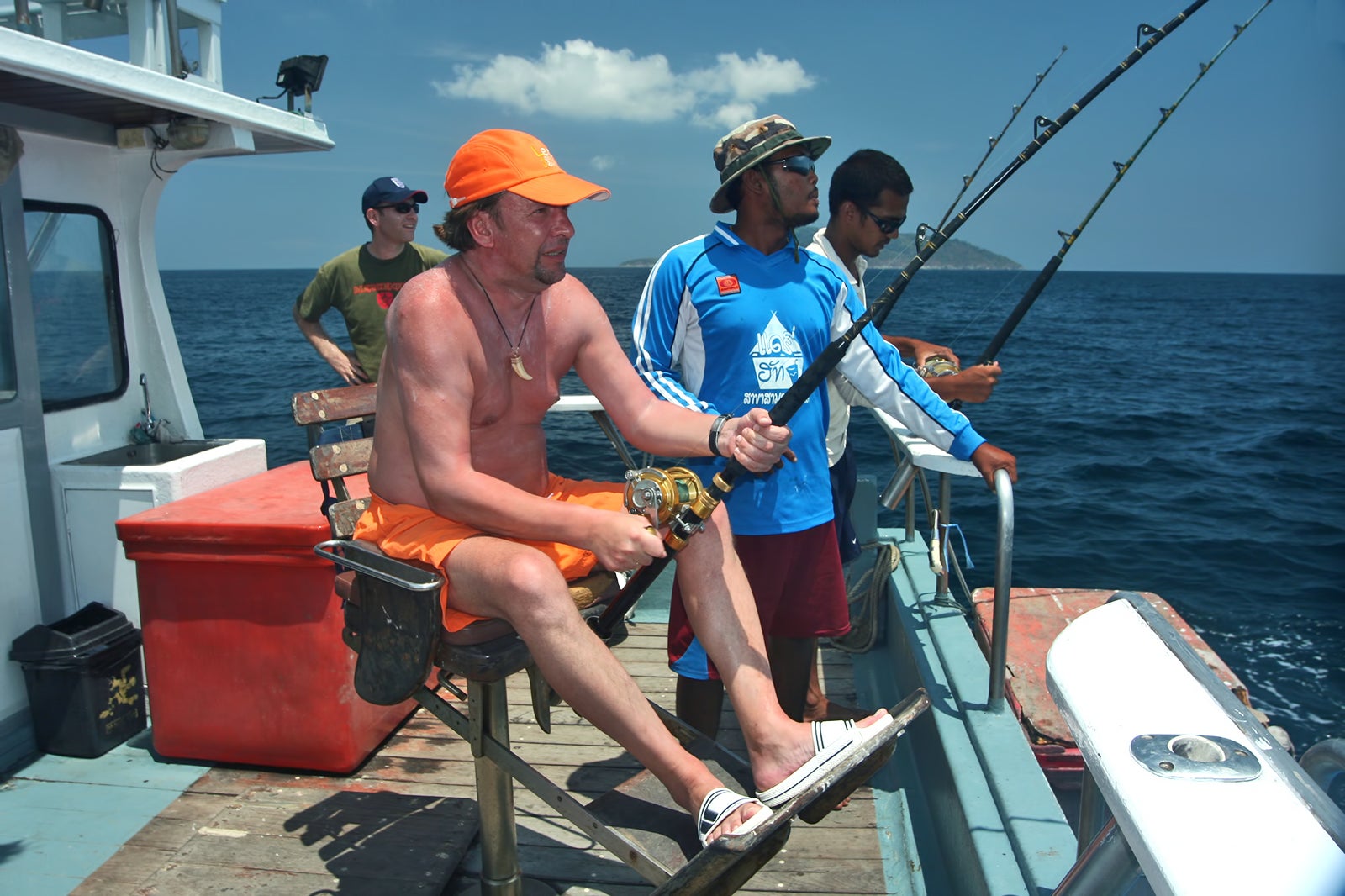 Fishing in Phi Phi operates on a 'catch-and-release' policy. That said, it's still a lot of fun to pitch your wit and strength against a black marlin, giant trevally or a sailfish... and there's plenty of them in the Andaman Sea.
The wahoo fish is common from June to October. You can charter a boat with friends or hire a longtail. Still, the biggest fish are quite a way out, so if you're serious about this sport, you might as well hire a sportfishing boat.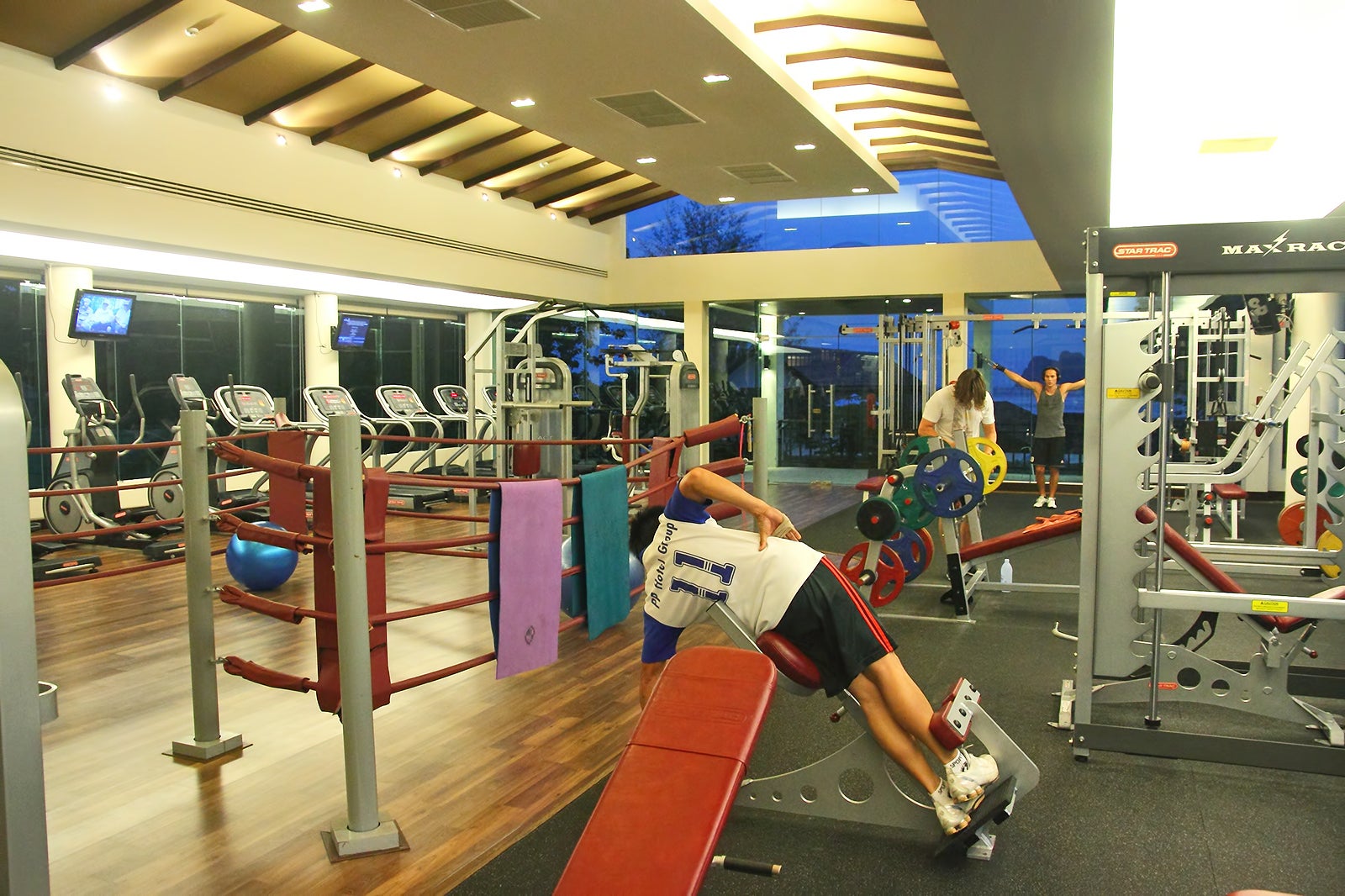 Phi Phi Banyan Villa Fitness Center is a state-of-the-art gym in Phi Phi. It offers a wide range of well-maintained machines, parquet floors, and an excellent air-conditioning system, attracting those looking for a serious workout during their vacation. There's even a small Muay Thai kickboxing ring, surrounded by benches, treadmills and free weights.
One of the best aspects of Phi Phi Banyan Villa Fitness Center is its sensational views out over Tonsai Bay and Koh Phi Phi Leh. The gym's reinforced glass floor-to-ceiling windows also overlook the resort's garden and mountains in the distance.
Read more
Location: Phi Phi Banyan Villa, 129 Moo 7, Ao Nang, Tonsai Bay, Koh Phi Phi, Krabi 81000, Thailand
Open: Daily from 10am to 8pm
Phone: +66 (0)75 601 023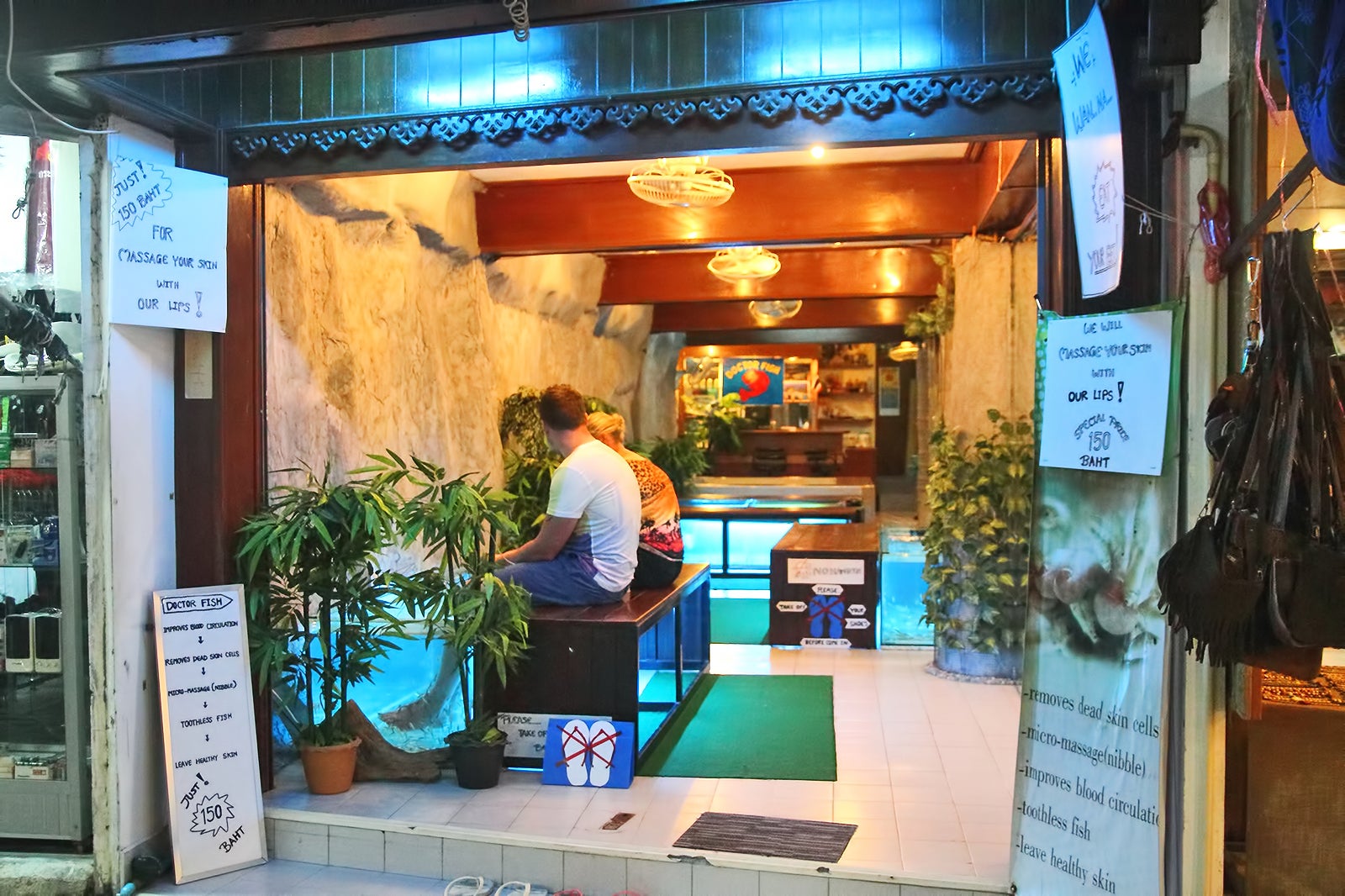 Physician Fish, or 'fish pedicure', is a unique experience which involves dipping your feet in a tank filled with hundreds of red Garra fish, which will nibble away at the dead skin. Some people find it exhilarating, while others find it bizarre. It should be noted that these tiny fish don't have teeth, so it's a mostly ticklish sensation. Your feet often become smooth at the end of the treatment, which takes between 15 to 30 minutes.
Location: Tonsai Main Street, Koh Phi Phi, Ao Nang, Krabi 81000, Thailand
Open: Daily from 1pm to 10pm
Back to top