Cost of Living in Phuket
Enjoying a Budget Vacation in Phuket
The cost of living in Phuket varies quite a lot, depending on where you stay on the island. There's a drastic difference in prices between the west coast cosmopolitan resort towns, the capital city, and the rural east coast areas. Following rapid development since the end of the '90s, Phuket Province was once recognized as the most expensive place to live in Thailand (before Bangkok).
This ranking is still relatively low when compared to the costs of living in Europe, Australia, and the US, and Phuket remains an affordable destination for foreign visitors. Below, we give you an idea of the costs of living in Phuket by looking at a range of topics directly related to tourism, from accommodations to dining, to nightclubbing and traveling around.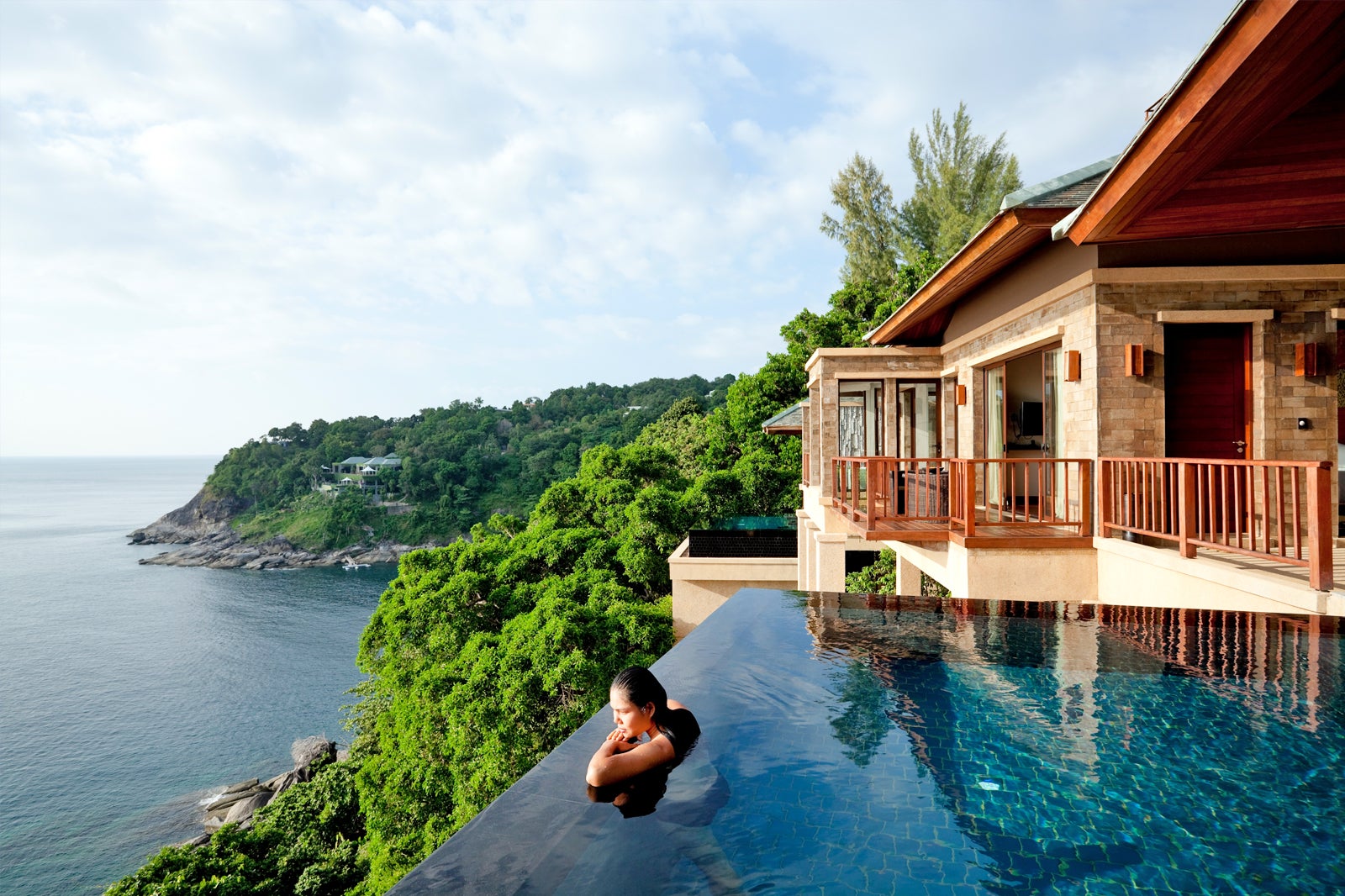 Year after year, Phuket Island remains among the most visited destinations in Thailand. It receives well over 35 million visitors annually and it takes quite a lot of rooms to accommodate such a crowd. With around 85,000 rooms, the island is up to the task. The extensive selection of hotels in Phuket means that, whether you're a backpacker on a tight budget or a mogul with a 6-digit (or more) bank balance, there is a room right for you here.
Budget hotels: from around 300 baht to 1,300 baht. The cheapest hotels/guesthouses are found in Phuket Town – Gotum Hostel, Cool Residence, or O'nya House Phuket. In Patong Beach, guesthouses charge between 400 and 1,200 baht. Try Tiger Inn for an affordable, 3-star stay.
Mid-range hotels: from 1,500 to 3,000 baht all around Phuket. Check out Centara Karon Resort, Andaman Cannacia Resort, or Deevana Patong Resort & Spa.
Luxury hotels: high-end properties charge between 5,000 and 500,000 baht per night (note that you could get a 7-villa complex at higher prices). See Trisara, Banyan Tree Phuket, or Sri Panwa Phuket.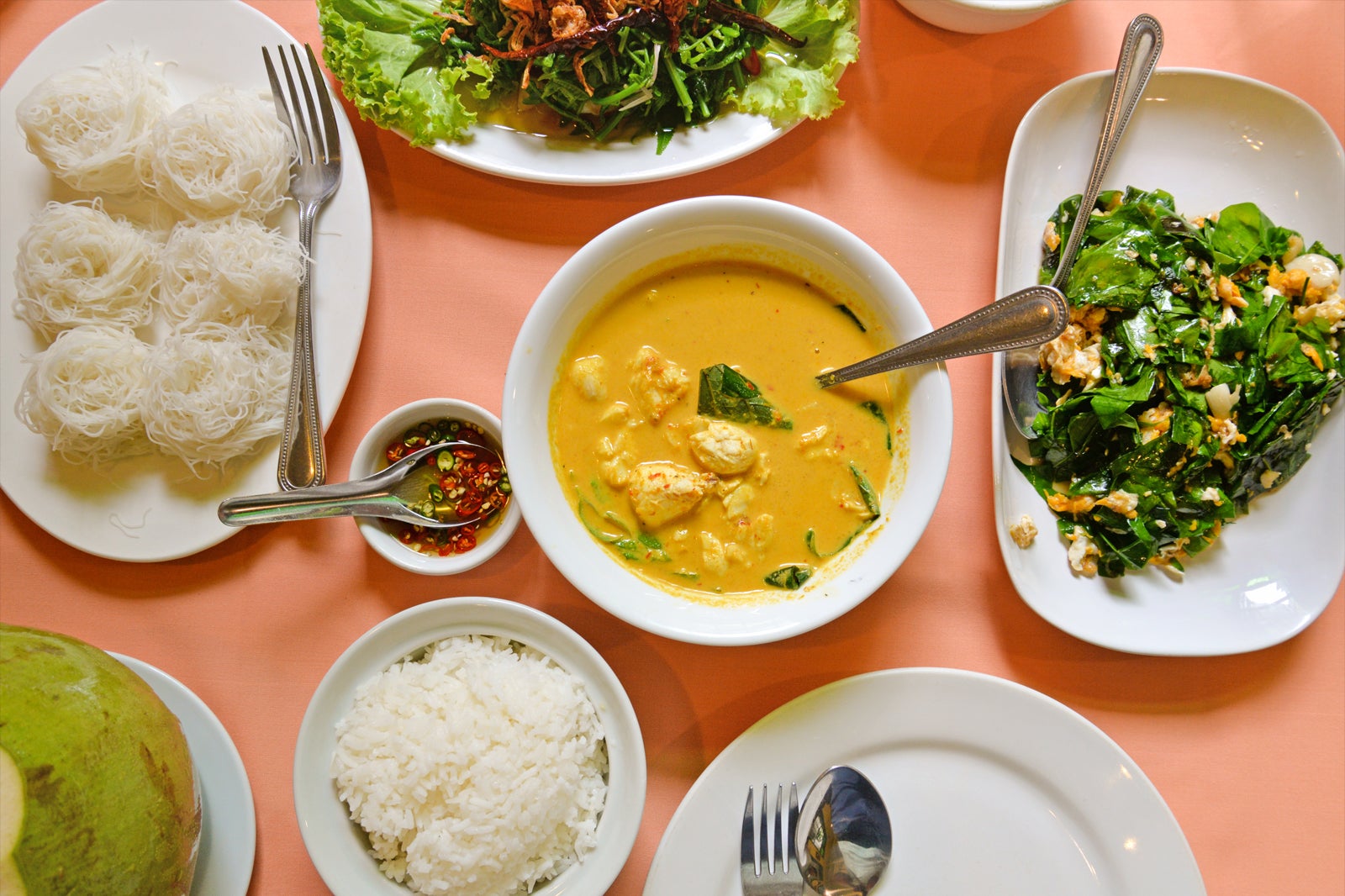 One of the good things in Thailand is that basic food remains largely affordable. In a simple local restaurant of Phuket Town, you'd get delicious dishes such as pad krapow gai (fried chicken with basil leaves served with rice) or khao pad gai (fried-rice with chicken) for about 50–70 baht; the same dishes in Patong Beach – particularly in tourist venues – would be charged at between 80 and 180 baht. If you would like to sample the exact same dishes in more prestigious restaurants (or in some hotel restaurants), you could be charged up to 500 or even 700 baht.
Budget local restaurants: try Phuket Weekend Market, Kota Khao Man Gai in Phuket Town, or Mee Ton Poe in Thalang.
Mid-range local restaurants: try Kaab Gluay Restaurant in Patong, Raya Restaurant in Phuket Town, or Kampong Kata Hill in Kata Beach.
Fine local restaurants: try Old Siam Restaurant and Silk in Kamala Beach or Baan Rim Pa in Patong.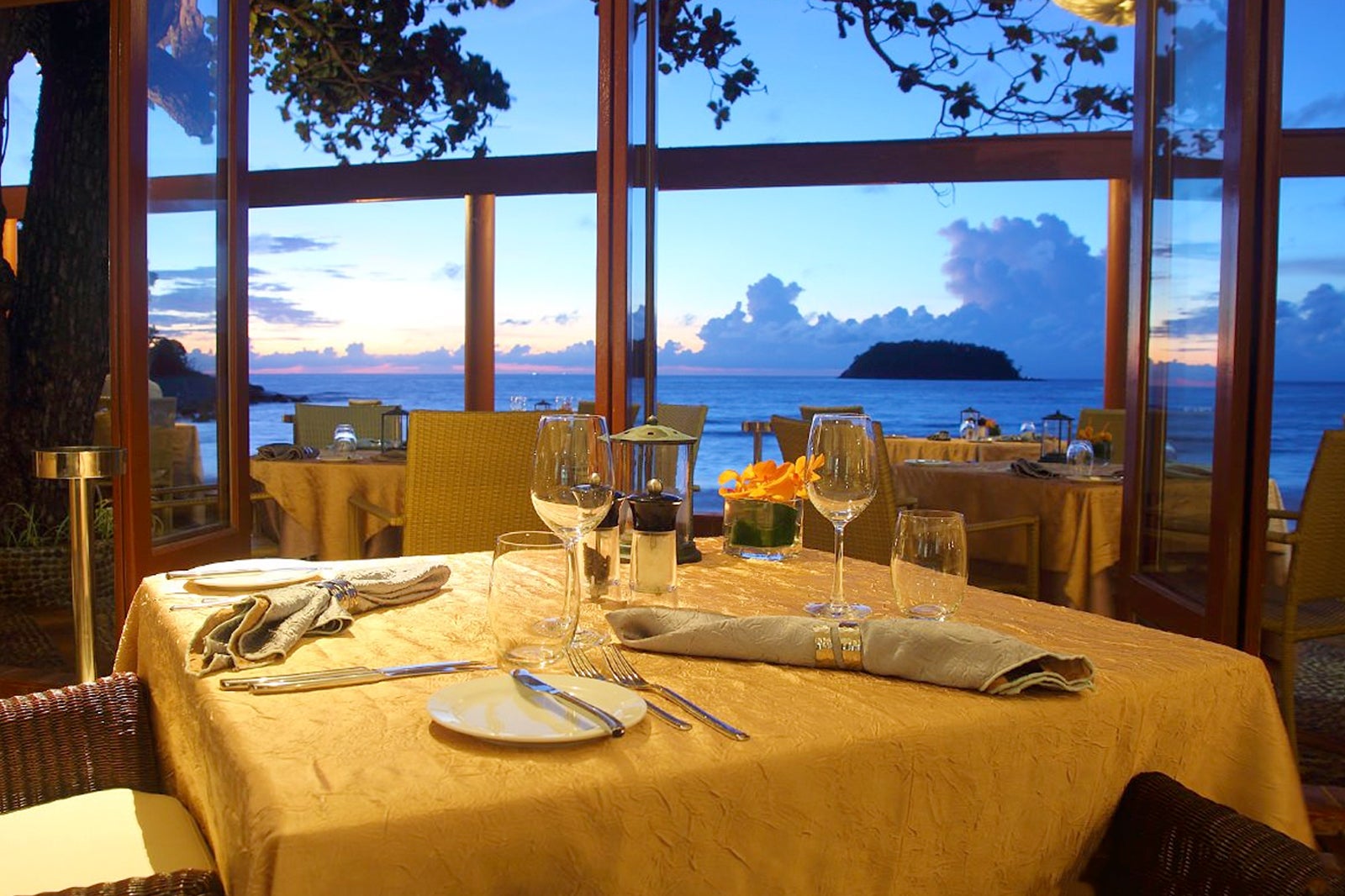 You can find restaurants serving international food everywhere in the cosmopolitan place that is Phuket Island. Usually slightly more expensive than Thai food, it's easy to find foreign favorites at affordable rates. Again, there are big differences in prices depending on the restaurants you eat at.
For instance, let's take a club sandwich (usually served with French-fries or potato chips): the cheapest one you could find. In simple local restaurants, it's about 80–100 baht while at the most expensive one can be at around 400–600 baht (in 4- or 5-star resort restaurants).
Budget international restaurant: try Steak Samkong in Phuket Town.
Mid-range international restaurants: try Two Chefs Bar & Grill in Kata Beach, Ella Bar & Bistro in Patong, or 2gether Restaurant in Karon Beach.
Fine international restaurants: check out Boathouse Wine & Grill in Kata Beach, Home Kitchen in Patong, or DeDos in Cherngtalay.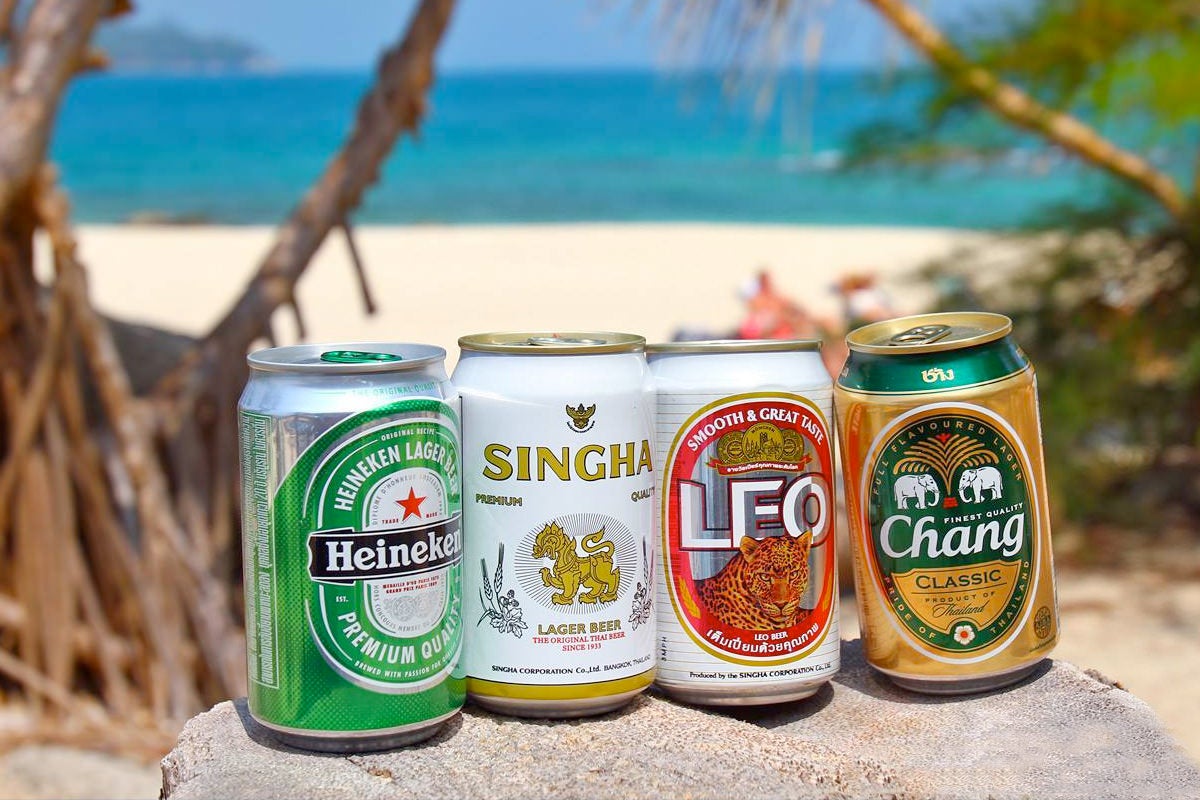 Is there something better than a cold ale after a long day sunbathing at the beach or exploring Phuket? You can easily find a large range of local (Singha, Leo, Chang, and even Phuket Beer) and international (Heineken, Carlsberg, Tiger, Asahi, and a good choice of genuine Belgian beers) in Phuket.
The cheapest brews are at local grocery stores, 7-Eleven and Family Mart. Local beers are available at about 40 baht per can, and major brands such as Heineken at about 50 baht. In bars and restaurants, you can usually expect to pay 80 to 100 baht for local and 100 to 140 baht for foreign beers. In some high-end venues (restaurants or nightclubs), one beer can be charged up to 280 baht.
Traveling around Phuket is a domain that has raised a lot of complaints over the years. This is mostly due to the extravagant prices asked by tuk-tuk and taxi drivers, even for short distances, and for their mob-like ways of settling conflicts with their customers and even with the authorities.
The west coast roads 'belong' to them, so there's no public transportation linking the main resort towns. A tuk-tuk ride from Karon to Patong costs about 400 baht (350 if you are lucky enough to find a gentle driver) and takes about 10 to 15 minutes. If you really are on a budget and in no hurry, you can take a songtheaw (public bus) that will take you from Patong to Phuket Town, then another one from Phuket Town to Karon Beach. The total cost for the journey will often not exceed 100 baht, but it will take you almost 3 hours to reach your destination.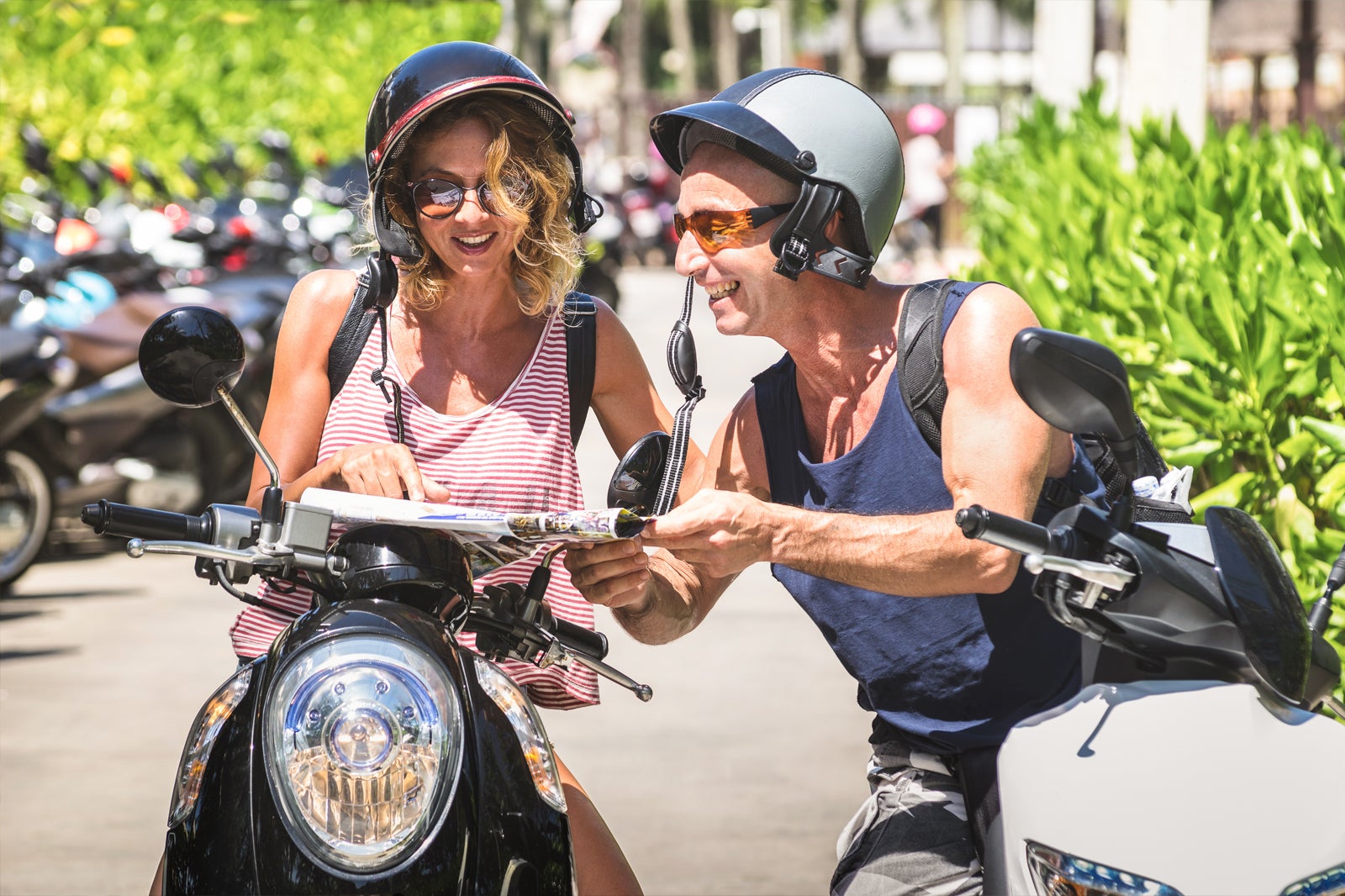 Renting a motorbike can be the best and most affordable way to travel around Phuket. The only downside of it is that it requires you to be extremely careful due to the poor driving skill of local people. The renting of a moped costs between 250 and 400 baht per day, depending on the rental shop and on your ability to bargain (keep smiling!).
Renting a car in Phuket is also far cheaper than in Europe. Prices go from 600 to 2,500 baht, according to the type of car and the length of the rental. Mind that the roads of Phuket at rush-hour are now almost as congested as in Bangkok.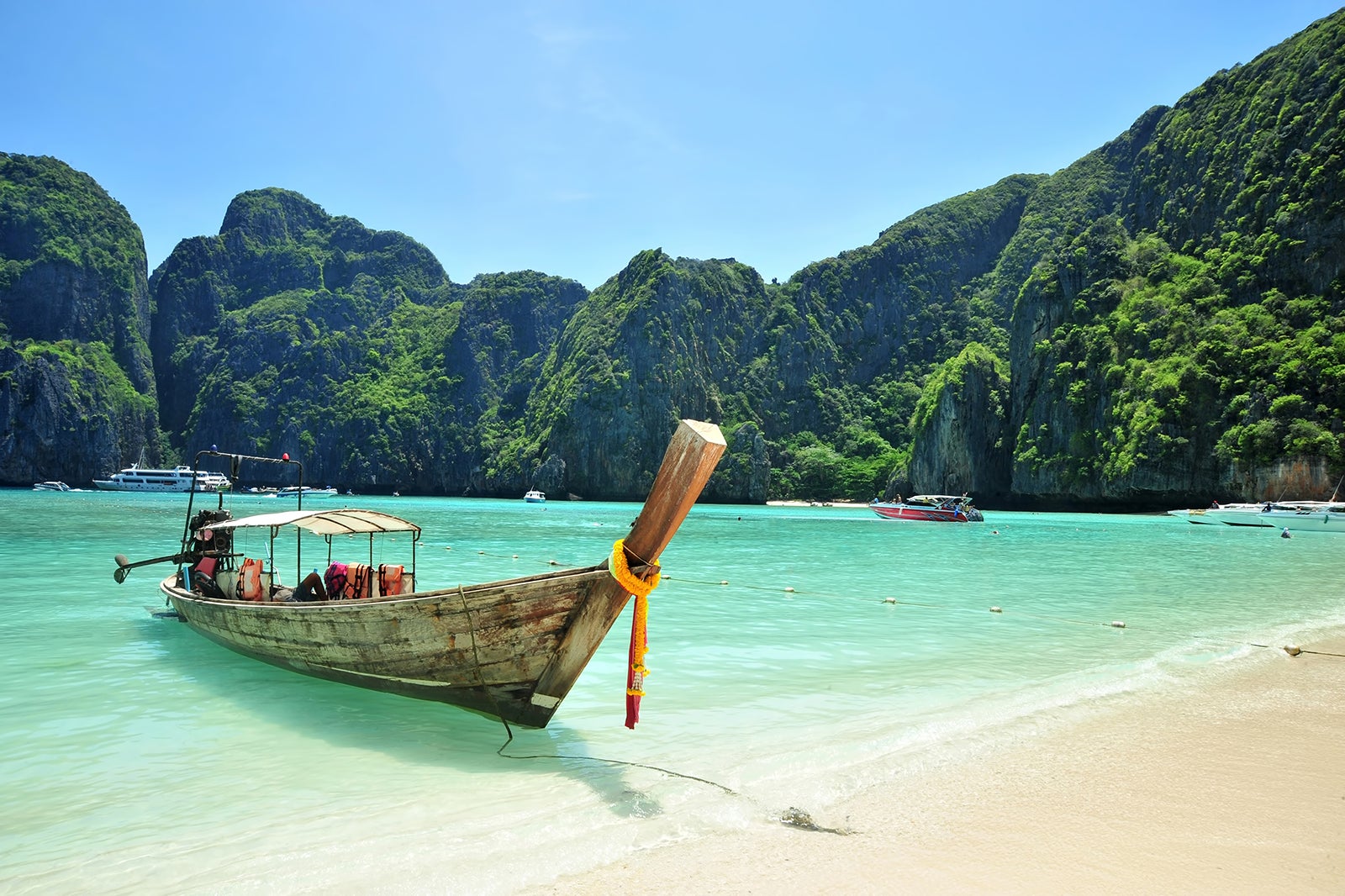 Day trips to Phi Phi and nearby islands
Phuket is the departure port for a great deal of small tropical islands, which can be visited on day trips from one of the 6 main marinas/piers on Phuket's east coast - Yacht Haven, Ao Po Grand Marina, Boat Lagoon, Royal Phuket Marina, Rassada Pier, and Chalong Pier. Three main types of boats are available for island-hopping day trips from Phuket:
Long-tail boat. These are the local boats, very good at sea and originally used for fishing. Their limited speed makes them best for short distances, so only the closest islands from Phuket can be visited. A trip to Coral Island costs 1,200–1,500 baht and takes about 30 minutes from Chalong Pier.
Speedboat. As its name implies, this type of boat is the go-fast of the seas. For roughly the same price as a long-tail, you'll be on Coral Island in 10 minutes from Chalong Pier. Their speed allows them to cover longer distances at affordable rates. A day trip to Phi Phi Islands takes about 45 minutes and cost between 1,400 and 3,000 baht (lunch and snorkeling equipment included).
Ferry boat. The perfect choice for budget and any type of travelers who are in no hurry, ferries link Phuket to Phi Phi Islands in about 2 hours for a price of about 500 baht (one-way ticket, depending on the place of purchase). There is even a day trip to Phi Phi (with lunch included) for a rate of between 1,000 and 3,500 baht.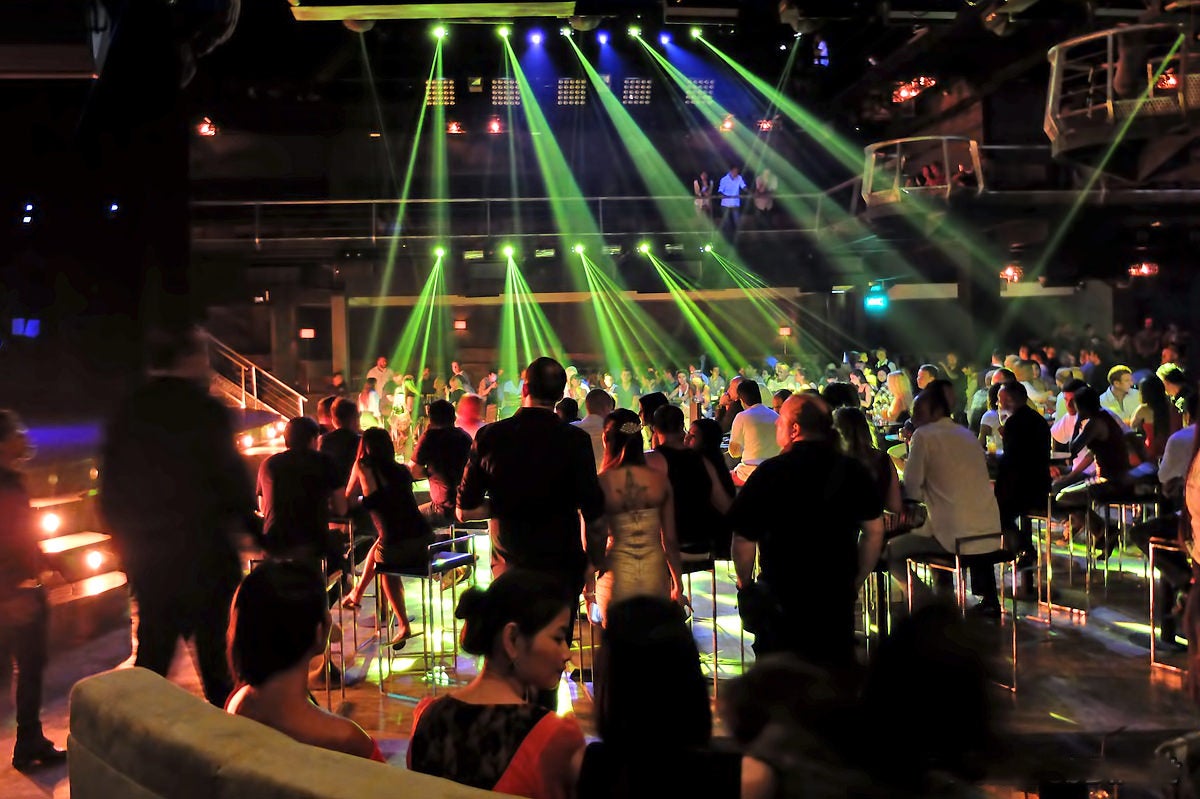 Nightclubbing and partying in Phuket
Most nightspots in Phuket either have no entrance fee or the fee includes a free drink. A few discotheques in Patong have special offers such as an open bar from 10am to midnight for an entrance fee from around 700 baht.
Drinks are usually more expensive in nightclubs than in bars on the street. Cocktails can be as cheap as 100 baht (at Phuket Weekend Market) and as expensive as 400 to 450 baht, depending on the venue.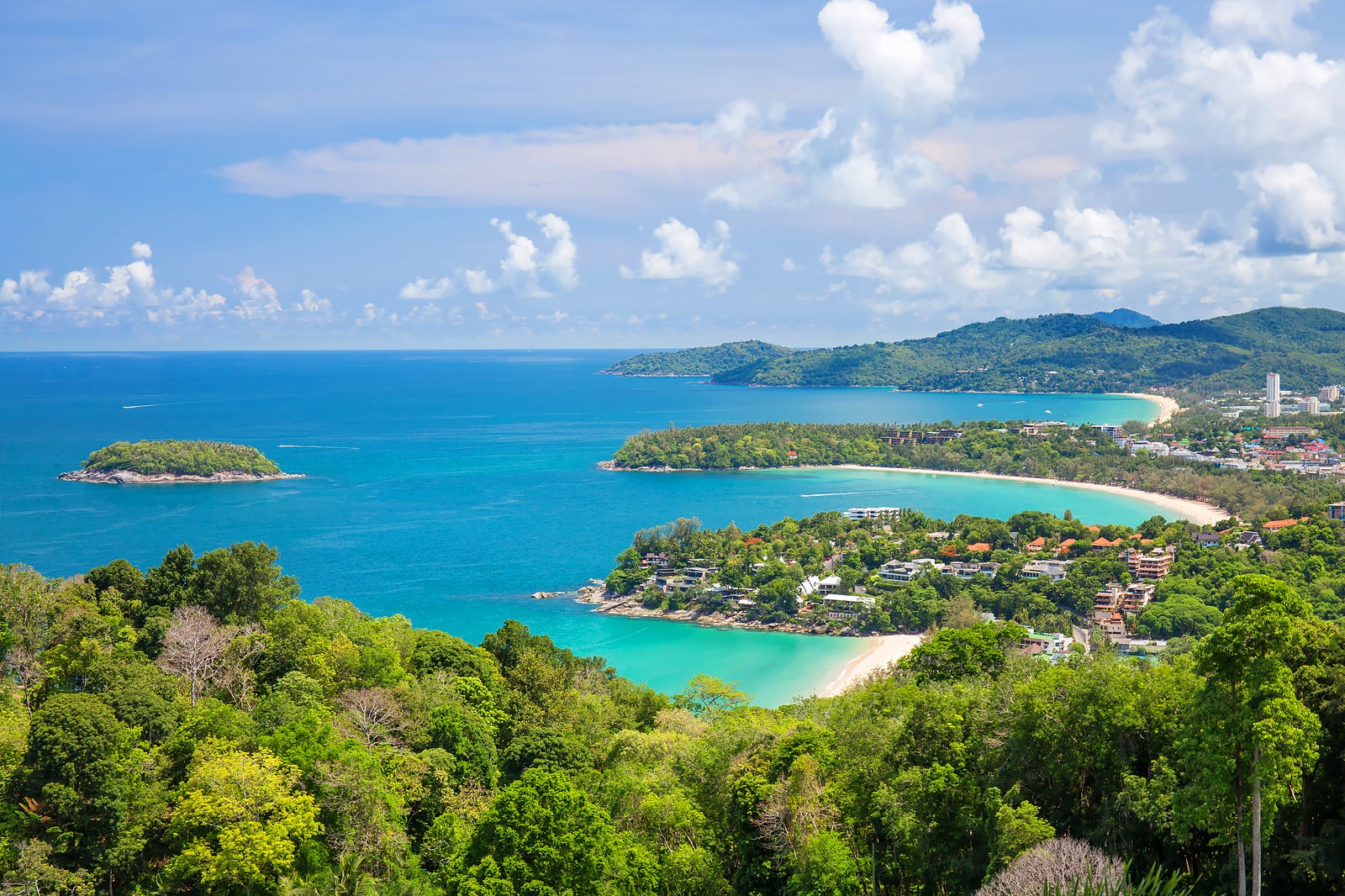 Sightseeing in Phuket is certainly one of the cheapest ways to enjoy all that the island has to offer. All Phuket viewpoints (Kata-Karon, Radar Hill, Khao Rang, Promthep Cape, and Windmill, just to name the most famous of them) can be visited for free. The same goes for the Buddhist temples and Chinese shrines, though a small donation is welcomed to help maintain these holy buildings in a good shape.
Phuket museums often ask for a small entrance fee (from 100 baht at Kathu Mining Museum to around 400 baht at Phuket Trickeye Museum). Animal and botanical parks charge about 500 to 1,500 baht. National Parks have an entrance fee of 200 to 400 baht, yet you have to pay this amount only once for one day. For instance, in Phuket, you can start your day by visiting Bang Pae Waterfall, then go to Tonsai Waterfall, then go to Sirinat National Park on the same day.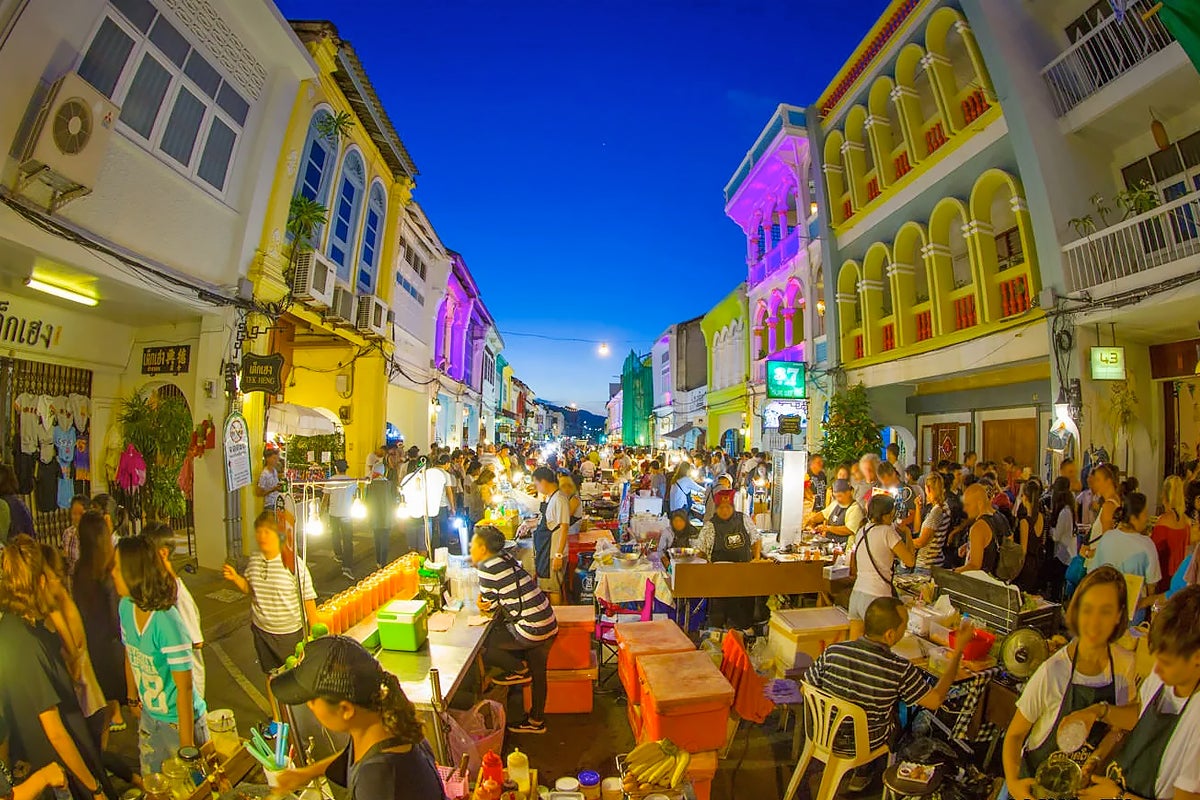 Souvenir shopping in Phuket
As any world-famous vacation destination, Phuket has a great number of shops selling souvenirs, from colorful T-shirts to handcrafted wooden artifacts, to silk products and more. Again, prices vary a lot depending on the location of the store where you do your shopping. The same 'I Love Phuket' T-shirt can cost around 400 baht on Patong Beach Road and only 200 baht at Phuket Weekend Market or on Phuket Walking Street (after bargaining in both cases, of course).
Regarding souvenir shopping, haggling is mandatory. Keep cool and smile, start by reducing the price asked by half, and see how it goes. In most cases, you will get the souvenir you want to purchase far cheaper than originally announced.