Phuket's Big Buddha is one of the most important and revered landmarks on the island. The huge image sits on top of the Nakkerd Hills between Chalong and Kata and, at 45 meters tall, can be seen from as far away as Phuket Town and Karon Beach.
The lofty site offers the best 360-degree views of the island, with sweeping vistas of Phuket Town, Kata, Karon, Chalong Bay and more. Reachable via a winding, 6-km road leading from Phuket's main roads, it's a must-visit island destination.
Phuket Big Buddha - one of the highlights of 70 Best Things to Do in Phuket and 7 Best Activities for Groups in Phuket (Read all about Phuket Province here)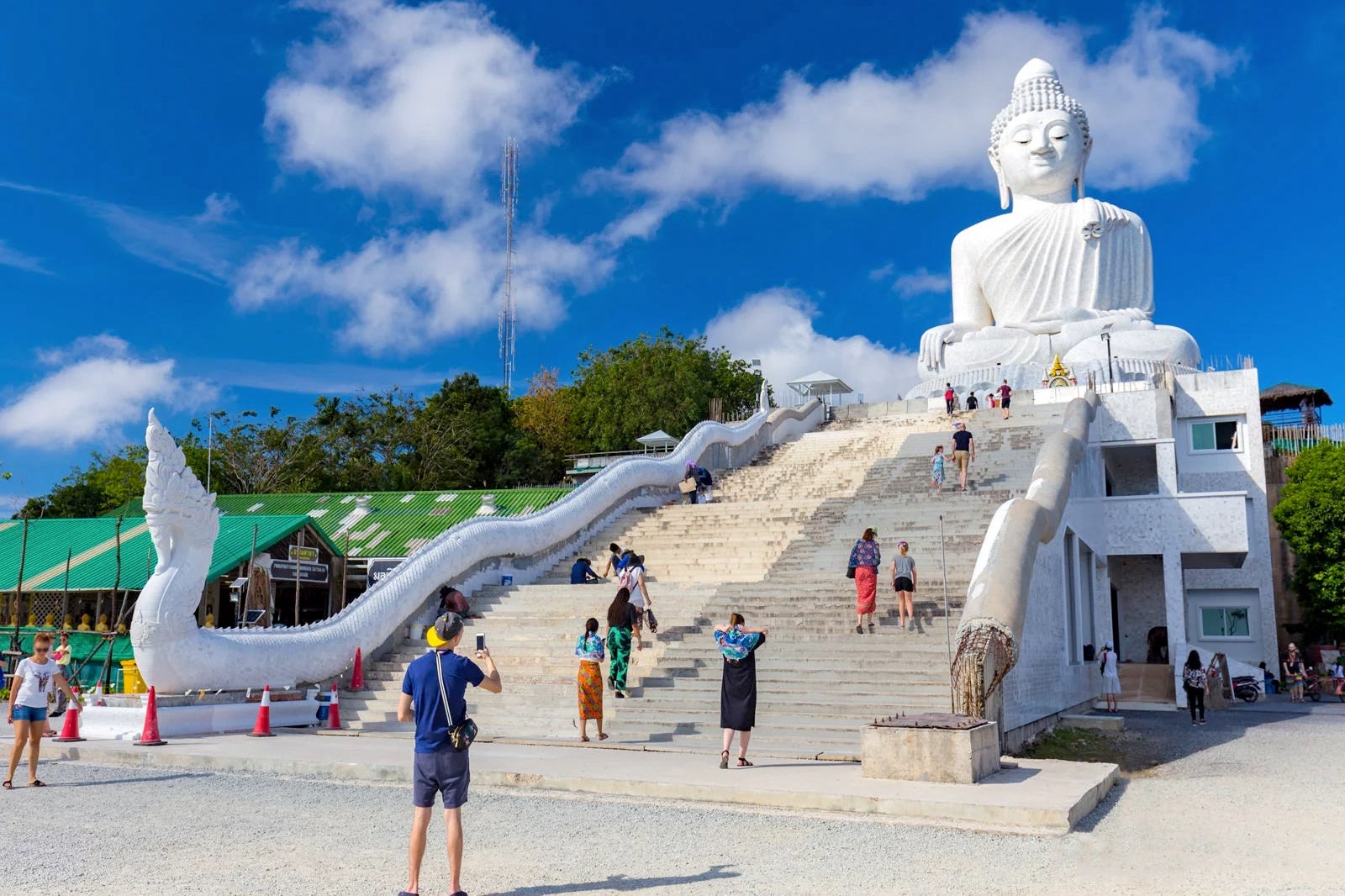 The Big Buddha statue
Close up to the Phuket Big Buddha itself, the atmosphere is very peaceful. The only sounds to hear are the tinkling of small bells and the fluttering of yellow Buddhist flags in the compound, with soft background dharma music.
Known among Thais as the Phra Puttamingmongkol Akenakkiri Buddha, the main statue was built in 2004 and is 25 meters across at the base. The whole body is made of reinforced concrete, layered with beautiful Burmese white jade marble that shines in the sun. The views and the actual image itself are breathtaking.
Next to the main Phuket Big Buddha is a smaller Buddha statue, which is gold in color, though actually made of 20 tonnes of brass. There are also several much smaller statues of Buddha and of revered monks.
On a good day, more than 1,000 people visit the site, many donating money for the Phuket Big Buddha's maintenance and to write messages on the purchased items for good luck and in memory of passed-away loved ones.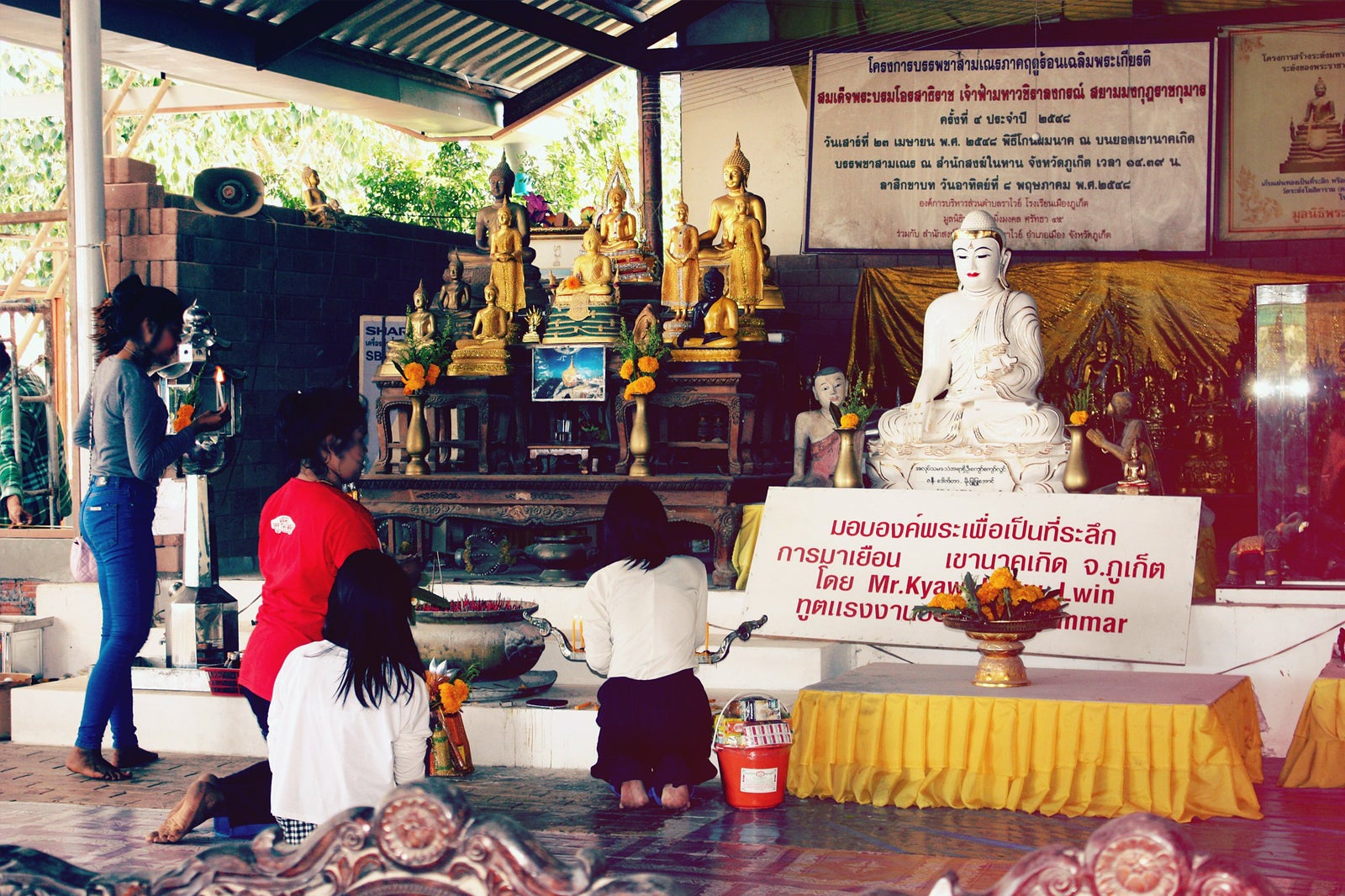 Donation boxes
Funds for the massive structure come entirely from donations. Near the base of the Phuket Big Buddha is a hall displaying the project's history, some Buddhist teachings and countless donation boxes.
As one of the most popular attractions in Phuket, with road signs pointing the way to it right across the island, it certainly gets plenty of visitors and donations. This does mean that it's one of the busiest attractions, with big crowds being quite common, particularly around sunset.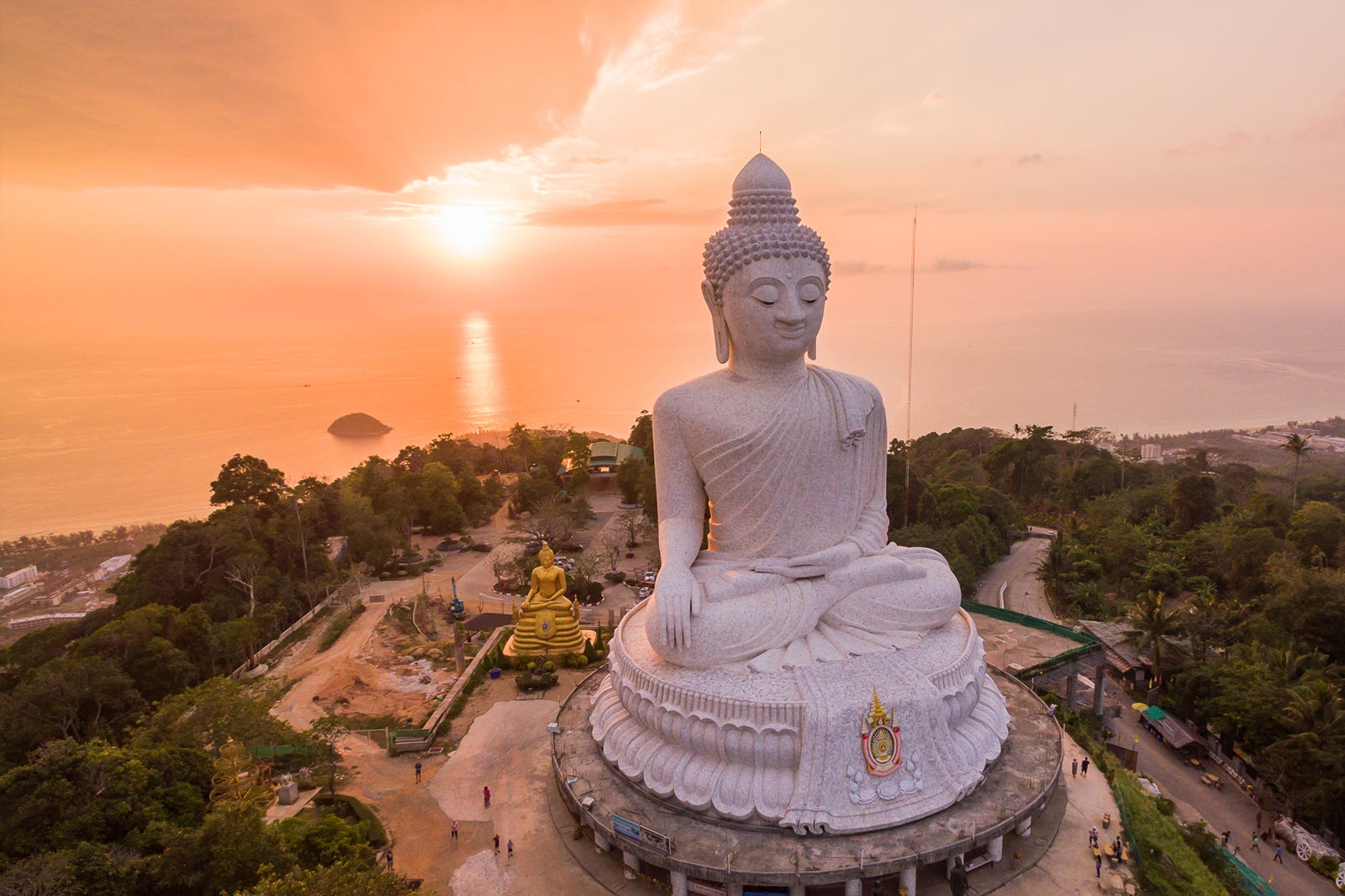 What you need to know about Phuket Big Buddha
What to wear?
As the Phuket Big Buddha is a religious site, it's considered disrespectful to arrive in beachwear, short skirts and T-shirts with offensive texts or images. If you feel you have dressed a little too daringly, you can always ask for a sarong to cover up with. It's free of charge from the site center.
Driving up to the Big Buddha
a) Nakkerd Sea View Restaurant is located near the Big Buddha and is a nice place to chill out after visiting the site. The food there is reasonable in terms of taste and price and the view, of course, is wonderful.
b) The road to Nakkerd Hills is in ok condition, most of it is relatively new but some parts have been worn and damaged. It has many curves and some steep climbs, which less-powerful scooters can struggle with. Some young tourists enjoy hiking up, even though it usually takes them over an hour to reach the top.
Phuket Big Buddha
Location: Soi Yot Sane 1, Karon, Muang, Phuket 83100, Thailand
Open: Daily from 6am to 7pm
Phone: +66 (0)81 891 3827
Why book with Hotels.com?