9 Best Nightlife Experiences in Patong Beach
Where Should You Go at Night in Patong
Patong's pulsating nightlife never fails to attract curious visitors every evening. It's hard to resist a wander down Soi Bangla – the heart of the bar scene where neon lights and deafening music compete for your attention. Over 100 bars – including beer bars, go-go bars, nightclubs and pubs – are condensed into the small, action-packed area fondly known as "Bangla", where the only priority is to have a good time.
Besides Bangla Road, Patong Beach contains other interesting nightspots along its 2 main strips – Rat-U-Thit Road and Thaweewong Road (the beach road). The former hosting Paradise Complex, the center of the gay nightlife scene in Phuket, as well as international-brand venues such as Hard Rock Café and Hooters. The latter features some cool live music pubs and restaurants, as well as the first-ever dance club, opened in 1993 in Patong: Banana Disco.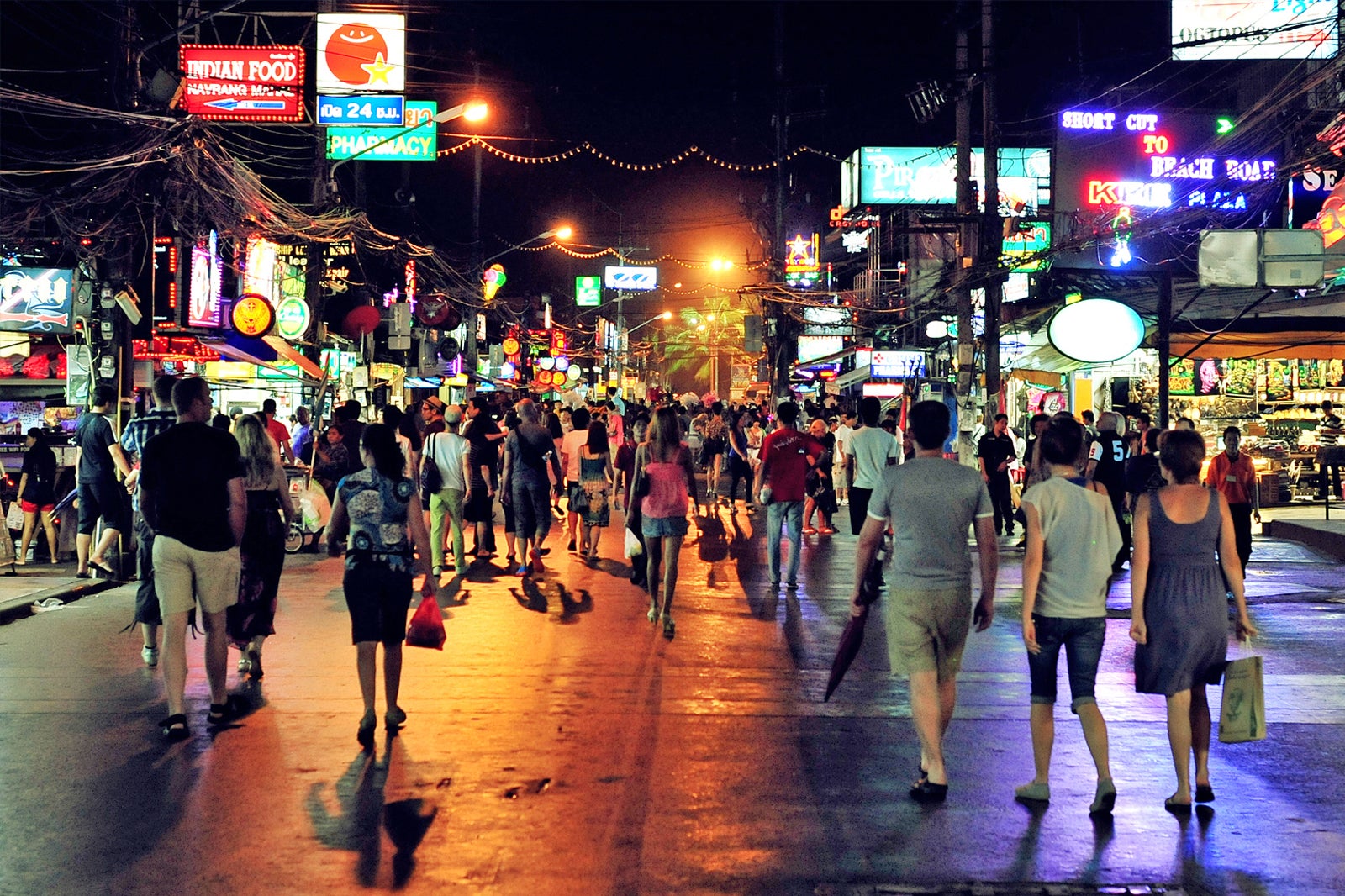 Bangla Road really comes to life once the sun sets. The road is closed to vehicle traffic and becomes a 400 meter festival of neon lights, loud music and cheap beer. Jammed most nights of the year, it's quite a friendly and lively place to walk around as bars and clubs compete with each other for customers. If you're looking for a fun night out in Phuket, Bangla Road should be your first (and, often, only) stop.
It sometimes seems like anything goes along Bangla Road, with an incredible variety of things to see and do. Alongside international-standard nightclubs are hundreds of beer bars and dozens of go-go bars, as well as street performances, vendors, lounge bars, games, live music and more. Taken with the right attitude, it's a barrel of laughs.
Location: Bangla Rd, Patong, Kathu, Phuket 83150, Thailand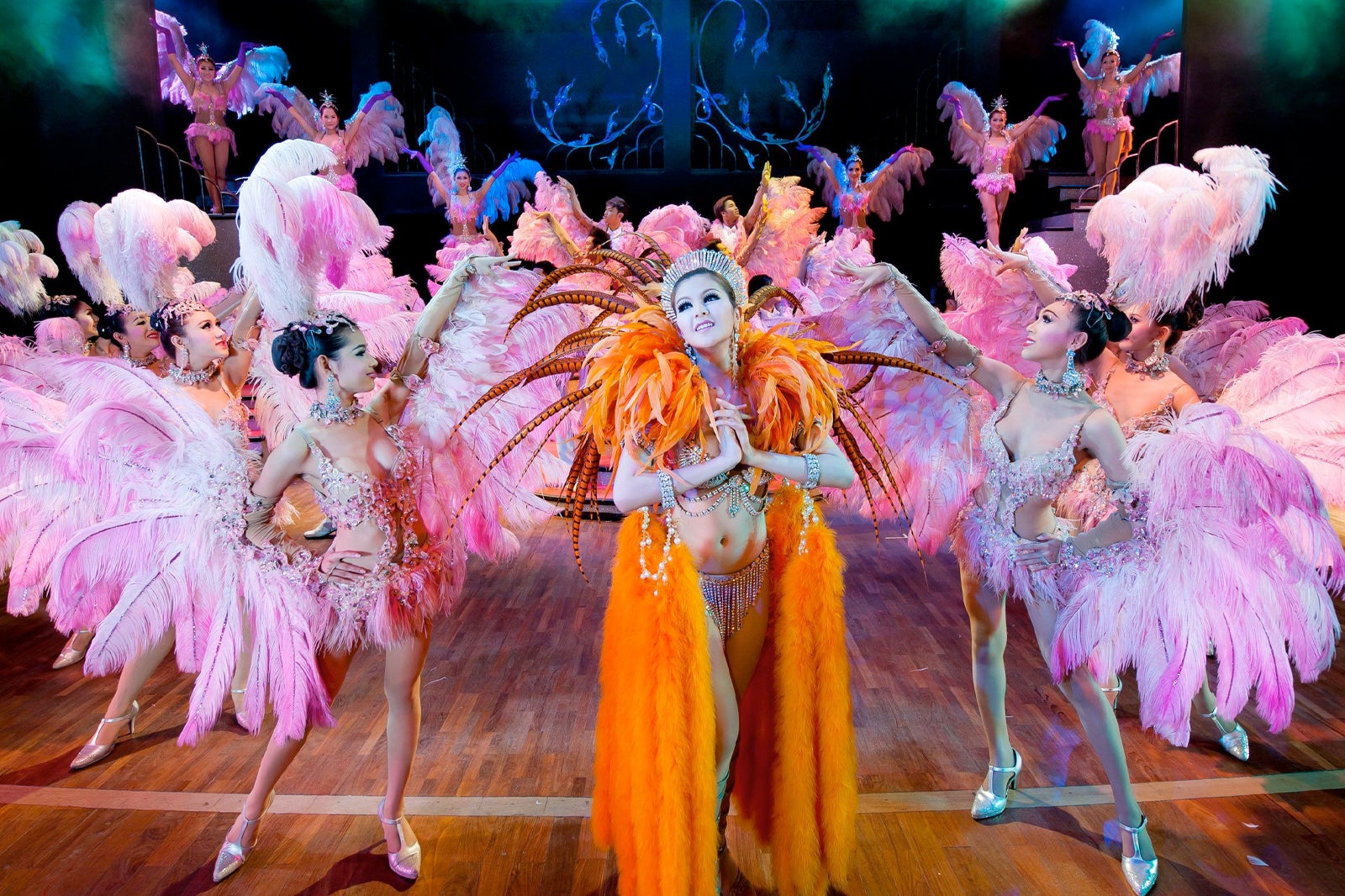 Simon Cabaret is all about clever choreography and fabulous costumes, rapid set changes and superb background sets. The transgender and transvestite entertainers are remarkably skilled and easily half of the fun at Simon is to glance around at the audience's entranced faces as they take the spectacle in.
Read more
Location: 8 Sirirat Rd, Patong, Kathu, Phuket 83150, Thailand
Open: Daily at 6pm, 7.45pm and 9.30pm
Phone: +66 (0)76 342 011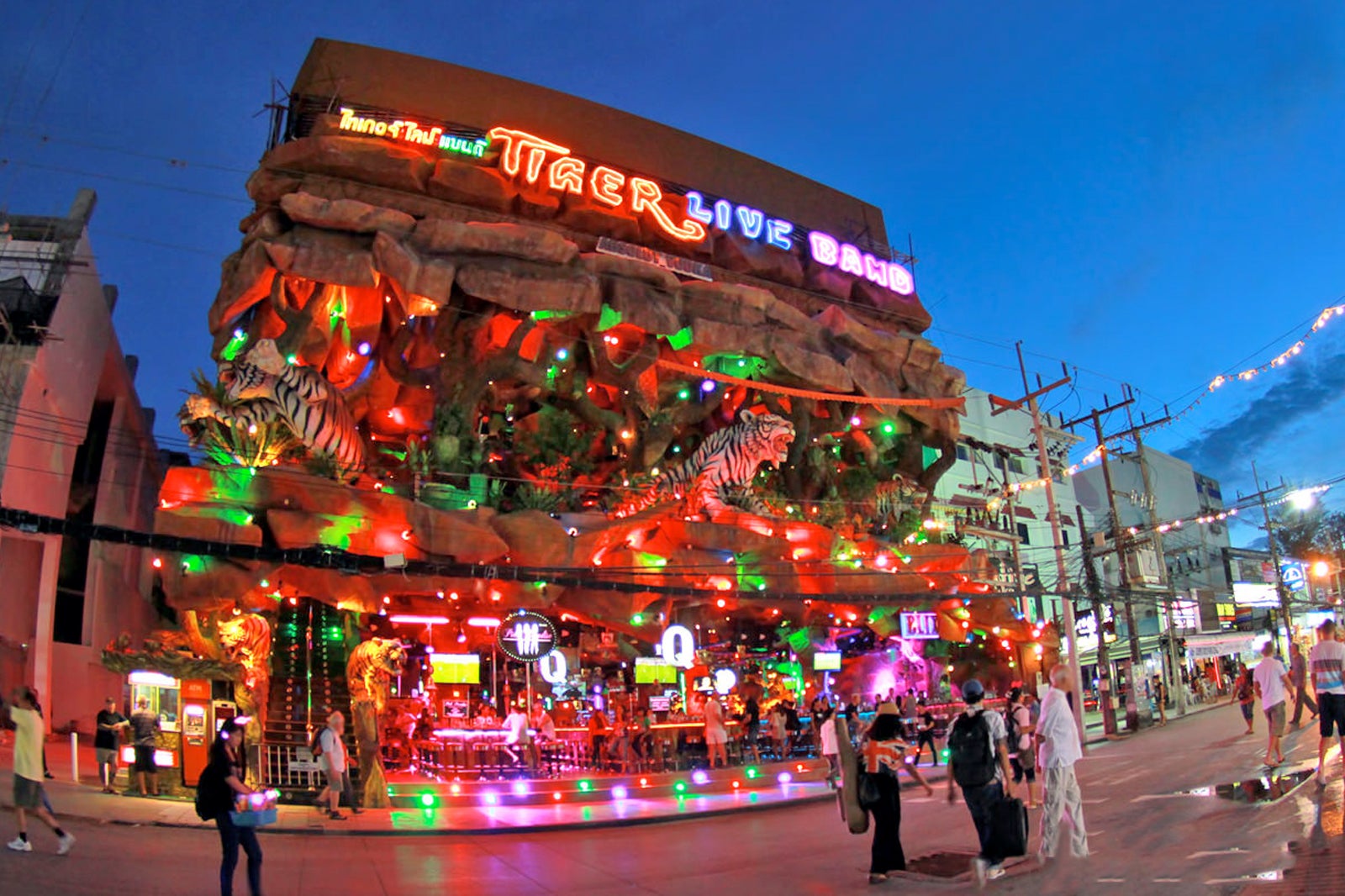 You simply can't miss Tiger Disco: the imposing complex covers some 5,000 sq m on 3 floors. The building is fitted out with cement decor with large concrete tigers overlooking the street from the 2nd floor. The ground floor is entirely beer bars while the upper floors are home to the nightclub.
Tiger Disco is a well-thought-out entertainment complex for those who want to party in a safe environment. You can spend an entire evening there: dinner and pool game at Tiger Pool Club, a few drinks at one of the 1st floor's bars, then dancing the night away on the 2nd floor.
Read more
Location: 49 Bangla, Patong, Kathu, Phuket 83150, Thailand
Open: Daily from 8pm to 4am
Phone: +66 (0)85 678 5779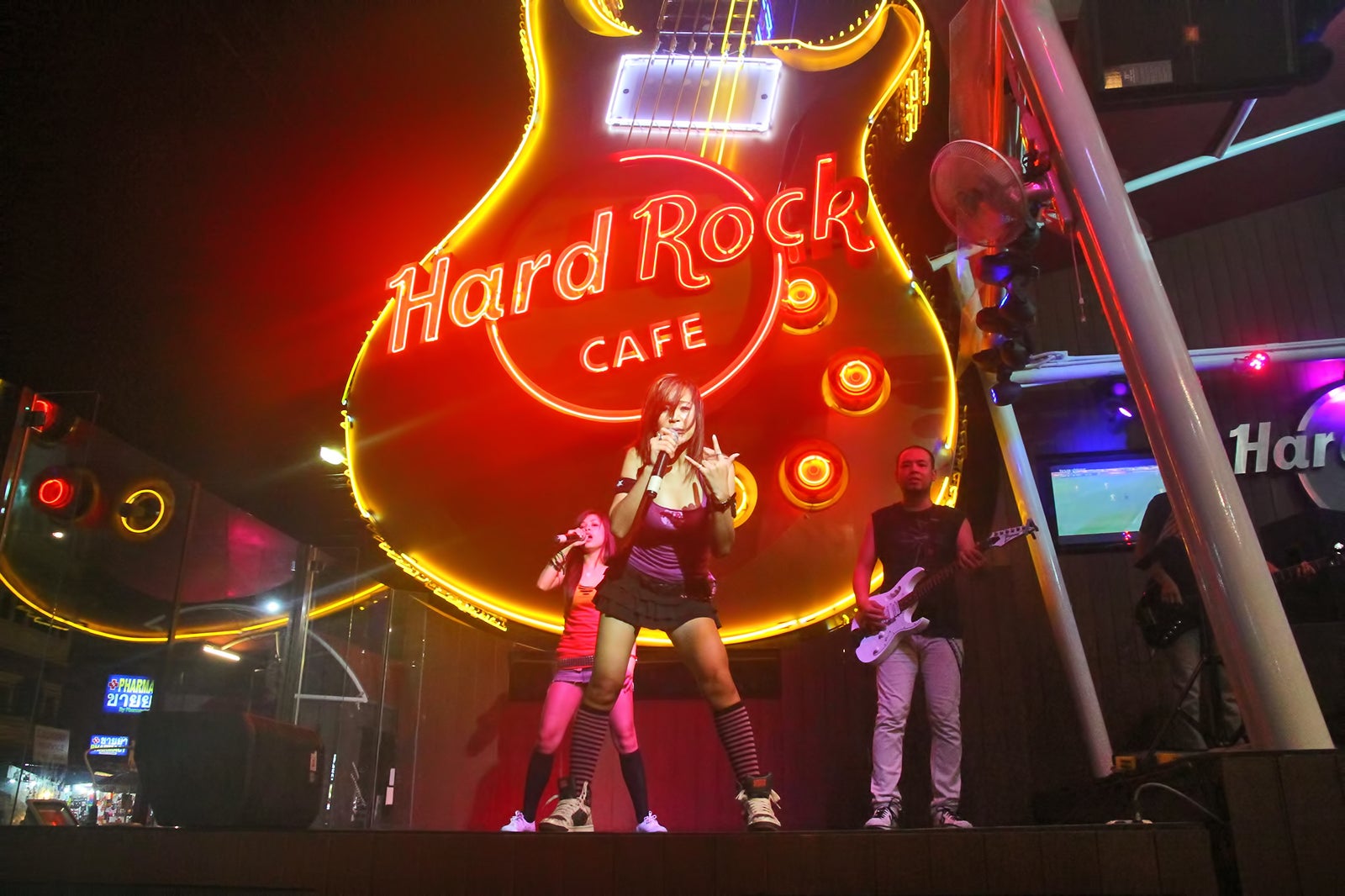 Patong, being the center of nightlife on the island, and indeed the south of Thailand, is the place to go for live music. For a town of this size, there are a surprising amount of choices when it comes to live music. Folk, heavy rock, house or hip-hop are all available on a nightly basis. Top choices include Monsoon, Redhot, and Hard Rock Café.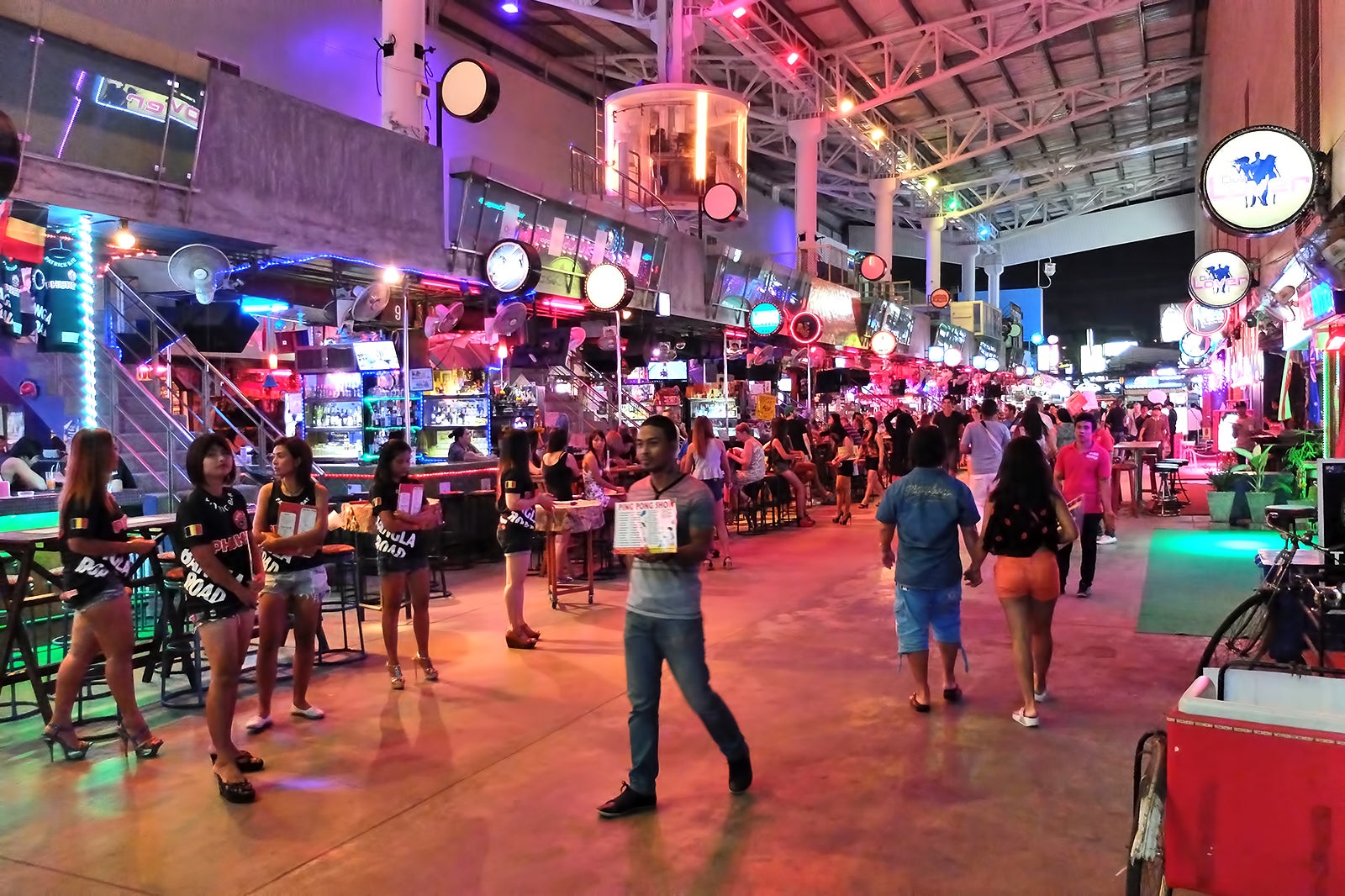 Soi Sea Dragon is the main place in Phuket to find go-go bars. The most notorious of these is Suzy Wong which, despite being the furthest from the Bangla Road, is still the most popular by a significant margin. Other notable names on the street include Harem, Club Lover and Devil's Playground. These are definitely not family-friendly venues are can be pretty shocking if you don't have a very robust sense of adventure. Note that drinks prices are higher in these venues than in the beer bars, putting them on a similar scale as Bangla Road's nightclubs.
Read more
Location: Bangla Road, Patong, Kathu, Phuket 83150, Thailand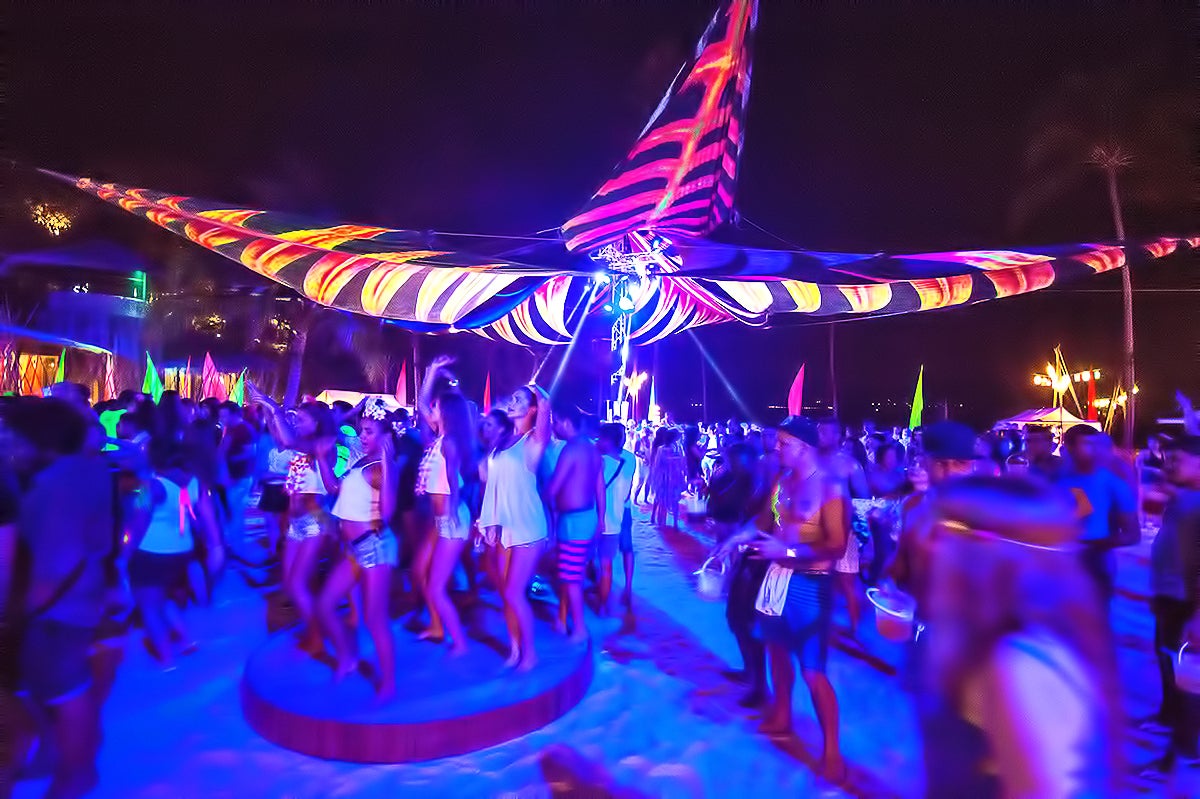 Paradise Beach Club Phuket is a large, well-developed party spot located on Paradise Beach – an isolated bay a short distance from Patong Beach. Featuring shops, restaurants, activities and fantastic beach parties, it has an air of exclusivity without being prohibitively expensive.
Special beach raves take place 3 times a month on Paradise Beach, on the evening of the full moon, half-moon and new moon. They feature EDM tunes, neon paints and a carefree vibe. Paradise Beach Club practically unique among the beach clubs on Phuket in the way that it celebrates the phases of the moon.
Read more
Location: Muen-Ngern Road, Patong, Kathu, Phuket 83150, Thailand
Phone: +66 (0)83 743 9009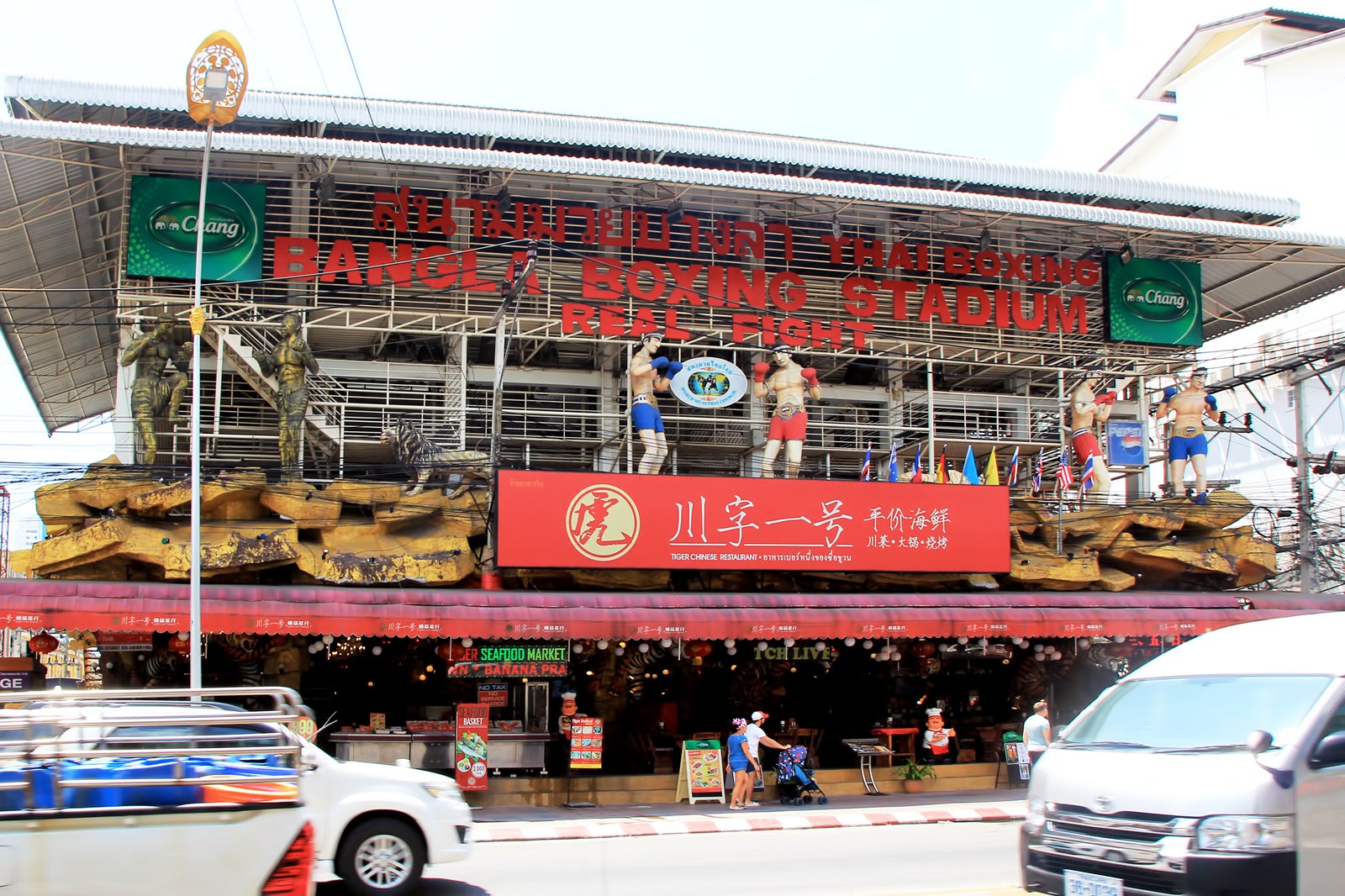 Bangla Boxing Stadium is a Muay Thai arena in Patong. Originally built on Bangla Road on a smaller scale, the stadium kept its name after moving to its new location opposite Banzaan Market on Sai Kor Road, the large thoroughfare passing behind Jungceylon Shopping Center.
The stadium is difficult to miss: it's a large 2-storey building with a first floor made of beige stone-like sculpted cement shaped like tigers. The second floor is an amphitheater surrounding the ring. At the front of the building, you can see large statues representing Thai boxers.
Read more
Location: 150-155 Sai Kor Road, Patong, Kathu, Phuket 83150, Thailand
Open: Wednesdays, Fridays and Sundays from 9pm to midnight
Phone: +66 (0)64 061 5050
photo by Karelj (CC BY-SA 4.0) modified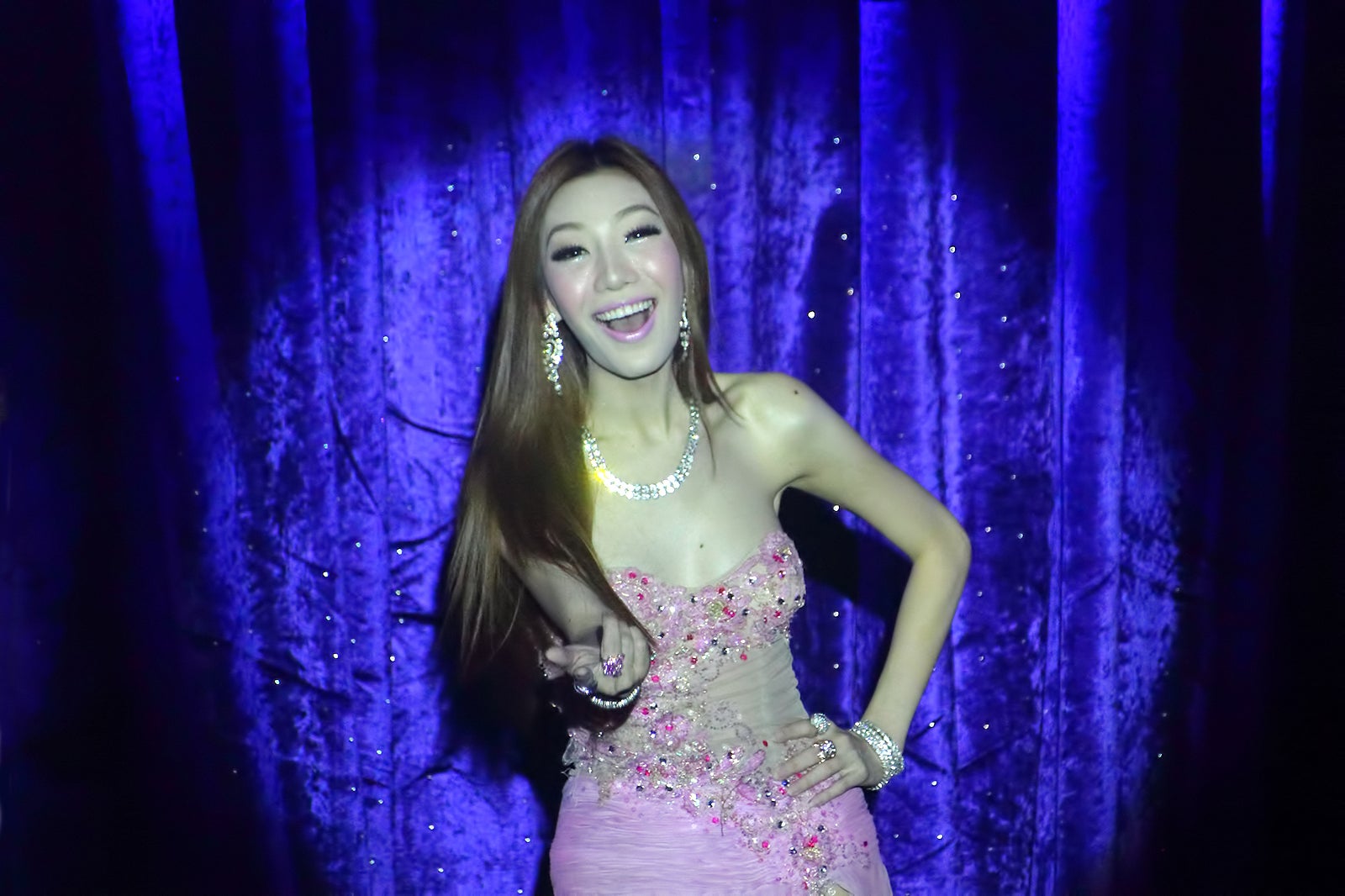 Most of the businesses in the Royal Paradise Complex in Patong are run by, or are catering to, gay people. The atmosphere in the Complex during the day is sleepy, but at night the atmosphere is friendly and flamboyant, with cabaret shows sometimes right out on the street.
Location: Rat-U-Thit 200 Pee Road, Patong, Kathu, Phuket 83150, Thailand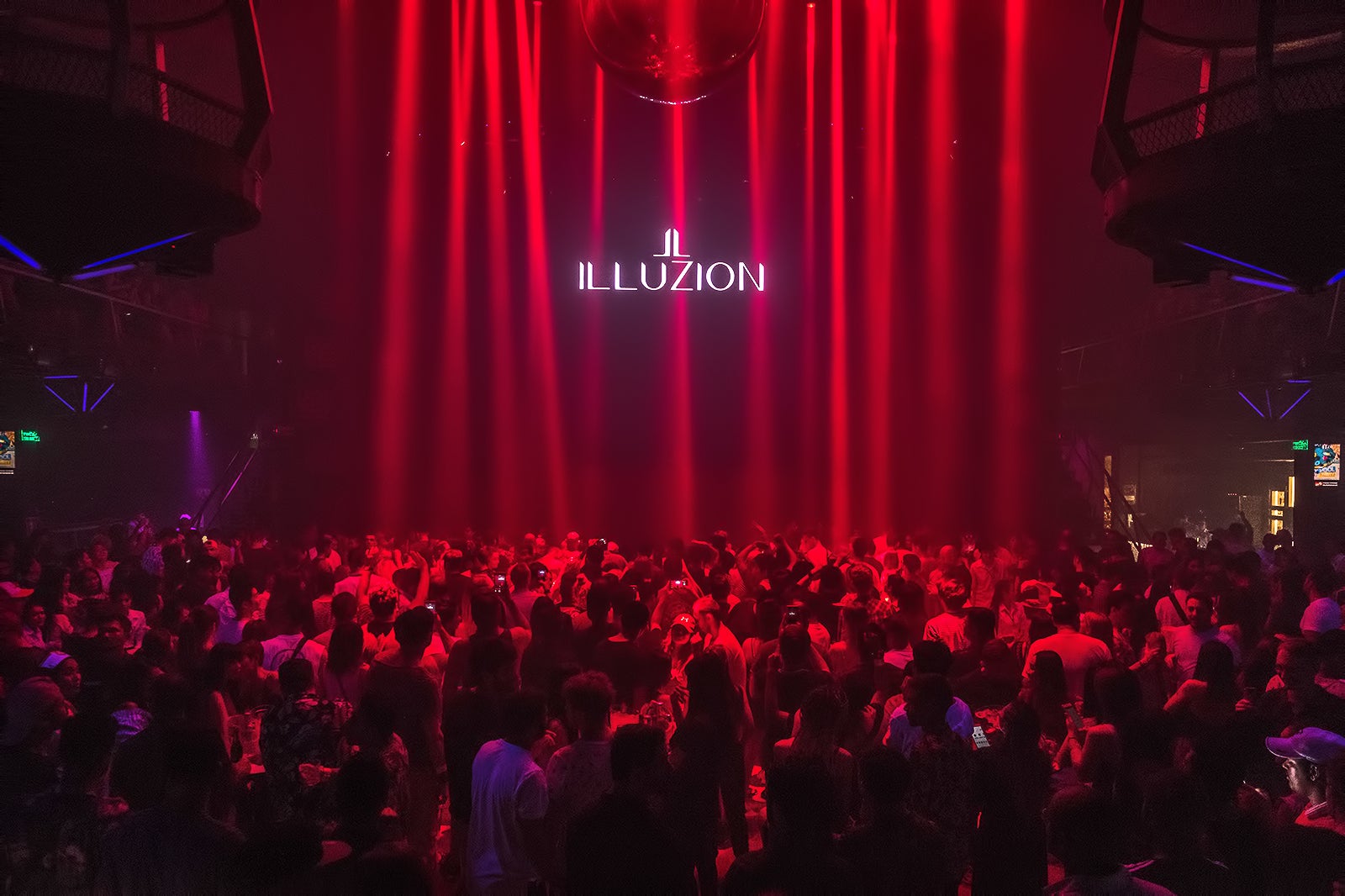 Illuzion Show & Discotheque should be on the bucket list of every reveller visiting Patong Beach for the quality of the entertainment they provide and for the high-standing style of the venue. Featuring 2 main areas – dance-floor, VIP lounge, and a large balcony – the club is built around a central T-shaped stage back-dropped with a 100-sq-m LED wall screen projecting colorful videos and graphic images, adding to the futuristic design of the venue. With great EDM and hip-hop music played on a first-class sound system, it is one of the most popular nightclubs in Phuket.
Read more
Location: 31 Bangla Road, Patong Beach, Kathu, Phuket 83150, Thailand
Open: Daily from 9pm to late
Phone: +66 (0)93 583 4766