Amazon BKK Fishing Park is where visitors with no experience could catch themselves a 150 kg, 2-meter-long river monster near Bangkok. The centerpiece of the 'park' is actually a lake in Nakhon Pathom Province. While it's certainly not the only fishing spot in or around Bangkok, the Amazon BKK artificial lake is teeming with the largest and strangest fish from Asia and the Amazon, such as red-tailed catfish, alligator gar and arapaima.
Home to over 400 creatures, the artificial fishing lake is purpose-built at around 200 meters long and fills 1.28 hectares of land. Amazon BKK is around an hour and 30 minutes' drive from Bangkok city center but feels a world away, with birdsong and palm trees replacing bright lights and roadworks.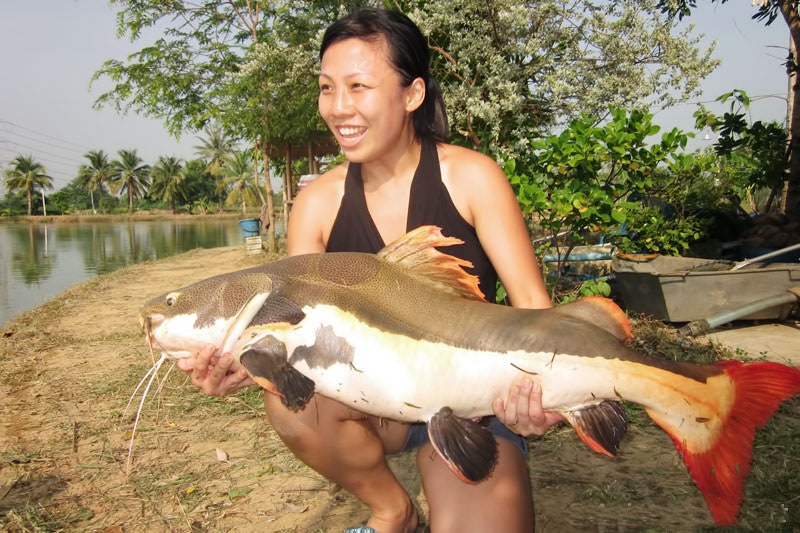 Fishing (and posing) at Amazon BKK
Besides the experience of reeling in one of these enormous fish, you can also get a couple of photos with your catch to impress everyone back home. Even so, note that there's a policy here to return the fish to the water as soon as possible.
Once the fish is scooped out of the water, staff get to work on removing the hook and settling the fish on a stretcher, so it can be returned to the water after the proud angler takes a couple of pictures with their catch.
Every fish is examined and if one is deemed weak or in poor condition, it's transferred to a holding lake so it can regain its strength. Only non-barbed, artificial lures are allowed at BKK Amazon and feeding time varies so fish are accustomed to biting throughout the day.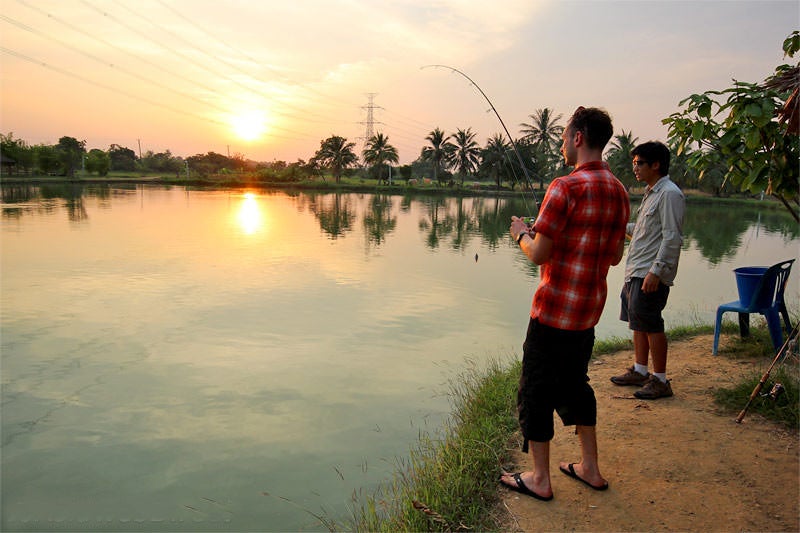 Escaping Bangkok to Amazon BKK
Rates for a full day of fishing include a simple lunch. There's an additional cost for renting equipment (left- and right-handed rods with spinning reels and bait-casting reels are available). Transportation can be provided but also comes at an additional cost.
The lake is open from 6am so to really get the most from your day it's advised to get a pick-up from central Bangkok at around 4am. If that seems a bit too extreme for you, don't worry – pick-ups can be arranged for any time. Driving here using GPS is highly advised.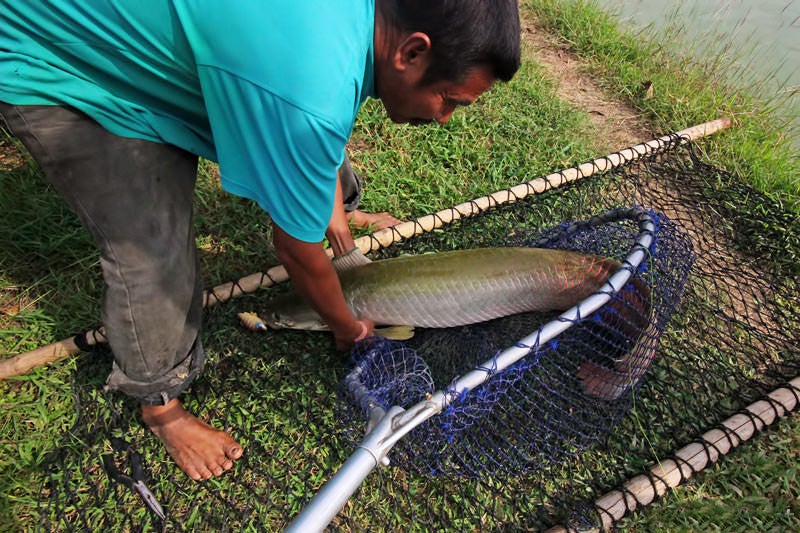 Fun day out fishing
A day out at Amazon BKK fishing lake is the perfect escape from the congestion of the city and makes a great day trip for families with children, too. Children are welcome to fish at the lake, though it's preferable if they have some fishing experience.
An English-speaking fishing guide is not usually present at the lake, meaning it might not be suitable for absolute beginners. But for anyone with the basics of how to cast and reel in, it's certainly a great place to fish.
Arapaimas are fish originally from the Amazon River in Brazil but are now popular with fishermen for whom size matters. Ranging from 30 kg to 150 kg and over 2.5 meters long, they're one of the star attractions that make Amazon BKK such a sought-after fishing spot.
Other fish of note include tiger fish, pacu, and black sheatfish. Redtail catfish and Asian redtail catfish, distinctive due to a streak of electric red or orange on the tip of the tail, are also considered a trophy catch here and are known for their boisterous temper. They usually take 30 or more minutes to reel in.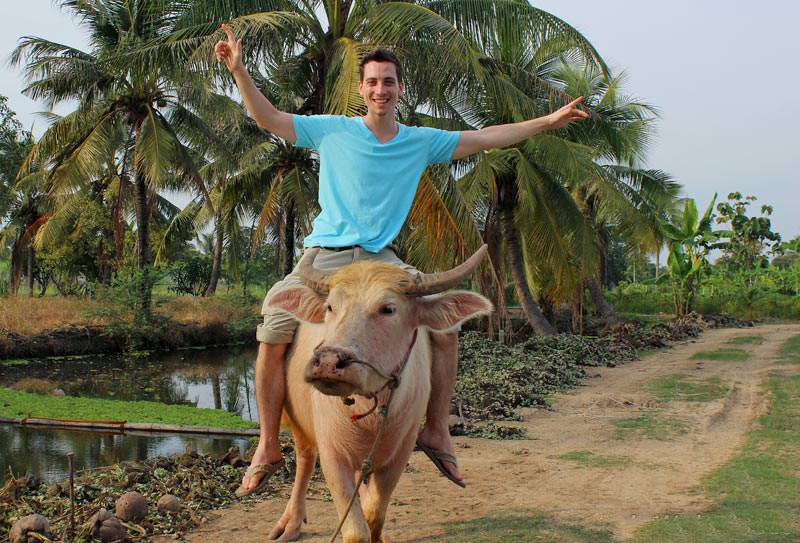 Complementing facilities at Amazon BKK
Other facilities include 13 shaded cabanas along one side of the lake, one walled cabin next to the central house and a kitchen onsite can cook simple Thai dishes like fried rice or fried pork and basil on rice, but don't expect a full menu. If you do require something in particular, as always in Thailand, it can be arranged. Even so, this is really a place for keen fishermen who are here for what's in the lake and are unconcerned about additional amenities.
Other unique elements about Amazon BKK include a family of white buffalo lazing about and a deer that seems to love being the center of attention and will happily pose for photos.
If you're interested in a day out fishing, be aware that the owner of the lake speaks little English, so you should ask a receptionist at your hotel to call and make arrangements on your behalf. When you're pulling a 50 kg Arapaima out of the lake, you'll be glad you made the effort. It's more difficult than it looks on TV, but it's also far more exhilarating.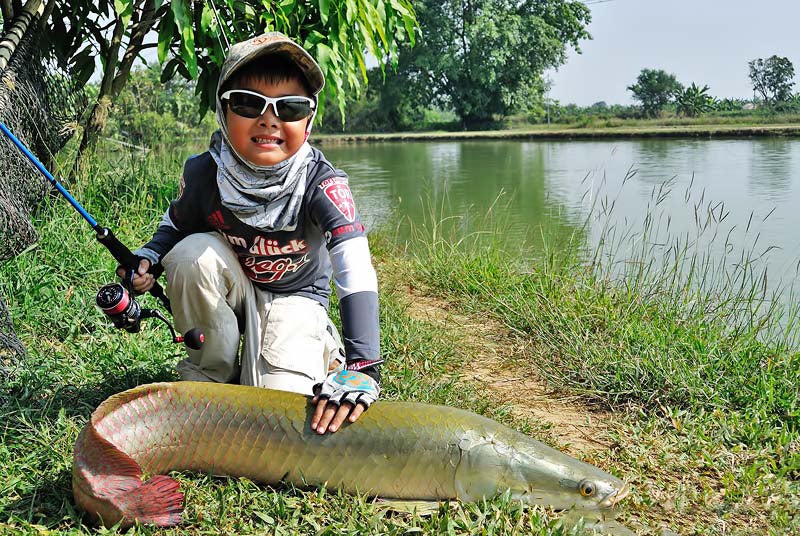 Amazon BKK Fishing Park
Location: 73/1 Thung Khwang, Kamphaeng Saen, Nakhon Pathom 73140, Thailand
Open: Daily from 8am to 5pm
Back to top