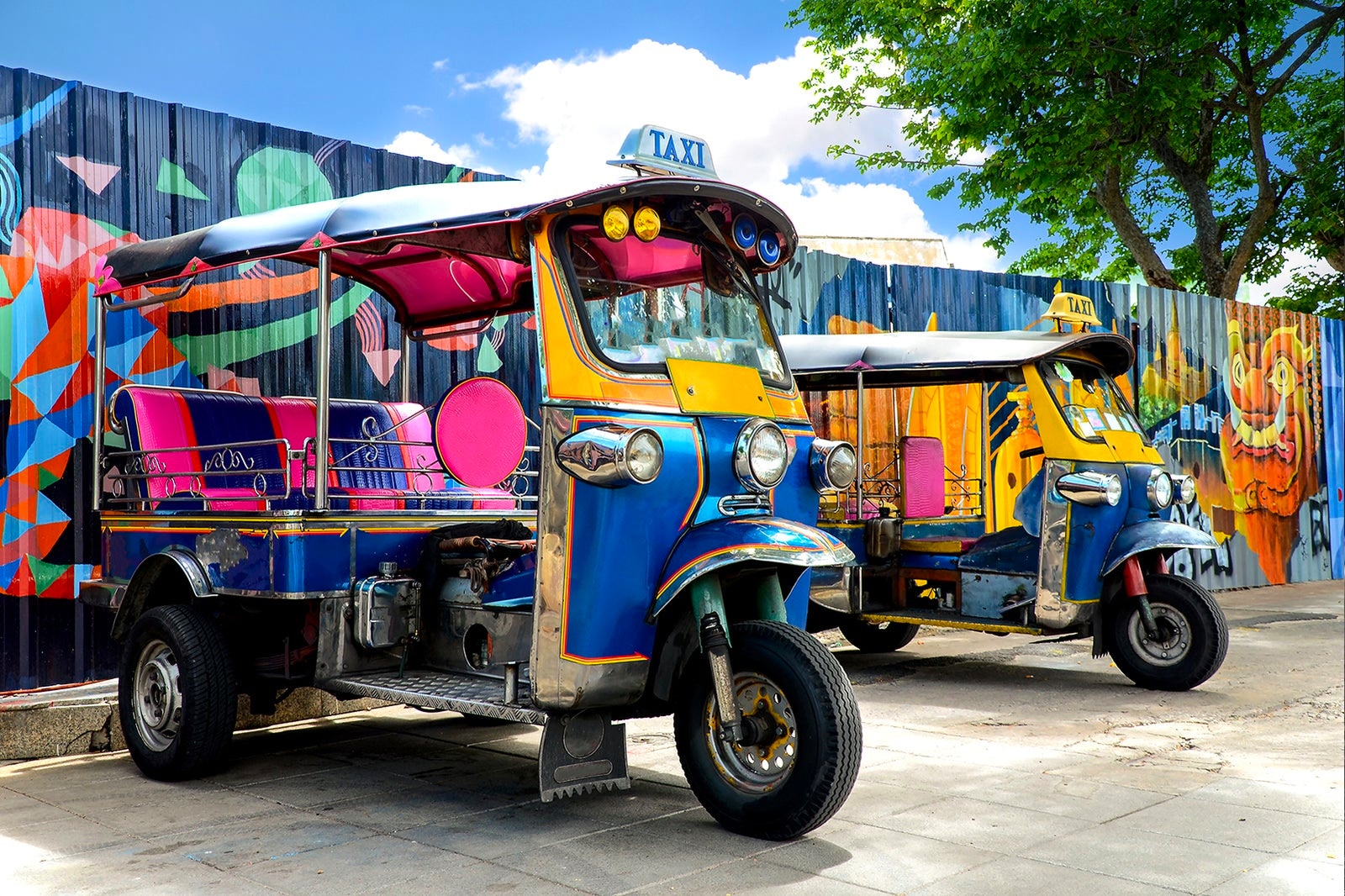 Getting Around Hua Hin
Hua Hin Transportation
Getting around Hua Hin is fairly easy, as it's a small enough beach town to explore by bicycle or motorbike. But if you plan to get down to Khao Takiab, Pranburi, or up to Cha-Am, a songtaew (passenger-carrying trucks) would be a better option.
Hua Hin Beach itself offers many options for dining, nightlife and shopping, and is easily explored on foot. For a unique experience, try a trishaw ride from the Hua Hin Railroad Station. Tuk-tuks are convenient but a little pricier than the shared songtaew.
Bicycles are an excellent mode of transportation in Hua Hin. These motor-free vehicles can be rented at many places for the day. Always wear a helmet and be aware of your surroundings when cycling around Hua Hin. When you park your bike, make sure to securely lock it.
2
Renting a automobile in Hua Hin
Renting a automobile to get around Hua Hin is a great way to explore the coastal city according to your own pace. Most people start their journey in Bangkok, with major road signs available in both Thai and English.
Major automobile rental companies have outlets at Bangkok International Airport and in Bangkok itself. When driving, always give way to larger vehicles. If you are involved in an accident, expect to be held accountable. Also, carry an international driver's license as your insurance will be deemed invalid without it.
Walking is a great way of getting around Hua Hin. The beach, major hotels, restaurants and tourist sites are conveniently within the town itself.
Motorbike taxi cabs are among the most common modes of transportation in and around Hua Hin. You can find a collection of motorbikes and drivers wearing brightly colored undershirts at many of the city's street corners.
While taking one can be a thrilling experience, motorbike taxi cabs are convenient and great at navigating through the narrow lanes Hua Hin is famous for.
Samlor is a Thai-style rickshaw commonly found near the Hua Hin railroad station. It's usually peddled by elderly men, who have years of experience in ferrying people around Hua Hin.
Songthaew (local pickup trucks) are especially convenient for going from Hua Hin to Cha-am. They operate like buses and follow rather fixed routes.
photo by Ilya Plekhanov (CC BY-SA 3.0) modified
Like most of Thailand, Hua Hin has plenty of tuk-tuks servicing its town center, beach and touristy spots. Since many of the town's streets are narrow, these vehicles can go to places that are otherwise challenging for automobiles or buses. Trips outside Hua Hin are understandably pricier, but you can negotiate the fare before departure.
Back to top