5 Best Known Scams in Phuket
...and How to Avoid Them
Scams exist in just about any travel destination around the world, and Phuket is sadly no exception. It's also quite normal to let your guard down while on vacation. Thai people are naturally very hospitable, but the bad apples count on you not speaking a word of Thai, knowing that this leaves you in a vulnerable position.
Where do you draw the line between confining yourself in a hotel room for fear of getting ripped off and going out at the risk of being scammed? Getting wise to common Phuket scams beforehand is the obvious answer, though staying sober enough to maintain your judgment certainly helps. Check out our guide to the best-known scams in Phuket, and how to avoid them.
Phuket's long-running jet-ski scam has received worldwide media attention, but you still can see travelers enjoying this watersport on any given day. The scam works with operators hiring out previously damaged jet skis to unsuspecting travelers. When it's returned, they'll feign astonishment and anger at perceived damage to the vehicle, demanding huge amounts of compensatory money. Calling the authorities can often prove to be futile, to least because it boils down to a 'he said, she said' argument. The best solution is simply not hiring a jet-ski in the first place, though taking photos of the vehicle before boarding can also help.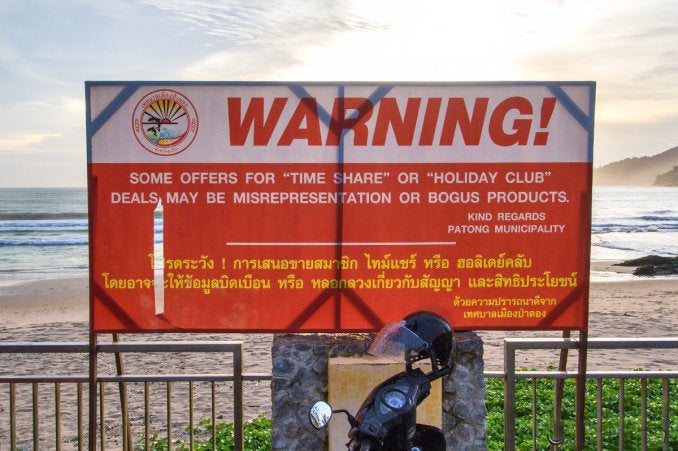 Timeshare scams in Phuket are quite common in Patong, Kata and Karon, The approach might come from a random European guy approaching you on a motorbike or Thai women asking you to fill in a quick survey to win a prize or reward.
The kicker is that, in order to claim your prize, you'll need to sit through a 90-minute presentation for a timeshare or a vacation club. In return, you get a worthless contract or coupons you can never spend. You're better off saving your time by declining when the scammers start introducing themselves.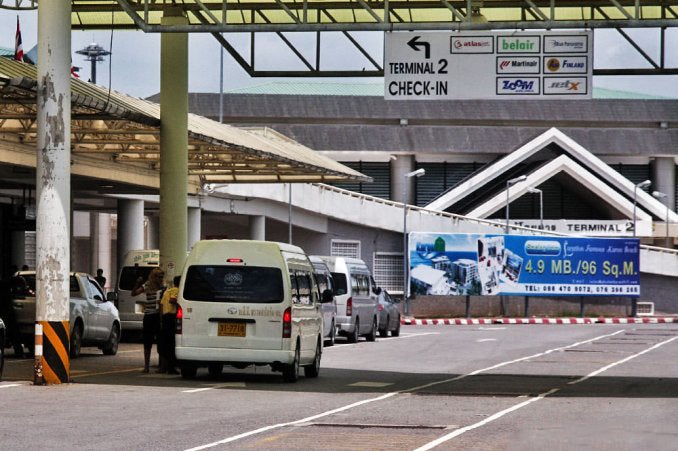 After landing at Phuket Airport, it's natural to want to get to your hotel by the cheapest means possible. Most people opt for minivans since they usually cost a fraction of the price of a taxi.
Halfway to your requested destination, some minivans (and taxis) stop at a 'travel agent' who informs that your hotel is fully booked or simply closed. They'll then suggest an [overpriced] alternate. It's best to have a hotel booking before you arrive to avoid this (or at least claim to have one). While the travel agent might try to push tours on you instead, these can be easily declined.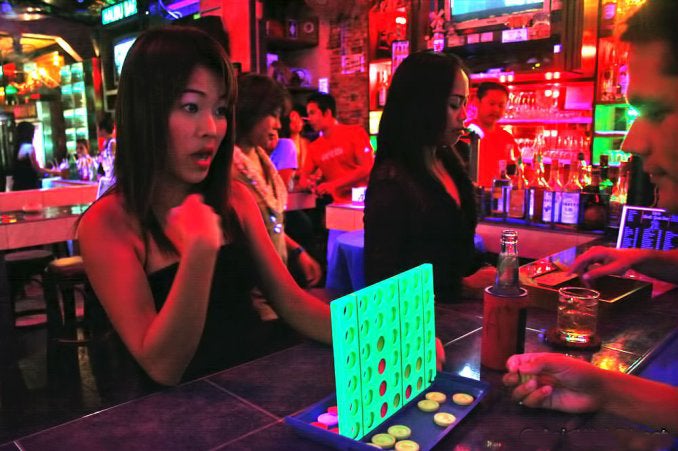 Many bar girls in Phuket are motivated to earn as much as they can because they have to financially support their families. An unsuspecting and naïve male can sometimes confuse what Thai ladies see as 'fun' with love.
The bar staff can expertly relieve would-be Romeos of their travel funds by making up an emergency – a common phrase is "the family buffalo is sick and we urgently need money for medicine". When he returns back home, the kind-hearted traveler may feel obliged to regularly send money to his paramour, not suspecting that she may already have several lovelorn men sending her monthly payments.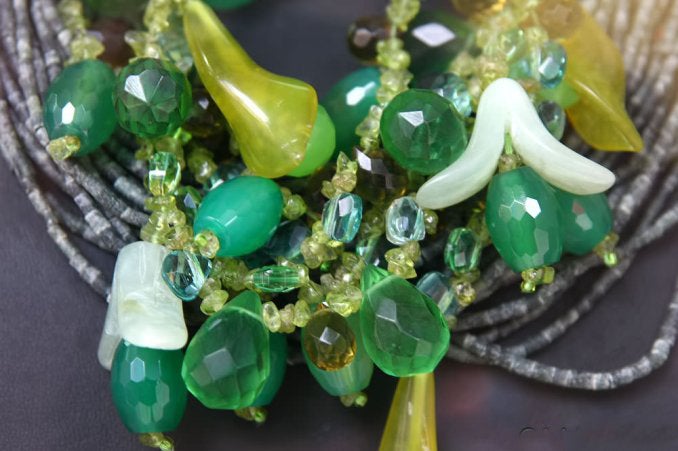 Gems scams are usually the work of taxi drivers who offer to take you to a jewelry store at no extra cost. You'll be informed that gems in Thailand can be sold for many times their value in your home country. Of course, the taxi driver receives a fat commission if you fall for it. More often than not, these are fake gems or at the very least not worth what you paid for.
Bear in mind that most scammers are successful because they play on the greed of their victims. If something seems too good to be true, then it probably is.
6
Tips to avoid scams in Phuket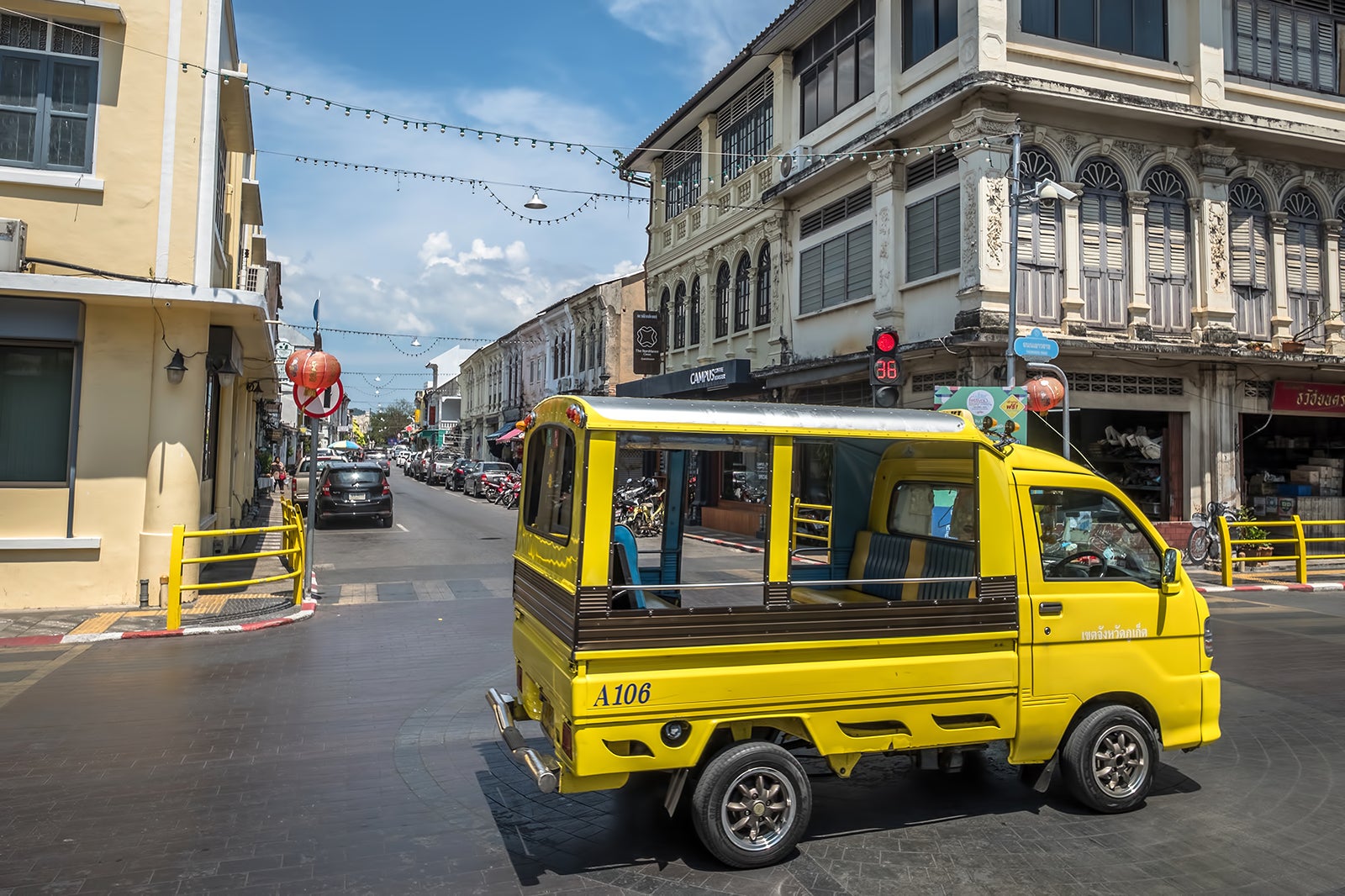 Always clearly agree on the fare with your tuk tuk or taxi driver before getting in.
Try not to let your drinks bill add up too much as it's not unusual for 'extras' to be thrown in. Pay drink by drink, or your 5-beer bill may mysteriously become a 10-beer one.
Padlock your rented motorcycle. Some unscrupulous motorcycle shops steal their own bike and charge you for a replacement.
Never leave your passport as a deposit when hiring transportation. It's best to leave a photocopy as Thai law implicitly states that you must carry your passport at all times.
If it seems too good to be true, it probably is.
Thai people aren't usually very forward, so be vigilant if an aggressive and loud-spoken local approaches you.
The Tourist Police's phone number is 1155.
Back to top