Loy Krathong is Thailand's very own 'festival of lights'. This national event takes place annually on the evening of the 12th lunar month, usually in the first half of November. The celebration involves various rituals at Buddhist temples around Phuket, though the most famous and popular part is the launching of a krathong. This floating lantern carries candles and joss sticks, as well as your wishes.
Large bodies of water throughout Phuket (and Thailand) are illuminated with thousands of little lights, creating a magical and wondrous sight – photographers and families with young children are particularly fond of this annual celebration.
Loy Krathong Festival in Phuket - one of the highlights of Phuket Festivals & Events (Read all about Phuket Province here)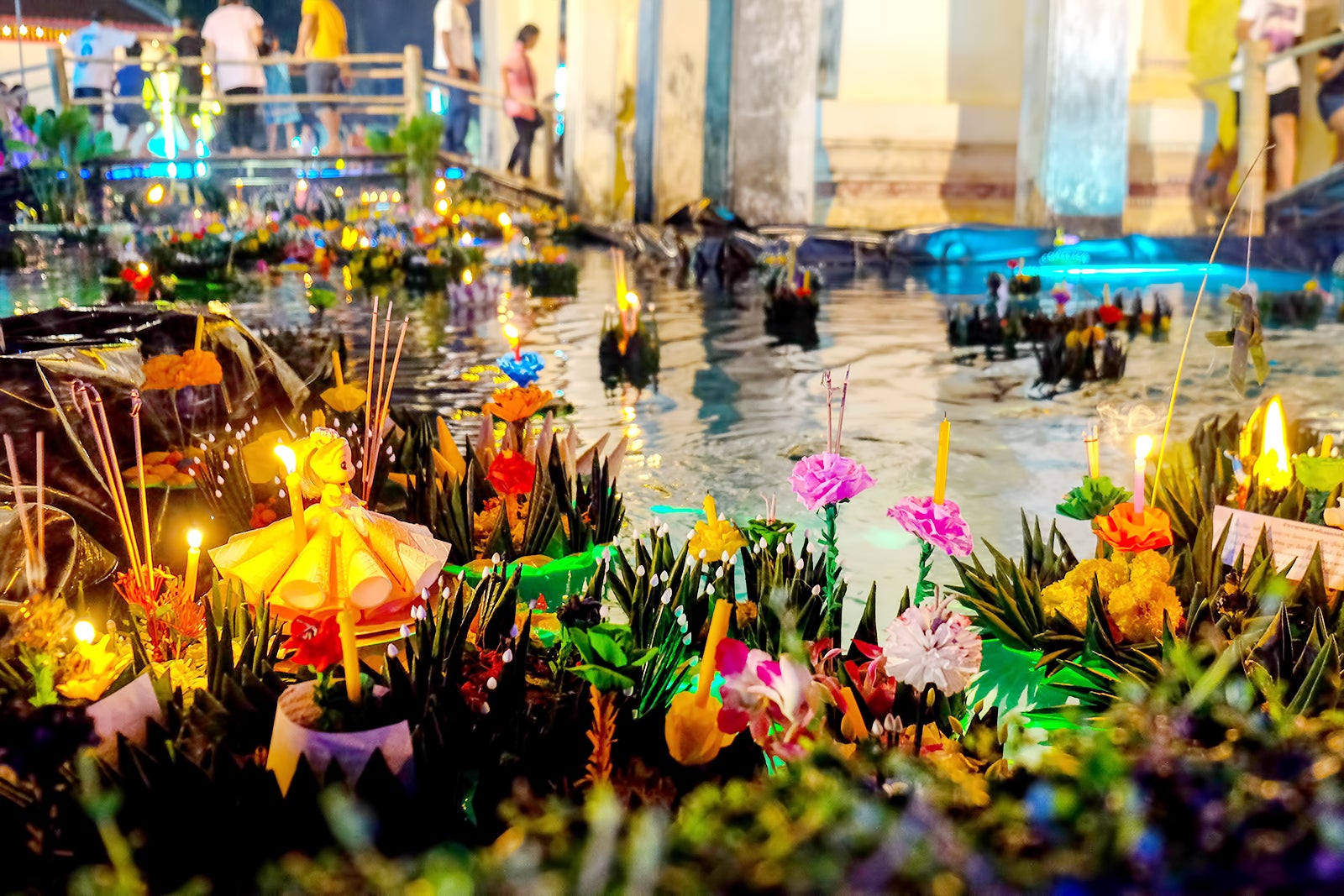 Highlights of Loy Krathong
You'll notice many makeshift stalls selling krathongs along the streets of Phuket, several hours before sunset. You can buy one (or make one, if you're feeling creative) for each person in your party. These lotus-shaped miniature floats – containing 1 candle, 1 incense, several flowers and coins – are an essential part of promoting good fortune during Loy Krathong.
As the sun dips below the horizon and the full moon begins to rise, bring your krathong to the nearest beach or lake and release it with the outgoing tide or current. The belief is that if the krathong floats away from you, the coming year will bring good fortune. If it floats back towards the shore, then better luck next year.
Before releasing your krathong, you can improve your fortune by placing personal items on the floating platform. Coins are often placed inside as a way of making merit during the festival. For the romantic at heart and young couples, Loi Krathong is the time to make a wish for happiness together and success in love.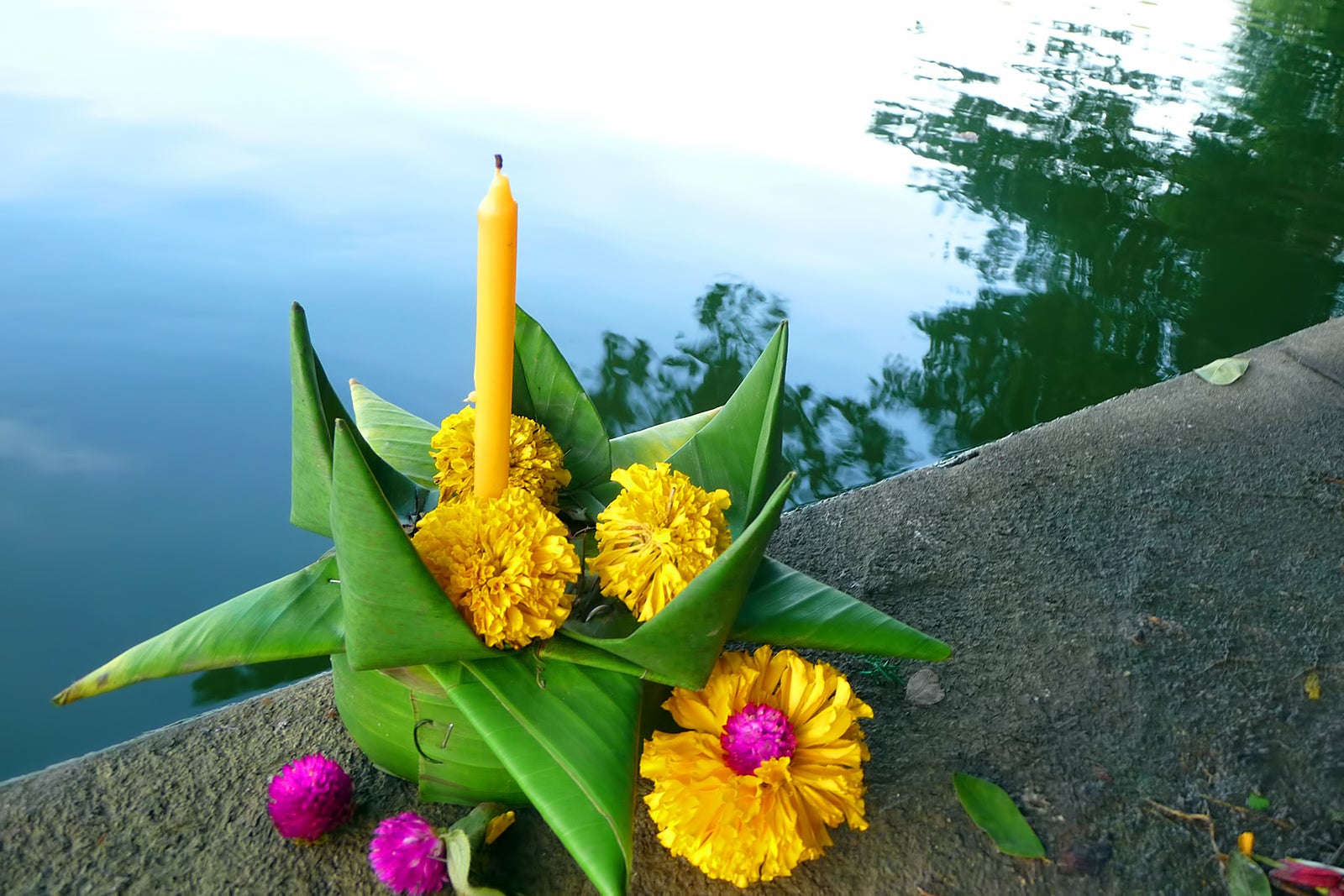 The origins of Loy Krathong
The origins of Loy Kratong are unclear, but it's believed to have started in Sukhothai (north of Bangkok) some 800 years ago when the city was one of the most powerful in Asia. While it's not strictly a religious ceremony, many Thais believe that it pays homage to the water goddess, Mae Khongkha.
The idea behind krathongs is to put all your misfortunes in a boat, before allowing them to literally float away from sight. A lot of care is taken to decorate these kratongs, usually using colorful flowers, banana leaves, candles, and incense sticks.
Loy Krathong always coincides with Thai school holidays, so the entire family are often involved in making kratongs during the day. Some coins and a lock of hair are placed inside to represent the owner, before releasing the krathong on a river, canal, or the sea.
It's believed the 'boat' will carry your bad luck into the distance, signifying a good start to the following year. Loy Kratong is a big night for couples who make a wish together. If their krathongs remain together on the water, it means they'll enjoy long-lasting love.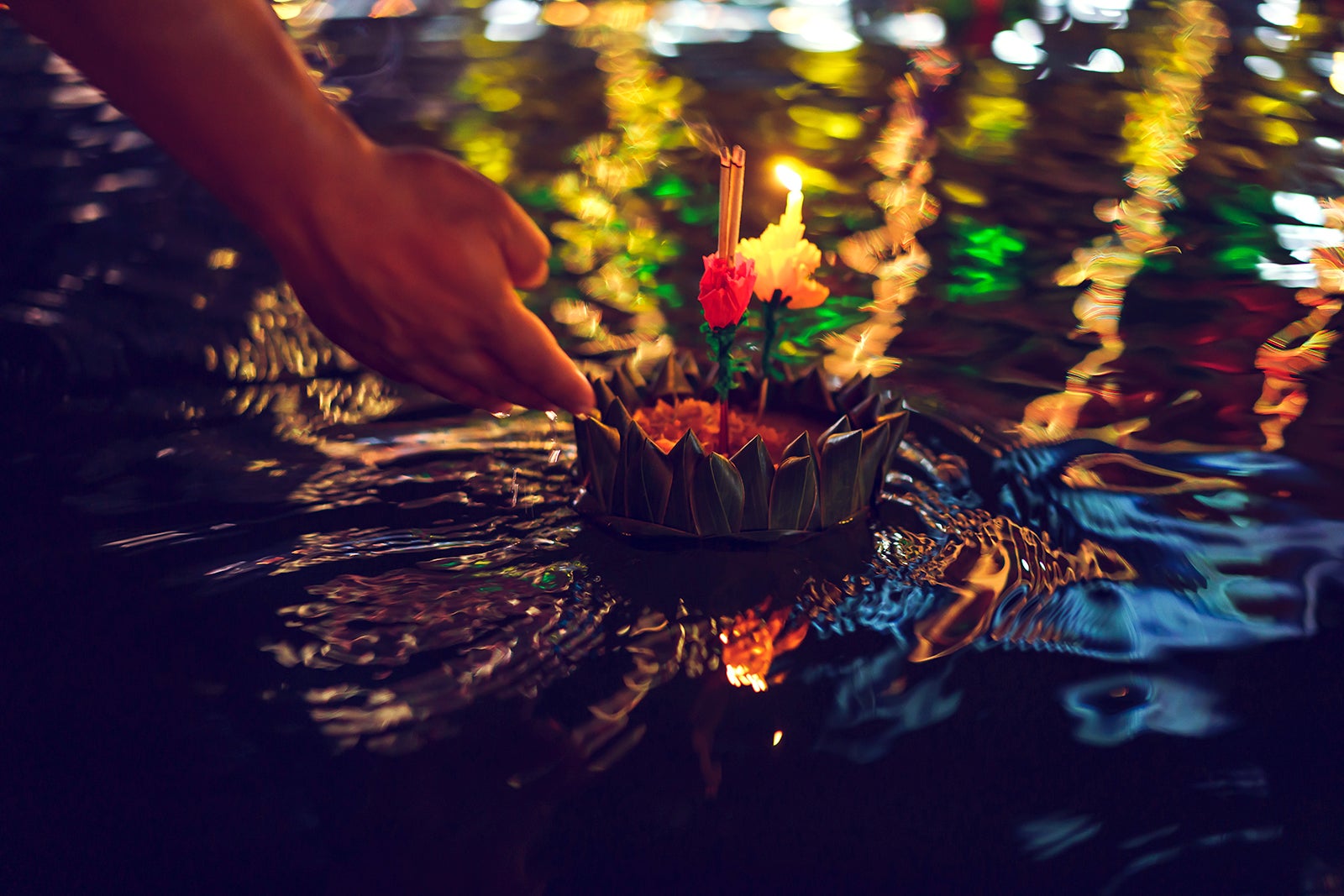 Where to celebrate Loy Krathong in Phuket?
Major hotels in Phuket usually host a special evening for guests to launching their krathongs on the sea. This results in a delightful scene as thousands of candlelit krathongs bob on the waves. In Patong, many young boys often volunteer (for a small fee) to carry your krathong out a little further for a more auspicious start.
All of Phuket's major west coast beaches take part in Loy Kratong festivities. Nai Harn Lake and Patong Beach usually have the most activities, with locals visiting beaches like Kata and Karon.
Saphan Hin Park and Suan Luang (King Rama IX) Park in Phuket Town are popular places for locals to celebrate. Expect huge crowds at both of these locations.
Back to top