The Shrine of the Serene Light is a beautiful old Chinese shrine which was, at one point, among the finest secret sites of Phuket Town. Formerly only accessible through a nondescript alley, the entrance has now been widened and made significantly grander, making it now one of the most popular shrines in Phuket.
Founded in 1891 by the descendants of the Tan Luan Jae family, the Shrine of the Serene Light – also known as Sang Tham Shrine, with several other name variations depending on the language and dialect – is modest in size, but extravagant in appearance. It clearly shows its heritage in its distinctive architectural design, with features commonly found in Hokkien-Chinese shrines such as the terracotta-tiled roof and single-storey construction.
Shrine of the Serene Light - one of the highlights of 13 Best Kept Secrets in Phuket and Phuket Old Town Neighborhood Guide (Read all about Phuket Province here)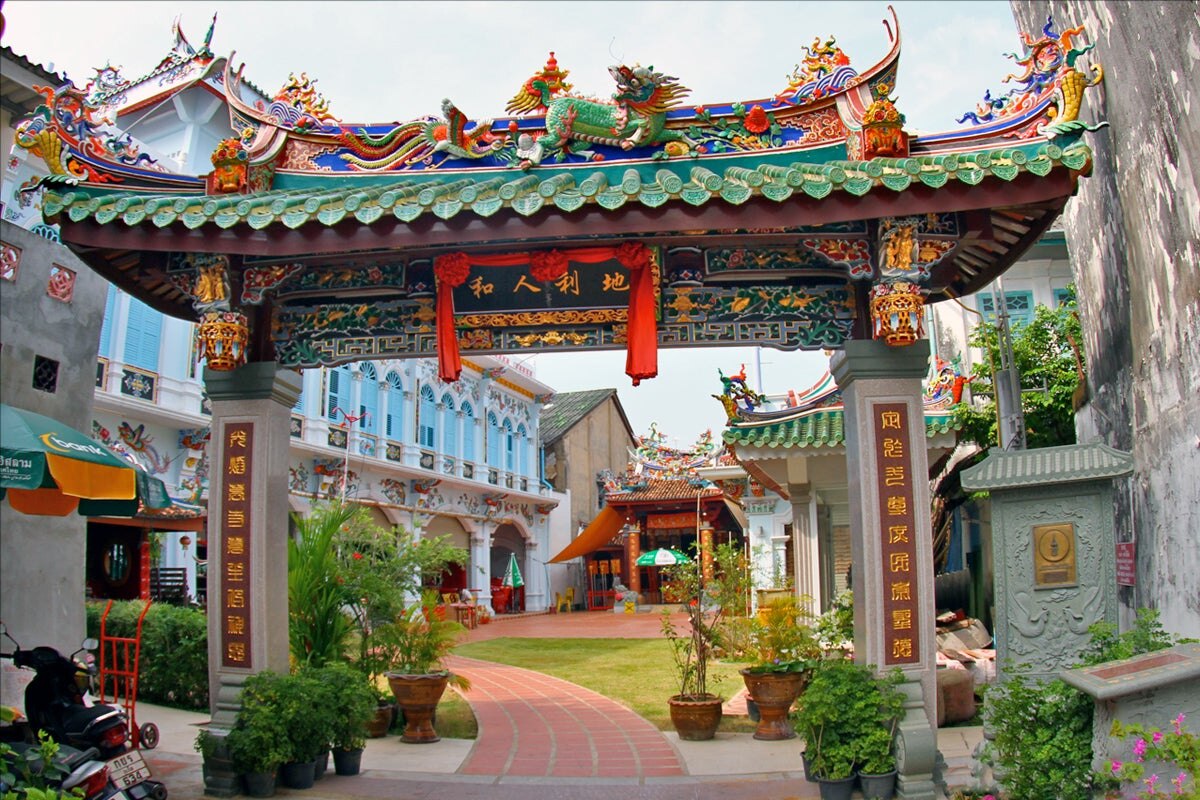 Highlights of the Shrine of the Serene Light
The Shrine of the Serene Light is a place of sanctity and worship to Chinese deities. Surrounded by tall buildings, its location in a small courtyard makes it a peaceful and quiet spot in the heart of the busy city. The temple only gets very loud when the special structures for setting off firecrackers are in use, such as Chinese New Year and Phuket's Vegetarian Festival.
Photography isn't allowed inside the main part of the Shrine of the Serene Light. You can see the fantastic Si Yin Gui murals, stained by over 100 years of burning candles and incense in veneration of the deities they depict. You'll also find a densely-packed array of small statuettes and idols, together with offerings of fresh fruit.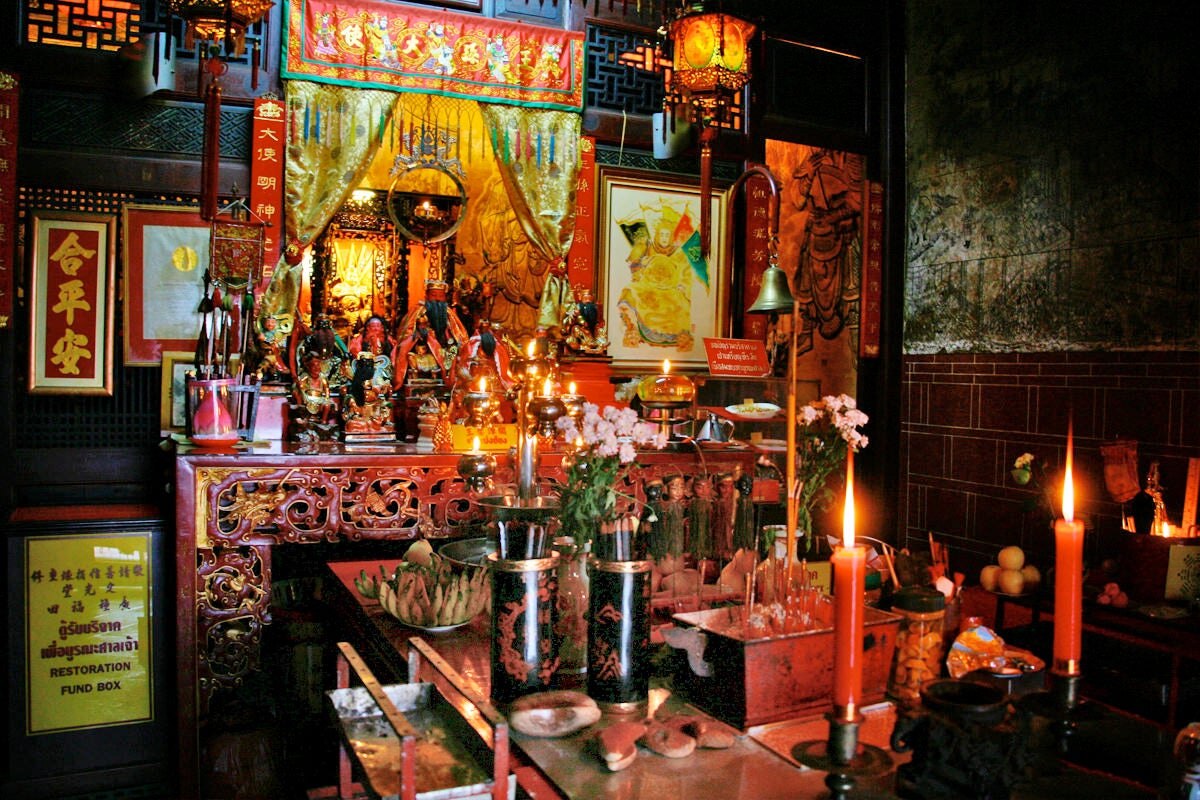 Good to know about the Shrine of the Serene Light in Phuket
The whole edifice is bright and colorful, with intricate designs on 2 arches leading to the shrine's entrance, as well as on several buildings surrounding the courtyard. The interior of the shrine has a rather mystical feel, thanks to the dim light from Chinese lanterns and candles.
Entrance to the Shrine of the Serene Light is free, but donations are welcome. There's no obvious donation box, but you'll generally find small stacks of coins balanced on the backs of the lions guarding the entrance to the shrine. You'll also find a sign asking you to remove your shoes before entering.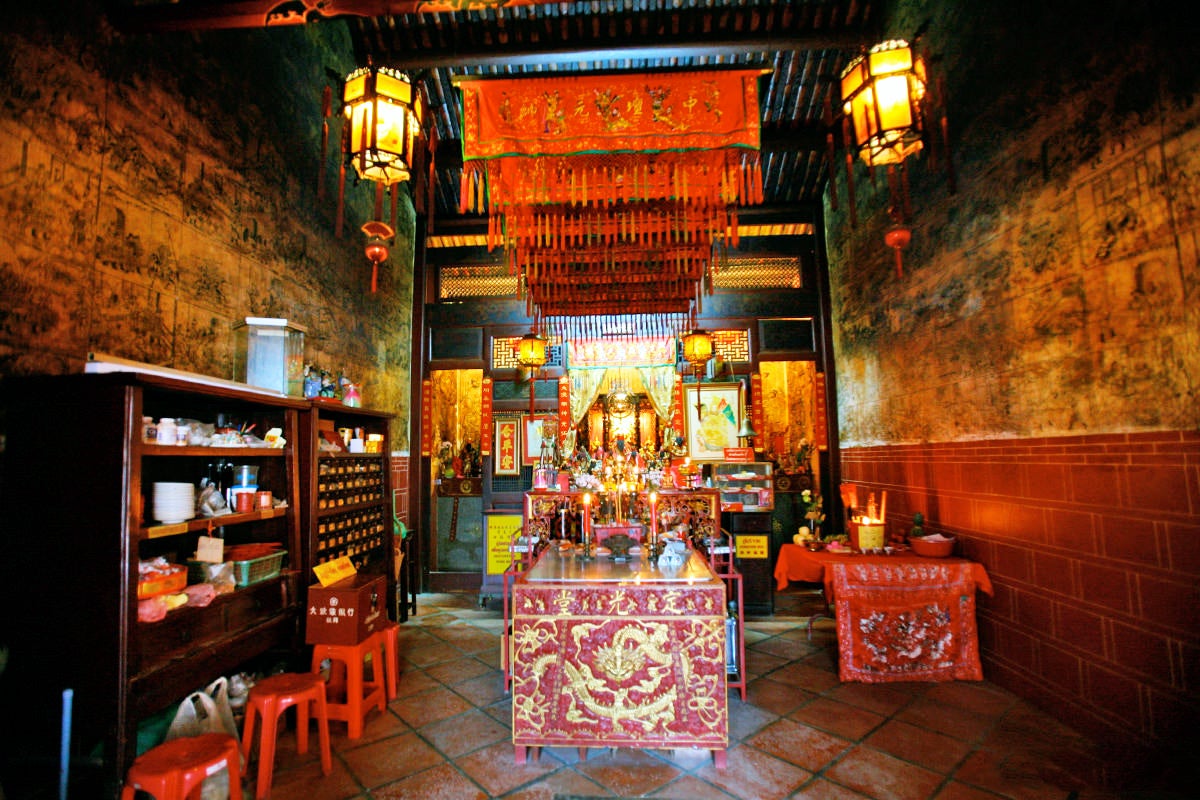 Shrine of the Serene Light
Location: 72/1 Yaowarat Rd, Talat Yai, Muang, Phuket 83000, Thailand
Back to top