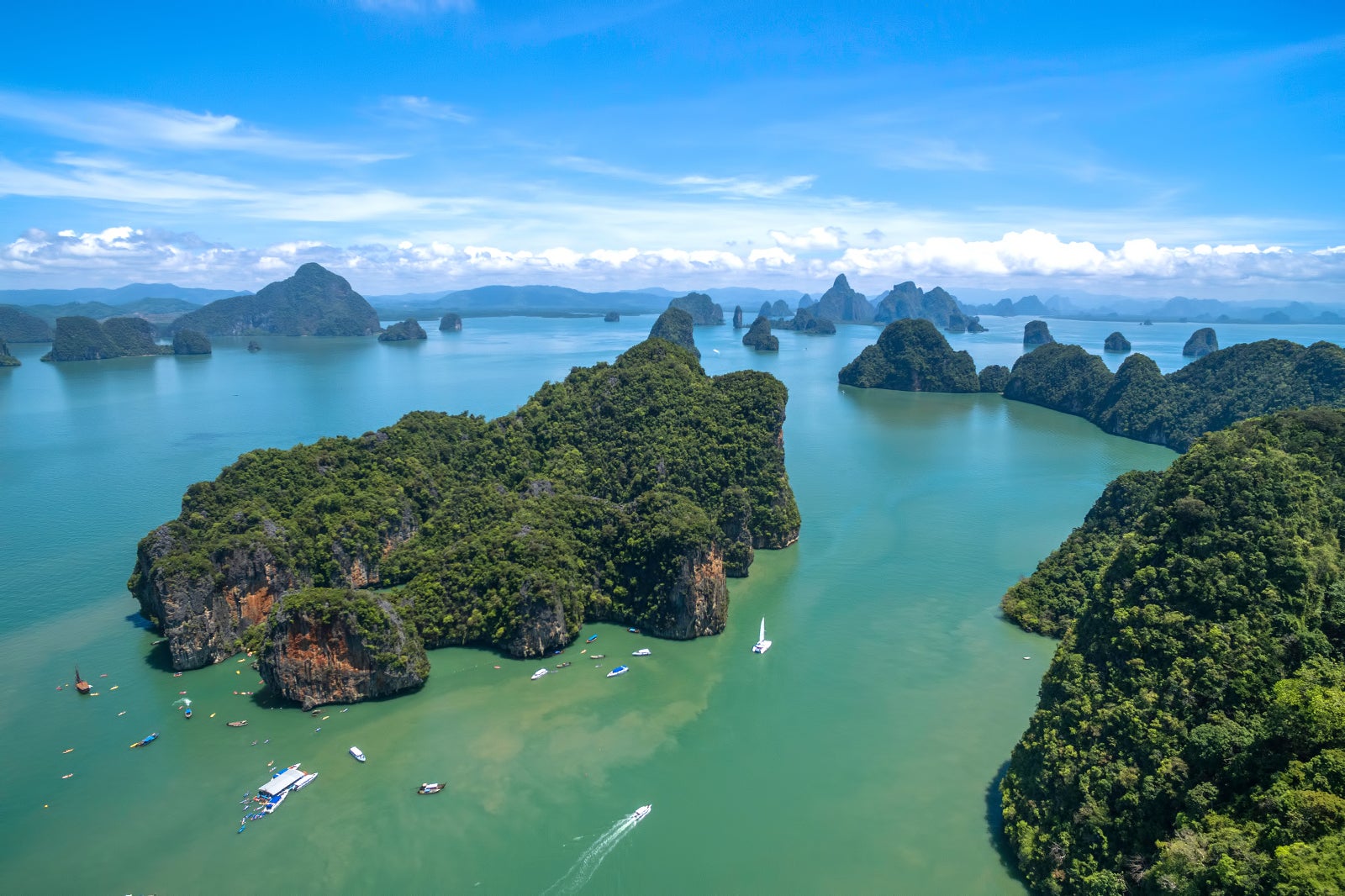 What to See and Do in Phang Nga Bay
What is Phang Nga Bay Most Famous For?
Phang Nga Bay's distinctive feature is the sheer limestone karsts that jut vertically out of the emerald-green water. James Bond Island and Koh Panyee are just 2 of the more famous spots in this bay. By far the best means of enjoying the spectacular scenery, with only brief encounters with the tourist crowds at James Bond and Koh Panyee, is by taking boat trips from the northern end of Phuket.
A leisurely day trip cruising through Phang Nga Bay's dramatic limestone islands, occasionally stopping to enjoy quiet beaches, is far more rewarding than the standard bus-boat tour.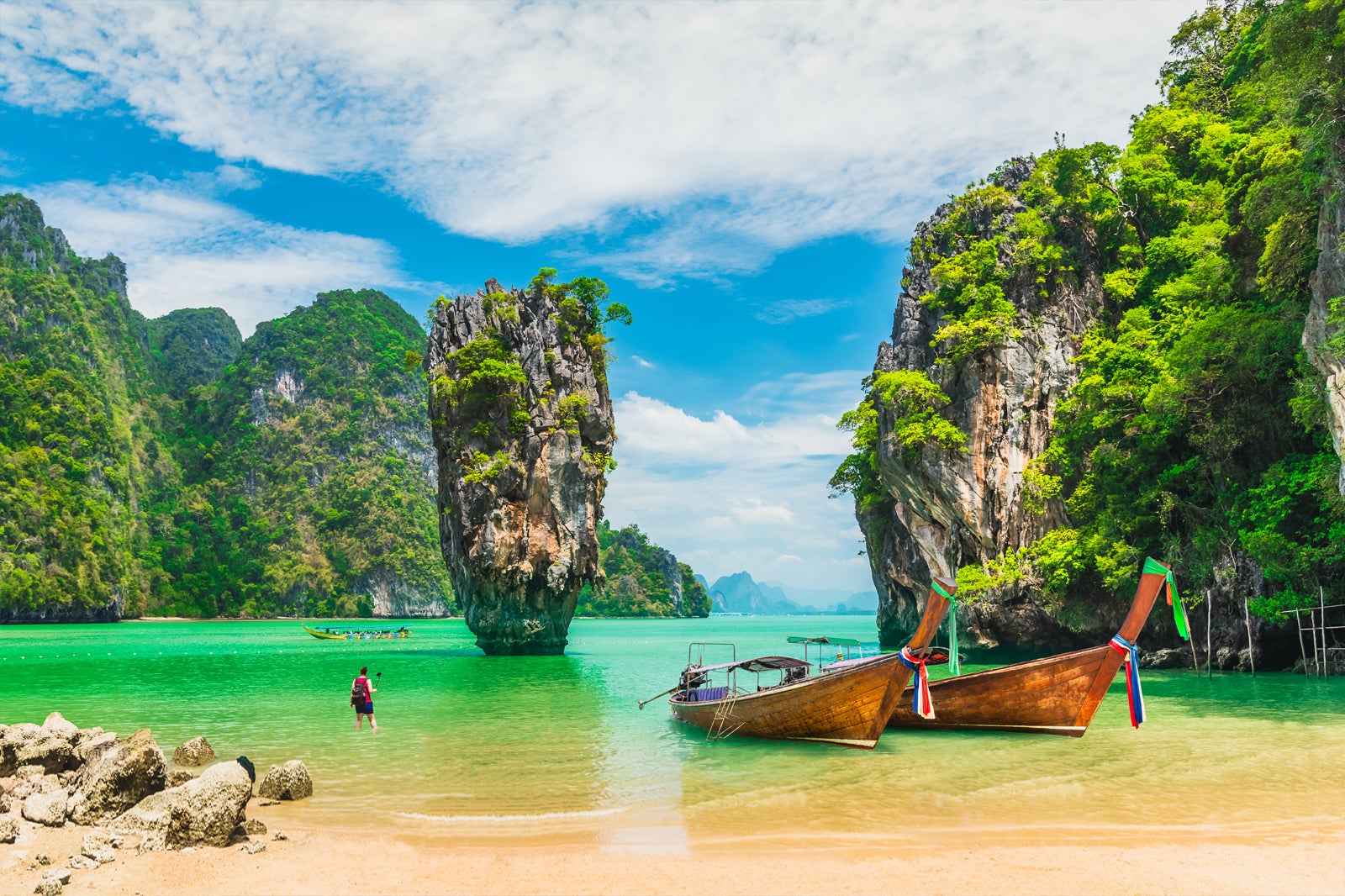 Families
Photo
Couples
Adventure
James Bond Island, also called Koh Ta-pu ('Nail Island' in Thai), first found its way onto the international map through its starring role in the James Bond movie, The Man with the Golden Gun (1974). And this is where most tours seem to take all of the tourists – all at the same time.
With its signature rocky pinnacle, the entire area surrounding this island is indeed spectacular. Most tours take you up the main highway for 1 hour on the same well-worn itinerary. An integral part of these tours is lunch at Koh Panyee, a nearby Muslim fishing village.
Read more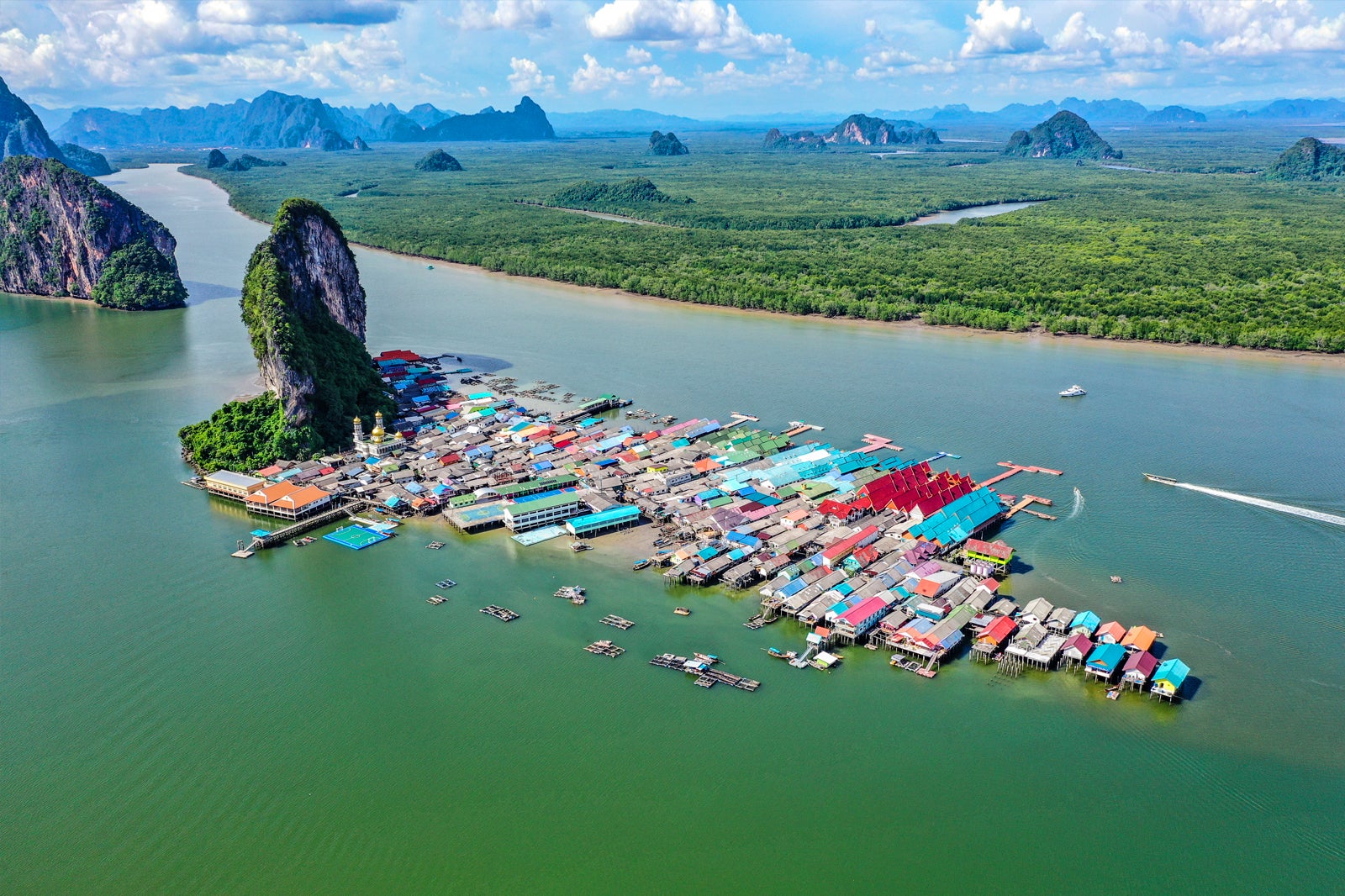 Koh Panyee is a remarkable village – it's built out over the water on stilts, with a giant rock monolith guarding its rear. At lunchtime, many tourists on the James Bond Island tours stop by to eat and shop for handicrafts.
Most of it is huge, almost vertical, limestone cliffs. The hundreds of huts, shacks, restaurants and houses where the villagers live are built on stilts over the surrounding shallow sea. No one seems quite sure how many wooden and concrete piles hold up this extraordinary community, but it's certainly a fascinating and unique feat of informal engineering.
At first, fishing was the sole industry for this Muslim community. Nowadays, about half the locals service the tourism industry and the rest still fisherman. The village on Koh Panyee has its own school, a mosque, a health center, lots of small souvenir shops, and a handful of sea-facing restaurants where you can enjoy a fresh seafood lunch.
Read more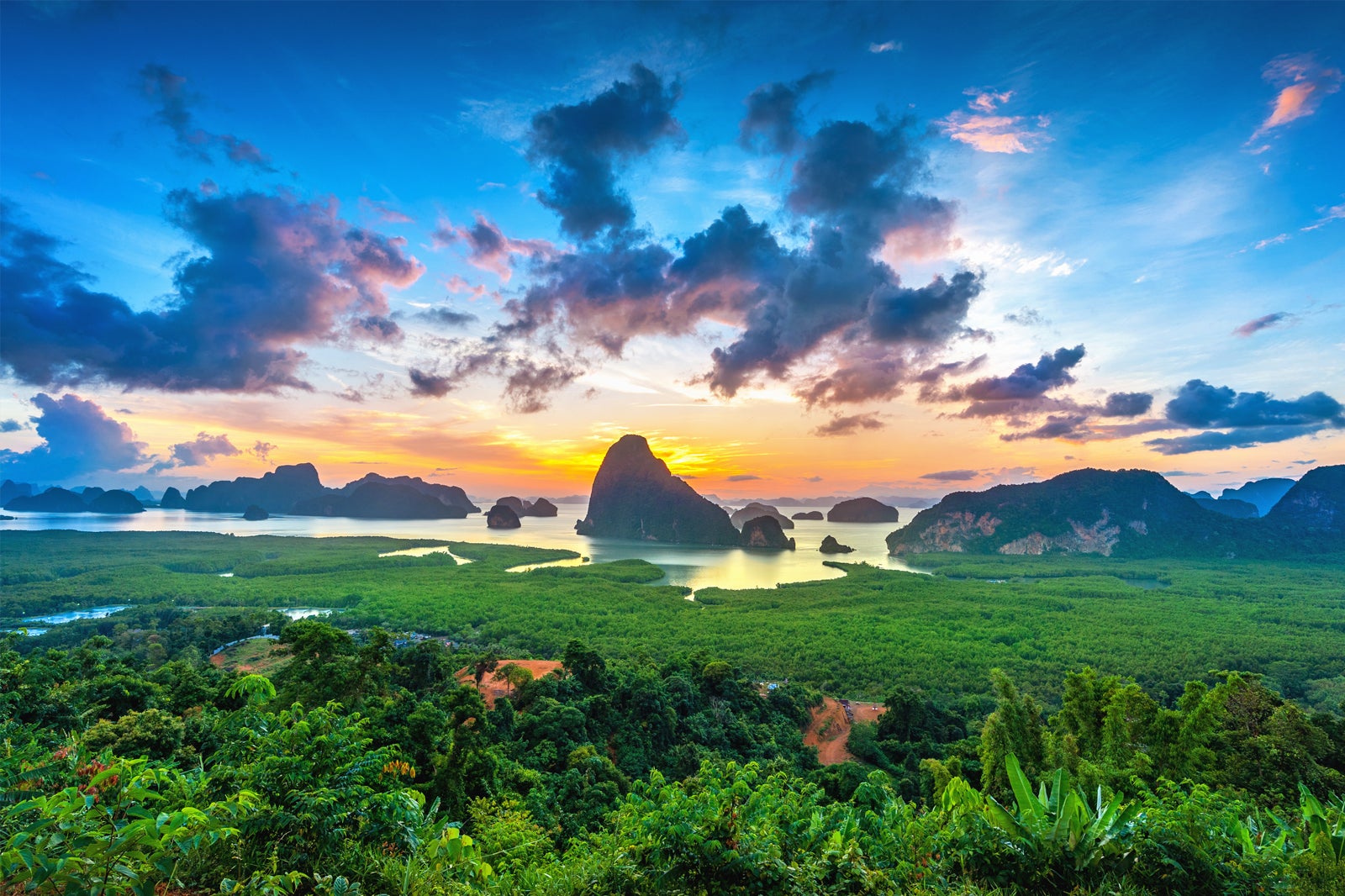 Samet Nangshe Viewpoint has very quickly gone from being practically unheard of to one of the most popular panoramas in Phang Nga. Located on a hilltop just a 30-minute drive from Phuket, it provides stunning views over the limestone islets of Phang Nga Bay and, being far enough away from civilization to avoid light pollution, the Milky Way is even visible some nights.
The view is a breathtaking 180-degree eastward panorama, making it particularly striking at sunrise. You look out to a chain of islands stretching out of sight to both the left and right in the waters of Phang Nga Bay, across about 1.6 km of mangroves. The sun rises between the limestone karsts around 5.30am to 6am, depending on the time of year. This is often preceded by the awe-inspiring sight of the center of our own galaxy, clearly visible overhead, though this also depends on the season.
Read more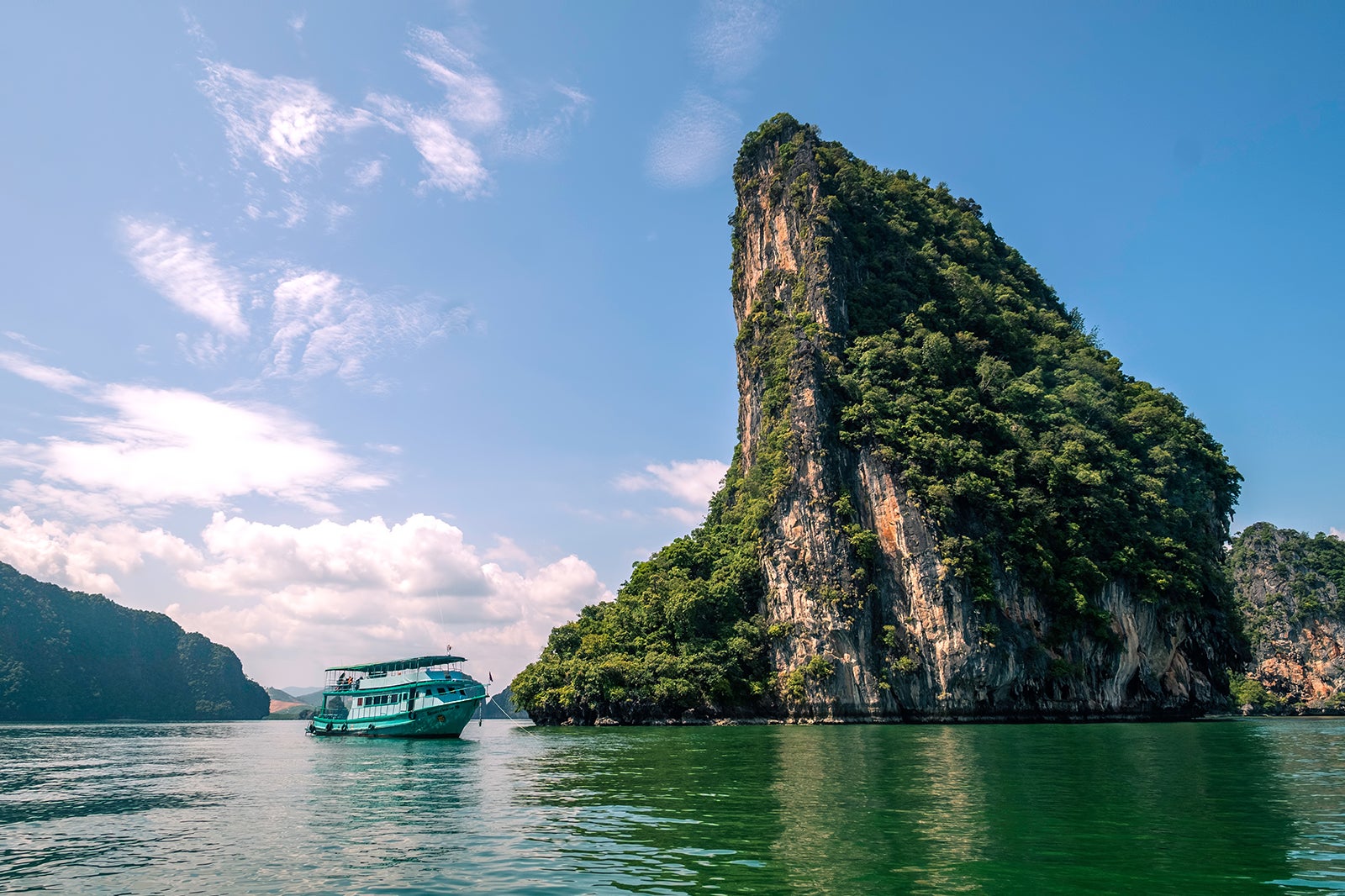 Phang Nga Bay is a great place for boating. The interesting limestone cliffs create a picturesque backdrop and there are many safe places to anchor. The fact that it's protected from both the northeast and the southwest monsoon seasons means that its waters remain calm year-round. This adds to the appeal of its scenic wonders and abundant wildlife.
5
Limestone cliffs of Phang Nga Bay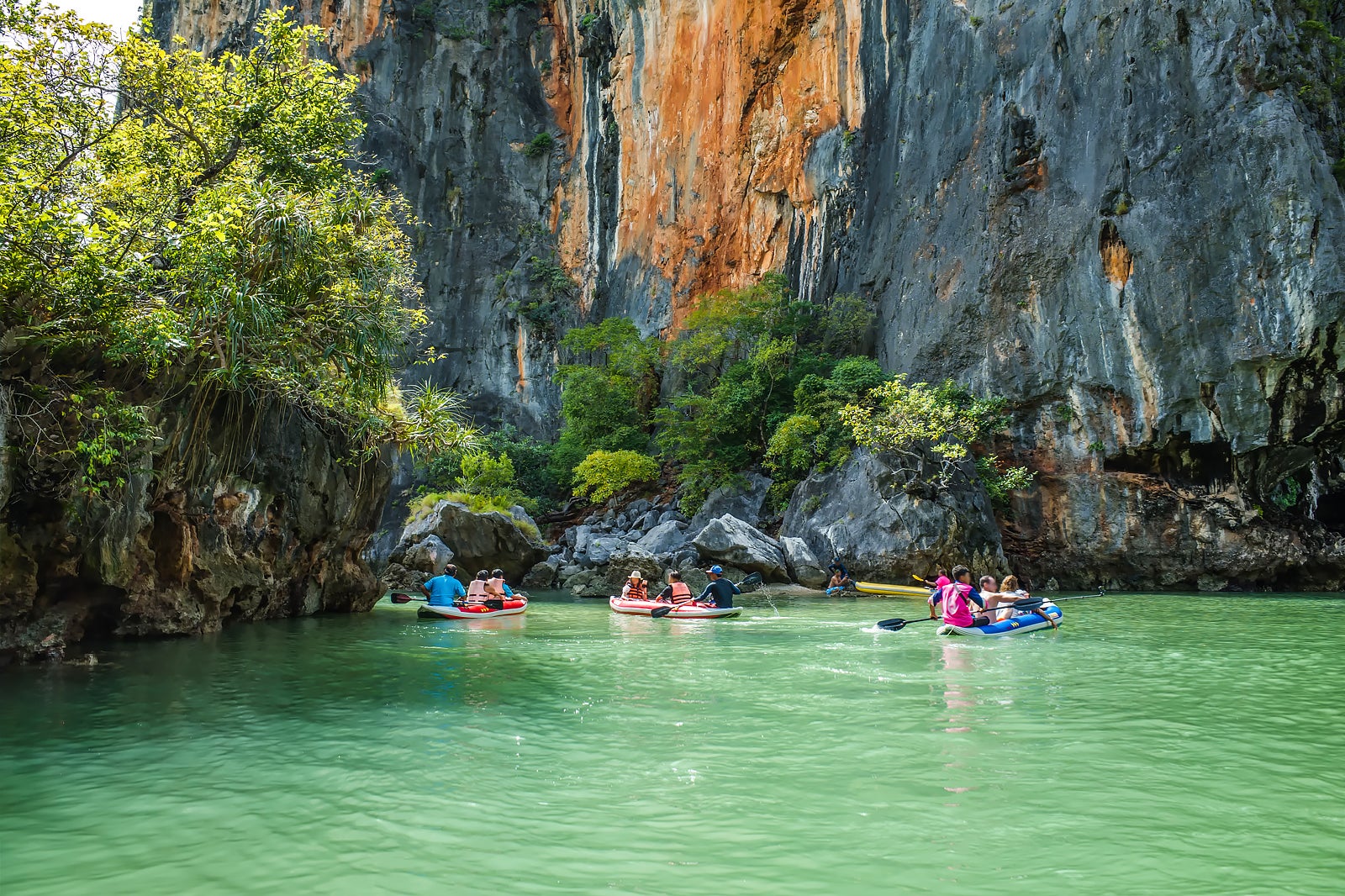 Limestone is calcium carbonate, which is generally white. Over millions of years, the skeletons from a constant rain of marine organisms, plus the chemical precipitation of yet more calcium carbonate build thick layers of sediment. Eventually, the heat and pressure of their own weight turn these strata, hundreds of meters thick, to stone.
A variety of geological forces have then fractured the limestone beds and pushed up the 40 steep-sided islands that provide the exotic scenery for which the shallow bay of Phang Nga is noted. Mineral oxides from various sources paint the multicolored streaks that characterize the cliffs of Phang Nga Bay.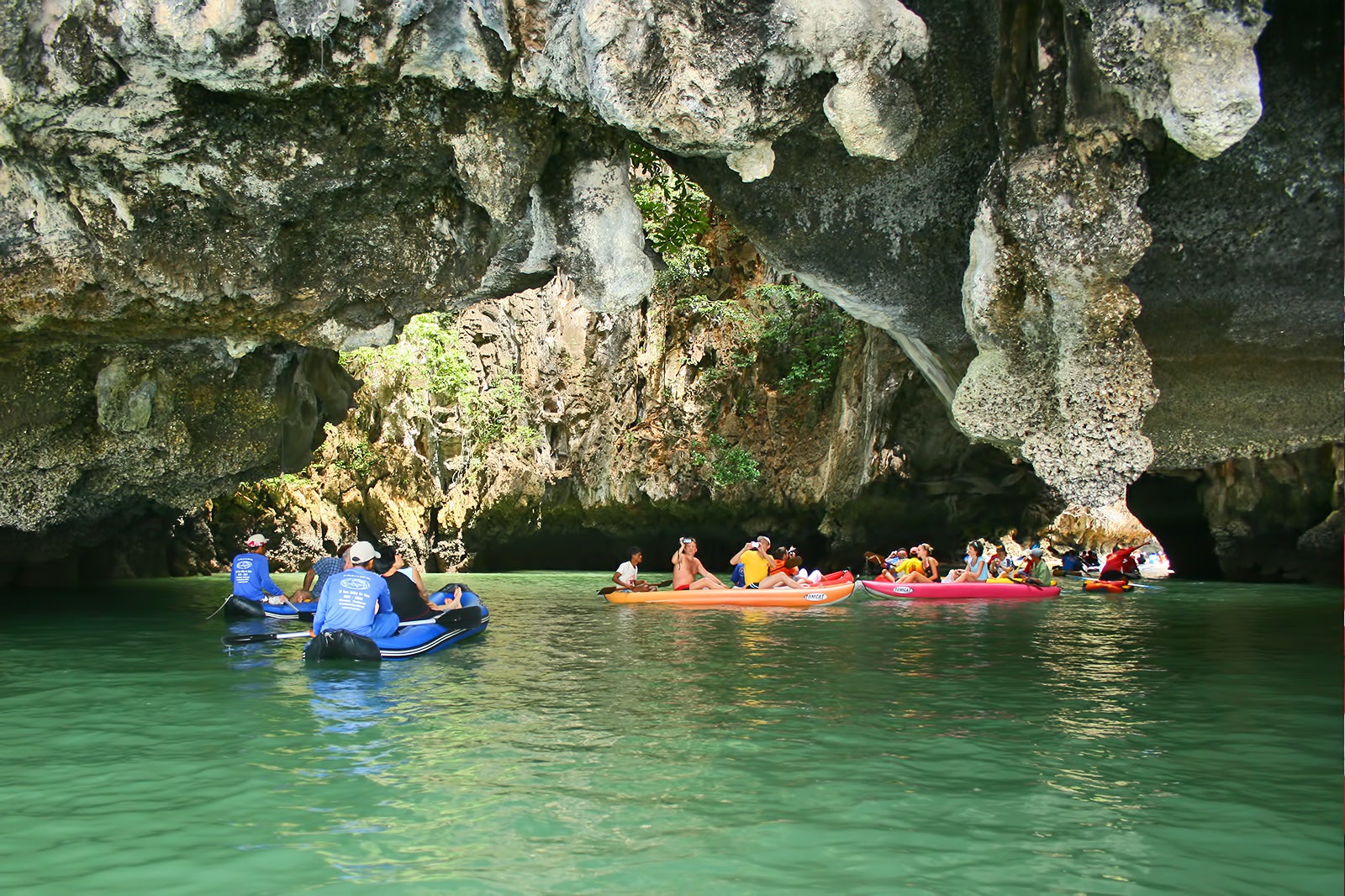 It wasn't many years ago that aerial surveys first revealed the hong ('rooms' in Thai) that lie inside some of Phang Nga's islands. These microcosms, hidden realms rich in unspoiled flora and fauna, are collapsed cave systems open to the sky and surrounded by towering limestone walls.
Try sea-kayaking, where you paddle sturdy fiberglass boats through caves into the mysterious hearts of islands such as Koh Panak and Koh Hong.
7
Getting to Phang Nga Bay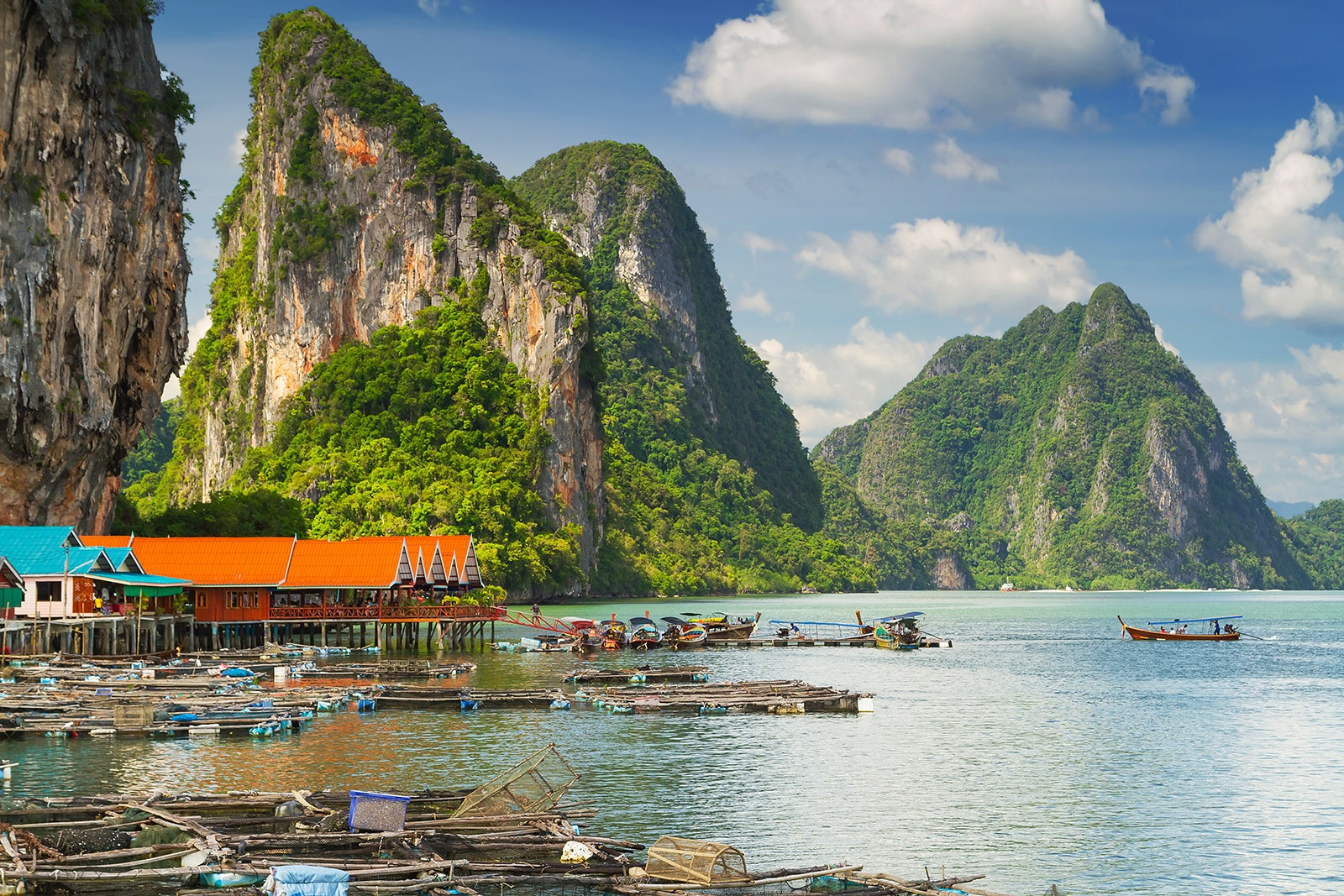 It's possible to see many of Phang Nga Bay's attractions in a single day. Launching from any point along the east coast of Phuket will take you immediately into the bay.
There are also several launching sites on the Phang Nga province mainland, including the Ka Sohm Pier in Takua Thung district just south of Phang Nga Town. Most visit the area by booking a long-tail or speedboat day trip, joining a cruise or canoeing tour, or chartering a yacht.
8
Other islands in Phang Nga Bay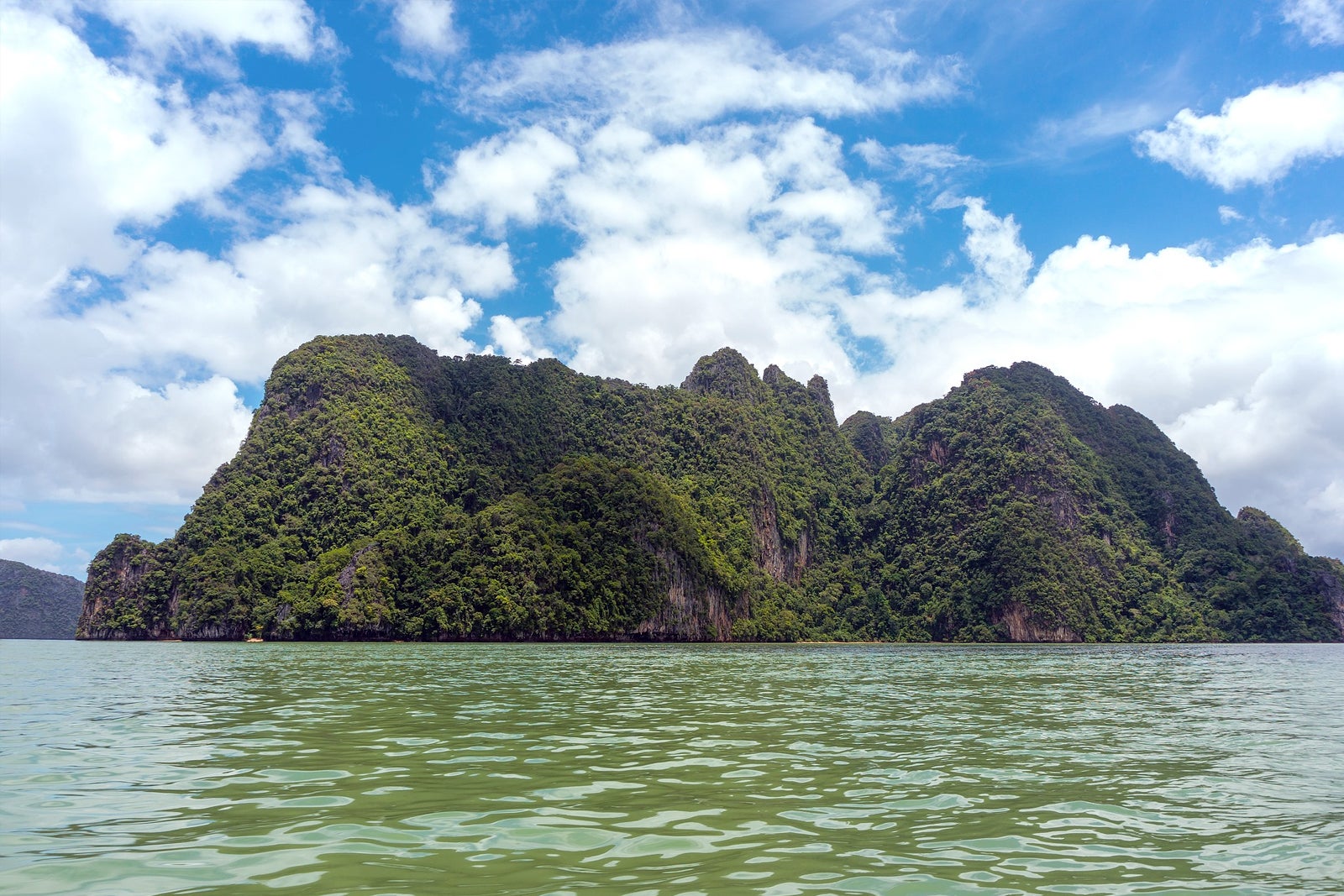 Most of the islands are uninhabited. Many of them have spectacular caves which you can only reach by an inflatable or fiberglass kayak. Koh Hong is one of the most popular of these islands. Khao Khien near Koh Panyee is worth sailing past to see the ancient paintings of boats and animals on the rock walls.
One of the few inhabited islands, Koh Maak, sits near the top of the bay and is home to a small community of fisherfolk who maintain a traditional way of life – it's not part of any tour itinerary. Bring your own food and supplies if visiting since there are no facilities for tourists. There are also no places to stay here.
Back to top