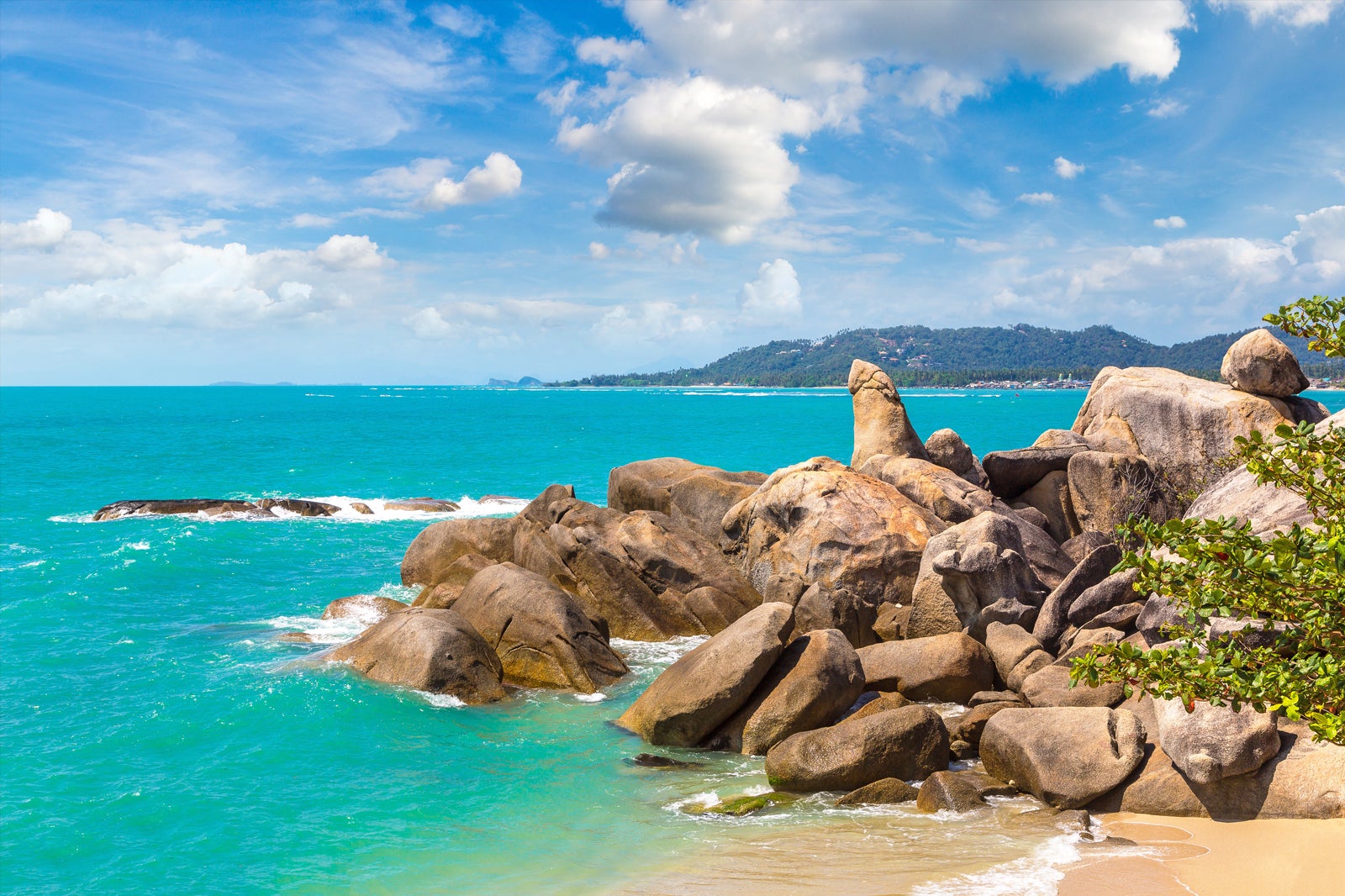 Hin Ta and Hin Yai are the highlights of some fascinating rock formations at the southern end of Lamai Beach on Koh Samui. They've been a source of giggles and wonder on the island since they were discovered by the locals many years ago. Known as Grandpa (Ta) and Grandma (Yai), the rocks look, respectively, like male and female genitalia.
Set on the rocky coastline between Lamai and Hua Thanon, Hin Ta and Hin Yai raise indulgent chuckles or embarrassed titters from those who go to see them. This unusual and titillating sight has, naturally, given rise to a legend explaining how the rocks came into being.
Hin Ta and Hin Yai Rocks in Koh Samui - one of the highlights of 21 Best Things to Do in Koh Samui and 10 Best Places to Go Shopping in Lamai (Read all about Koh Samui here)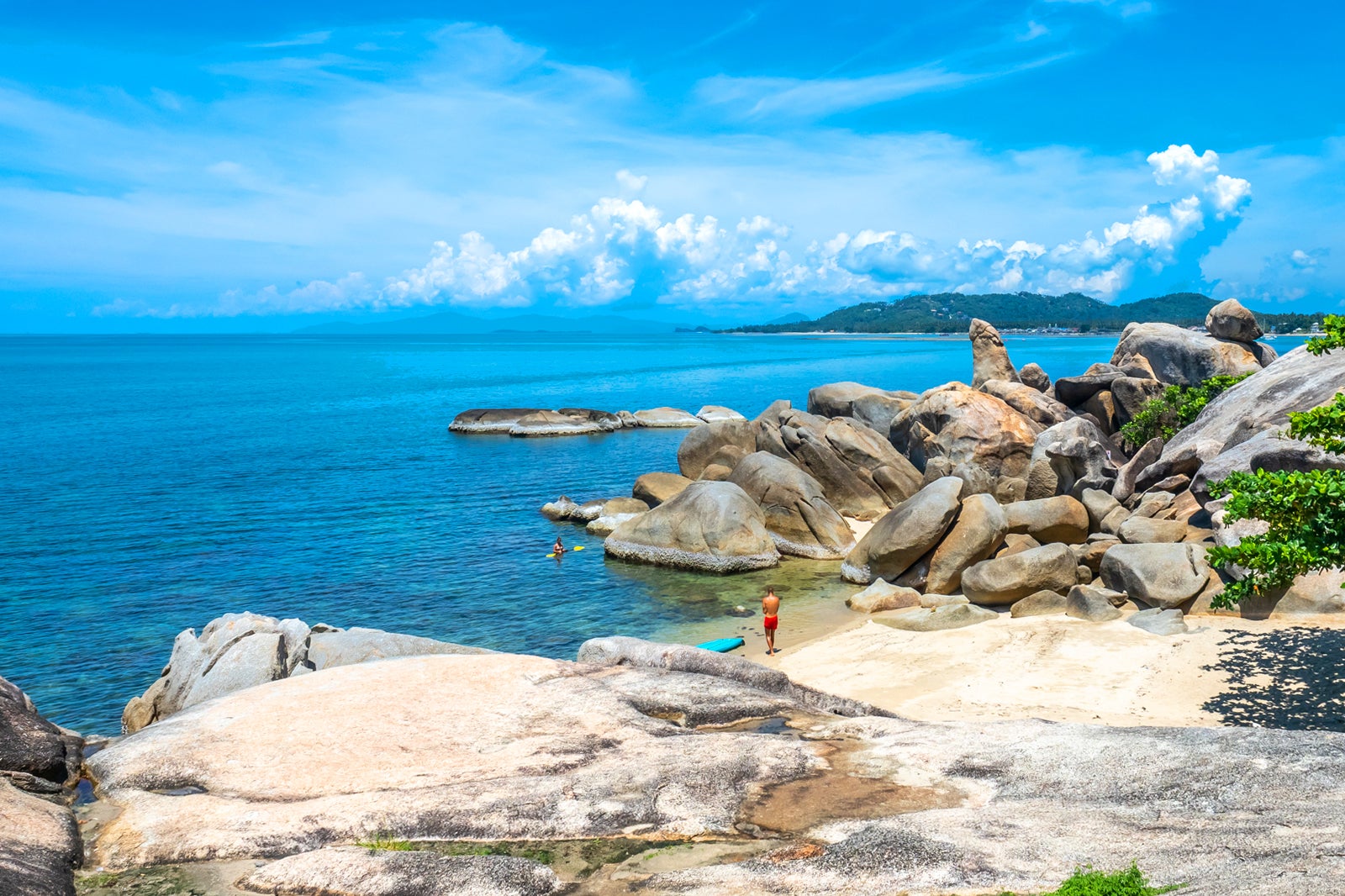 The history of Hin Ta and Hin Yai
The Hin Ta/Hin Yai legend is a tale of tragedy tinged with hope, as described on a signboard near the rocks. It reads: "A folklore of Samui Island tells the story of an old couple by the name of Ta Kreng (Grandpa Kreng) and Yai Riem (Grandma Riem) who lived with their son in the southern province of Nakhon Si Thammarat. Since their son had come of age, they felt that it was time he gotten married."
"One day they decided to sail to the neighboring province of Prachuap Khiri Khan to ask for the hand of the daughter of a man named Ta Monglai. During their sea journey, their boat was seized by a storm. The old man and his wife were unable to swim ashore. They died at sea, turning into rocks as proof to the would-be bride's parents of their true intentions. The rocks stand there to this day."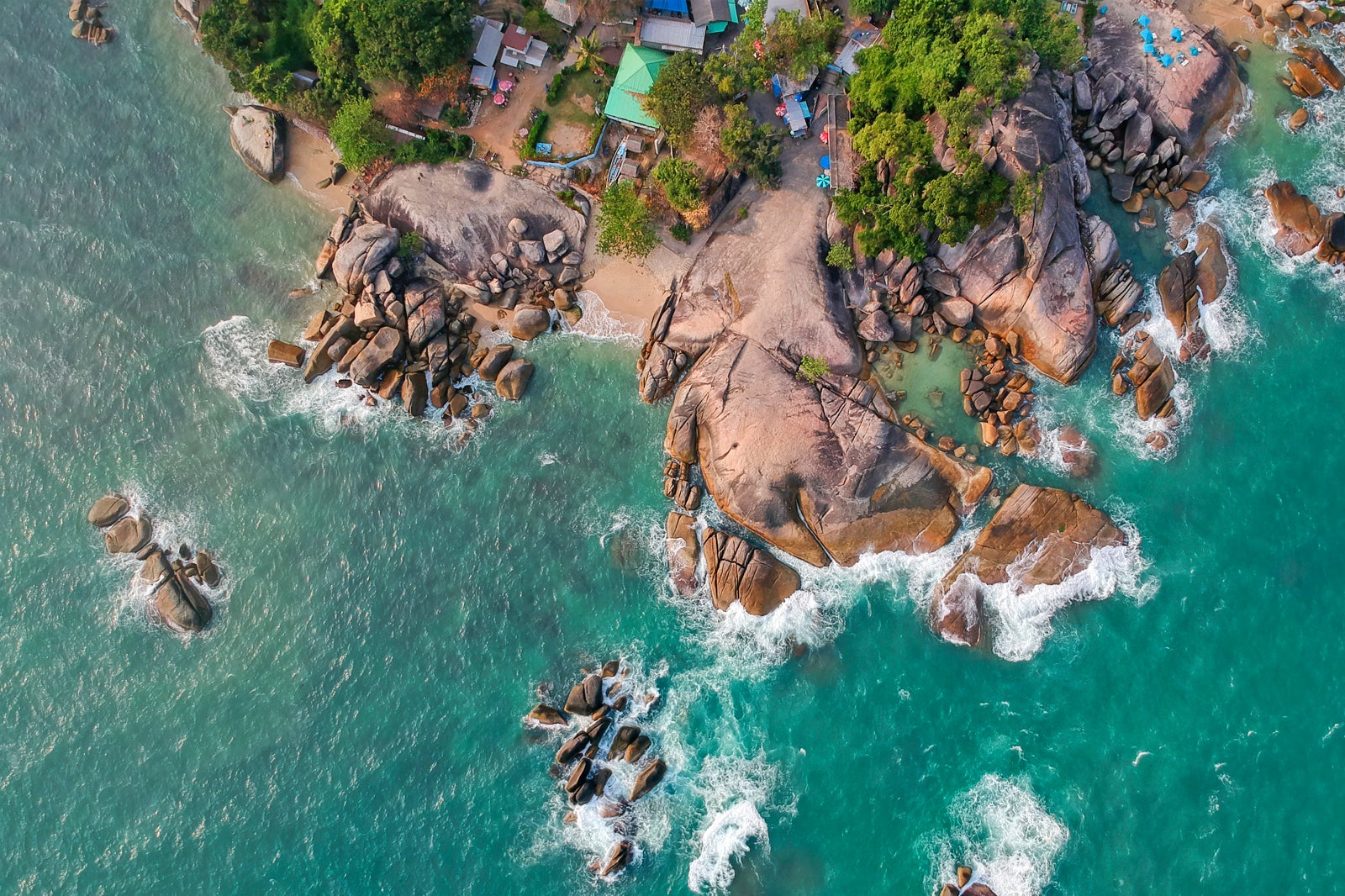 The views from the rocks and the area around them are spectacular, stretching across the sea to nearby islands. Close to Hin Ta and Hin Yai is a small white-sand beach that's not suitable for bathing but offers a refreshing place to cool your feet after a day of island exploration. The pristine waters here are so clear that colorful marine life can often be seen from the surface.
Hin Ta and Hin Yai are found near the traditional Muslim fishing village of Hua Thanon. In the surrounding area, there's a lush landscape of plantations and buffalo fields, offering a glimpse of how life might have been on Samui before the rise of tourism.
Those who forget to bring their camera may easily find a variety of postcard pictures of the rocks and other Samui sights in the vendor stalls set up here to cater to the steady stream of curious visitors. Many souvenirs plus beverages and snacks are for sale.
Hin Ta and Hin Yai Rocks in Koh Samui
Location: 126/92 Moo 3, Lamai, Koh Samui, Surat Thani 84310, Thailand
Open: Sunday–Friday from 8.30 am to 6.30 pm, Saturday from 8 am to 7 pm
Back to top