The Green Mango Club Samui is an iconic nightclub on Koh Samui that's also a star attraction of Chaweng Beach's nightlife. It even gave its name to the street it effectively dominates – Soi Green Mango. It's a large, colorful, fun and lively place and an absolutely essential stop on any night of partying in Chaweng.
The club is right at the end of Soi Green Mango, where the partying only really gets started at midnight. There's usually a big boost to the crowd at around 2 am, after the nearby Ark Bar closes. This is also the time officially listed as Green Mango's closing time, but the club routinely stays open until 5 am and after. Despite being one of the biggest dance floors in Koh Samui (assuming you don't count the beach), the place is packed most nights.
The Green Mango Club in Koh Samui - one of the highlights of 29 Best Things to Do After Dinner in Chaweng and 4 Things to Do After Dinner on Soi Green Mango (Read all about Koh Samui here)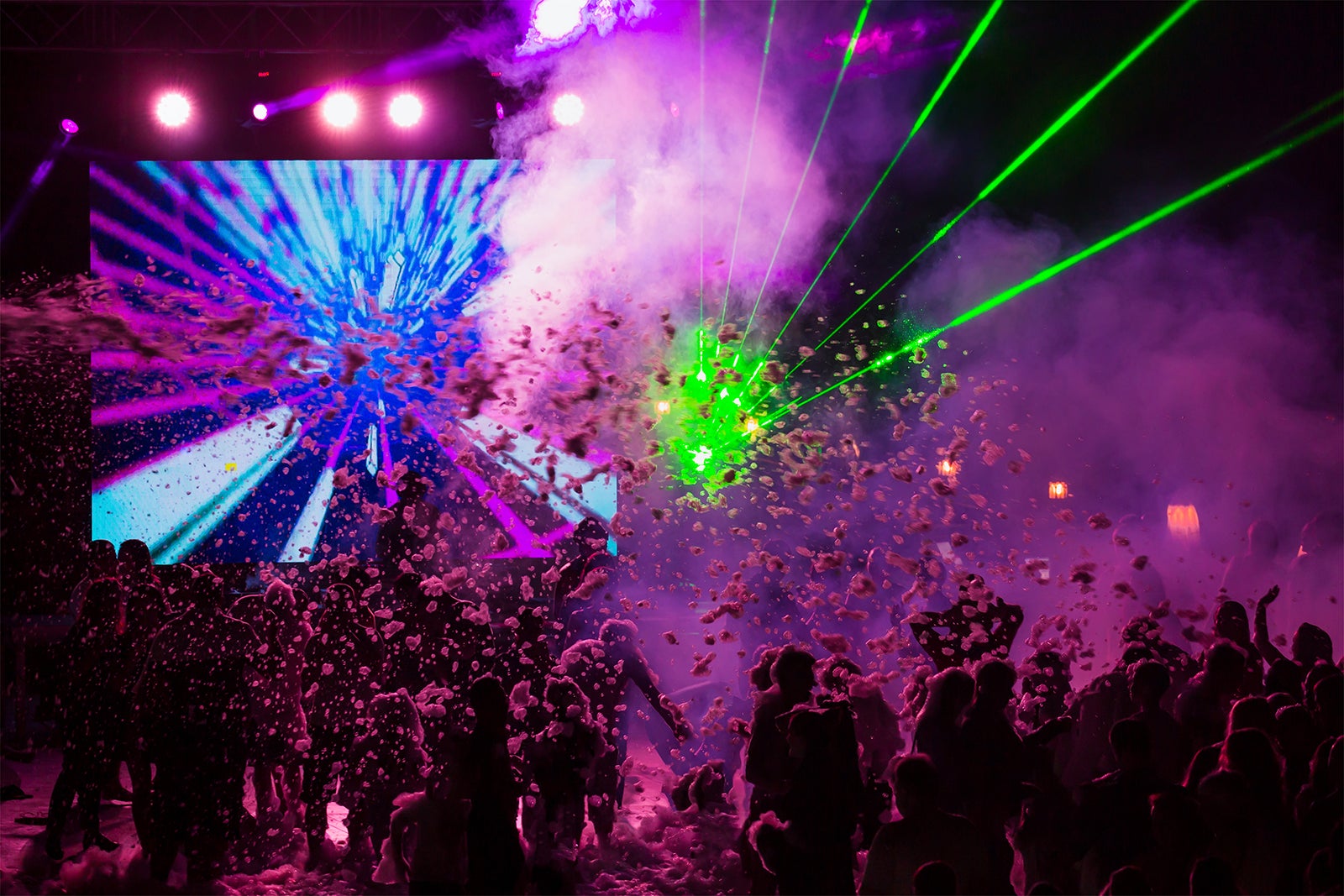 The Green Mango Club Samui scene
Having no dress code, young vacationers rock up in summer dresses, sleeveless shirts and casual clothes. The Green Mango Club Samui is particularly popular with the tourist crowd, including both western and Asian visitors. It's not such a regular haunt for expatriates living on the island, but you will see a few local Thais there.
The club is largely open-plan but is roughly divided into 2 spaces. The first, by the entrance, plays hip-hop and RnB. Pass through the bars and into the warehouse-like main structure and the look and atmosphere is much more like a nightclub, with techno, house and EDM music to suit. With both neighborhoods competing with each other, both have their volume dials set to maximum.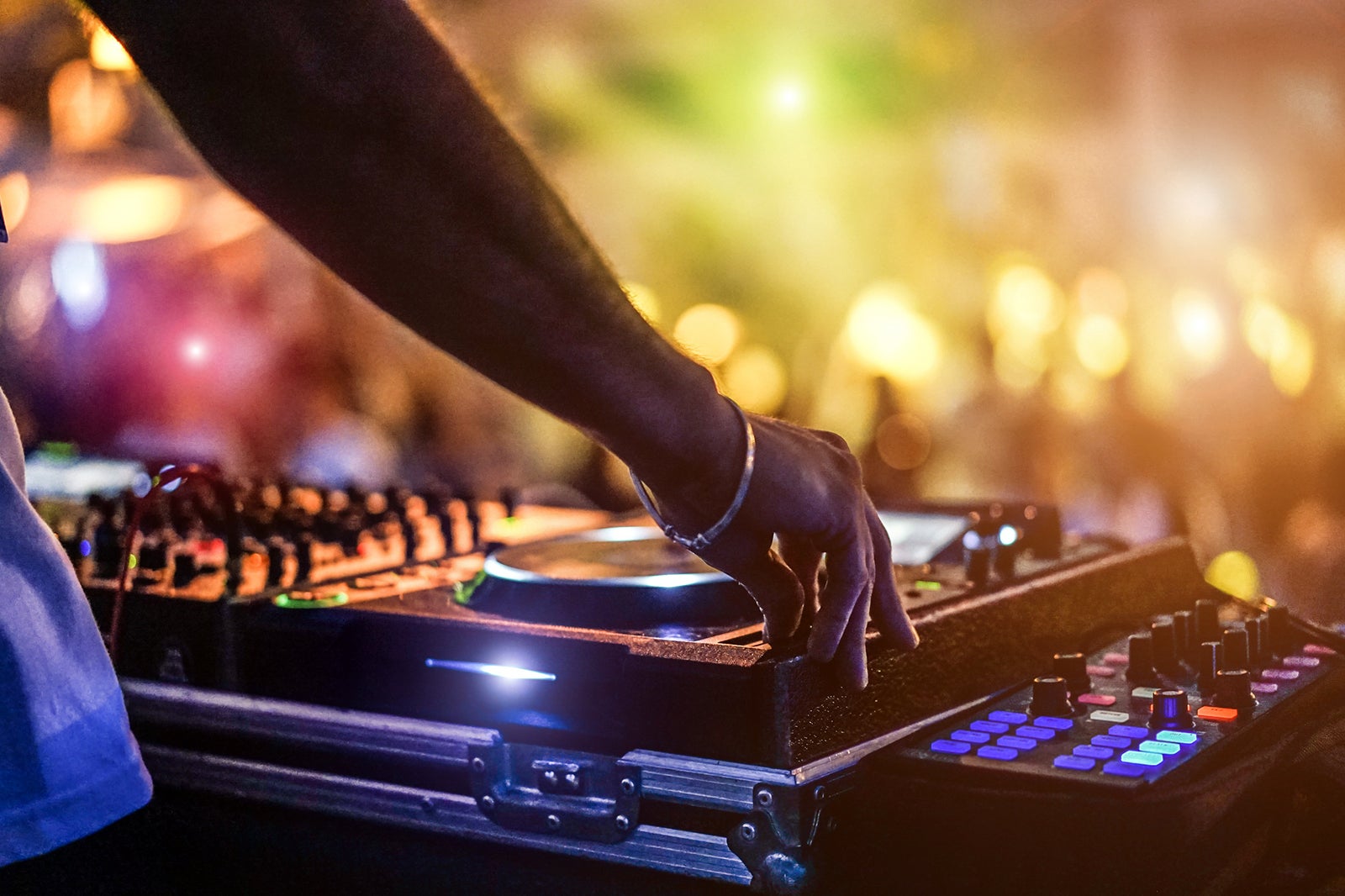 Partying at The Green Mango Club
The Green Mango Club in Samui has a look that combines natural with industrial, though possibly not intentionally. It's built in an old warehouse with a glass roof, but the owners have done everything they can to stress the natural look. A giant tree looms by the entrance and the wooden floors and bars hint at the idea that the club is a tropical treehouse – albeit a treehouse with numerous bars, pool tables, big screens, live local and international DJs and the latest in sound and lighting technology.
Entrance to the Green Mango Club Samui is free and beverages prices are pretty reasonable (for a nightclub in a popular resort destination), with vodka served in buckets. This is fortunate as, being an open-air venue with a glass roof and crammed full of people dancing and having a good time, it can feel a little like a greenhouse in there. Be prepared to get very sweaty!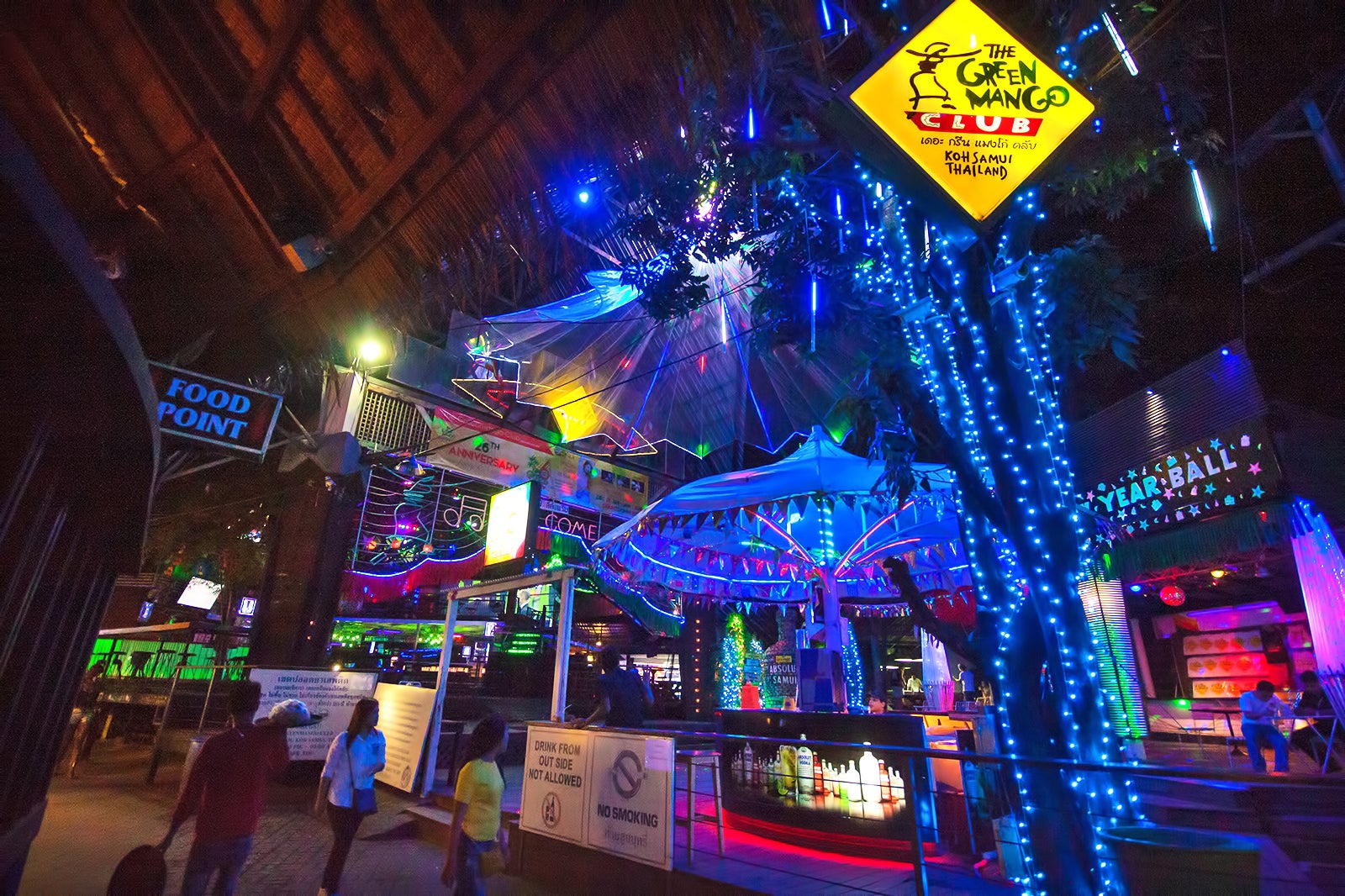 The Green Mango Club in Koh Samui
Location: 195 Moo 2, Soi Green Mango, Chaweng, Koh Samui, Surat Thani 84140, Thailand
Open: Daily from 9 pm to 2 am
Phone: +66 (0)77 300 672
Back to top