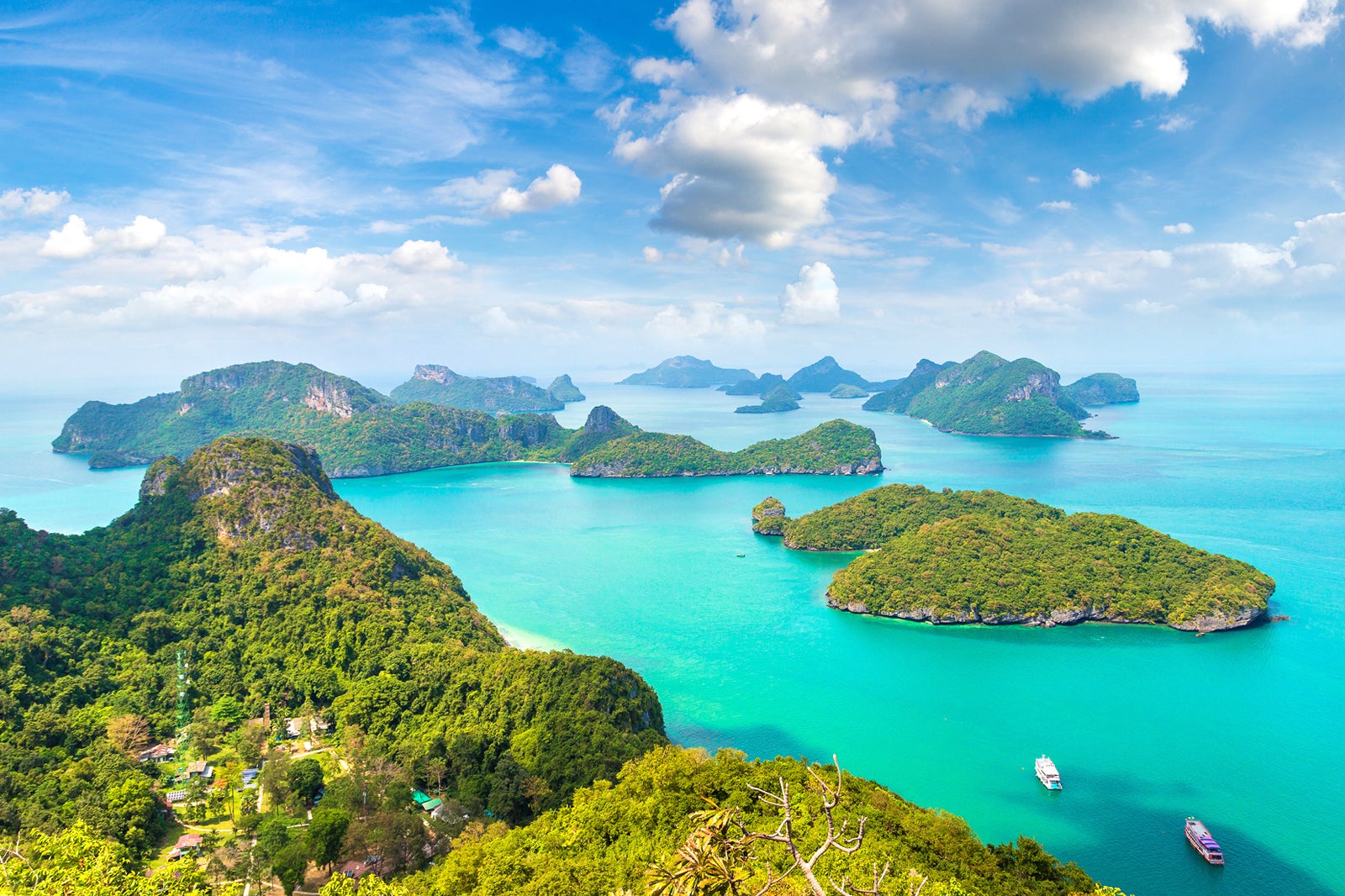 10 Best Tours in Koh Samui
Koh Samui's Most Popular Day Trips
Our list of the best tours in Koh Samui will give you the chance to experience a wide range of emotions through exciting activities. Koh Samui is the ideal destination for families or singles; for young and old alike. There's so much to do and see on and off the island, so why not book a tour to broaden your perspective, learn more and simply have a great time? A day out to Ang Thong National Marine Park is unforgettable while a jungle safari on Samui itself is a real eye-opener.
A full-day chartered boat trip around the island is an excellent way of 'getting outside to look in' and why not try a Thai cooking lesson? The choice is remarkably varied, with the unifying features being the beautiful landscape of Koh Samui and the assurance that you will almost certainly have a great time.
Ang Thong National Marine Park is a haven for lovers of pristine nature, located 1 hour by speedboat from Koh Samui. During this tour, you'll hop from island to island and discover the most notable sites of this stunningly beautiful environment, made up of 42 islands in The Gulf of Thailand.
Activities such as snorkeling in crystal-clear waters and sea kayaking through beautiful rock formations are on the program of this day trip. Don't miss the stunning views from the top of the viewpoint. It's one of Thailand's greatest vistas.
Read more
2
Koh Tao & Koh Nang Yuan Snorkeling Tour
Koh Tao & Nang Yuan - Tour Duration: 8 hours
The best snorkeling in the Gulf of Thailand is waiting for you at Koh Tao and Koh Nang Yuan, 2 incredibly beautiful islands located 1 hour north of Samui by speedboat.
Discover the beautiful coral reef at Hin Wong and other bays. Enjoy the sandbar beaches of Koh Nang Yuan, formed by sea currents interacting with the 3 peaks of the island – they are unique and should not be missed.
3
Around the Island Tour
Big Buddha / Hin Ta & Hin Yai / Nathon market - Tour Duration: 5 hours
Couples
Families
Photo
History
This half-day tour takes you around Samui, making sure you see the most interesting and unforgettable sights of the island.
During this tour, you'll drop by the Grandmother and Grandfather Rocks, pay a visit to the famous Big Buddha, go shopping at the local market in colorful Nathon Town, visit the Kunaram Temple (the site of Samui's mummified monk), and stroll up to Lad Koh Viewpoint. It's a great option for visitors who want to see the best of the island without giving up too much beach time.
4
Red Baron Junk Sailing Tour
Around Koh Samui, Koh Som and Koh Phangan - Tour Duration: 6 hours
The Red Baron is a traditional Chinese-style vessel that cruises around the Samui coastline with stops at 2 nearby islands. What could be more pleasant than spending a day aboard a traditional junk, cruising at a slow pace around Koh Samui?
This day trip will take you to the most famous beaches of Samui Island and allow you to discover beautiful little islands lying off its coast – you can enjoy snorkeling at great spots, too. Fresh fruits and snacks are served throughout the day and a delicious buffet meal is also served during the cruise.
5
4-Wheel ATV Adventure
Samui countryside - Tour Duration: 2 hours
This ATV tour in Samui will take you on the dirt tracks of Samui's hinterland for an exhilarating day of adventure. Suitable for anyone over 12 years old, this ATV tour will drive you through the lush landscapes of the island's countryside.
You will be guided on a diverse track around the island, on various off-road terrains of sand and soil, and up to a secret waterfall in Maenam, at which you can enjoy a refreshing splash in a relaxing natural environment.
6
Guided Photography Tour
Golden Pagoda / Big Buddha / Wat Plai Laem - Tour Duration: 5.5 hours
This guided photography tour will please both those who want to discover Samui Island's most prominent religious edifices – Big Buddha, the Golden Pagoda, and Wat Plai Laem – and all those who want to learn more about photography.
During the informative tour, your guide will give you the best tips on how to make stunning photos of Samui landmarks and you will learn a lot about local history and culture along the way. Just make sure your batteries are fully charged!
7
Samui Thai Cooking Class
Chaweng - Tour Duration: 3 hours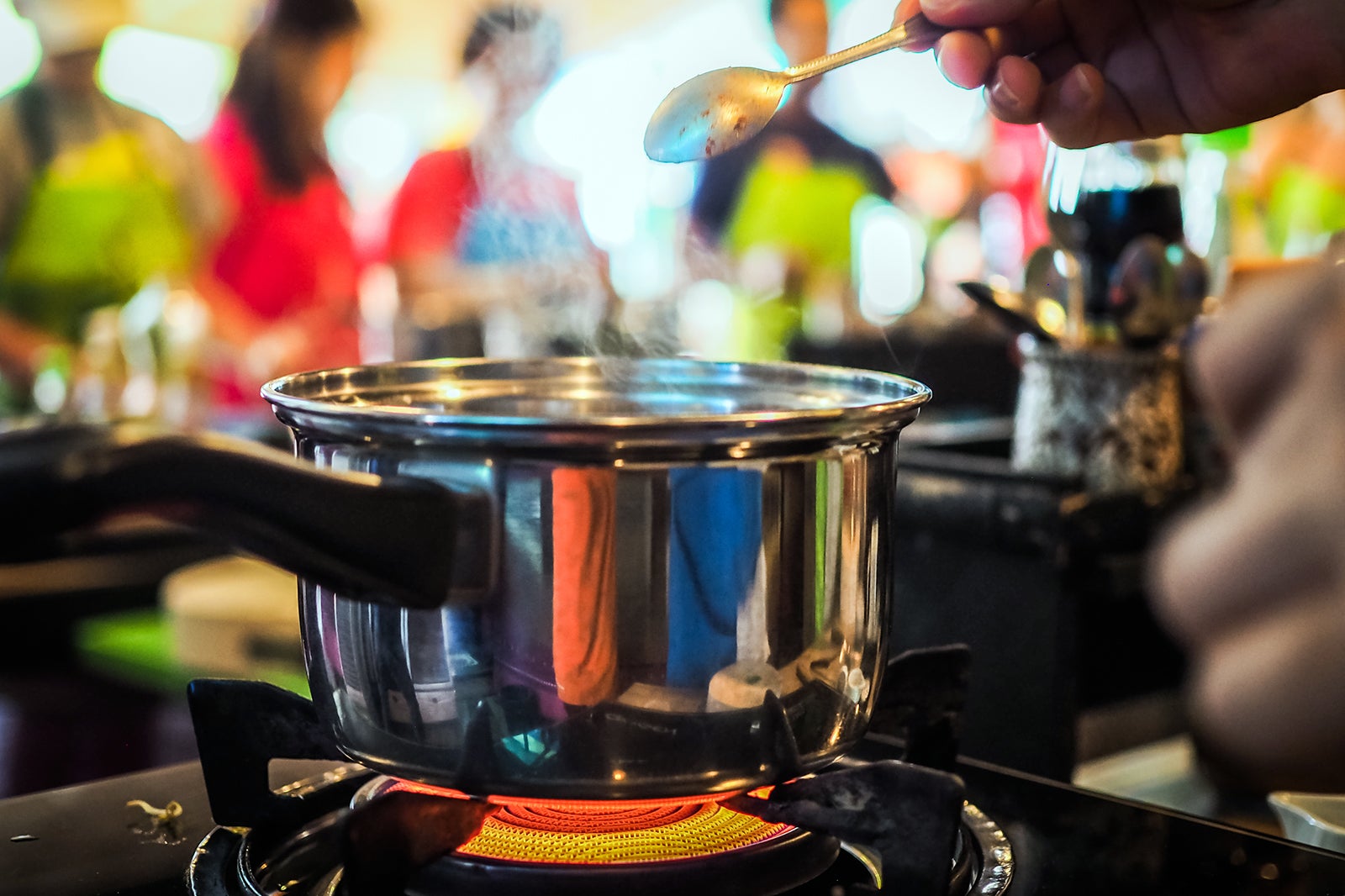 Join a Thai cooking class in Samui if you want to learn how to prepare some of the most popular Thai dishes in a cheerful atmosphere. You will learn about the importance of the balance of flavors in Thai cuisine and how to use the most important ingredients.
From appetiser to main course to dessert, you'll cook a Thai meal before sitting down with your classmates to sample it. Get ready to impress your friends and family once you get back home!
8
Jungle Adventure
Waterfall / Viewpoint / Landmarks - Tour Duration: 7 hours
Enjoy a full-day jungle tour in a 4-wheel-drive vehicle through Koh Samui, and discover some of its most beautiful natural sites. You'll tour some of the island's finest landmarks, like refreshing waterfalls (Na Muang and Tar Nim), the famous 'Mummified Monk', the hidden Magic Garden, rubber plantations and fruit orchards.
On this memorable jungle adventure, you'll get to see the genuine side of Koh Samui and meet some friendly locals throughout the day.
9
Big Game Fishing Adventure
Wang Bay, Koh Mudsoom, Koh Taen and Koh Rarb
If you enjoy adventure, you'll love this big game fishing tour off the coast of Koh Samui. An experienced captain and crew will take you to the richest waters around the island, where the big underwater fish typically come to feed. Small islands you will visit during the day include Koh Mudsoom, Koh Tan, and Koh Rarb. The specific itinerary will depend on the time of year, as the schools of fish migrate throughout the year.
Explore some of the most beautiful bays of Ang Thong National Marine Park by sea kayak, and snorkel in the company of exotic fish in its warm, crystal-clear waters. You'll get to explore 2 islands – Koh Mae Ko & Koh Tai Plao – as well as enjoying a Thai buffet lunch.
Ang Thong National Marine Park comprises 42 fascinating islands featuring strangely shaped limestone outcrops, verdant hillsides and white-sand beaches fringed by coconut trees. This tour includes a pick-up from your hotel and a transfer to the main island of the archipelago, from where you start your kayak adventure.
Read more
Back to top