Long Beach on Koh Phi Phi
Everything You Need to Know About Long Beach on Phi Phi Island
Long Beach faces south-west with stunning views out over Phi Phi Leh and has possibly the softest and finest white sand on the island as well as excellent snorkeling. The popular coast is both far enough from, and close enough to, the business of Tonsai Village, and no more than a 5-minute long-tail boat ride from the center of the action. You can walk to Tonsai Village by day which would involve walking over rocks between beaches or up short jungle trails – avoid attempting it at night.
From November to April the water is flat and calm, but between May and October it can be a little rough and bathing can be difficult at low tide due to rocks and coral. Accommodations consists almost entirely of bungalows, some of which belong to high-end resorts. There are also many basic bungalows, making it a very cosmopolitan place. Most visiting Long Beach are those staying in a resort here, so day-trippers aren't many. There's plenty of life by day but it's pretty quiet after sunset – those looking for nightlife head to Tonsai Village instead.
1
Where to eat on Long Beach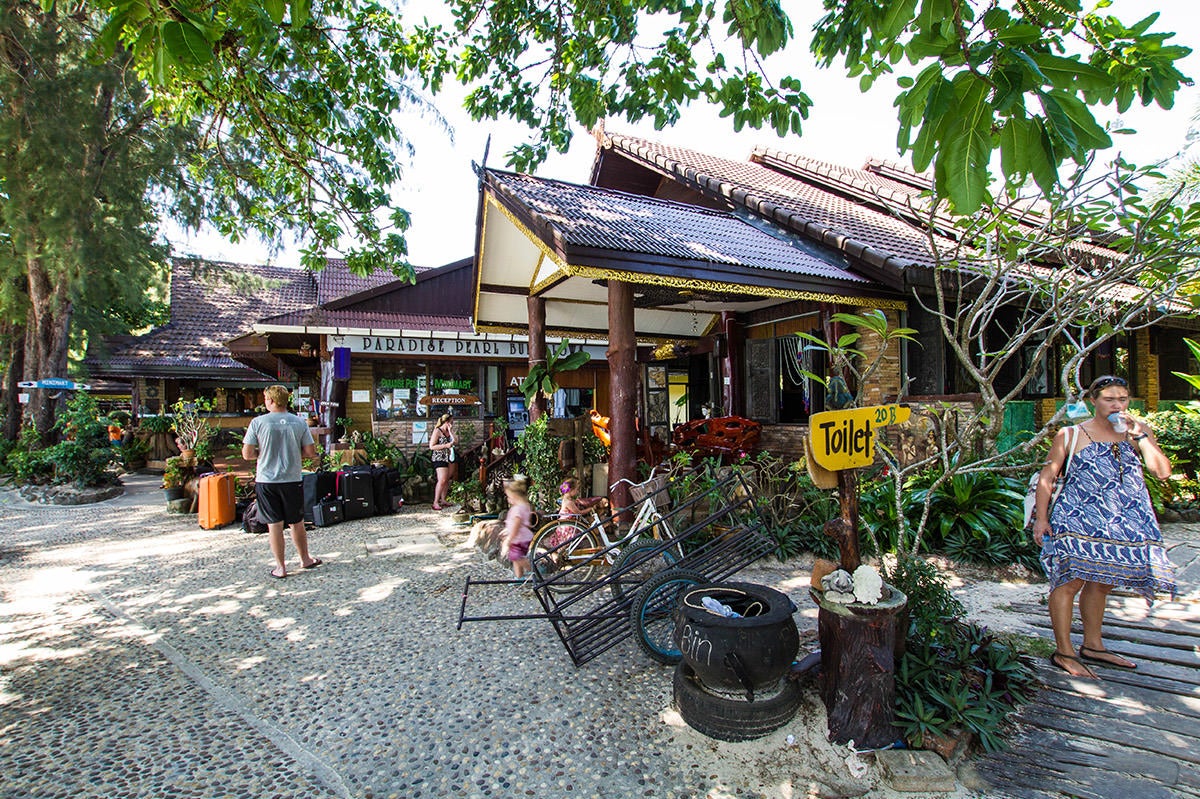 Long Beach has about 6 different resorts which mean about 6 different restaurants to choose from. Toward the southern end of the beach, Phi Phi The Beach Resort has the most upmarket dining, which is poolside, and you may see a few daytrippers from Phuket here. Dishes are standard Thai and international.
Judging by the volume of diners, and the prices, Phi Phi Long Beach in the middle of the beach is doing something right. Their large restaurant offers mainly Thai and seafood choices. Prices are largely in line with what you will pay across Koh Phi Phi
2
Snorkeling on Long Beach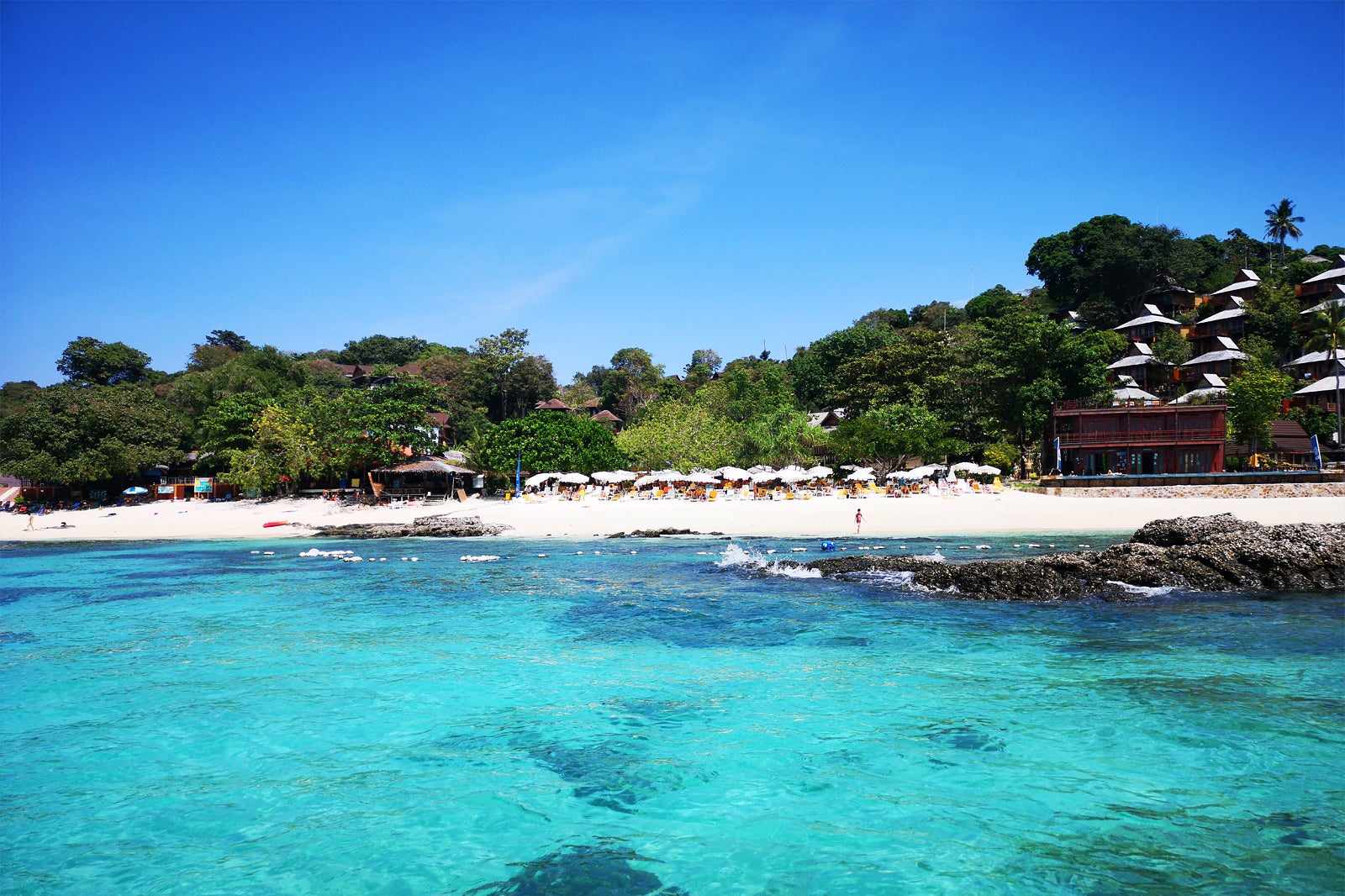 Snorkeling off the coast of Long Beach is possibly the best direct-from-the-beach location in Phi Phi. You don't have to go very far to see colorful fish in their underwater habitat. Additionally, around 200 meters from the beach, there's a rock that just breaks the surface called Shark Point – no prizes for guessing why. Here, you'll find black-tip reef sharks from 40-cm to 1.2-metres long bathing around the reef. During the day, when there are lots of boats around, they're hard to find, but in the early morning and late afternoon, they're easy to spot.
The swells from May to October can make Shark Point dangerous so you should only go there on very calm days. All year round, you should be vigilant as currents can be strong, especially at mid-tide. Novice snorkelers would be better to go on organized tours. Snorkeling equipment can be rented easily from the beach. A mask and snorkel cost around 100 baht, as do fins. Prices are usually charged per day.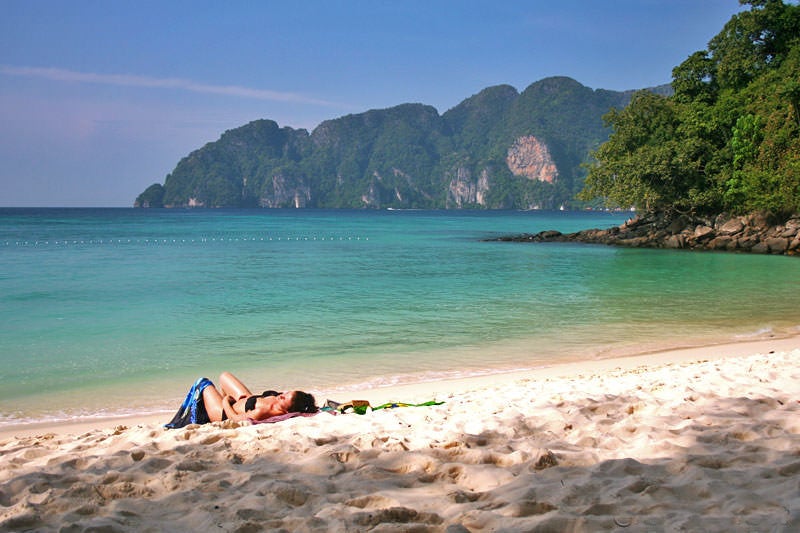 Kayaking is a popular pastime in Long Beach; there are several small beaches to explore toward Tonsai Village. A little further away is Ao Poh, a small beach with excellent snorkeling behind Long Beach facing east. Behind Long Island Divers there's a small track that takes you to Loh Moodee Beach and Ao Poh in around 12 minutes. These beaches are very quiet and tranquil. When the sea is too rough to snorkel at Long Beach, you can be sure that flat seas await over the hill.
Thai massage, and many other types too, are available in small salas (open-sided rooms) all along Long Beach, prices are around 300-400 baht and hour. A couple of volleyball nets are set up, and often a game gets going as the sun starts to fall.
4
What to do at night on Long Beach?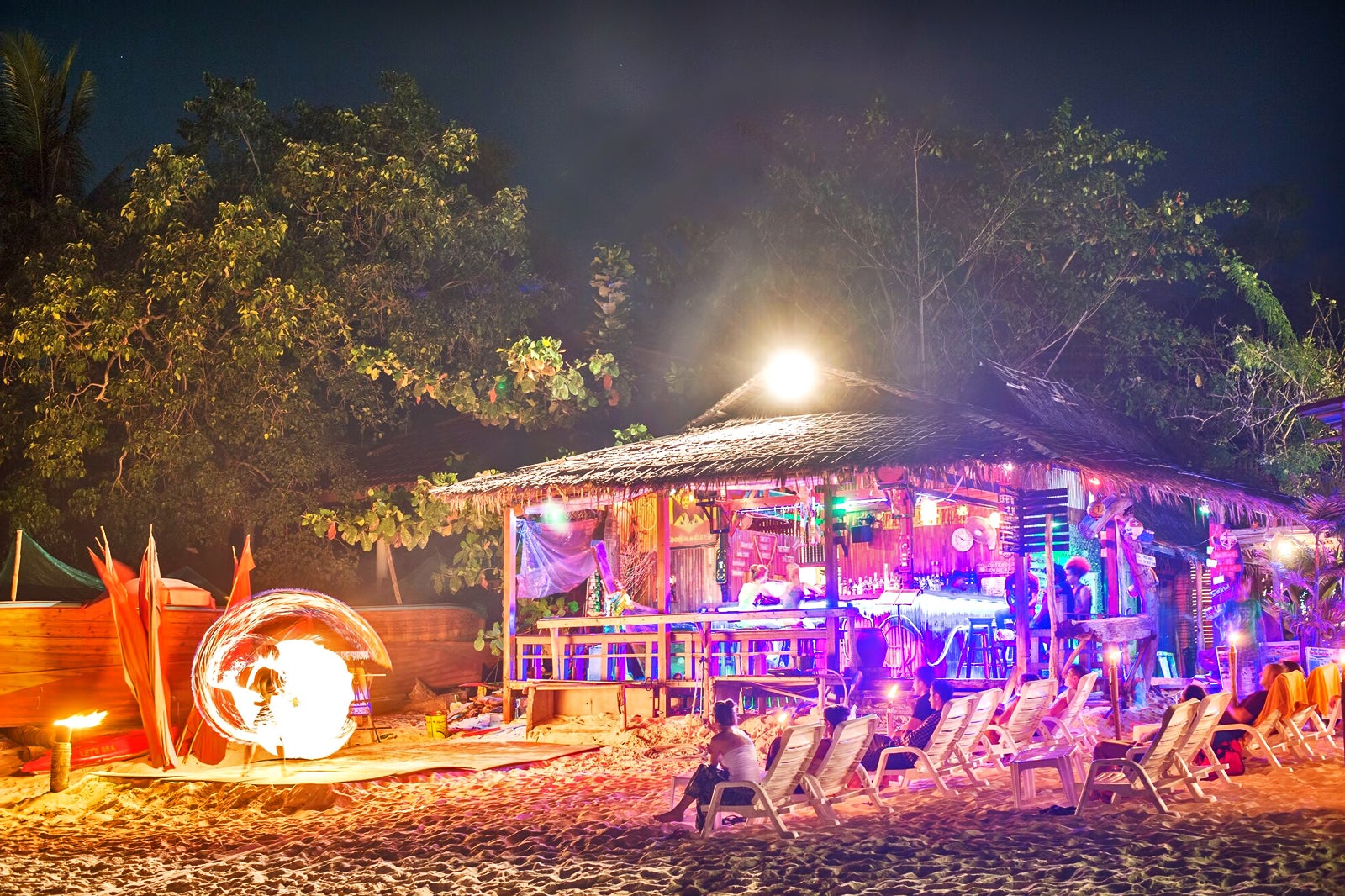 The best place to hang out at night on Long Beach is the beach bar at Phi Phi The Beach Resort. Come here for sunset cocktails and stay for dinner under the stars. Late-night activities include a friendly game of cards or backgammon.
For something more energetic, Long Beach Bar is the focal point for those who want to socialize but don't want to go into Tonsai Village. The bar is made from the front of a long-tail boat that's been intricately decorated. Expect a fire show every night at 9pm.
Back to top