Papaya Design Furniture & Studio in Bangkok
Bangkok Vintage Shop Where Ali Baba Meets Indiana Jones
Papaya Design Furniture & Studio in Bangkok is probably not like any other vintage shop you've seen before. Many have heard of it but few have actually stepped inside it. It's so bizarre that some of the greatest and genuine vintage items on display are not even for sale! So, what kind of shop would do that?
If you haven't been there before, you won't be impressed by the location and even less by the exterior of the warehouse. Because that's what Papaya is; a warehouse in the suburbs of Bangkok. The entrance is small and resembles a workshop cluttered with junk and some workers chit-chatting while fixing unidentified pieces of unidentified junk. Psychologically, this modest corridor will play a role in the way the shop progressively reveals itself to you.
Papaya Design Furniture & Studio in Bangkok - one of the highlights of 9 Most Unusual Sights in Bangkok and 7 Unique Bangkok Furniture Shops and Markets (Read all about Bangkok here)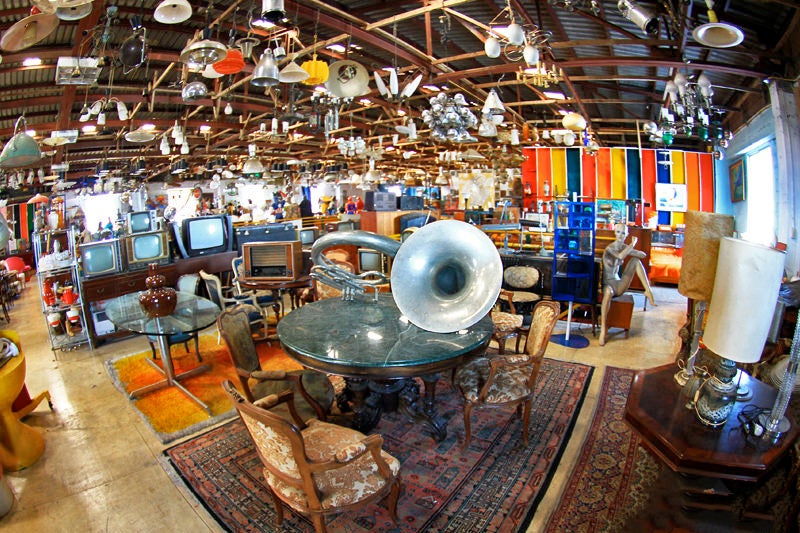 Visiting the Papaya vintage shop in Bangkok
Wandering in the first room is already a treat... it's dark, dusty, with no apparent logic and delightfully messy. Anyway, all your eyes care about are the thousand toys and objects from the past – vivid reminders of the greatest moments of young years.
Standing between Darth Vader and a huge collection of Ultraman figures, a full-scale Alfred Hitchcock endlessly stares at James Dean forever posing next to the doorway. Now if you think this room is awesome, you are about to have a serious shock because this is just a fraction of what awaits behind the door where the real stuff is kept!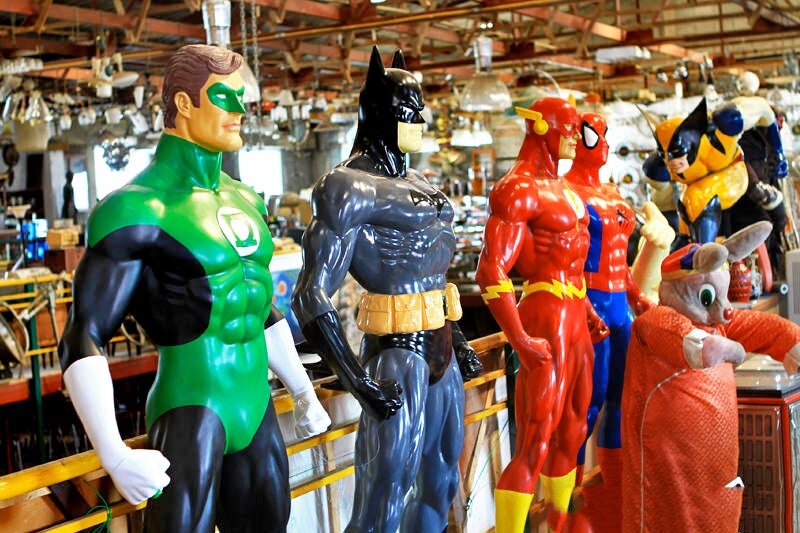 What to expect at Papaya Design Furniture & Studio
It's probably pure coincidence, but the way things have been stored in a haphazard fashion acts as a crescendo. From the first room, a narrow maze meanders between walls of shelves crumbling with more treasures until it suddenly expels you in a wide-open, 3-storey-high space literally packed from floor to ceiling with thousands of objects.
Some are instantly familiar and obviously old, and some others unidentifiable. Among these are some really rare gems of vintage design furniture from the 60s, and some absolutely stunning art deco chairs, desks and light fixtures.
If Ali Baba would have made a joint venture with Indiana Jones' warehouse, this is probably what it would look like. Climbing the upper floors is like traveling randomly through time.
Trying to list the amazing objects, items, figures, toys, household objects and furniture tightly packed next to each other would be impossible and everyone reacts in their personal way. But you can't help but notice the pinball machines, Vespas and full-size familiar comic characters of Flash, Wolverine, Green Lantern and Batman, all proudly standing next to... a pair of giant rabbits.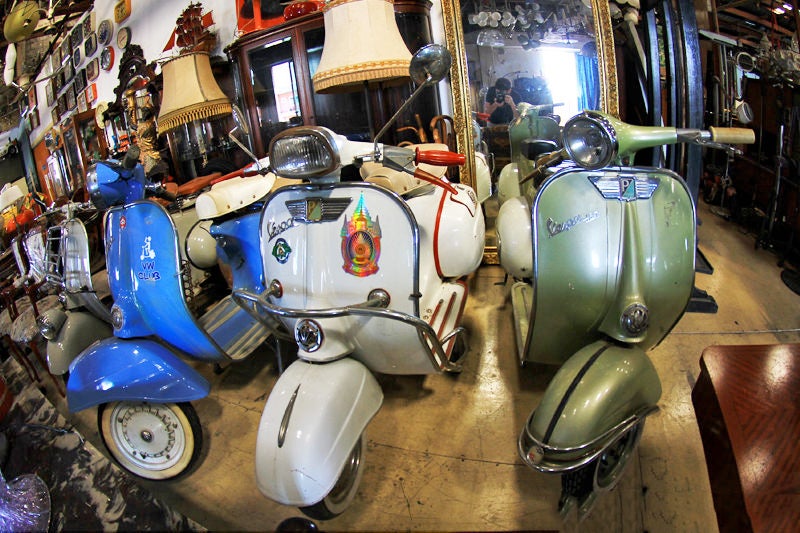 Is it really a vintage shop?
Now if you decide to buy, you won't see any price tag hanging from any of these fabulous objects, so you need to get someone to help you, at the risk of never finding your way back to that beautiful retro lamp you saw hanging... somewhere.
A good tip is to take a photo with your mobile and go back to the center of the shop where someone is always at the computer. Of course, you can expect some bargaining, but even worse, the owner might just casually announce that this item is not for sale! How about that one? Sorry, not for sale either... So why is that? Is it some kind of museum? Well, sort of...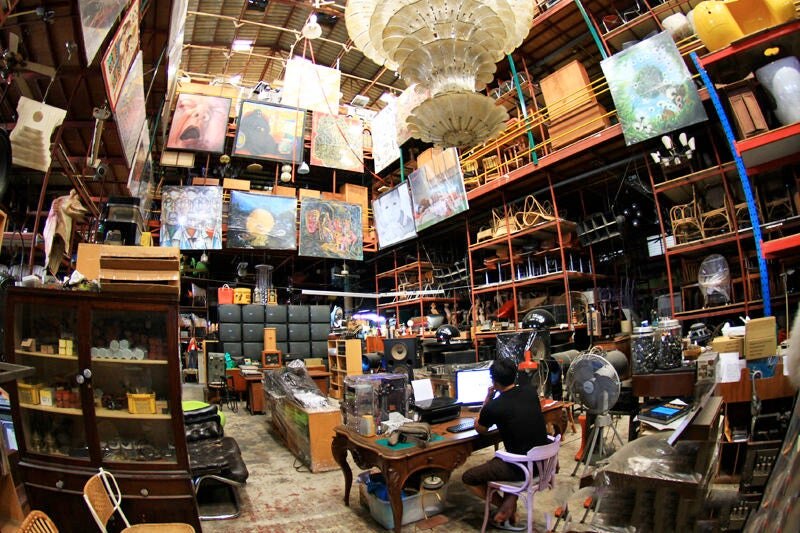 Photoshoots at Papaya Design Furniture & Studio
Walk all the way to the top floor and you'll notice a lot of buzzing activity next to an empty room... and often some very pretty girls and handsome boys all dressed up like they were about to step onto the catwalk.
And that exactly what it is. Papaya has become a favorite studio for professional photographers. Where else can you find a treasure trove of fantastic items readily available to combine in the most eccentric way a fashion photographer would dream of? There's no limit to your creativity here, so no wonder the owner likes to keep the best-looking items to rent out instead of selling them.
So come here to shop if you are a vintage lover, but most of all, to dive into a world of fantasy and fun memories... it's like a free museum! But note that the owner might not allow you to take photos as he charges professional photographers a hefty amount for the right to shoot in the shop.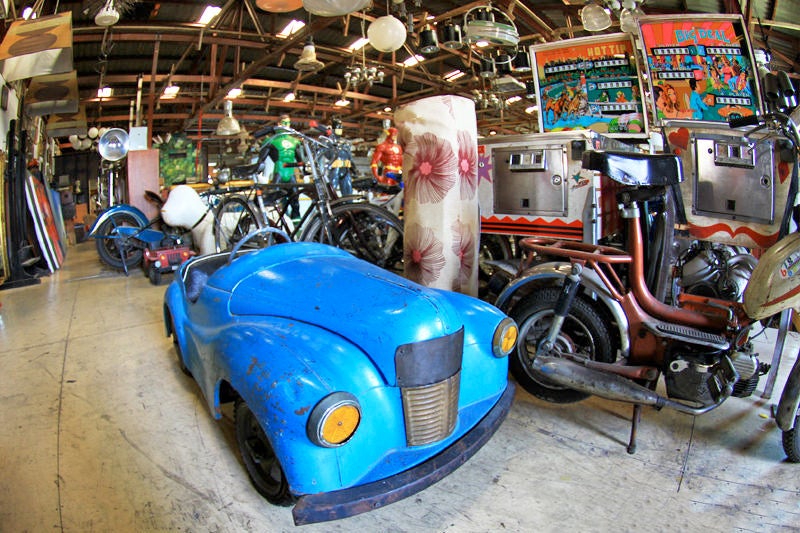 Papaya Design Furniture & Studio in Bangkok
Location: 306/1 Soi Lat Phrao 55/2 Lat Phrao Rd, Phlabphla, Wang Thonglang, Bangkok 10310
Open: Daily from 9am to 6.30pm
Phone: +66 (0)2 539 8220
Back to top