Getting Around Koh Samui
Useful Koh Samui Travel Information
Getting around Koh Samui is not at all difficult, thanks to a modest but adequate range of transportation options. Being a mere 25 km long and 21 km across, most journeys around Thailand's third-largest island will be pretty short, but there is a choice available to suit any distance and any budget.
Most of the transportation options which are common in Thailand's top tourist destinations have also found their way to Koh Samui, though there are 1 or 2 notable exceptions. For example, the island has neither tuk-tuks nor formalized bus service. However, there are public transportation options to get you to most of the key destinations. Vehicle rental is available for those hard-to-reach places.
1
Songthaews (pickup taxi cabs) in Koh Samui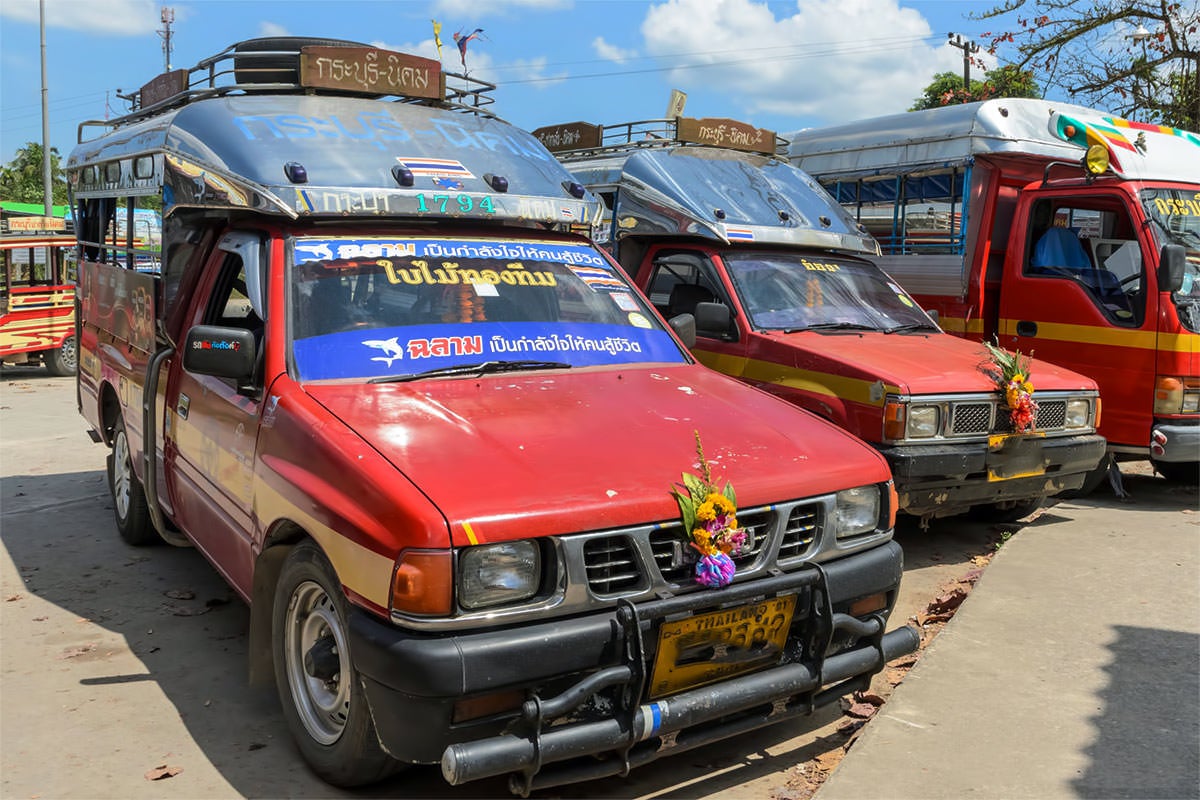 Songthaews are the closest thing Koh Samui has to a bus system. The vehicle generally resembles a pickup truck, with a roof covering 2 benches fitted in the back. It follows set routes during the day. The truck will generally have its destination painted on the front in English. There are no official bus stops, so you can flag one down anywhere.
Using a songthaew does require that you have a reasonably good idea of where you are going. With set routes and no route maps available, you have to just keep riding until it's as close to your intended stop as possible. When you want to get off, ring the bell (you'll find doorbell-like buttons on the ceiling in the passenger compartment) or bang on the roof to get the driver's attention.
Songthaews are the cheapest method of getting around Koh Samui. In the evenings, some operate as private taxi cabs. This means they will take you directly to your destination, but they will charge you considerably more. You will need to discuss exactly how much with the driver before setting off.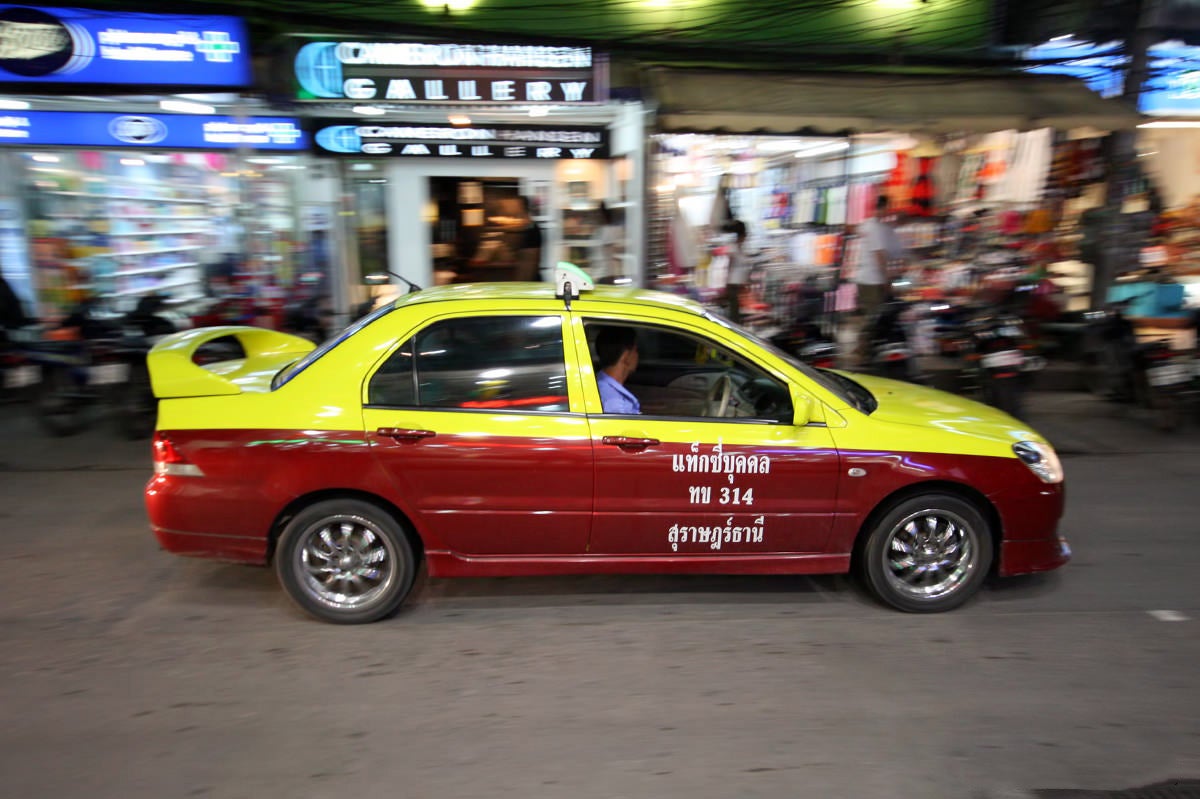 Taxi cabs in Koh Samui are uniformly yellow and maroon. This obviously means that there is only 1 company operating on the island, which unfortunately does make this one of the more expensive ways of getting around. While most of the vehicles have a meter, very few ever use it, with drivers negotiating a fixed price for the journey – often quite a high price relative to the distance. With no other taxi cab company to use, there isn't much of a choice.
Taxi cabs are certainly the most comfortable of the public transportation options, with vehicles almost all well maintained and air-conditioned. They will also take you directly to your destination instead of following fixed and indistinct routes.
Considerably cheaper (and less comfortable) than 4 wheels, motorbike taxi cabs in Koh Samui can be found by looking for the riders in brightly colored undershirts. Being small and maneuverable, motorbike taxi cabs can zipper through traffic and narrow backstreets, making them much quicker for short journeys around towns. You will need to agree on a price in advance, but you won't need to bargain as hard to get a fair one.
3
Motorbike rental in Koh Samui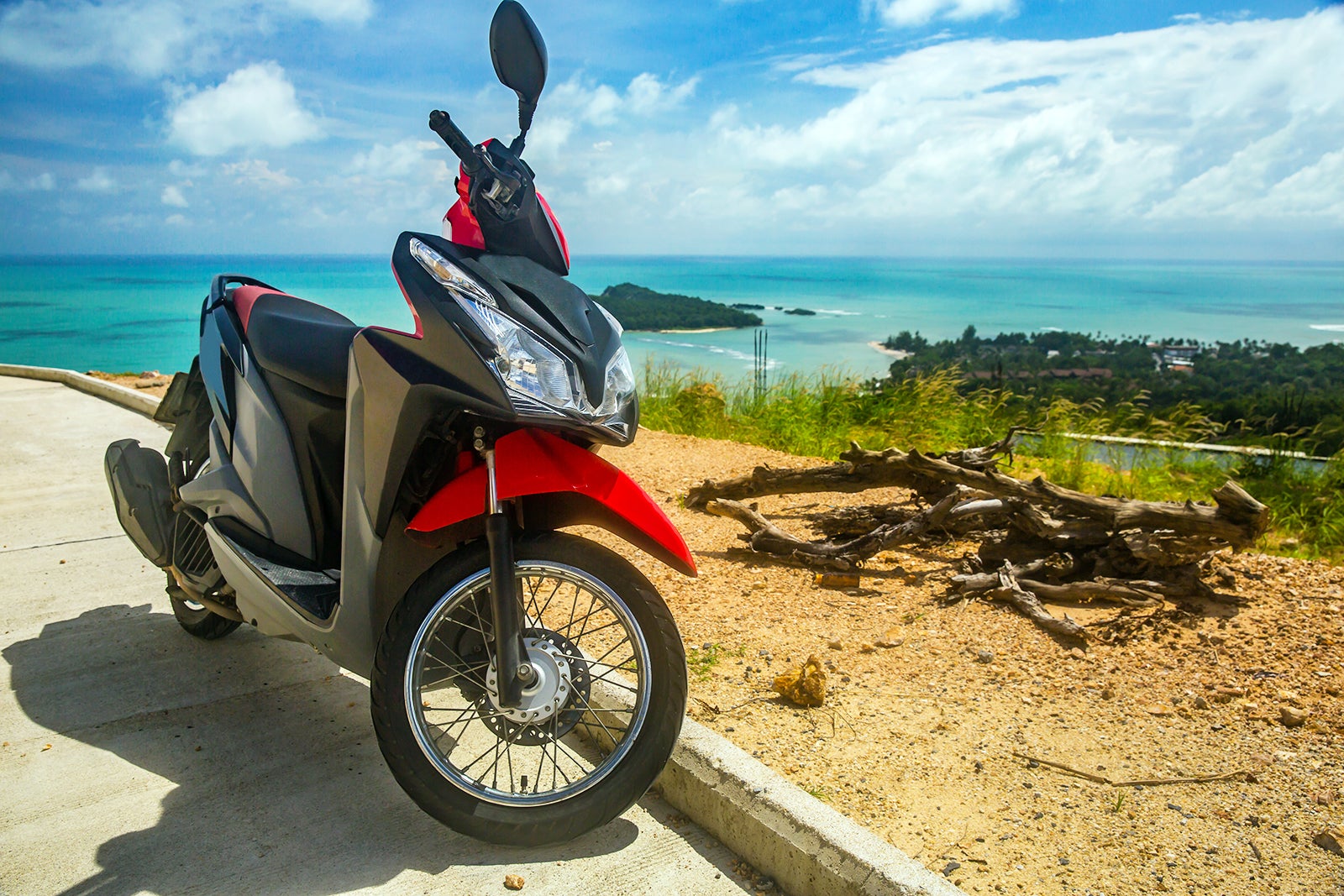 Renting a motorbike is certainly the most economical way to get around Koh Samui. Rental rates range around 200-300 baht per day, while gasoline costs from 30 baht per liter. An international driving permit is necessary to legally drive a motorbike in Thailand. Please note that if you don't carry a motorcycle driver's license, police may let you go but your insurance might not cover you in case of accidents.
Driving a moped to explore the island is a real pleasure but you need to be extremely careful. Due to poor education on traffic rules and safety, Thailand ranks among the highest in the world when it comes to road fatalities. With that in mind, be very vigilant when riding your motorbike around Samui.
4
Automobile rental in Koh Samui
Renting a automobile in Koh Samui is among the safest, most comfortable and most convenient means of getting around, though it does come at a cost. You have a choice of places to hire from, ranging from well-known international brands (Avis, Hertz, Budget Automobile Rentals and National Car Hires) to local independent firms and private individuals.
You can rent a automobile from as little as 1,000 baht per day, but such a great deal will often mean getting a less-than-ideal vehicle, usually without insurance. Given that Koh Samui has one of the highest rates of traffic accidents in Thailand, this could prove considerably more expensive in the long run. Safer options, such as renting from a well-established local or international company, can start from 2,000 baht per day.
If you plan to explore the island a lot, and particularly if you intend to visit the hilly interior, a 4WD is strongly recommended. Koh Samui's roads that aren't just sandy tracks are often in a state of considerable disrepair, while roads leading inland can be particularly steep. As with riding a motorbike, a valid Thai or international driver's license is required to drive in Koh Samui. While the smaller outfits might not check for one, the reputable global organizations certainly will.
5
Bicycle rental in Koh Samui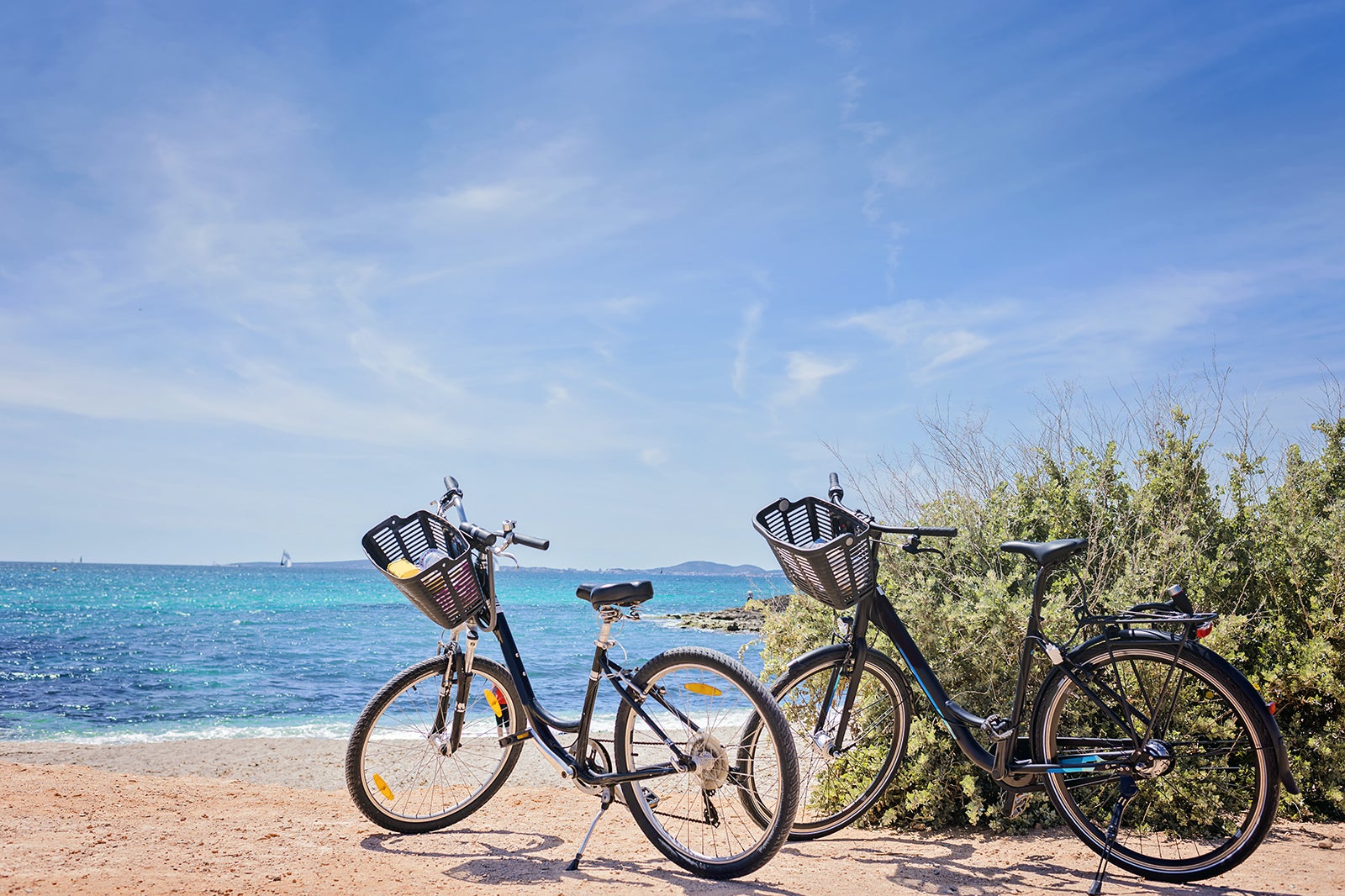 If you're feeling particularly energetic and eco-friendly, Koh Samui has several shops that rent bicycles. A good mountain bike will generally cost you about 100 baht per day, making this one of the cheapest ways of getting around Koh Samui. However, given the island's hilly topography and road conditions, cycling is also the slowest and most physically challenging method.
Back to top