Coco Walk in Bangkok is a lively little alleyway off Phayathai Road that's ideally set up for Thai-style barhopping. This small soi (lane) of bars, pubs and restaurants lies in the shadow of the huge Ratchathewi BTS Skytrain Station. While this might not be the most picturesque drinking spot in town, it's certainly one of the most convenient, especially if you're staying in the surrounding Pratunam or Ratchathewi area.
Particularly popular with university students, some might turn their noses up at Coco Walk's slightly 'rough around the edges' feel (it's been around for decades), but that's all part of its unpretentious, loveable and quintessentially Thai charm.
Coco Walk in Bangkok - one of the highlights of 12 Best Nightlife Experiences in Siam and 9 Best Nightlife in Pratunam (Read all about Bangkok here)
Highlights of Coco Walk Bangkok
The entrance to Coco Walk Bangkok is glaringly obvious, especially if you step off the BTS at Exit 4 and head down the steps. Don't be put off by the aging sign, which sits above a rather sorry-looking fountain.
The lively Thai music, cheap drinks, and plethora of distractions (such as pool tables, shishas, live sports and even a skate ramp at 1 place) will most likely win you over, making you want to come back to Coco Walk for more.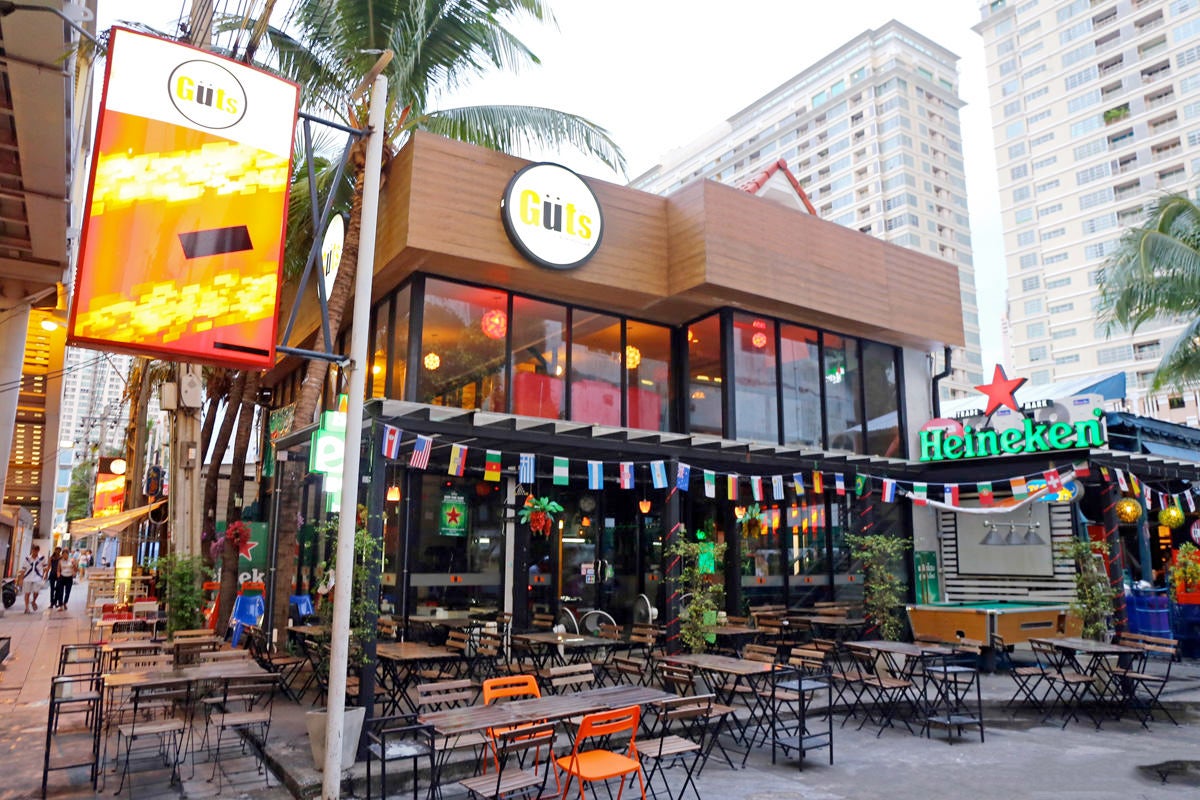 Dining options at Coco Walk Bangkok
Unlike many other similar collections of bars around Bangkok (like Silom, Nana Plaza and Soi Cowboy), you'll find none of the sleaze but all of the fun at Coco Walk. You can enjoy a stroll down the walkway without being hassled, harassed, or invited to some eye-popping lady show. The emphasis here is on the great nightly live music, chilled-out setting, and tempting deals on beers (towers are particularly cheap here).
So, with over a dozen bars all tightly jammed into one spot, the question is just where to go? Most pick a spot based on the crowd, music or how just how cute the waitresses/waiters are. That said, we've done our research and found some of the real highlights of Coco Walk in Bangkok.
Retro Bar and 73bar
Enjoying probably the best location of all the bars at Coco Walk, Retro Bar and 73bar are right at the entrance of the alleyway. They're often the default spots for those that don't want to bother entering the alley.
Location isn't the only thing going for them. Seating options are plentiful (both have inside areas with air-con and outside with comfy sofas). Drinks are cheap too, with bands playing every night at Retro Bar.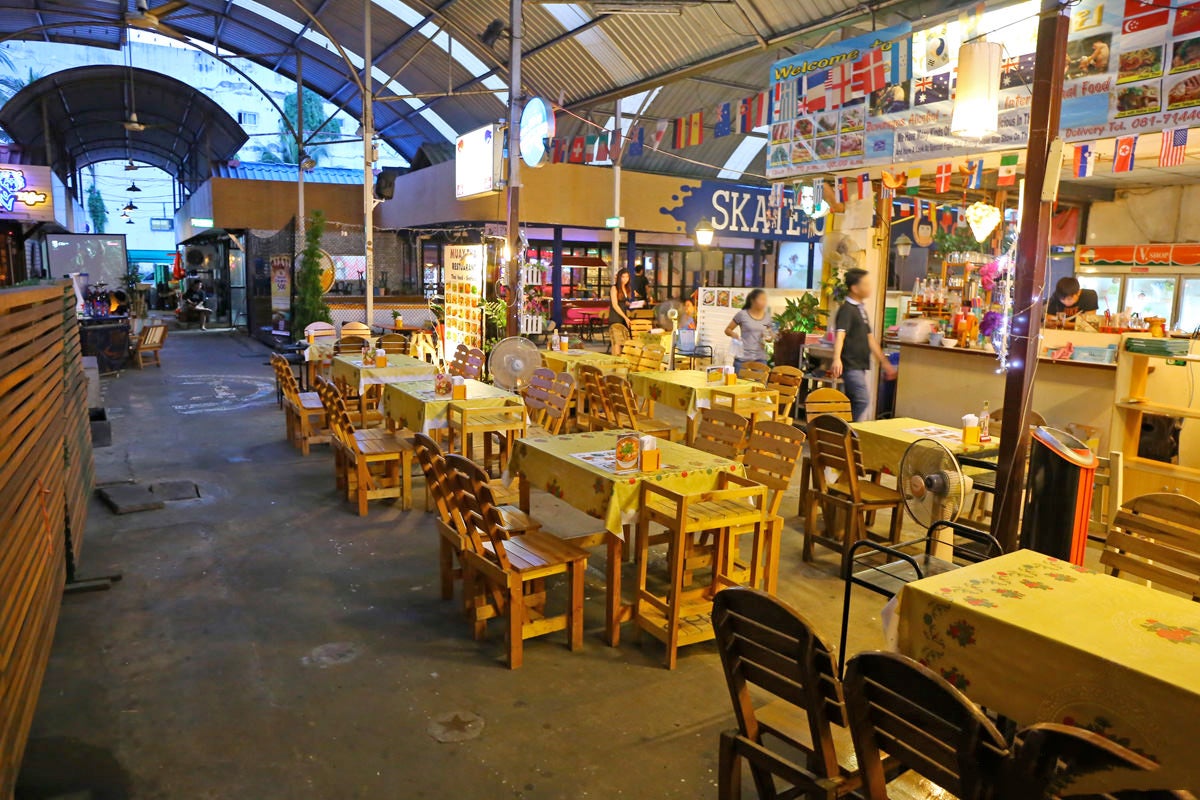 Skate Café
Those reading carefully will already know that there's an actual skate ramp at Coco Walk. Skate Café, of course, is where you'll find it. Bring your own board to enjoy some tipsy skating while enjoying their happy hour from 5pm to 8pm. They also have some funky seating (made from used skateboards) and plenty of decent Thai-pub style dishes on the menu to soak up all that beer.
Chilling House
True to its name, Chilling House is probably the most chilled-out joint at Coco Walk, with comfy wicker chairs for lounging and soft background music for lulling the young local crowd. You'll have to walk all the way down to the end of the soi (less than one minute) to find this one.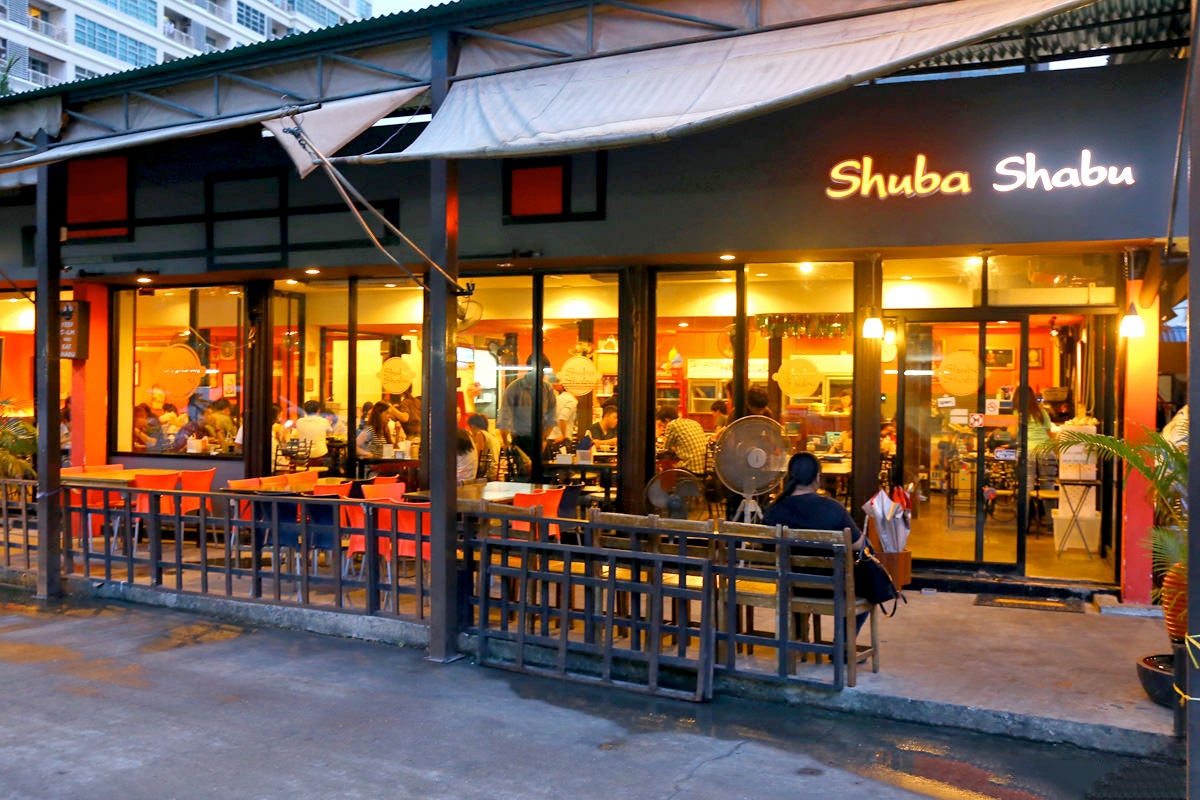 Shuba Shabu
If you get hungry but don't fancy the Thai snacks served up at all of the pubs at Coco Walk Bangkok, head to Shuba Shabu for authentic Korean/Japanese BBQ. You pay a set price for all-you-can-eat meat and veggies which you cook yourself. Turn left at the central crossing to find it.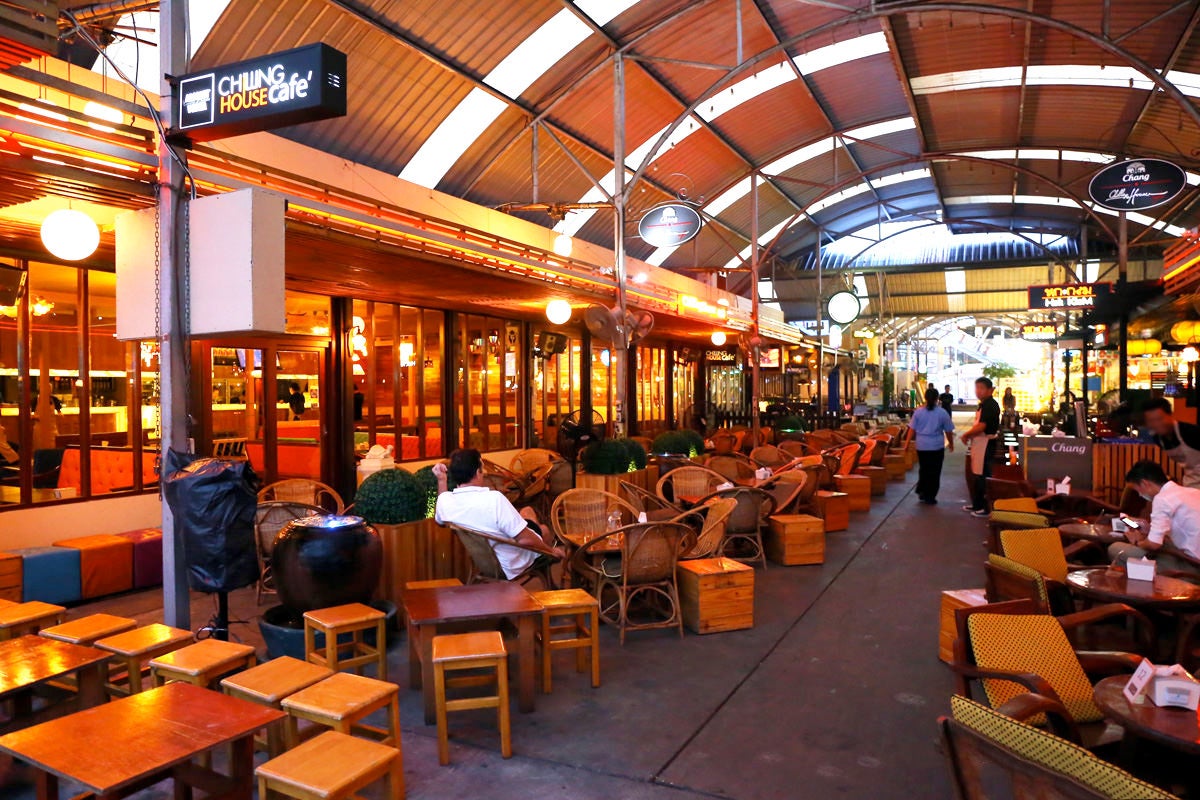 Coco Walk in Bangkok
Location: Phayathai Rd, Thanon Phetchaburi, Bangkok 10400, Thailand
Open: Daily from 4pm to 1am (hours vary by venue)
Back to top