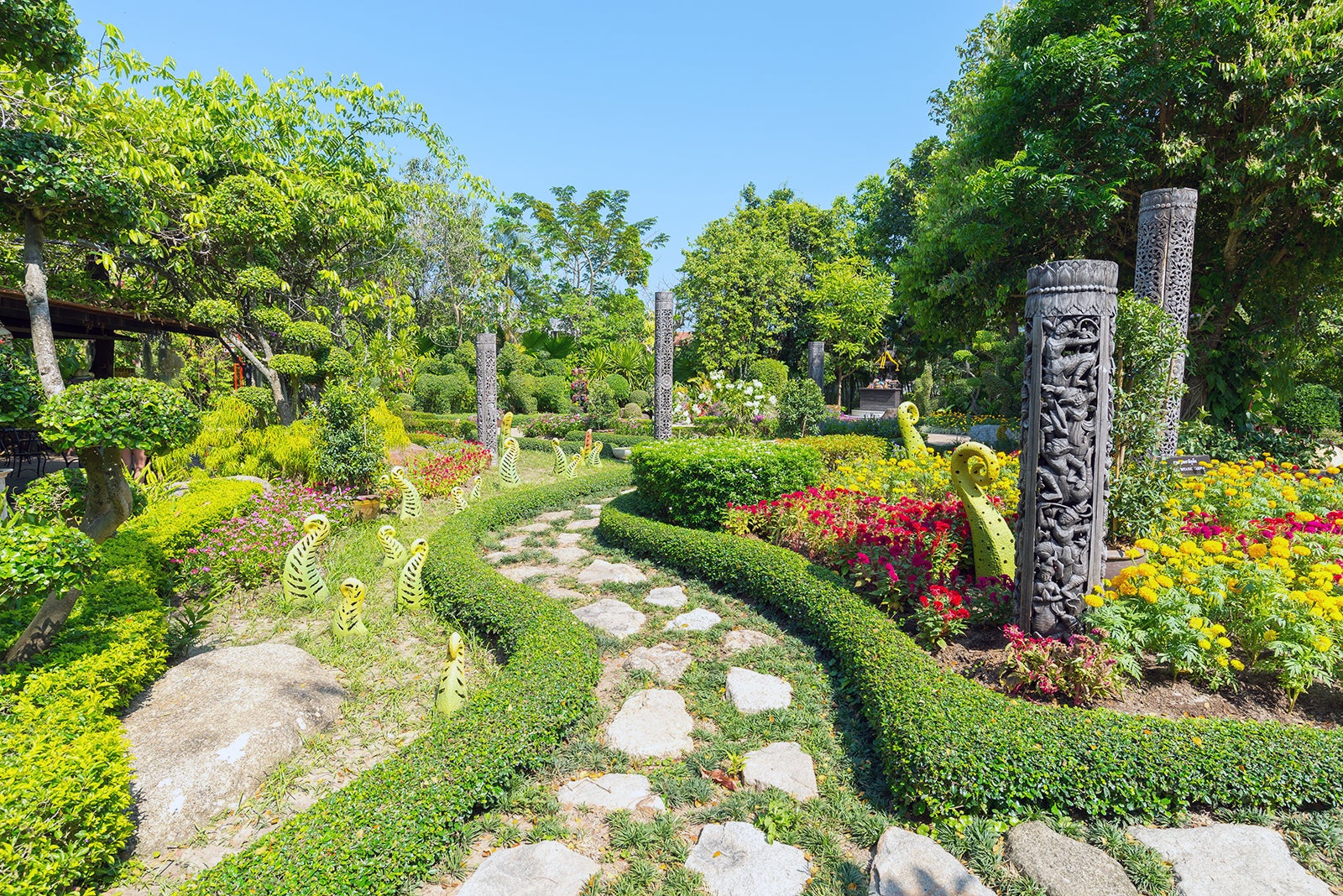 Phuket Botanic Garden in Chalong offers an interesting day out for those with an interest in gardening and botany. It combines an orchid pavilion display, rainforest garden and winter garden, with many rare plant species, offers an escape into a floral world for the whole family.
Each zone has its own characteristics and plant collections that present nature's artistry through colorful petals and foliage. Don't forget your camera!
Phuket Botanic Garden - one of the highlights of 12 Best Things to Do in Chalong Bay (Read all about Phuket Province here)
Phuket Botanic Garden highlights
Phuket Botanic Garden displays around 50 different cacti, some unique palm trees and aromatic flora. Walking around the pond, you'll see beautiful waterlilies, lotuses and Japanese koi carp, as well as a large artificial waterfall that you can walk through.
Discover plants and fruits at the fruit orchard and herb garden, including many of those that you may have been eating since arriving in Thailand, such as mangos, mangosteens, bananas, jackfruits, santols, lychees and rose apples. Most are fruits indigenous to Southeast Asia.
A must-see is the winter garden where the many colorful flowers and trees have been brought from the northern part of the country. Despite Phuket's warm and humid weather, the temperature in this room is always kept at a maximum of 20°C – another good reason to visit the garden.
Enjoy the exhibition of an average Thai farmer through a display of a rice field and a small house that also has a vegetable garden. It helps us understand how the farmers gain direct benefits from their own hard work and why, especially in the old days, Thai farmers hardly needed to buy any food. They not only grow their own rice, vegetables and herbs, but they also raise their own animals such as chickens and pigs while fish are sourced from their own pond or river. Their simple life can be a good inspiration and example for living a self-sufficient lifestyle.
Good to know about Phuket Botanic Garden
Opened in 2012, the Phuket Botanic Garden is vast, covering 2.4 hectares of land. But don't worry – it has plenty of rest facilities and a souvenir shop. Some of the most interesting displays worth checking are the Thai-style spirit houses and wooden features showing the beauty of Thai craftsmanship.
After a tour, why not take a break and enjoy the wide variety of food and drinks at the garden's restaurant? Or, if you prefer, you can check-in at one of the lovely villas at the adjoining Phuket Botanic Resort.
Phuket Botanic Garden
Location: 98/89 Moo 4, Chao Fa Road, Chalong, Muang, Phuket 83130 Thailand
Open: Daily from 9am to 5pm
Phone: +66 (0)76 367 076
Back to top