While the Museum of Siam is set inside a very large neoclassical house, it is definitely not the usual display of historical artifacts and dusty mannequins you'd expect to find in such an antique building.
A huge bronze 'ribbon' coiling and looping in the front garden is the first clue of things to come inside. In the reception area, wooden stairs, ceramic tiles and old-fashioned columns contrast with resolutely modern art and advanced technology. Everywhere you look, the 2 elements blend with great harmony as designers use every possible way to challenge the traditional expectations you might have of a museum.
Museum of Siam - one of the highlights of 30 Great Museums in Bangkok and 21 Best Things To Do in Bangkok Old Town (Read all about Bangkok here)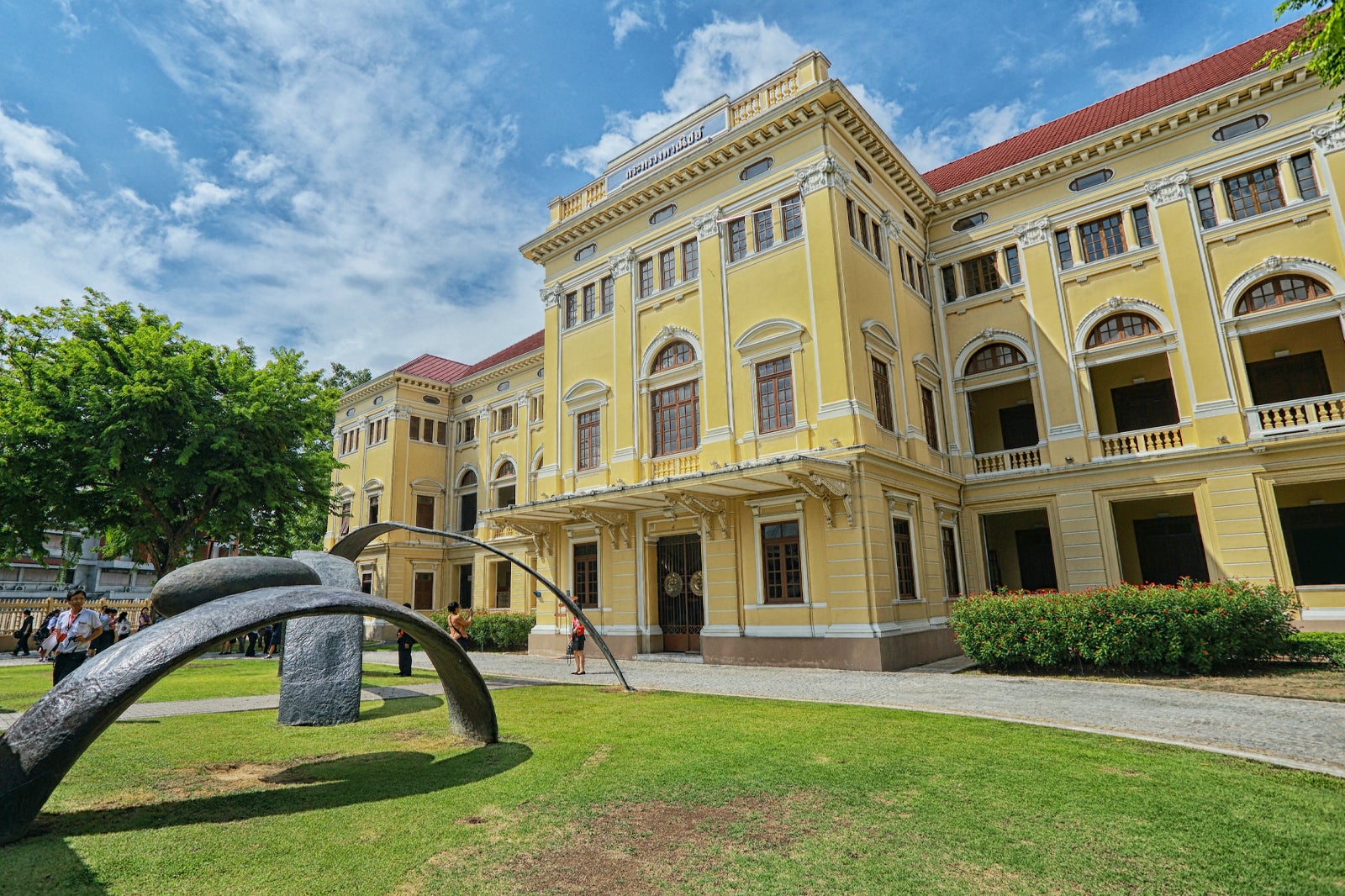 Surprises at the Museum of Siam
In the reception area, the bronze ribbon seen outside almost seems to penetrate the building and curls from wall to wall with the words 'What does being Thai mean?' written in red luminous letters all along. The entire museum is dedicated to this 'Thainess', the history of Thai people and the evolution of their culture and traditions.
It's extremely well done. Once you enter the first room the giant ribbon called The Roong seems to have crossed the wall to become a long panoramic screen on which you will be asked to watch a movie. This movie will immerse you, through artistic and sometimes provocative images, into the Thai spirit. Never boring and beautifully executed, it'll wipe out your last doubts about the museum. After only 10 intense minutes, you're mentally ready to appreciate the many other surprises of the Museum of Siam.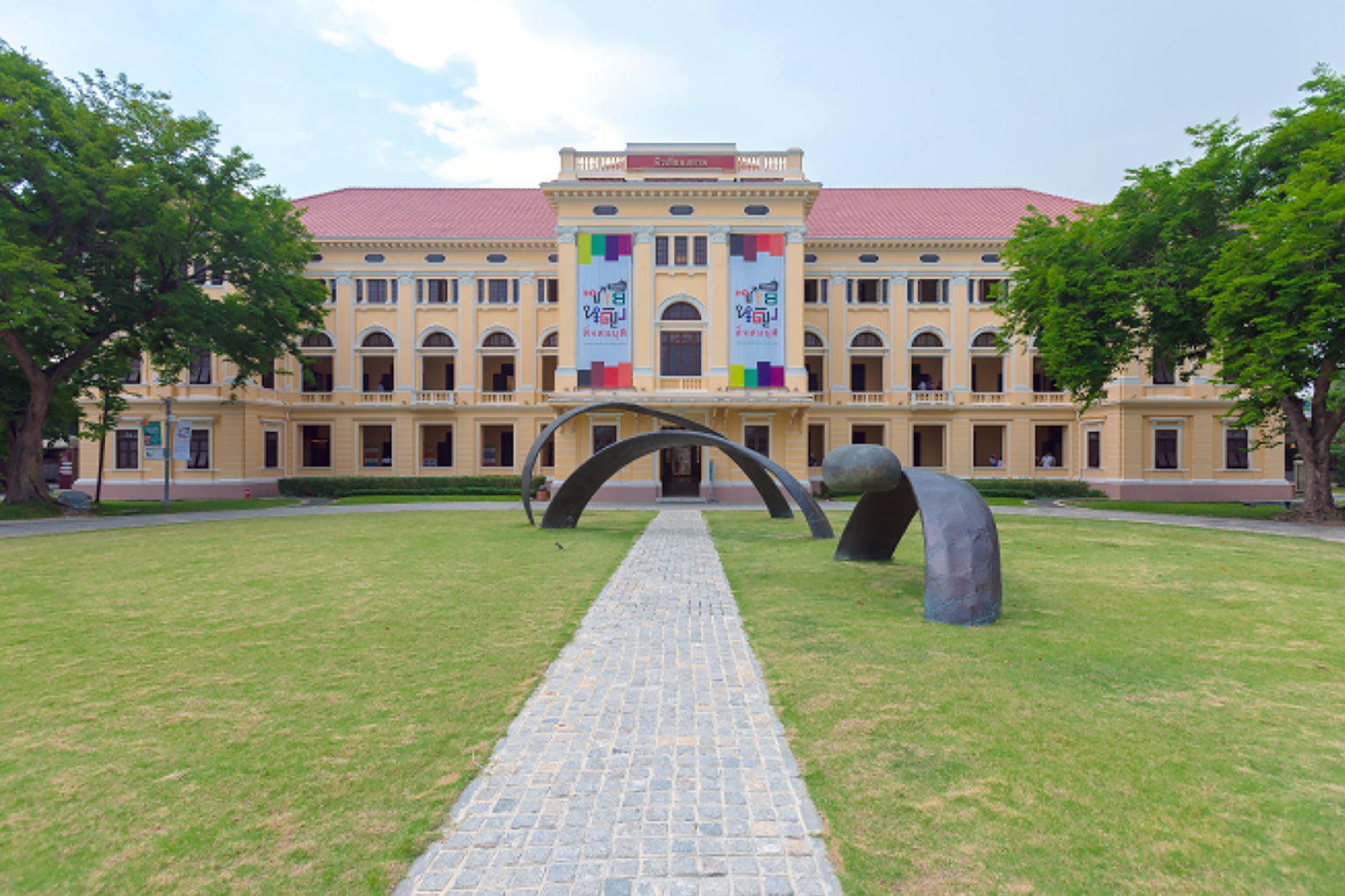 Siam Museum highlights
From room to room, The Roong transports you through all things Thai, from the very beginning of Ayutthaya to the daily life and highlights of Thai history, wars, Buddhism and finally the rapid entry into the modern world. Every room is superbly decorated and time will pass faster than you expect, with many interactive displays.
If the first part of the Museum of Siam exhibit appears to be a bit 'classic', things start to change when Thailand started adopting western ideas. From there on, the exposition becomes even more surprising: walk through spirals of TV screens broadcasting the evolution of Thai TV programs through the years, then step into a fancy 'Bangkok Café' from the '60s where you can actually sit or get behind the counter. Teenagers can't resist taking photos of each other in this colorful room with half a car parked in front, but obviously, no drinks will be served.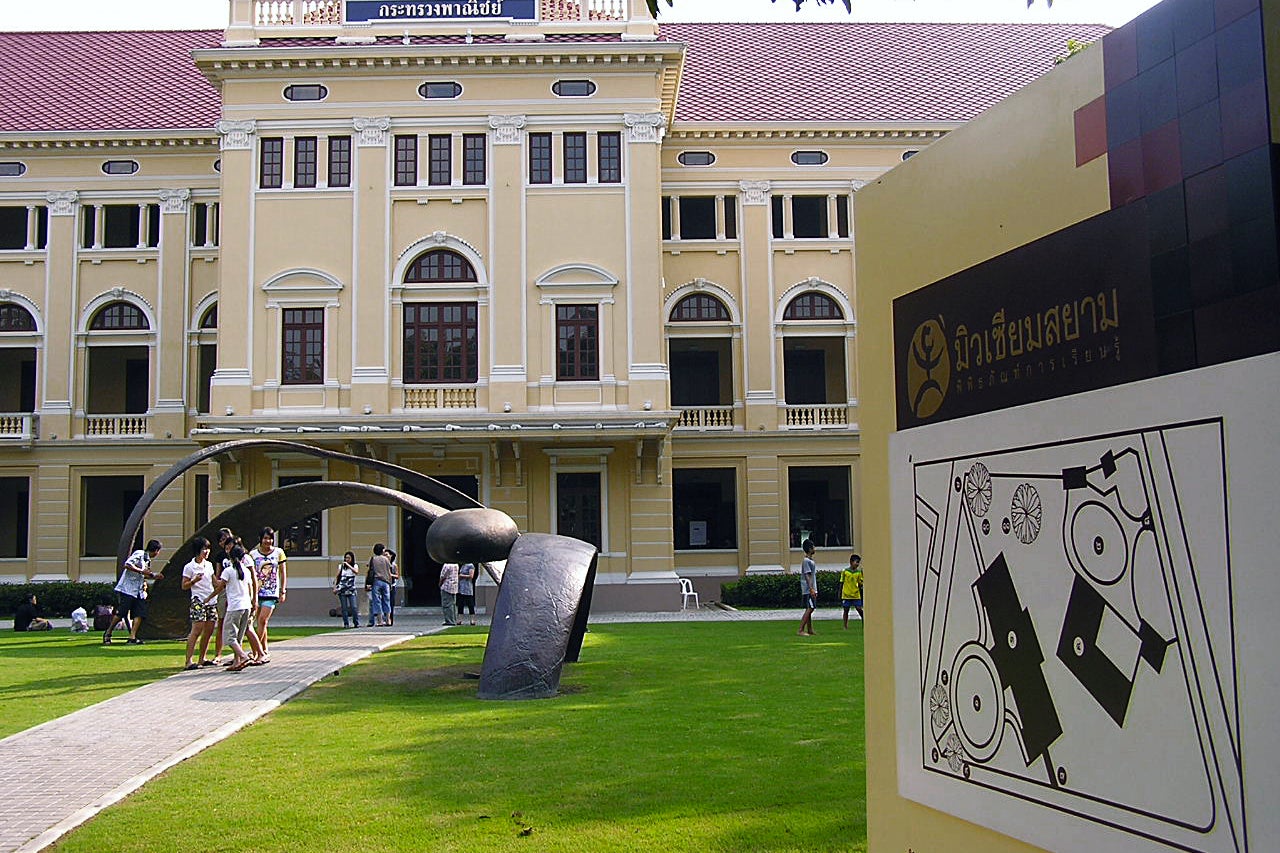 Outside Siam Museum
Once outside, don't go yet; take a walk over to that strange small shop near the souvenir boutique. At first, it looks like some entrepreneur has managed to sneak his local shop into the museum and it's a bit awkward to walk around looking at pickles and fish sauce bottles. But the shopkeeper will solve the mystery for you – it's all part of the exhibit. Here are all the daily ingredients made in Thailand yesterday and still today, how they were made and why they were made. And suddenly you start looking at fermented beans with a new mindset.
So as you are about to leave the 'shop', the girl will call you and invite you to step inside her fridge. At this point, you might consider running or laughing. Step in! This is actually the entrance to the next (and last) display – a full-size European restaurant with chandelier and real waitresses. Nothing to eat here – just enjoy the wax displays of many Thai dishes and have fun taking lots of photos.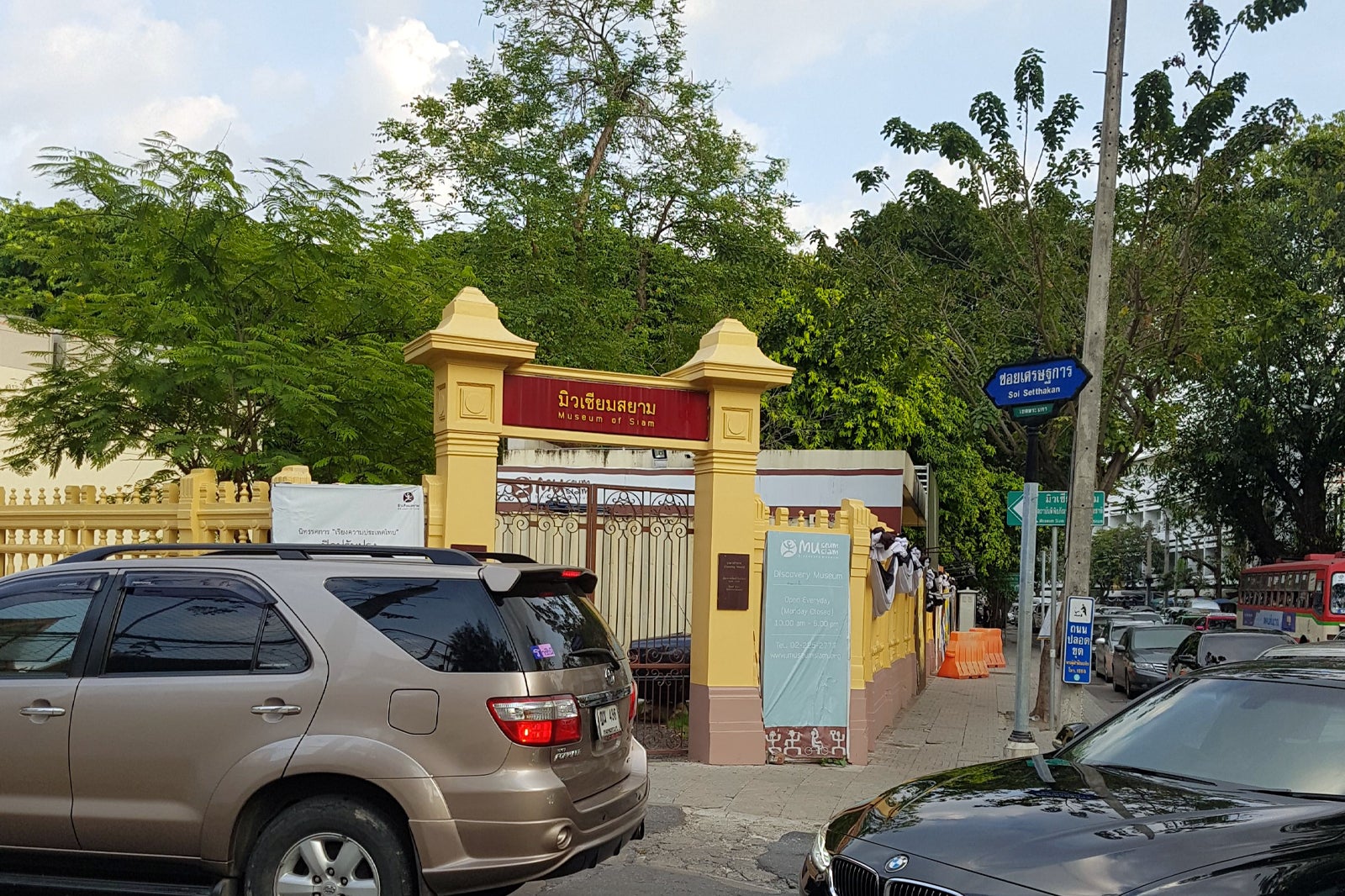 Museum of Siam Bangkok
The Museum of Siam is a surprising exhibition, and even if museums are usually not part of your holidays, it's a great introduction to Thailand's spirit and culture without ever being boring. And as it's located not far from Wat Pho, it a nice addition to a day trip in this part of Bangkok.
Museum of Siam
Location: 4 Sanam Chai Rd, Phra Borom Maha Ratchawang, Phra Nakhon, Bangkok 10200, Thailand
Open: Tuesday–Sunday from 10am to 6pm (closed on Mondays)
Phone: +66 (0)2 225 2777
Back to top