Koh Samui Kiteboarding
What You Need to Know About Kitesurfing in Samui
Kiteboarding or kitesurfing in Koh Samui is one of the best ways to enjoy a few hours in the Andaman Sea. There are a few good kiteboarding schools conveniently located on the island, so why not give this thrilling sport a try during your vacation? Most schools have been on the island for over a decade, with high-standard equipment and experienced teachers. Safety is also their primary concern, so you're definitely in good hands.
Kitesurfing is a combination of surfing and paragliding. In Samui, sea temperatures hardly dip below 26°C throughout the year, making it excellent for this kind of activity. The key factor is the wind – the best time to try kitesurfing is from November to February, when the wind ranges from 8 to 20 knots. Head to Mae Nam, Nathon or Hua Thanon to find the best spots.
Koh Samui Kiteboarding - one of the highlights of 4 Best Things to Do in Maenam and 8 Best Outdoor Adventures in Koh Samui (Read all about Koh Samui here)
Kitesurfing lessons in Samui
Kiteboarding courses are designed to follow the same standards as those of the International Kiteboarding Organization (IKO), a worldwide organization that teaches this extreme sport and hands out recognized certification.
The instructor will walk you through each step, including choosing what kite size and type are best for you, how to set one up, how to handle it, and how to enjoy the sport safely. As for location, they will take you to an area that has shallow, flat water to make it easier for riders, especially beginners.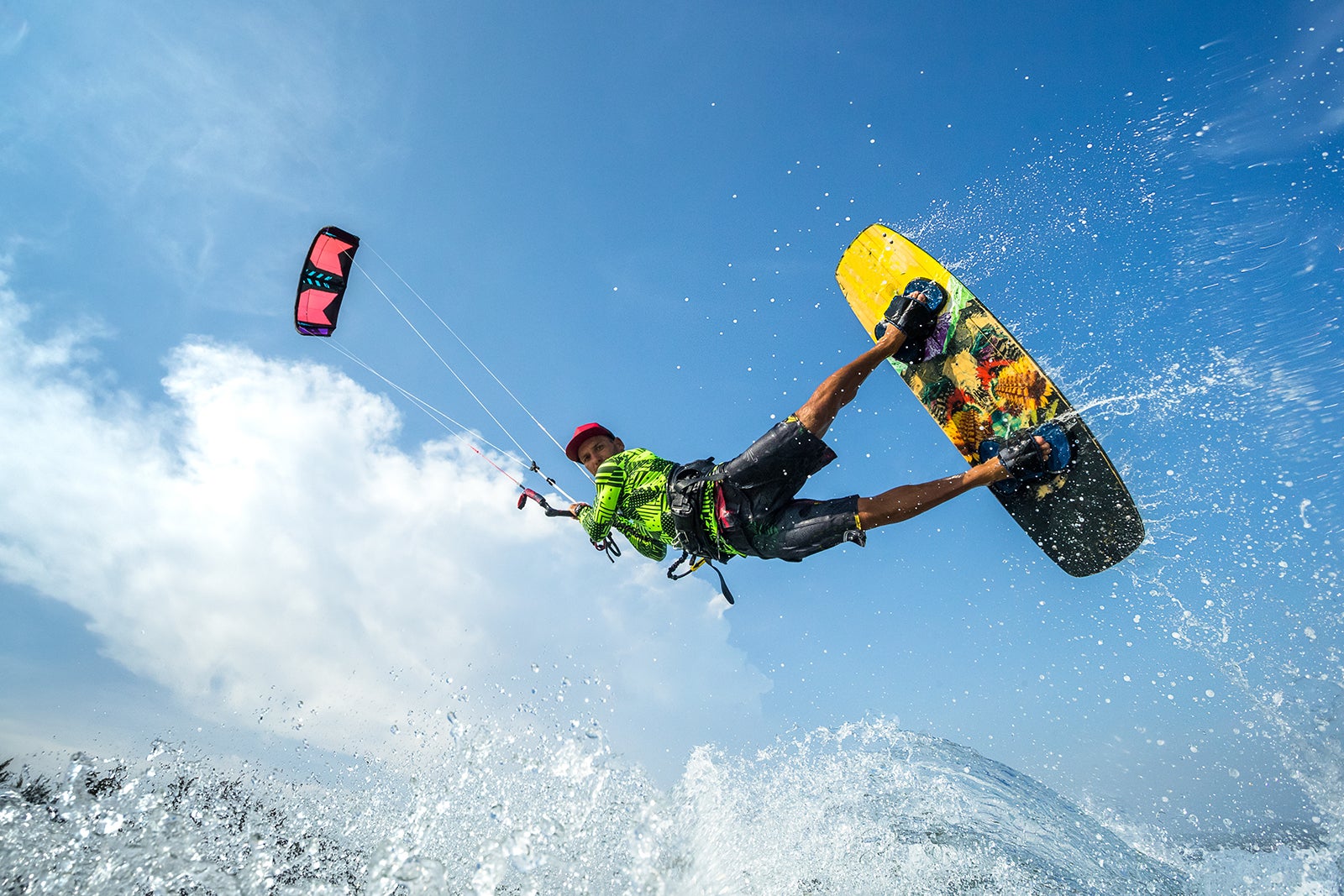 All schools offer an introductory course that lasts a few hours and accommodates 2 to 4 students per class. It's ideal for beginners (the term 'beginners' here meaning those who are not only fit but at least know the basics of how to surf, too). Some schools use a small inflatable 4-line kite to start off.
Many who have tried kitesurfing lessons on Samui suggest that, if time allows, it might be worth taking a 3-day course to really get into the sport. That way, you'll walk out with a better understanding of it. There's also the option to do a 1-on-1 or private lesson that fits all levels, from beginners to intermediate and advanced students.
Good to know about Samui kitesurfing
All schools have their own shops selling well-known brands of kites, gear and boards. Even if you don't take lessons with them, they are happy to rent out equipment as long as they understand that you are an experienced kiteboarder. They will even point you to the right kitesurfing spots on the island.
Back to top