12 Best Things to Do After Dinner in Gatlinburg
Where to Go in Gatlinburg at Night?
When looking for the best things to do after dinner in Gatlinburg, you're treated to plenty of choices as the evening rolls in. You're in the South, so no matter what, you have to visit one of the many distilleries. Most of them offer inexpensive samplers, so that's a no-brainer.
While there are many nightlife options in Gatlinburg, the city also has spots for niche or novel interests. Visit a pinball museum to enjoy a nostalgic time, or join ghost walks and a haunted house for thrills in this somewhat renowned haunted region. Read on for ideas and decide on what to do and where to go in Gatlinburg at night.
1
Gatlinburg's distilleries
Feel the fire of moonshine and the warmth of southern hospitality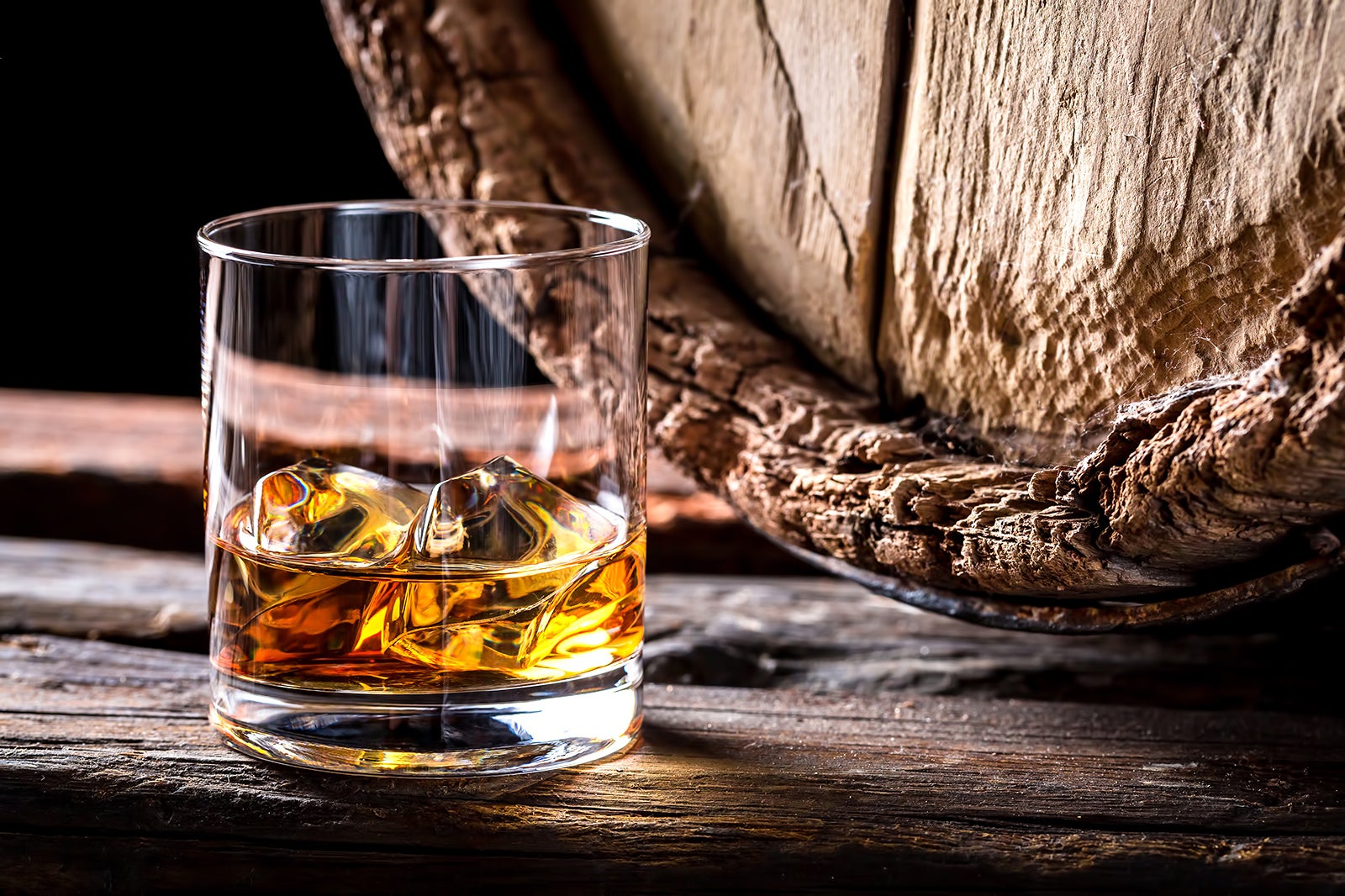 Touring Gatlinburg's distilleries is high on the list of things to do at night in this city in the South. There are several to pick from such as Sugarlands, Doc Collier, and Ole Smoky, to name a few. It's hard not to have a good time at a place that specializes in alcohol, and the friendly staff make you feel right at home.
The moonshine tastings are informative and fun, and the charm of your host will be the perfect pairing to your snifter. These people are all about moonshine! Some of the distilleries offer tastings at very affordable prices – if you decide to buy something, those bucks go toward your purchase.
2
Tennessee Homemade Wines
One of the best places to sample wine in Gatlinburg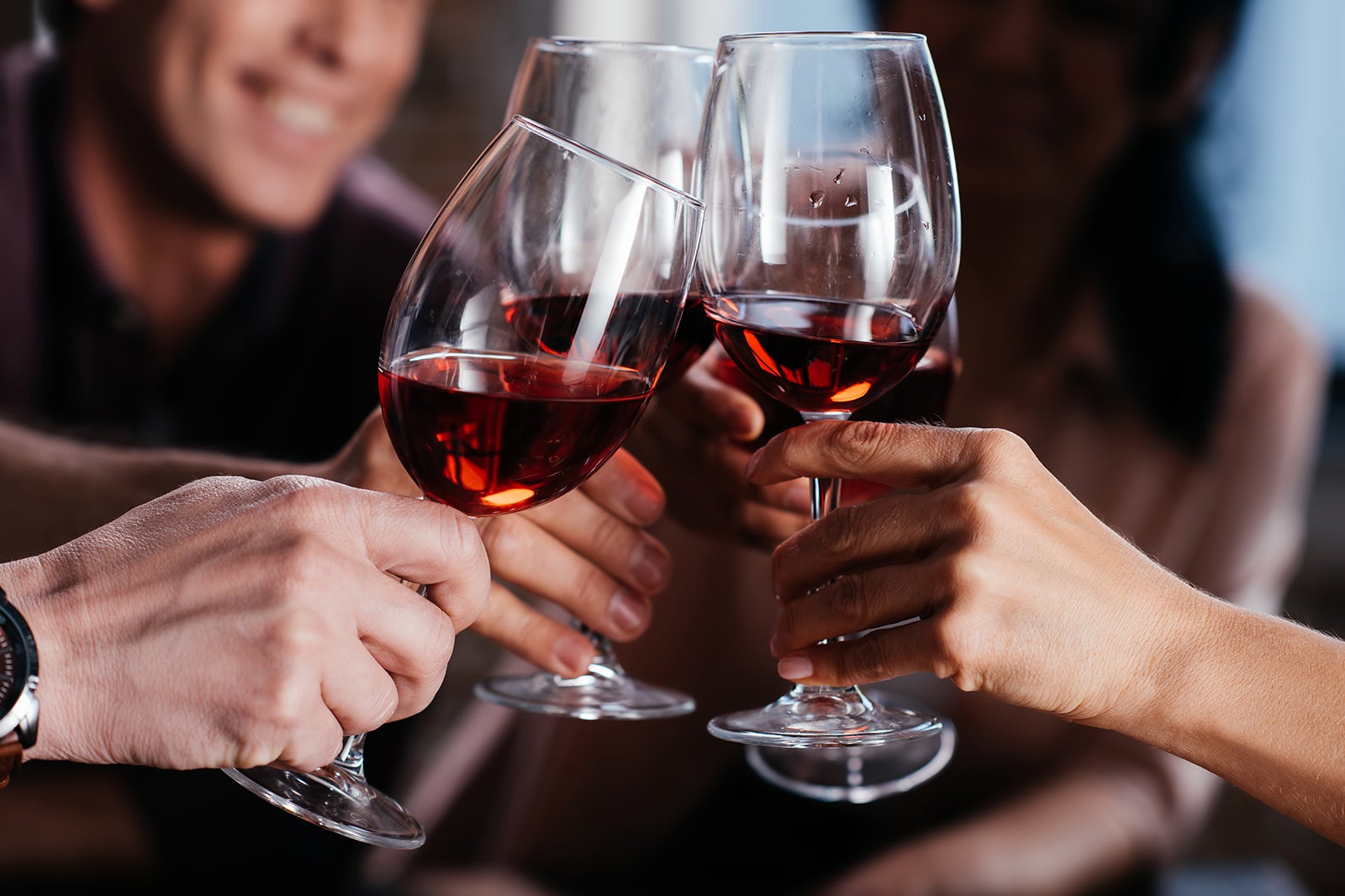 Tennessee Homemade Wines is a wine, beer and spirits store in Gatlinburg that has simplicity and charm to fit the name. Wander in for a free tasting and you'll find different flavors like blackberry, blueberry and strawberry. The berries are locally grown, too.
Artisanal wines can be found anywhere, but Tennessee Homemade Wines is a place that has a personality which is evident in every glass. Be prepared to leave with a bottle (or 3) so you can bring some true local flavors of Gatlinburg with you.
Location: 643 Parkway, Gatlinburg, TN 37738, USA
Phone: +1 423-881-5298
3
Hollywood Star Automobiles Museum
See automobiles from your favorite movies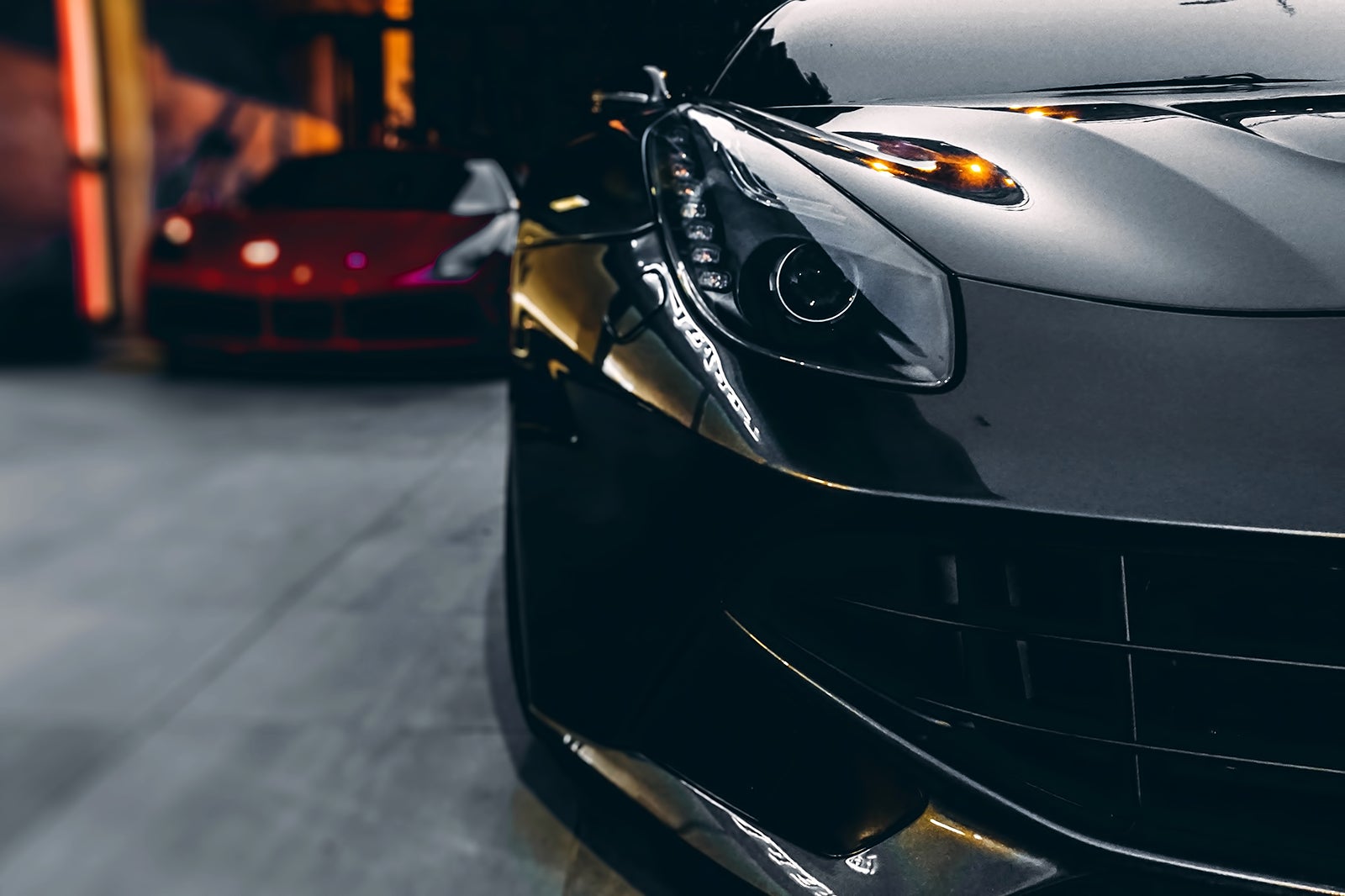 The Hollywood Star Automobiles Museum is a treasure trove of wheeled movie memorabilia. Everything automobiles appearing in movies like the James Bond and the Fast and the Furious series is represented here, so you're sure to recognize at least 1 vehicle.
Even those who aren't movie buffs will be amazed. These famous 4-wheelers feature a stunning array of shapes and designs, all of which come together to form a gallery of American history by way of one cultural symbol: the automobile. The Hollywood Star Automobiles Museum changes up its line-up throughout the year, so there's always a new hot rod on display. Come for the Batmobile, stay for the Beach Boys' Thunderbird.
Location: 914 Parkway, Gatlinburg, TN 37738, USA
Open: Daily from 9 am to 10 pm
Phone: +1 865-430-2200
4
Gatlinburg Pinball Museum
Get lost in a wilderness of multicolored lights and digital sounds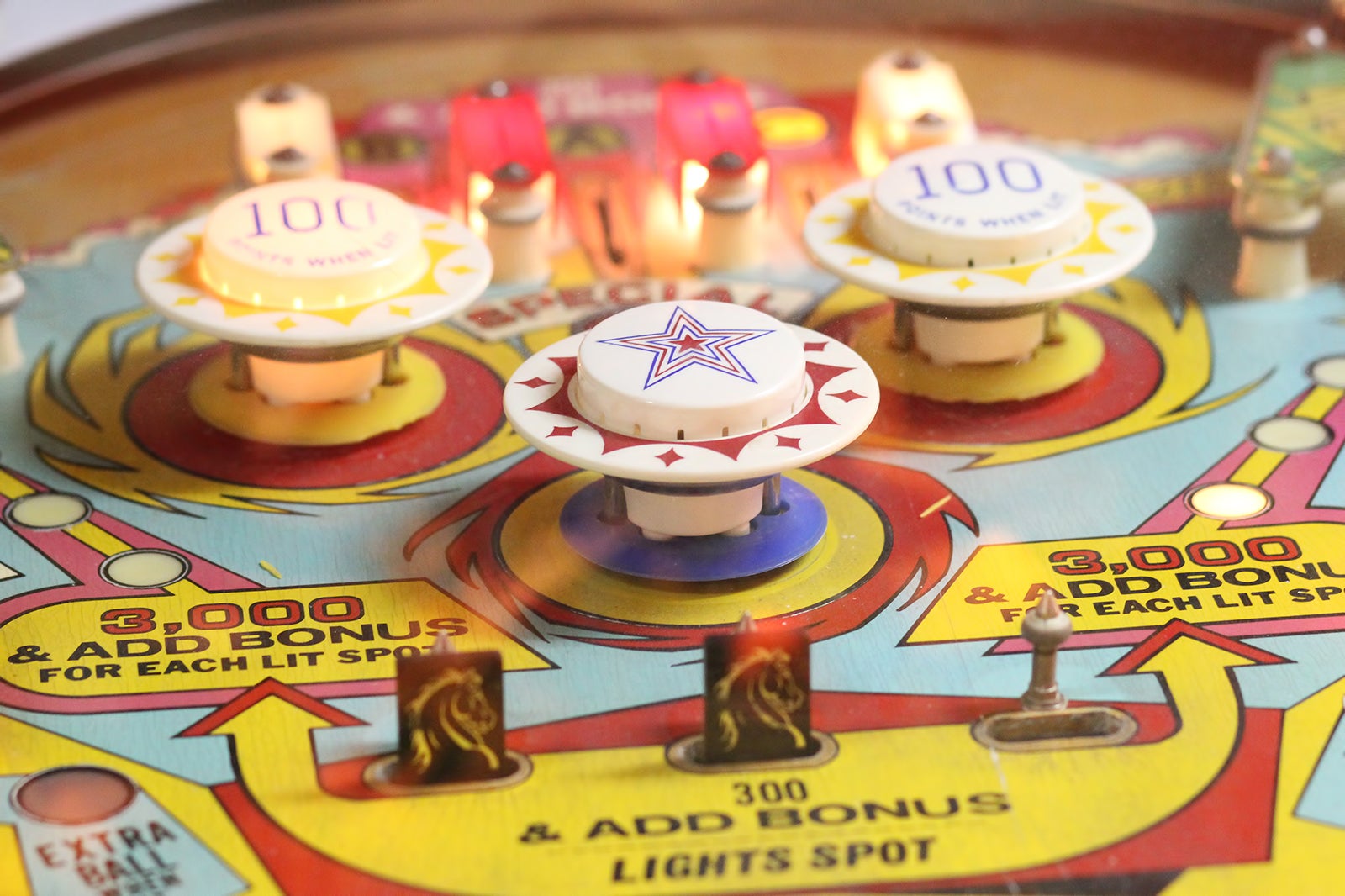 The Gatlinburg Pinball Museum offers the sight of dozens of pinball machines that make for a truly dazzling display. Here, there's sure to be a pinball game related to your favorite movie, whether it's Lord of the Rings or Harry Potter.
The museum might sound like it appeals to one type of person only, but that couldn't be further from the truth. Anybody would find it easy to pace the floors and just gawk at the machines. It doesn't hurt to try your hand at one of them, either. For actual pinball experts, the museum's collection is something to behold. Some of the machines date back to the 1960s!
Location: 205 Historic Nature Trail, Gatlinburg, TN 37738, USA
Open: Daily from 10 am to 10 pm
Phone: +1 865-430-9947
5
Ole Red
Keep the energy going with some quality live music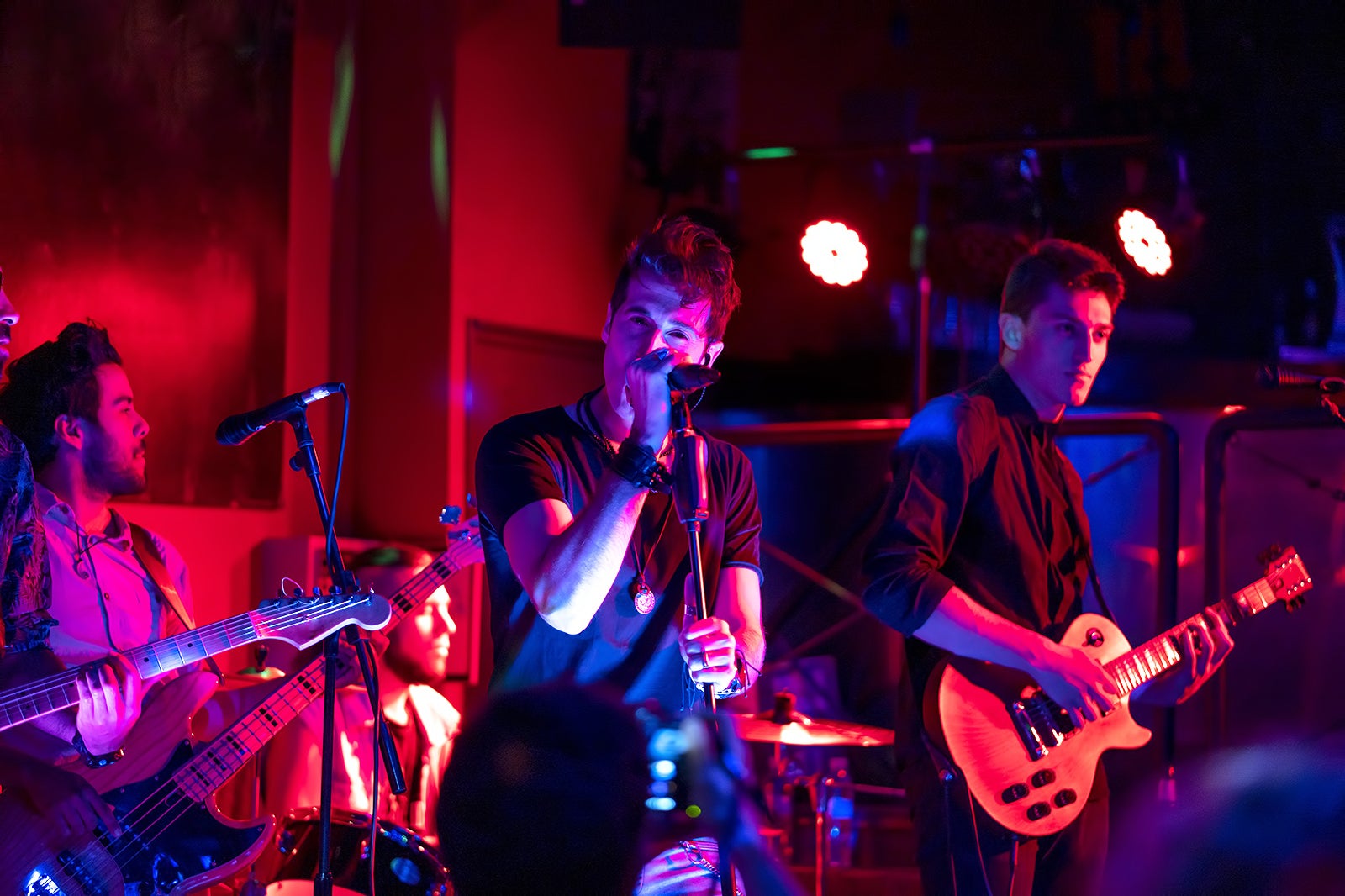 Ole Red is the spot to hit if you're feeling like enjoying some live music and cocktails for your Gatlinburg evening. It hosts live bands almost every night. The first thing you notice when you walk in is the large, open-plan space and the atmospheric red décor – not to mention the lively chatter of friendly locals.
You might also notice the smell of comfort food. From burgers and barbecue to desserts, this place has something to ensure you experience the best of down-home cooking. Grab a table, order your favorite cocktail, and let the good times roll.
Location: 511 Parkway, Gatlinburg, TN 37738, USA
Open: Monday–Wednesday from 11 am to 10 pm, Thursday–Saturday from 11 am to midnight, Sunday from 11 am to 9 pm
Phone: +1 865-325-3101
6
Smoky Mountain Brewery Gatlinburg
Have a pint of Gatlinburg's favorite beer with mountains in view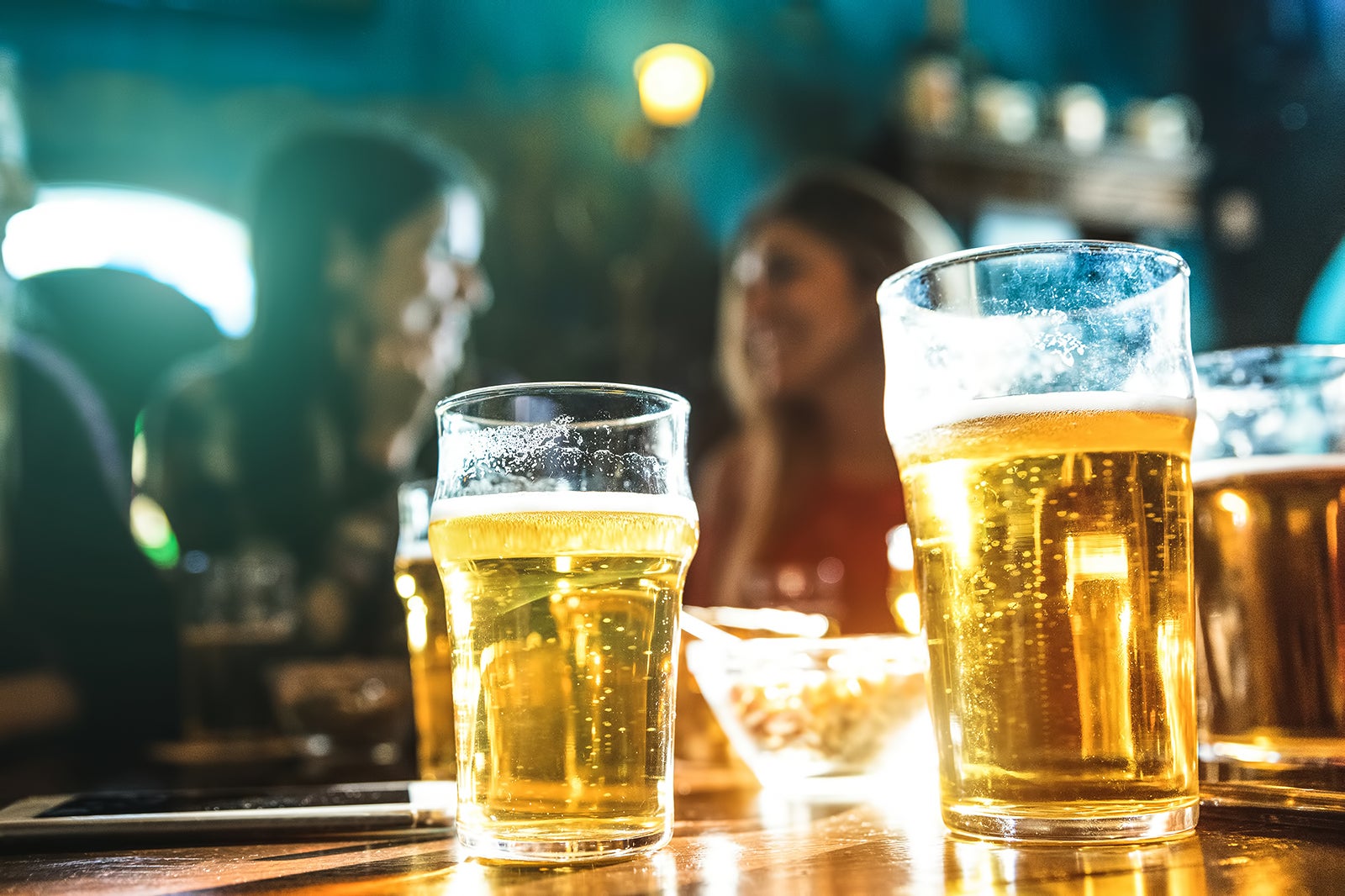 Smoky Mountain Brewery is the best place to go in Gatlinburg when you're craving that IPA with some nice, filling pub fare. It has dozens of beers on tap, making this an adventure for your taste buds. Chances are, you've never had a craft beer while taking in gorgeous views of the mountains. That's just what you'll get if you grab a seat upstairs.
The atmosphere has gotten that perfect rustic lodge feel. Sports fans rejoice – an array of HDTVs ensure you won't miss the big game. Those who want some live music should come on the weekends. Either way, you're bound to have a good time at Smoky Mountain Brewery.
Location: 1004 Parkway #501, Gatlinburg, TN 37738, USA
Open: Daily from 11 am to 1 am
Phone: +1 865-436-4200
7
Village Shoppes
Take a break in a peaceful, old-fashioned retreat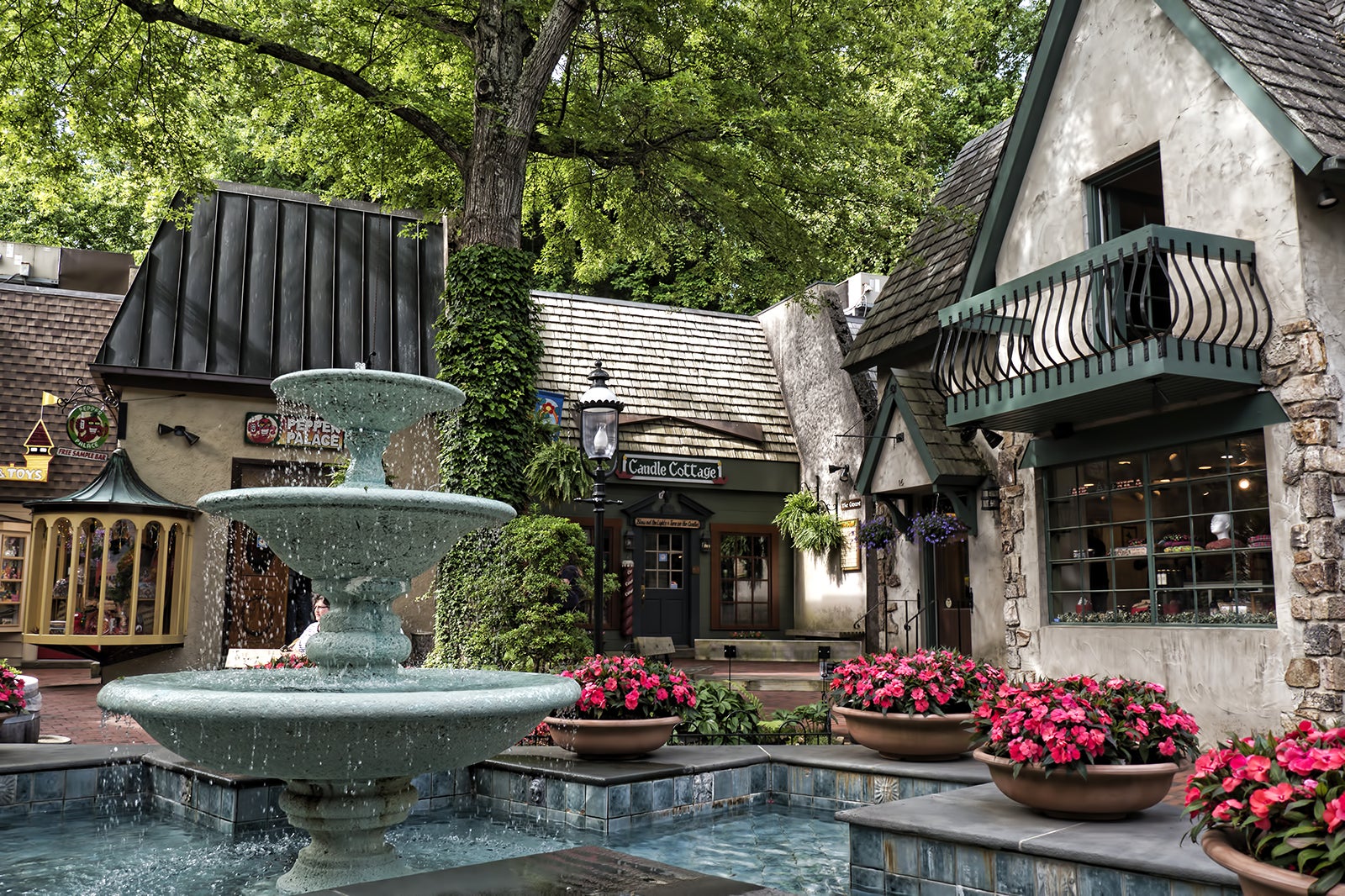 Village Shoppes is a plaza and shopping mall in Gatlinburg that has a quaint, European feel. It's a great place to get away from the urban noise and relax in a spot that's integrated with nature – even in the evenings.
The unique architecture is a delight, and so are the artisanal shops. The doughnuts are a must, but make sure to visit the Candle Cottage, too. The atmosphere is so special, day or night, that you don't need to buy anything to feel like you've come away with a whole lot.
Location: 634 Parkway, Gatlinburg, TN 37738, USA
Open: Saturday from 10 am to 10 pm, Sunday–Friday from 10 am to 9 pm
Phone: +1 865-436-3995
8
Smith & Son Corner Kitchen
Where Gatlinburg visitors come for comfort food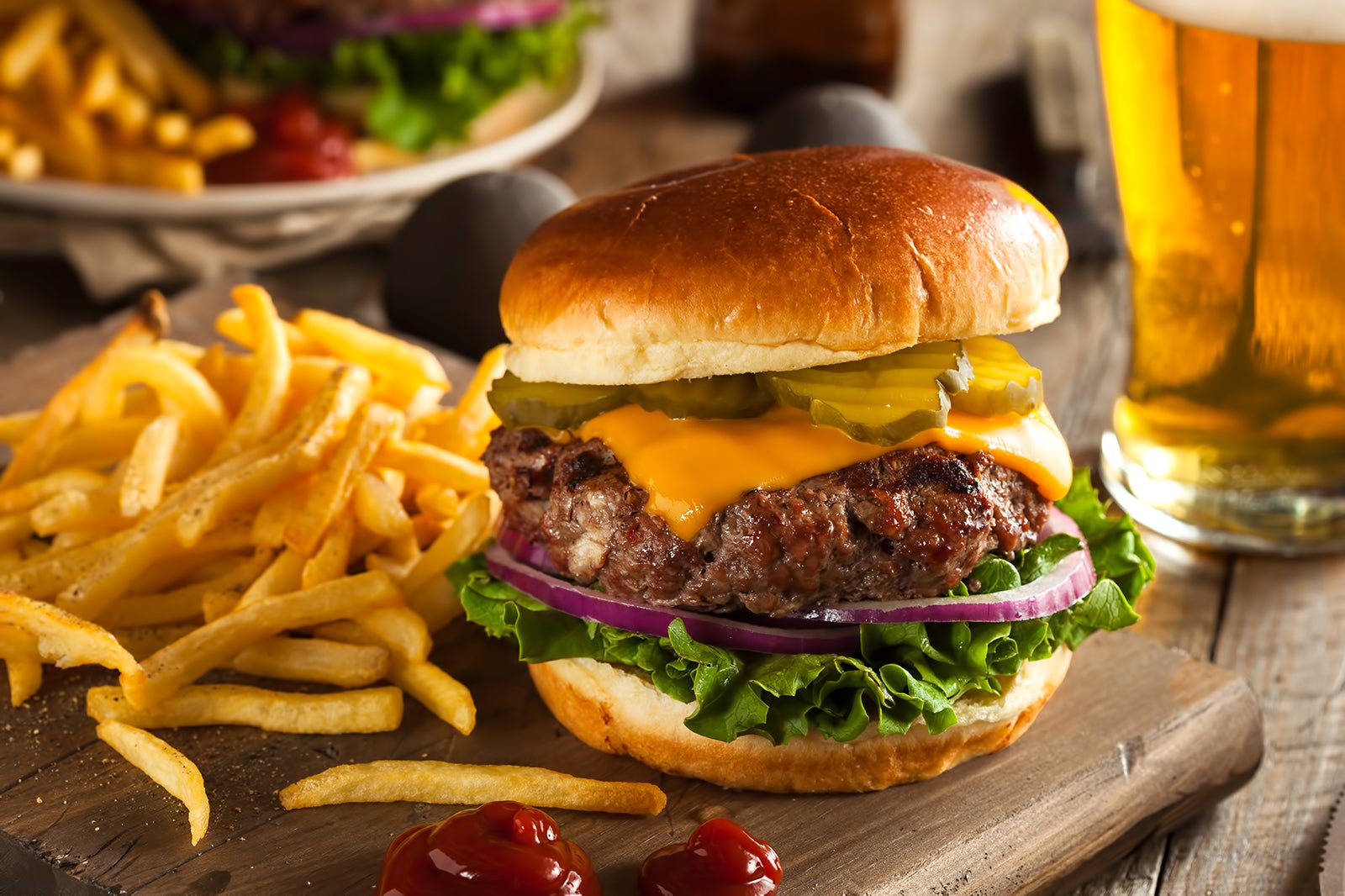 Smith & Son Corner Kitchen has a menu stacked with every kind of comfort food or libation you could ever want in Gatlinburg. After a good, long hike in the Great Smoky Mountains, the first thing you'll want to do is get some calories in. Well, this is a great place to stock up.
They've gotten burgers, hotdogs, sandwiches, pasta, ribs, and meatloaf, as well as some filling salads. Check out Smith & Son Corner Kitchen's signature beverages menu for some unique cocktails and hangover cures.
Location: 812 Parkway #105, Gatlinburg, TN 37738, USA
Open: Daily from 11 am to 8 pm
Phone: +1 865-430-1978
9
Gatlinburg ghost tours
Don't bring any of the ghosts home with you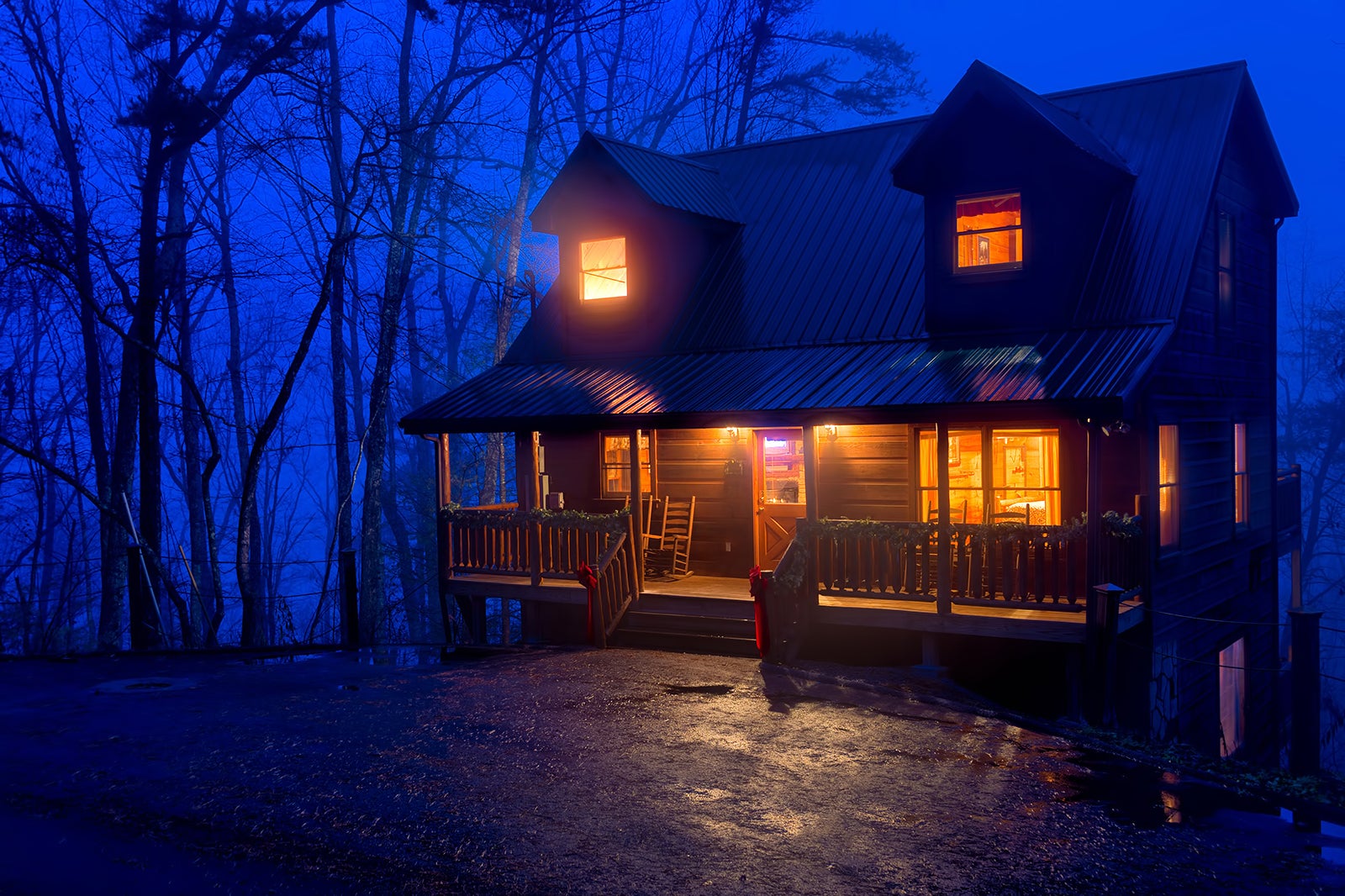 Gatlinburg ghost tours are scary enough to keep you up at night. Many towns have ghost tours, but Gatlinburg has the history to make them mean something. Ghost and Haunt Tours of Gatlinburg offers tours with knowledgeable hosts who know that history like the back of their hand. You'll even get to use ghost-hunting equipment and see photographs showing paranormal activity in the very spot you're standing.
Ghost Walk of Gatlinburg takes you to some haunted locales, while Appalachian Ghost Walks can fill up an entire three hours with spooky locations and stories. These tours aren't for the faint of heart but are great fun for evening thrill-seekers.
10
Space Needle
Get a 360-degree Smoky Mountain view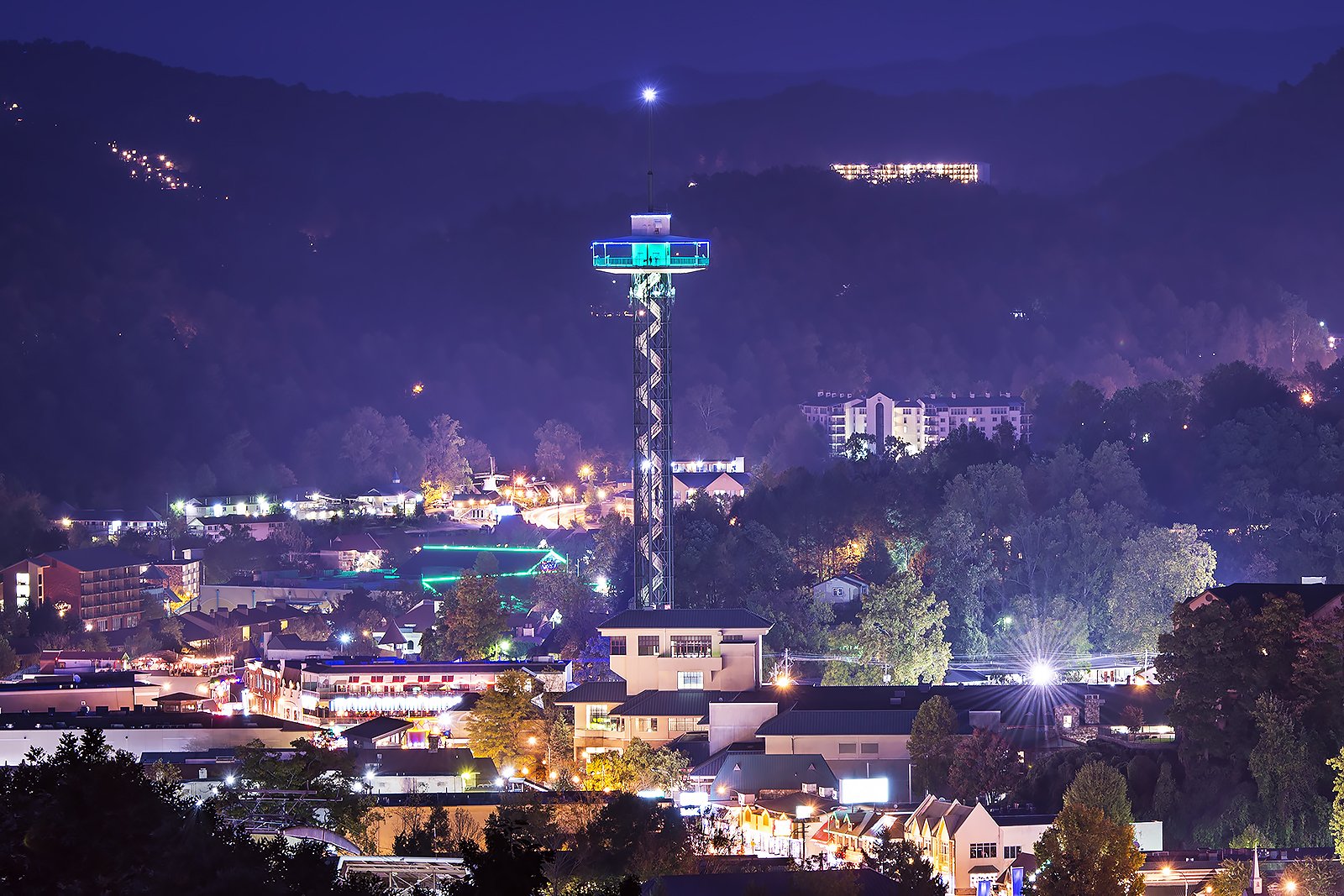 Take a breathtaking ride in the glass elevator up 125 meters to the top of the Space Needle for a panoramic view of the Smoky Mountains. From the observation deck, enjoy a bird's eye view over the town and discover more about Gatlinburg's history and landscape with the various exhibits.
At the base of the Needle there's the huge Arcadia arcade, with more than 100 games and a pizzeria. Entry tickets cost about $13 and are good for 24 hours, so you could try squeezing in an extra visit at night-time to catch a view of the glittering town lights.
Location: 115 Historic Nature Trail, Gatlinburg, Tennessee
Open: Daily from 9 am to midnight
Phone: +1 865 436 4629
11
Mysterious Mansion
Have the fright of your life at a truly remarkable haunted house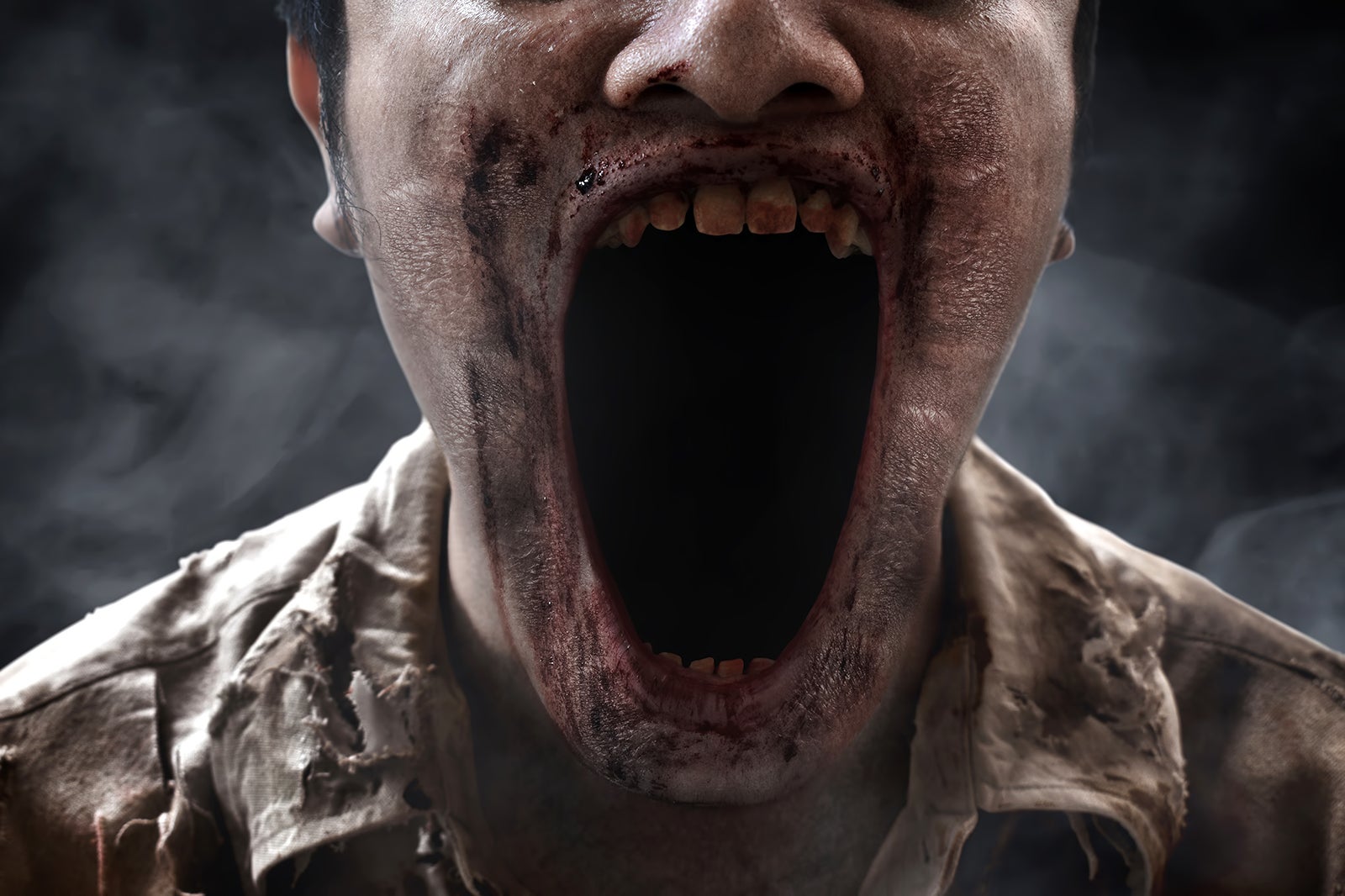 Mysterious Mansion in Gatlinburg will freak you out as it's an experience planned out and executed to achieve only the most frightening of scares. The Victorian décor provides an unsettling ambience, especially when you're in a cramped, hidden passage and can't find your way out.
The staff put a lot of energy into the show, ensuring you never know what to expect. Figures appear and disappear into the shadows so quickly that you can blink and miss it. They even dissuade visitors from bringing children under 8 due to the intense thrills and gore. Mysterious Mansion opens year-round, but if you want the best experience, come around Halloween.
Location: 424 River Rd, Gatlinburg, TN 37738, USA
Open: Friday from 2 pm to 11 pm, Saturday from noon to 11 pm, Sunday–Thursday from 2 pm to 10 pm
Phone: +1 865-436-7007
12
Sweet Fanny Adams Theatre
Settle in for some good laughs and music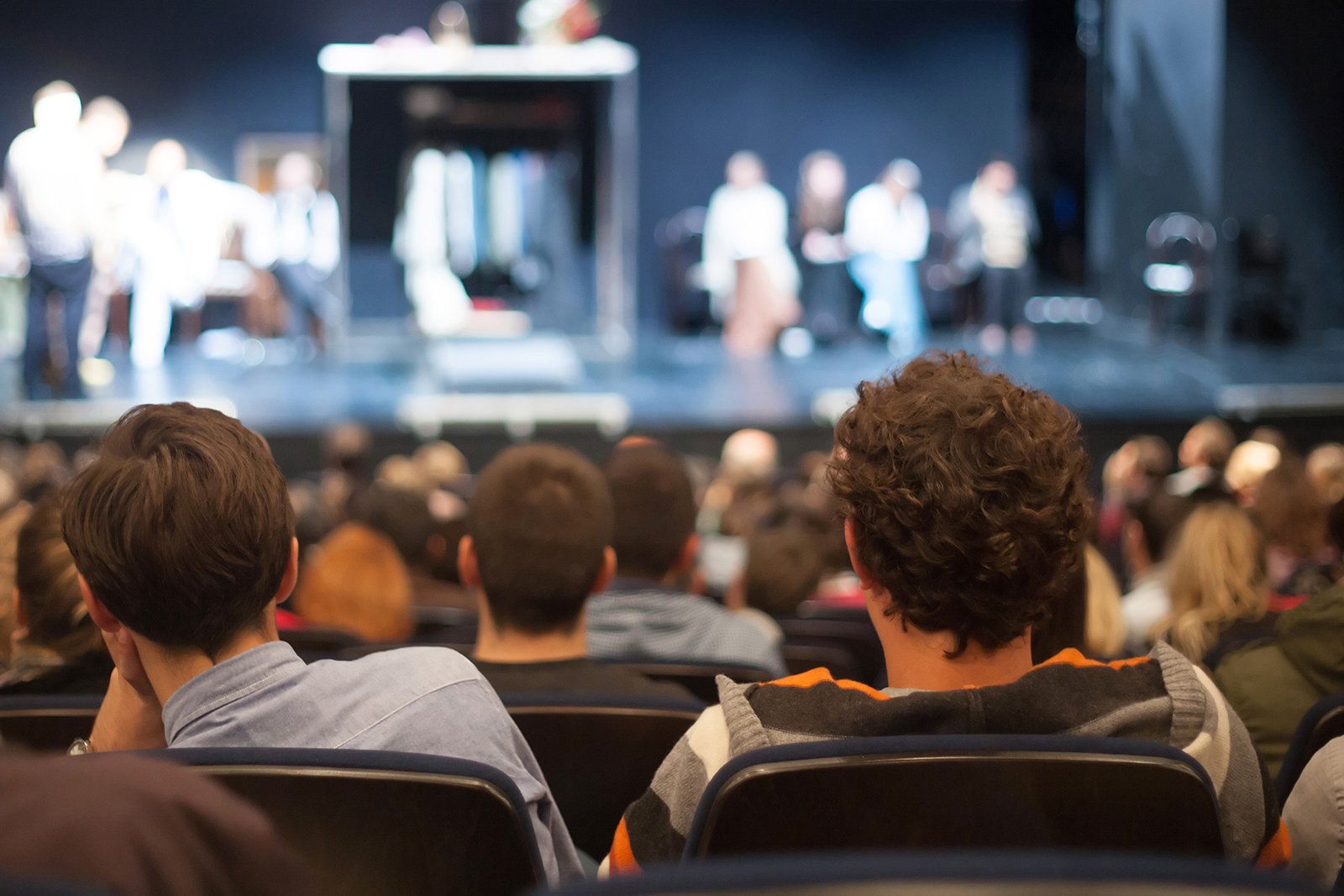 Get ready for an evening of hilarious escapism at this long-running theatre in downtown Gatlinburg. If you're searching for highbrow, serious-minded entertainment, you've come to the wrong place. Here, you'll see zesty sketch comedy shows, silly song-and-dance numbers and a whole lot of clowning around. The theatre's small but lively, with a light and friendly vaudeville vibe.
Some shows encourage audience participation, so be prepared to get called up on stage to join the fun for your 15 minutes of shame. Tickets cost around $25 and with limited seats it's best to book in advance.
Location: 461 Parkway, Gatlinburg, Tennessee
Phone: +1 865 436 4038
Back to top