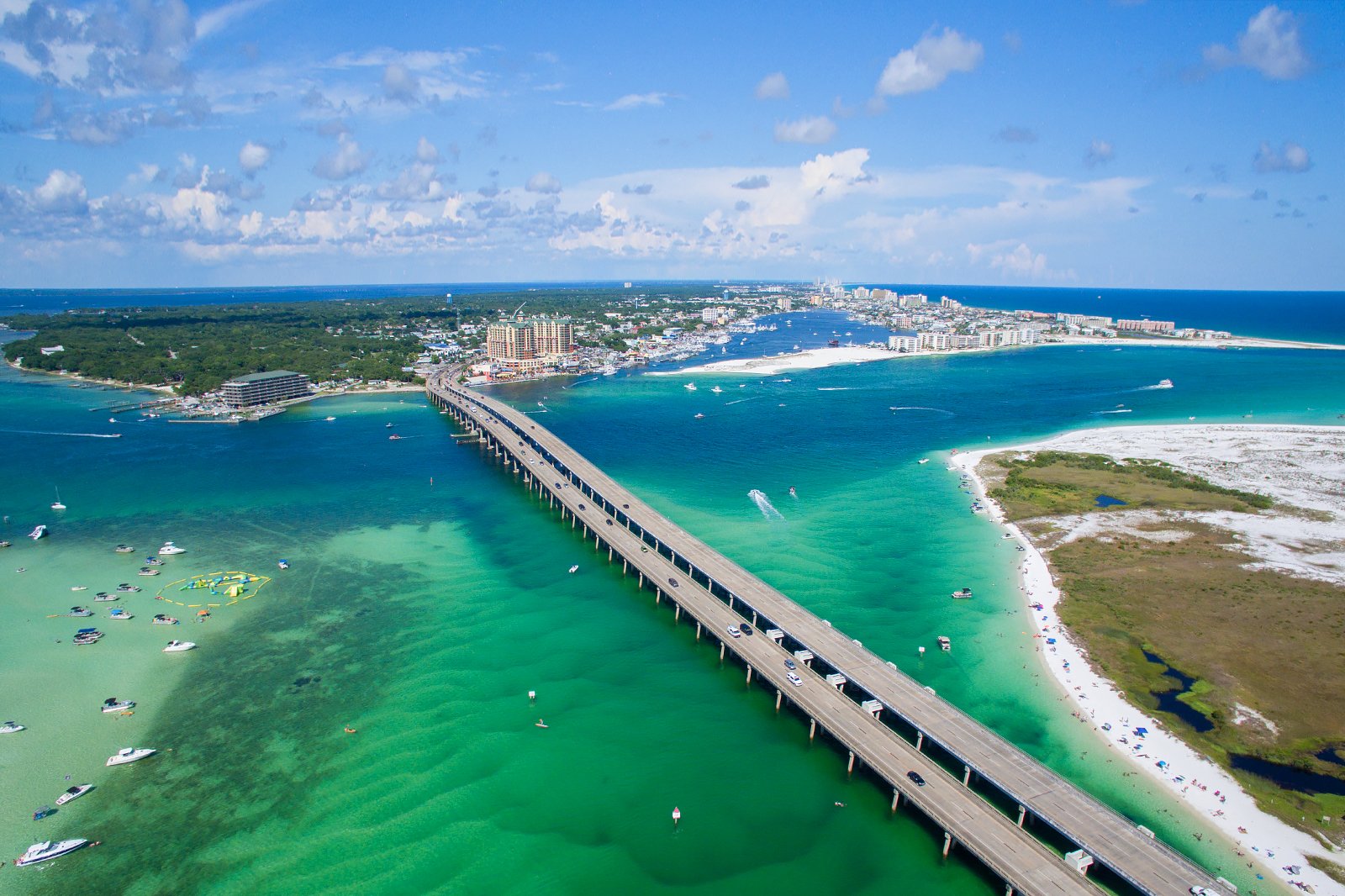 Destin
What you need to know before you go
Destin, Florida is in an area known as the Panhandle, being a long, thin stretch of land jutting from the mainland, flanked by sea. Dubbed "the world's luckiest fishing village", it has hotspots such as Choctawhatchee Bay where you can sink a line, as well as scuba diving schools to explore the marine life beneath the emerald waters.
Nature-lovers flock to the area for dolphin and bird watching, as well as camping in the grassy dunes of Henderson Beach State Park. Golfers also have a wealth of options, with the number of courses running into double figures
Where & what to eat in Destin
10 Places Where Locals Love to Eat in Destin

Destin gets a lot of travelers every year and, as such, plenty of restaurants, bars and breweries have popped up to serve them. But where do the locals eat when they're craving a southern staple or seafood favorites? Where are their top breakfast spots, as well as their preferred restaurants for a good date night? What do they recommend for...
Where to shop & what to buy in Destin
10 Best Places to Go Shopping in Destin

Destin is one of the top shopping destinations along Florida's Emerald Coast, offering upscale boutiques and outlet malls, as well as casual "sandy shoes welcome" waterfront stores for vacation essentials. Enjoy outdoor shopping with unspoiled views over the sugar-white sand beaches and the glorious, green-tinted waters of the Emerald Coast. Bag a bargain at one of the many...
Where to go & what to do at night in Destin
10 Best Things to Do After Dinner in Destin

Destin is a vibrant hub for nightlife on the Sunshine State coast. Fringed by white-sand beaches and washed by the turquoise waters of the Gulf of Mexico, it draws in thousands looking to revel in the cocktail of cool seas and endless sun, watersports, and world-class shopping. The resort city's buzzy marina bars slosh with tequilas and margaritas...
Destin Travel Essentials

Our Destin Travel Essentials lays out the essential information you need to help you plan your trip to one of the most popular destinations in Florida, USA. No matter how frequently you travel, some questions will always need answers: What's the weather like? How can I get from Destin-Fort Walton Beach Airport to my hotel? What currency and type...
Back to top