10 Places Where Locals Love to Eat in Jeju Island
Where to Find the Best Food in Jeju Island?
There are many places to find real local food in Jeju Island, whether you're craving fresh seafood or traditional Korean dishes during your vacation. Jeju's unique local cuisines give travelers a taste of the island's culinary delights, many of which are directly sourced from the East Sea.
There are also plenty of stylish cafes and modern restaurants around the island, each offering a unique charm and creative menu. Jeju is a large island in South Korea, so you'll easily find local restaurants serving authentic regional cuisine at attractive prices.
1
Jeju Guksu Geori (Noodle Street)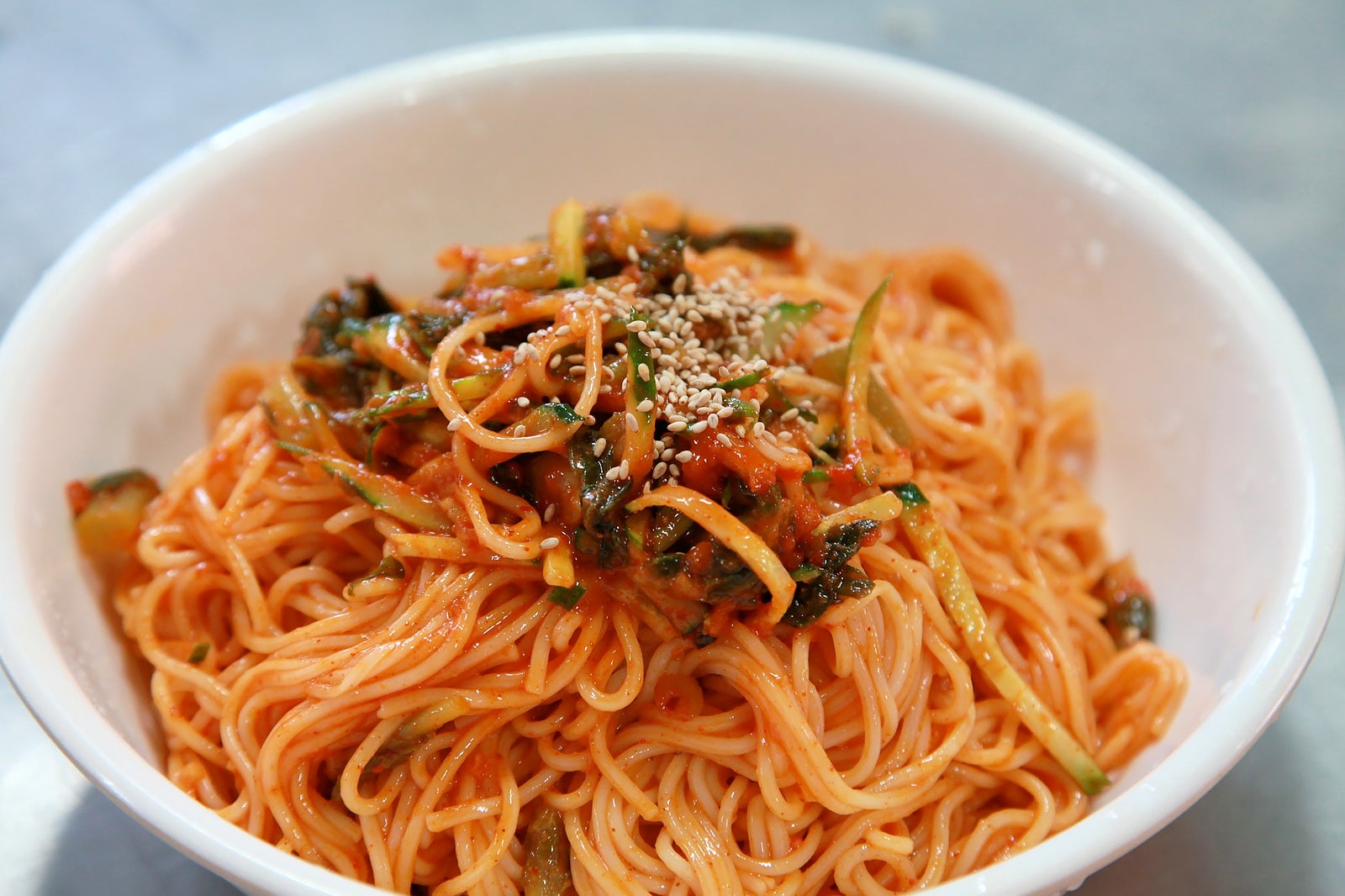 Couples
Families
Budget
Single
Group
Guksu Geori (Noodle Street) Jeju is a long street lined with around 20 restaurants that specialize in pork noodle soup (gogi guksu). This is folk food contains noodles, boiled black pork slices, and broth.
You can choose from a wide range of noodles, including anchovy, bibimbap (mixed), tofu, and sunflower. To experience the local flavor of Jeju, you can add piglets' feet (agangbal) or Napa wraps with black pork (dombegogi) to the pork noodle soup. Guksu Geori (Noodle Street) is within walking distance of the Jeju Folklore & Natural History Museum.
Open: Samseong-ro, Ildoi-dong, Jeju-si, Jeju-do, South Korea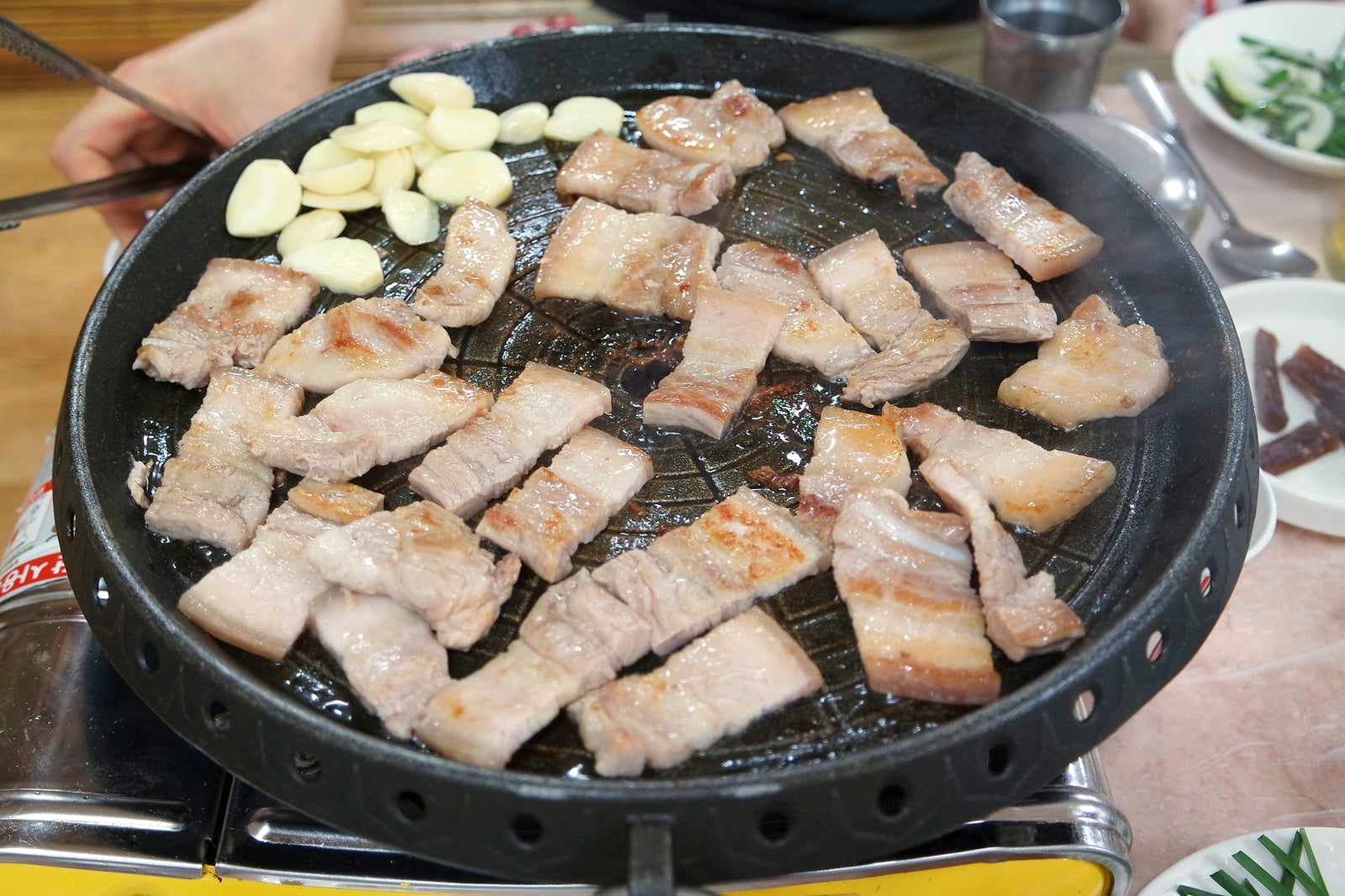 Couples
Families
Single
Group
Gunip-dong Black Pork Street is a food street in Jeju that dates back to over 30 years. Jeju black pig is a breed of domestic pig indigenous to Korea that's not mixed with other breeds. As you walk pass the street's many restaurants and stalls, you might find yourself drooling over the rich smell of black pork.
The best way to eat grilled black pork is by dipping it in salted anchovy (kktomyeolchi jeotgal). The nearby Chilsung-ro Shopping Street, Dongmun Traditional Market, and Tapdong Plaza are excellent shopping venues during your visit to Gunip-dong Black Pork Street.
Location: Gwandeong-ro 15(sibo)-gil, Geonip-dong, Cheju, Jeju-do, South Korea
3
Wimi Port Raw Fish Center
Wimi Port Raw Fish Center has enjoyed a rich 45-year history of excellent dining in Jeju. It's within a 10-minute drive from Jeju Airport. There are 18 relatively large restaurants run by veteran professionals with at least 10 to 40 years of experience. This is a great place to enjoy a table d'hôte of raw fish made with Jeju's fresh ingredients, such as snapper, abalone, mackerel, cutlassfish, and sea urchin.
Dine at one of the restaurants at Wimi Port Raw Fish Center and enjoy the ocean view. You can also go for a leisurely stroll around a nearby seawall or Tapdong Square. Nearby attractions include Yongduam Rock and Dongmun Traditional Market.
Location: 6-37 Wimijungang-ro 196-beongil, Namwon-eup, Seogwipo-si, Jeju-do, South Korea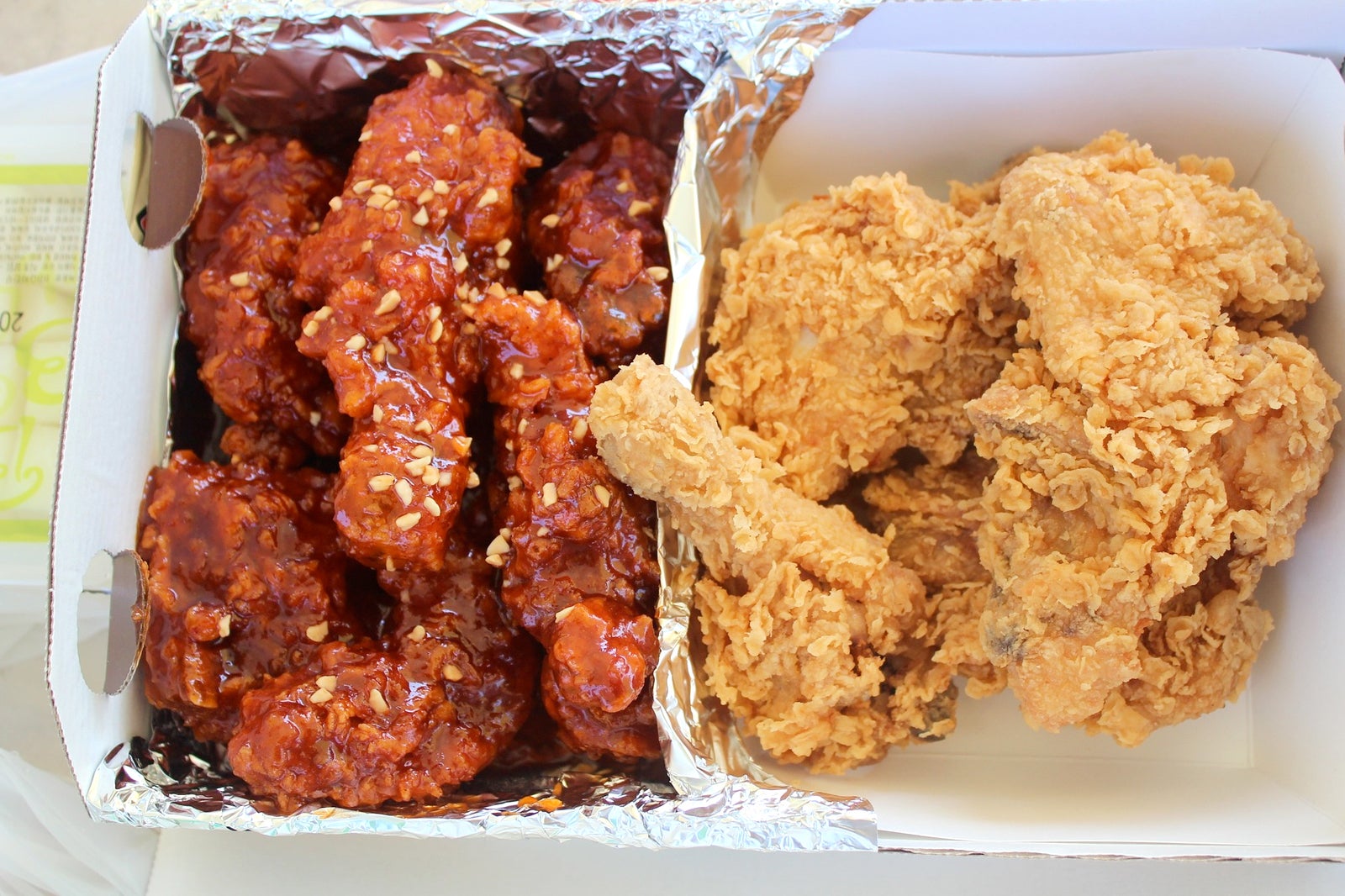 Couples
Families
Single
Group
Gyorae-ri is a Jeju village that's widely known for Sangumburi Crater and native Korean chicken. As this breed has very tender meat, many local restaurants in the area serve it hotpot-style. It's made by blanching chicken breast in a rich broth and dipped in a sauce made with water parsley and Napa cabbage.
You can also try popular local chicken dishes such as boiled chicken with rice (baeksuk), ginseng chicken soup (samgye-tang), braised spicy chicken (dak-bokkeum-tang), and noodle soup with chicken (dak kalguksu).
Location: Gyorae-ri, Jochon-eup, Jeju-si, Jeju-do, South Korea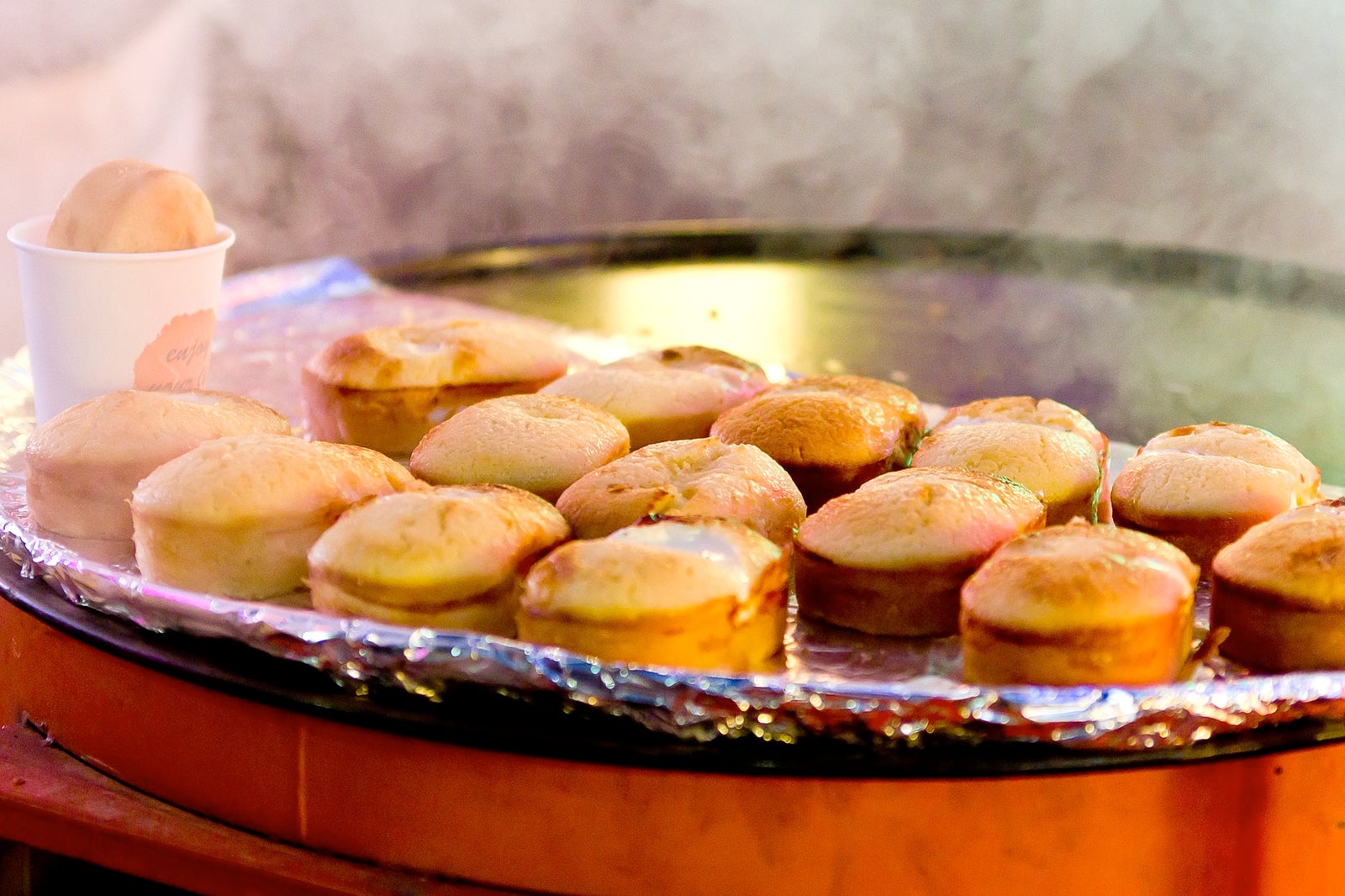 Chilsimni Food Street is found along the coast in Songsan-dong, Seogwipo City. You can enjoy fresh seafood of Jeju, such as hotpot seafood stew (haemul ttukbaegi), cutlassfish soup (galchi guk), grilled fish (typically yellow sea bream, mackerel, or cutlassfish), cold raw fish soup (mulhoe), gulfweed soup (mom guk) and seaweed soup with sea urchin (seonggye miyeok-guk).
Some of the best scenic spots to visit when you're in the area include Cheonjiyeon Falls, Jeongbang Falls, Saeseom Island, and Munseom Island. Seogwipo Chilsimni Festival is held every autumn, so don't miss it if you're visiting Jeju during this time of the year.
Location: Taepyeong-ro 442beon-gil, Seogwipo, Jeju Island 63596, South Korea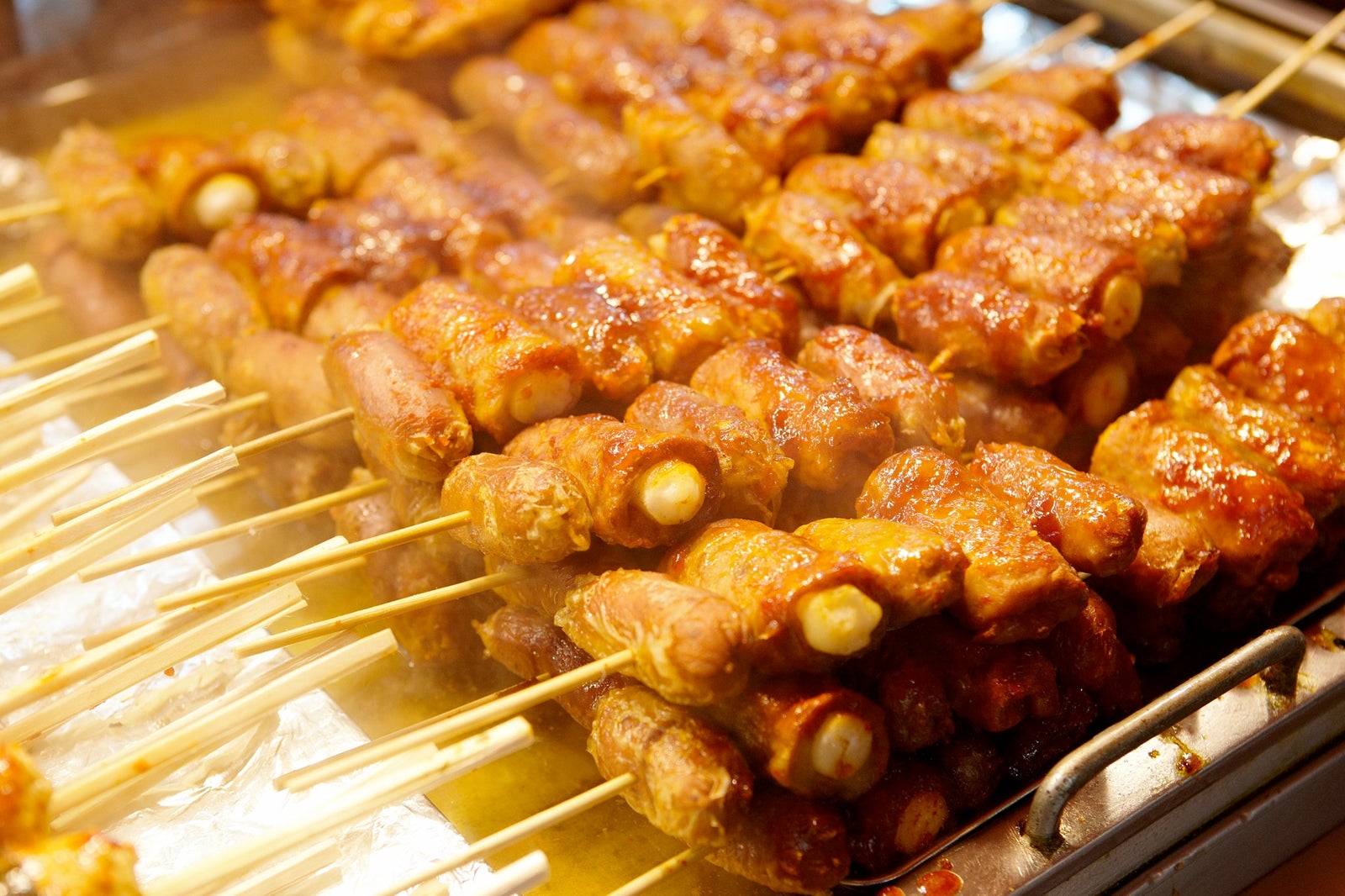 Arang Joeul Food Street is located in Cheonji-dong, Seogwipo-si – its name means 'a street worth remembering' in the Jeju dialect. You can find dozens of restaurants offering unique local seafood dishes and Jeju specialties. Must-tries include Korean bouillabaisse (duruchigi), caldron lid-grilled pork belly, briquette-grilled pork, black pig hotpot, oyster hangover soup (gul haejangguk), fermented skate and steamed pork slices with kimchi (hongeo samhap), and crude liquor.
Maeil Olle Market, Chilsimni Park, and Olle Trails are close to Arang Joeul Food Street, so it's a good idea to get there early in the day to explore the neighborhood.
Location: 321-1 Cheonji-dong, Seogwipo-si, Jeju-do, South Korea
7
Dongmun Traditional Market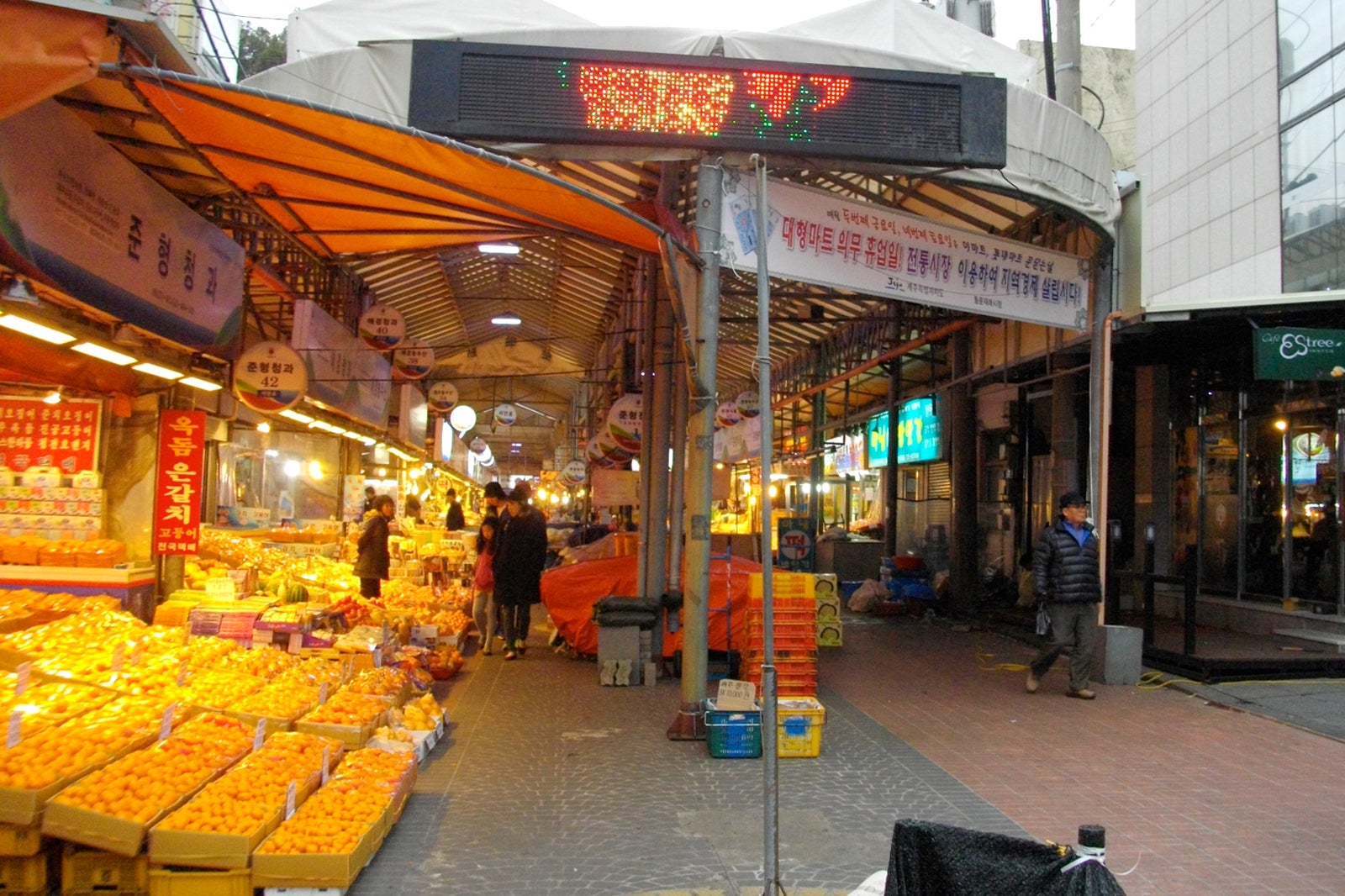 Dongmun Traditional Market is one of Jeju's oldest traditional markets. Open daily, it's not only famous for offering Jeju specialties and daily necessities, but also an excellent place to enjoy local dishes. As you browse around for a snack, you can experience the hustle and bustle of a traditional market in Jeju. Dongmun Traditional Market stays open until nighttime, with even more food stalls selling tteok-bokki (spicy rice cakes), sundae (Korean blood sausage), and gimbap (seaweed rice rolls).
Location: 20 Gwandeong-ro 14(sipsa)-gil, Idoil-dong, Jeju-si, Jeju-do, South Korea
Open: Daily from 8 am to 9 pm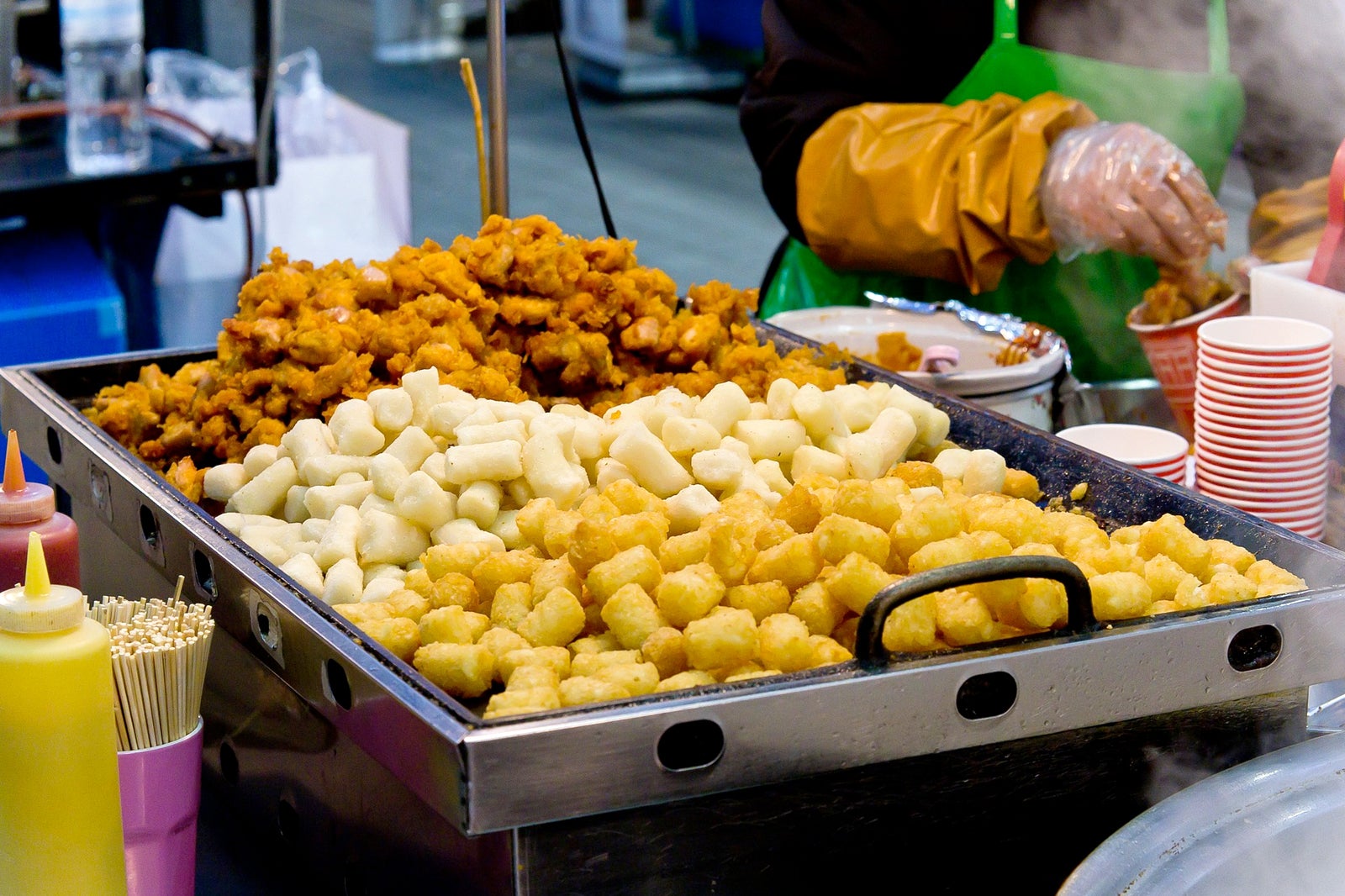 The Arboretum Night Market takes place in Jeju's Halla Arboretum, also known as Theme Park Arboretum. This lively market is held in a pine forest from 6pm onwards, offering plenty of food trucks that serve Asian and fusion dishes. There are plenty of colorful lights and art installations throughout the premise, providing good photo opportunities.
Location: 72, Sumogwon-gil, Jeju-si, Jeju-do, South Korea
Open: Daily from 6 pm to 10 pm
9
Jeju Coastal Road cafe district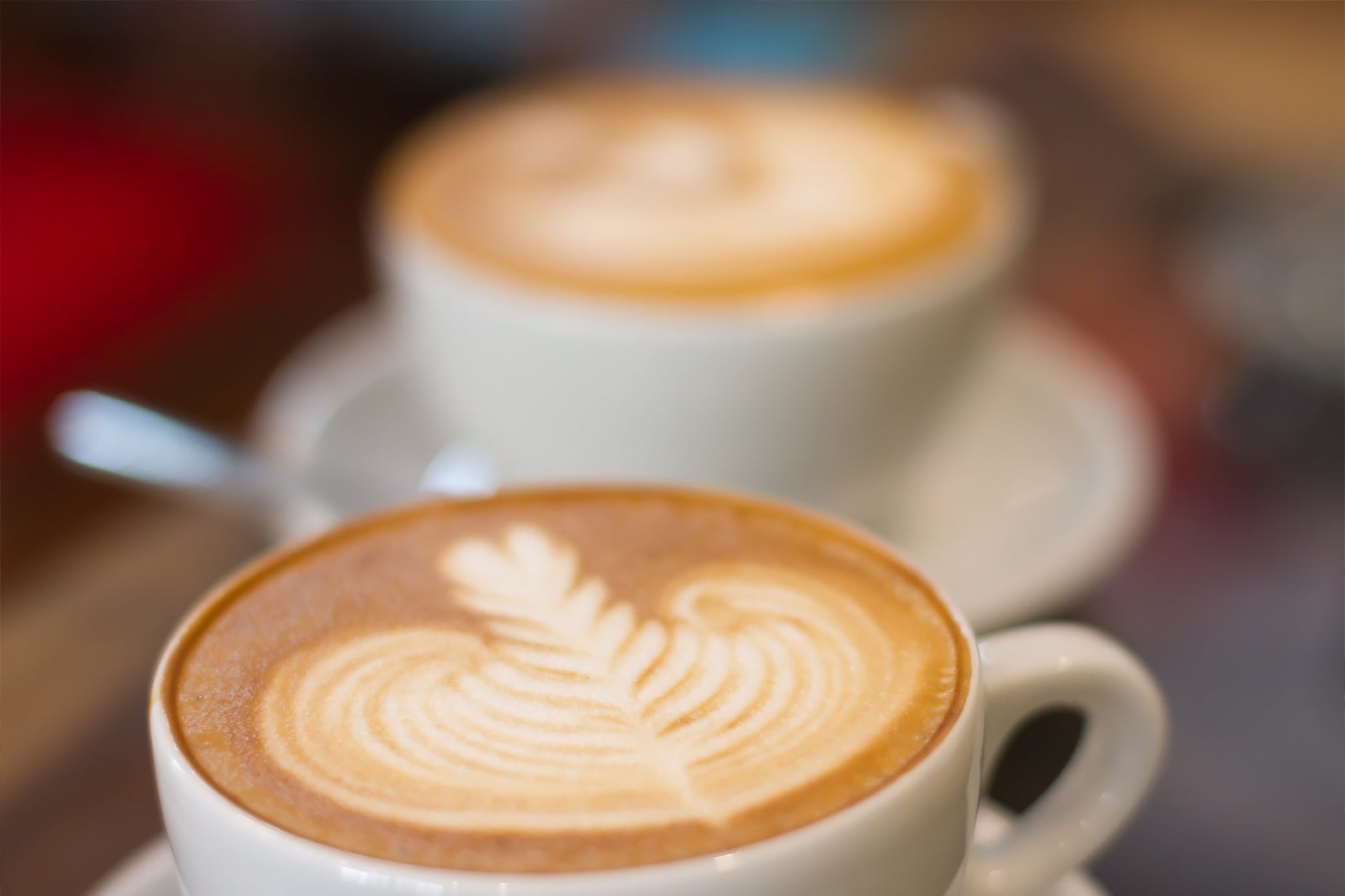 You can find a beautiful cafe district along the coast, located on the way to Iho Taewu Beach from Yongduam in Jeju City. There are also many cafes lining the coastal road that stretches from Iho Taewu Beach to Aewol Port.
The Yongdam Coastal Road has plenty of trendy cafes offering excellent coffee and snacks. On summer nights, you can enjoy a fantastic view of the cafes and East Sea, as well as fishing boats bobbing in the waters.
Location: Jeju-do, South Korea
Museulpo is a port on the southwest coast of Jeju Island, close to Sanbangsan Mountain. The Bangeo Festival Street is a good place to eat raw fish throughout the year. Famous for its textured flesh and savory taste, yellowtail (bangeo) is best enjoyed in winter.
Enjoy it like the locals by wrapping raw yellowtail in ripe kimchi (mugeun-ji) or over-fermented kimchi (shin kimchi). You can also find many restaurants serving yellowtail in different ways, including grilled, stir-fried, skewered, and in a soup.
Location: Daejeong-eup, Seogwipo, Jeju-do, South Korea
Back to top