Staying in Reno - From High-Class Casinos to Modest Motels
Staying in Reno - From High-Class Casinos to Modest Motels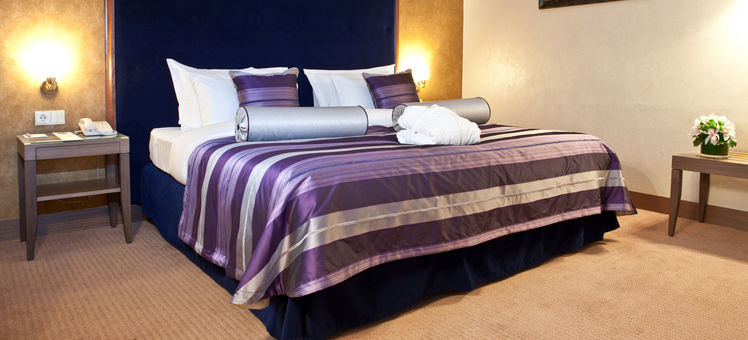 Reno's accommodation choices generally come down to casinos and motels. Casinos can range from Old West-style gambling halls on the outskirts of town to massive resorts with a plethora of rooms and amenities, like spas and nightclubs, which means there's a bed for every budget. You'll find plenty of hotels in Downtown and South Reno, as well as moderately priced lodging in nearby Sparks and Verdi.
The colorful Reno Arch welcomes visitors to the downtown area of "The Biggest Little City in the World." Here you'll be in close proximity of casinos, restaurants, nightlife, and scenic parks. If you choose to stay in this neighborhood, you'll have easy access to the National Automobile Museum, Aces Ballpark, which is home to the Reno Aces, and the National Bowling Stadium. You can also walk to cafés, galleries, and shops in the Downtown Riverwalk District and the Truckee River Arts District in about 10 minutes.
Downtown Reno's hotels consist mainly of multi-story casinos. The larger establishments on North Virginia Street contain over 1,000 rooms and often house multiple restaurants and clubs, and action-packed gaming rooms. If you drive for roughly 15 minutes in any direction from the city center, you'll find basic inns and motels perfect for budget-minded travelers looking for a more peaceful neighborhood.
Head south on Virginia Street to South Reno and you'll notice the landscape widening and the northern Sierra Nevada Mountains coming into view. Reno-Tahoe International Airport (RNO), the Reno-Sparks Convention Center, and the sprawling grounds of the Washoe County Golf Course are all located nearby. You'll also be a 10-minute drive from Virginia Lake Park, which features a 1-mile trail loop for running, fishing pier, playground, and off-leash dog park.
South Reno is slightly more suburban than the downtown area. While this section of the city is home to many chain motels and inns, it also contains a selection of large casino resorts. These properties offer upscale amenities like full-service spas, and various dining and nightlife options on-site.
Roughly 10 miles west of Reno, where Interstate 80 veers towards the Nevada-California state border, you'll find Verdi, a charmingly rural residential area. More secluded than Reno, Verdi offers guests a smattering of delightful restaurants, cafés, and Western-styled bars. This area also houses Crystal Peak Park, which sits along the Truckee River, and Verdi Mill Pond. Both offer a trio of hiking trails, as well as opportunities for bird-watching, fishing, and picnic areas.
Served by a few large Old Western-themed casino resorts, as well as basic inns, Verdi welcomes visitors looking to take advantage of the great outdoors while still being able to enjoy fast-action table games and slots. Verdi's quiet setting provides you with a feeling that you're getting away from it all.
Directly east of Reno, the city of Sparks offers more casinos, as well as an amusement and waterpark, outlet shops, IMAX movie theater, golf courses, and public parks. Sparks Marina Park is a multi-use space built on a natural aquifer with 2 beaches, a fishing pier, and a 2-mile walking path. You can also windsurf, sail, scuba dive, and swim on Helms Lake.
In Sparks, you'll find casinos, large chain hotels, and smaller inns, most of which provide perks like a business center, swimming pool, and gym. You'll find yourself within a 10-minute drive of Downtown Reno, and close to Victoria Square, a cluster of streets filled with bars, restaurants, casinos, and historical buildings.
Discover
Find your perfect holiday in Reno
From 50 hotels.