Comfy Cottages to Beachfront Resorts - Where to Stay on Sanibel Island
Comfy Cottages to Beachfront Resorts - Where to Stay on Sanibel Island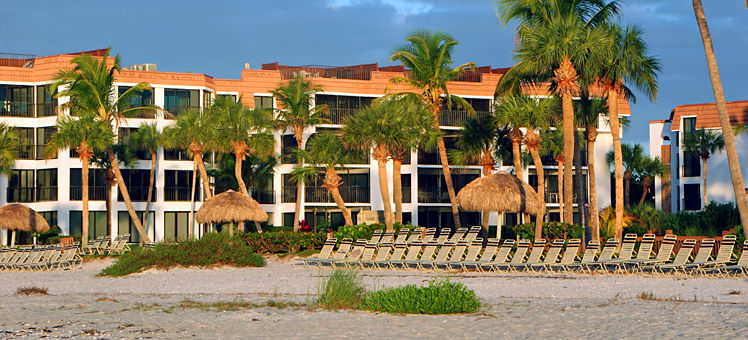 Visitors to Sanibel are always within walking distance of the ocean. Most island hotels are on the southern coastline, facing the Gulf of Mexico. Accommodation ranges from simple cottages and beach bungalow-style bed-and-breakfasts to luxurious condo resorts featuring amenities like full-service spas, swimming pools, restaurants, tennis courts, and private beaches. Other lavish options are also available farther west on the sister island of Captiva.
Sanibel Eastern End
Extending east from the Causeway to mainland-facing Point Ybel, this is where you'll find Sanibel's famous lighthouse. Staying in this part of the island means you'll be in close proximity to Lighthouse Beach Park, which occupies the island's easternmost tip. Also within easy reach are activities such as fishing from the pier, strolling the boardwalk, and trekking a wetland trail.
Establishments closer the northern shore are also conveniently located, with most still less than a 10-minute walk to the sea. Cheery but no-frills inns and ocean-facing condos can be found right on the beach. Area condos come with beach sun loungers for an easy day seaside, and many also offer bicycle rentals for island excursions.
Sanibel Middle Gulf Drive
Running parallel to the beach, Middle Gulf Drive lies within easy walking distance of golf courses. The area stretches 3 miles to the north by Dixie Beach Boulevard and the eastern side of the J. N. "Ding" Darling National Wildlife Refuge and Tarpon Bay. As it's closer to the eastern side of the island, staying here also provides easy access back to the Causeway and the mainland.
If you decide to stay at one of the inns set back from the beach, farther north, closer to Periwinkle Way, you'll have the advantage of being near many area restaurants. But the southern shore offers quaint cottages, larger resorts, and chain hotels on a postcard-perfect beachfront.
Sanibel West Gulf Drive
As the island curves and the habitable land beyond the wildlife refuge narrows, West Gulf Drive continues through the middle of Sanibel, on the Gulf Coast. This location is ideal for hiking, bird watching and photographing alligators on the Bailey Tract, a small complex of wooded trails and ponds surrounding Red Mangrove Island. But like the rest of Sanibel, you're never far from a sandy beach, sprinkled with countless shells.
Area inns and resorts are directly on public beaches such as Gulfside City Park and Tarpon Beach, while others have private beach access. Seaside cottages usually offer beach umbrellas, but many also have outdoor pools, if you'd rather keep your feet off the sand.
Search for Sanibel West Gulf Drive hotels
Sanibel Blind Pass, and Captiva
Known for its abundance of shell-collecting opportunities and good fishing, Blind Pass Beach serves as the final western point on the island. Marinas at Blind Pass are home to charter boats ready to take you to explore nearby channels and keys. Though the more remote sands of Bowman's Beach are devoid of any hotels, you'll find places to stay within a 5-minute drive.
Cozy and unpretentious tropical cottages are sprinkled throughout Blind Pass, with many beachfront rooms offering perks like kayaking and boat tours. Most come outfitted with full-service kitchens and multiple bedrooms to accommodate families.
Though half of the smaller, thinner island connected to Sanibel's northwest is privately owned, Captiva welcomes tourists with 2 beaches, upmarket restaurants, and art galleries. Captiva Drive, the island's tree-lined main street, takes drivers from Sanibel over Blind Pass and north through most of the island, passing by impressive multimillion-dollar homes. Like Sanibel, on Captiva you're always within minutes of the nearest beach - and usually it's right across the street.
Captiva offers accommodation choices ranging from massive resorts decked out with nightclubs, multiple tennis courts, in-house spas, and private beaches, to colorful rustic inns with comfy rooms ready to supply the setting for an easygoing seaside vacation.