To the Beach and Beyond - What to See and Do in Santa Cruz
To the Beach and Beyond - What to See and Do in Santa Cruz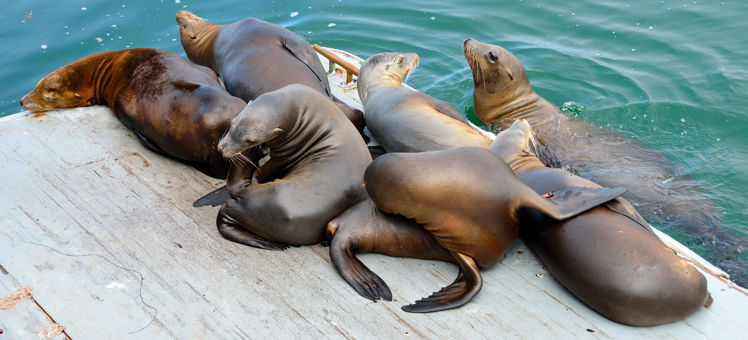 To experience the best of this Central Coast surf town, you'll need to accept its own sunny terms. Slow down. Step outdoors and set off to explore its famous beaches, waterfront attractions, and world-class music events. Most important, open yourself to meeting your fellow travelers - and there will be many - from itinerant surfers to families from abroad. By day's end, the casual, kindly atmosphere will have soaked in like sunlight itself.
Boardwalk fun and history
Santa Cruz Beach Boardwalk is arguably one of the last and best seaside amusement parks in the country. Strap yourself into the red-and-white Giant Dipper wooden roller coaster and join more than 60 million adventure seekers who've made this National Historic Landmark legendary. Kids under the height requirement of the faster rides will love the 1911 Looff Carousel, with its 73 hand-carved horses and antique organ. If arcade games are your ticket, you'll find more than 300 classic and modern favorites at Casino Arcade. Don't miss the handmade salt water taffy and caramel corn from Marini's Candies, founded in 1915.
Beaches for everyone
The 29 miles of coastline in Santa Cruz County feature some of the best-kept state beaches around. Each has its own personality, but all are well-marked, easily accessible, and clean. In addition to Main Beach right downtown, families especially enjoy picnicking at Seacliff Beach in Aptos. Dog owners appreciate the pet-friendliness of Seabright and Twin Lakes state beaches. Surfers - and those who love to watch them - head to legendary Steamer Lane. And sunset-seekers rave about the views from West Cliff Drive.
Winery and brewery tours
The Santa Cruz Mountains Appellation supports more than 80 wineries specializing in varietals that love its Mediterranean climate, including pinot noir. The area is also known for craft brewing, making wine- and beer-tasting well worth your time. To begin, visit Surf City Vintners, located in a renovated warehouse complex near downtown Santa Cruz. There you'll find a tasting room shared by 13 local micro-boutique vintners, as well as El Salchichero Charcuterie, Kelly's French Bakery, and New Leaf Market, a health-food store. For a curated tour of local breweries, board Brew Cruz's renovated bus and hit the circuit in style.
Music lovers, take note
A crucible for jazz performance and education, Kuumbwa Jazz Center in downtown Santa Cruz is one cultural icon you won't want to miss. Whether you catch a performance of the Kuumbwa Jazz Honor Band or a touring show by renowned jazz ambassadors such as Chucho Valdés or Regina Carter, you'll appreciate this chance to plug into the soul of jazz craft and the ways it brings the Santa Cruz community together. For country music, blues, and Americana, join the fun at the annual Santa Cruz American Music Festival, held in nearby Aptos on Memorial Day weekend.
Surf's up
The waves rolling onto the Santa Cruz shore have major impact on life here: It's hard to find a local who doesn't connect with them in some visceral way, whether it's their changing timbre as the tide sweeps in and out, or the spine-tingling thrill of spotting a great wave to ride. To feel this kind of communion with the water, try a lesson from Richard Schmidt Surf School. Using specialized gear and riding parallel to you on the water, Richard himself guarantees you'll stand atop your board for a triumphant view of the bay on your first day out.
Discover
Find your perfect holiday in Santa Cruz (and vicinity)
From 90 hotels.