A City Guide to St. Augustine, America's Oldest City
A City Guide to St. Augustine, America's Oldest City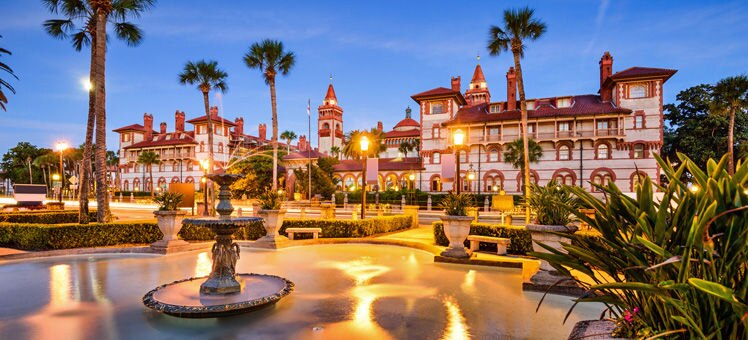 Lured by tales of the Fountain of Youth, Spanish explorers settled St. Augustine in 1565. Sitting along the banks of the Matanzas River on Florida's northeast coast, it's the oldest city in America. Today, visitors can explore Spanish and British colonial influences in the Historic District, the city's main draw. If you venture beyond the historic attractions, you'll find beaches and plenty of family fun.
Living history
St. Augustine's Historic District has a host of attractions that shed a light on the lives and legacy of the early settlers. Castillo de San Marcos National Monument is a must-see. Overlooking Matanzas Bay, this Spanish fort was built between 1672 and 1695. You can take in a ranger program and watch historical reenactments, including demonstrations of colonial weaponry. The Colonial Quarter in downtown St. Augustine teaches visitors of all ages about Spanish and English colonists through interactive experiences like musket drills. Don't miss the views of the Castillo de San Marcos from the 35-foot watchtower.
Miles of beaches
A short drive outside the city proper will take you to some of St. Augustine's best beaches. First, there's Anastasia State Park. This park has 4 miles of beaches, but it also provides ample opportunities for other outdoor pursuits like camping and hiking. You can go bird-watching in the park's sanctuary or simply relax in the sand with a bite to eat from the beach snack bar. A bit farther south, you'll find lively St. Augustine Beach. Here, you can browse the shops on Beachfront Avenue and explore St. Johns County Ocean Pier Park.
Family fun
Living-history attractions are just the beginning of family fun in St. Augustine. Kids can get up close with their favorite animals and even hunt for treasure. Any family trip to St. Augustine should include a stop at Marineland Dolphin Adventure. Built in 1938, it is now listed on the National Register of Historic Places. Children will love a chance to swim with dolphins and see other native animals like sharks and sea turtles. At the St. Augustine Pirate & Treasure Museum, little ones can learn about famous pirates and see more than 800 artifacts.
Fun for grown-ups
If you're not visiting St. Augustine with kids, there's still plenty of fun to be had. St. Augustine Distillery produces small-batch spirits using local ingredients like sugar cane, corn, and citrus. The distillery offers free tours and tastings of its products, including Florida Cane Vodka and New World Gin. Elsewhere, the fascinating Lightner Museum is housed inside the Alcazar, one of the grand hotels built by industrialist and Florida developer Henry Flagler. Inside, you'll find a collection of Gilded Age artifacts, including Tiffany lamps.
Shopping and browsing
If you're looking for shopping in St. Augustine, you'll be pleased to find a healthy mix of big-name retailers and locally owned stores. The city has several shopping areas, both within the Historic District and beyond. For deals from top national and international retailers, head over to St. Augustine Premium Outlets. For a break from sightseeing in the Historic District, take a stroll down St. George Street. One of the most popular shopping districts in the city, it's home to an assortment of local gift shops, boutiques, and restaurants. You can stop by for a treat at Whetstone Chocolates.
Discover
Find your perfect holiday in St. Augustine
From 720 hotels.