The Essential Guide to Brooklyn - New York's Hip Borough
The Essential Guide to Brooklyn - New York's Hip Borough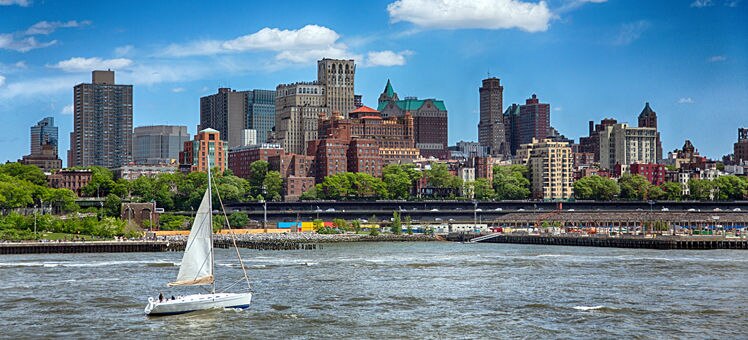 The most populated of New York City's 5 boroughs, Brooklyn has really captured imaginations over the last decade. Brooklyn has now become synonymous with achingly cool culture. You will find sharply dressed hipsters sporting ironic facial hair and sipping expensive coffee, but there's plenty more to Brooklyn. From historic sites, to family-friendly parks, and fine dining, let's discover what else Brooklyn can offer.
Brooklyn Bridge and around
Iconic Brooklyn Bridge, completed in 1883 and one of New York City's most photographed sites, stretches from Manhattan's City Hall area to Brooklyn's DUMBO neighborhood. A walk across this hybrid cable and suspension bridge offers expansive views of the Manhattan skyline, as well as the Statue of Liberty. A short stroll from the end of the bridge, Brooklyn Bridge Park offers more scenic views, as well as public art exhibitions. The cobblestoned streets of DUMBO are home to numerous bars, art galleries, and boutiques.
Brooklyn Bridge Park, 334 Furman St., New York, NY 11201; Tel: +1 718 222 9939; Website: Brooklyn Bridge Park
Prospect Park and around
Prospect Park is Brooklyn's answer to Manhattan's Central Park, filled with grassy meadows, sports facilities, and a lake. Children can enjoy visiting animals at the Prospect Park Zoo, or riding a vintage carousel. Spring brings pink cherry blossoms to Brooklyn Botanic Garden. Free concerts are held at the Prospect Park Bandshell in the summer, while, in winter, you can enjoy ice-skating in the snow-blanketed park, or escape indoors to the Brooklyn Museum. The neighboring Park Slope district is filled with immaculately maintained brownstones, boutiques, and fine-dining restaurants.
A vibrant arts scene
The cultural scene in Brooklyn is wide, ambitious, and progressive. You'll find street art in Bushwick, and modern art exhibitions at the Brooklyn Museum, along with contemporary galleries at Greenpoint, and Williamsburg's indie-rock music clubs. The borough also embraces the traditional arts. You can catch concerts and theatrical productions at the Kings Theatre, Brooklyn Center for the Performing Arts, and Brooklyn Academy of Music. Bargemusic - a floating music hall moored under the Brooklyn Bridge - offers classical music concerts up to 5 days a week.
Brooklyn's nightlife
As an epicenter of youth culture, Brooklyn is home to a dizzying choice of drinking establishments. From dive bars slinging cheap pints, to rooftop hotel bars where expertly mixed craft cocktails come with sweeping views across the East River. If you have the energy to dance until dawn, you'll find your pick of exciting nightclubs, too. With their top-notch sound systems, Output and Verboten draw revelers from across the city, as well as world-famous DJs. Smaller venues such as TBA Brooklyn offer more intimate party spaces.
Brooklyn's best eats
Brooklyn is filled with a variety of food options, from fine dining at Park Slope's Scottadito Osteria Toscana to Williamsburg's casual food carts. The borough's many multicultural residents also mean that you can eat your way around the world - from Pakistan to Ukraine - without leaving Brooklyn. On Saturdays on the Williamsburg waterfront and Sundays at Brooklyn Bridge Park, the Smorgasburg food market hosts 100 vendors from New York City and across the region. There you can sample a variety of food and drink, from ramen burgers and fruity popsicles, to cold-brew coffee.