City Guide to Long Beach - The Warm Beach Town Getaway with a Cool Urban Edge
City Guide to Long Beach - The Warm Beach Town Getaway with a Cool Urban Edge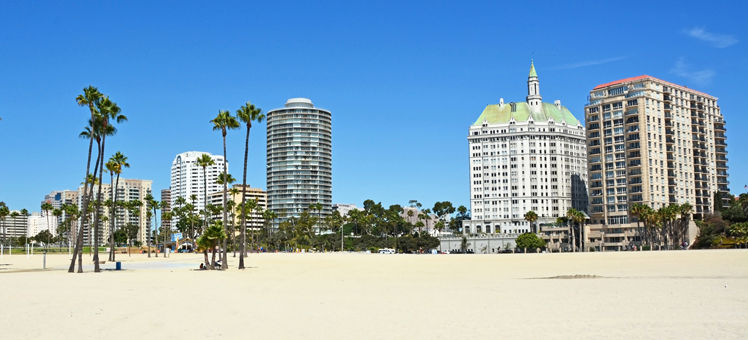 A short ride from Los Angeles's LAX airport, Long Beach wraps a vibrant, cutting-edge city and a quaint coastal town into a bountiful beachside experience. Where else can you find whale-watching tours, buzzing nightlife, a world-class aquarium, museums of Latin American and Pacific Island art, sandy shores, and a famous retired ocean liner? And that's just the start.
A seaside escape
Want to leave the hustle and bustle behind? Head to the Belmont Shore district, toward the south side of the city and centered around 2nd Street. This is what you imagine when you daydream of a classic beach town. Here you can stroll past high-end boutiques and independent coffee shops, and breathe in the aromas of saltwater mixed with gourmet foods of all kinds. Head down to the beach and soak up the sun while you watch kite surfers at play. Then, perhaps, visit the nearby Naples canals for a sunset gondola ride.
Belmont Shore; Website: Belmont Shore

Gondola Getaway, 5437 East Ocean Boulevard, Long Beach, CA 90803; Tel: +1 562 433 9595; Website: Gondola Getaway
People of the Pacific
Long Beach is adjacent to the largest combined container shipping port in the U.S. This constant ship traffic has resulted in a blending of cultures from all parts of the Pacific. See this at the Museum of Latin American Art and the Pacific Island Ethnic Art Museum. For a true international experience, head over to Cambodia Town along Anaheim Street. Widely thought of as the center of the Cambodian-American community, this neighborhood is prime for shopping, dining, and exploring.
Golden sand, gentle surf
The beaches of Southern California are celebrated throughout the world, and for good reason. The golden sand, warm weather, and gentle surf draw year-round visitors. Although Long Beach itself faces the harbor, just to the south are well-known Huntington and Newport beaches. North of the city, within 50 to 70 miles, the famed Venice, Santa Monica, and Malibu beaches await you. Want something closer? Spend some quality time in nearby Shoreline Village, a marina and boardwalk complete with a carousel, an arcade, and a variety of dining options - all with views of the harbor and the Queen Mary.
Shoreline Village, 401-435 Shoreline Village Drive, Long Beach, CA 90802; Tel: +1 562 435 2668; Website: Shoreline Village
Long Beach nightlife
Don't be fooled by the laid-back beach feeling, Long Beach is also a city with an exciting and eclectic variety of nightly entertainment spots. Whether you're looking for fine waterfront dining in Belmont Shore, live music or dancing downtown, or a wine tasting in the East Village, it's all within easy access via rental car, taxi, or Metro Blue Line train.