History, Art, and Culture Are Alive in Jackson Hole
History, Art, and Culture Are Alive in Jackson Hole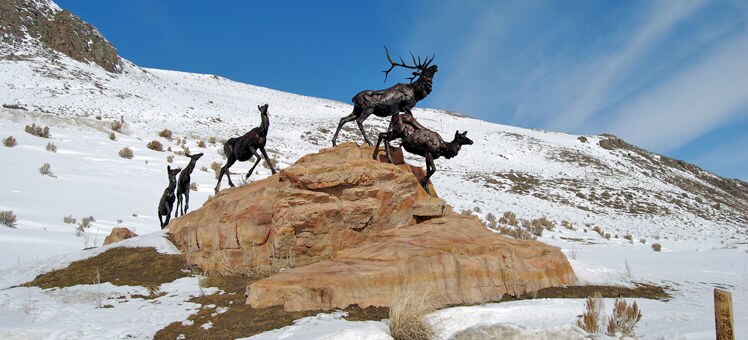 Arts and culture in Jackson Hole draw their focus from the region's rich western heritage, and its abundant wildlife and dazzling mountain terrain. You can peruse vivid depictions of western history and wildlife at a downtown gallery, or head to a museum to see a life-sized tepee. The summer months kick off a robust schedule of shows that include performances by artists from the worlds of theater, music, and dance.
Local historical attractions
Jackson Hole's unique cultural heritage is chronicled by historical society exhibits that recount local Native American history and the lives of settlers, from the earliest homesteaders to 20th-century outdoorsmen and naturalists. To get an up close look at the way homesteaders lived in the early 1900s, you can drive 22 minutes to Mormon Row, a preserved settlement of historic homes and barns set against the majestic backdrop of Grand Teton National Park.
Jackson Hole Historical Society and Museum
Filled with cultural artifacts and black-and-white images that document local history, exhibits at the museum's 2 locations focus on the lives of Native Americans, early homesteaders, traders, and miners. The museum is also home to a sizable gift shop.
225 North Cache Street, Jackson 83001Tel: +1 307 733 2414
Jackson Hole Historical Society and Museum website
Art museums and galleries
Jackson Hole's thriving art scene centers on depictions of western life, nature, and wildlife. You can head to the Natural Museum of Wildlife Art to view paintings and sculptures from American and European masters, or stroll along Center Street in downtown Jackson where the art hub known as "Gallery Row" is attracting an increasing number of modern and contemporary venues. If you're looking to connect with area artists, The Art Association of Jackson Hole offers a year-round calendar of events, ranging from exhibits showcasing local artists to summertime art fairs held in Miller Park.
National Museum of Wildlife Art
This striking stone building overlooks the National Elk Refuge and houses wildlife art sourced from the U.S., Europe, Africa, and New Zealand. While there, you can hike the sculpture trail or enjoy a bison burger at the café.
2820 Rungius Road, Jackson 83002. Tel: +1 307 733 5771
National Museum of Wildlife Art website
Art Association of Jackson Hole
Encompassing 5 studios and a contemporary gallery, the Art Association of Jackson Hole provides a place to learn, exhibit, and create art, from painting to printmaking. Its packed calendar of events means there's always something happening in the area.
240 South Glenwood Street, Jackson 83001. Tel: +1 307 733 6379
Art Association of Jackson Hole website
Music and dance performances
In addition to outdoor splendor, Jackson Hole is also home to a growing performing arts scene. The Center for the Arts attracts guest residents from the worlds of dance and music, like the New York City Ballet, while Off Square Theatre Company showcases local talent in year-round productions. The Grand Teton Music Festival, founded in the 1960s, brings a slew of prominent opera singers and classical musicians to town every summer for 7 weeks of live performances at local venues.
Center for the Arts
A 5-minute stroll from Jackson Town Square brings you to a glass-lined building that is home to a busy calendar of summertime events. Well-known speakers, musical acts, and dance performances are among the center's offerings.
240 South Glenwood Street, Jackson 83001. Tel: +1 307 734 8956
Center for the Arts website