Philly by Moonlight - A Guide to Philadelphia Nightlife
Philly by Moonlight - A Guide to Philadelphia Nightlife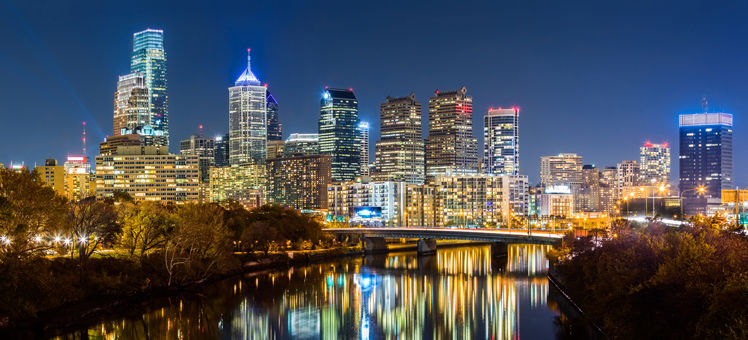 From hipster hangouts serving craft beer to off-the-beaten-path jazz joints and clubs rocking with chart-topping groups, Philadelphia will keep you entertained when the sun goes down. Be sure to venture off the beaten drag, as some of Philly nightlife's best-kept secrets reside outside the city center.
Eclectic live music venues
From raucous grunge concerts to refined Baroque recitals, music lovers have plenty of venues to choose from. One of Philly's favorite live music destinations, The Electric Factory, has been going strong for 40 years. Ortlieb's Lounge in Northern Liberties, far enough off the beaten path to keep the crowds away, is worth the trip if you like to dine while you listen.
The Electric Factory
It's standing room only in this 3,000-person former factory, which rocks most nights with everything from rap to grunge.
421 North 7th Street, Philadelphia, PA 19123Tel: +1 215 627 1332
The Electric Factory website
Ortlieb's Lounge
Started as a jazz-only club, Ortlieb's now offers everything from jazz and funk to soul and live rock. A Tex-Mex menu and drinks specials mean you can happily spend all evening at the lounge.
847 North 3rd Street, Philadelphia, PA 19123. Tel: +1 267 324 3348
Ortlieb's Lounge website
Rock and pop music
From American Bandstand to the Philly Sound to The War on Drugs, this city occupies a permanent place in the history of American rock and pop music. Most live music and DJ events take place in bars in South Philly and Fishtown, while larger venues like Union Transfer and World Café Live book national acts.
Union Transfer
This historic building retains its original vintage decor and hosts the latest touring and local rock bands. You'll find several bars on site.
1026 Spring Garden Street, Philadelphia, PA 19123. Tel: +1 215 232 2100
Union Transfer website
World Café Live
Tied to the University of Pennsylvania radio station, World Café Live's diverse lineup of mid-range rock, folk and world acts includes free concerts on Fridays.
3025 Walnut Street, Philadelphia 19104. Tel: +1 215 222 1400
World Café Live website
Happy hour bars
Want to drink like a local? Seek out some of Philly's most popular happy hour spots. Exempt from the city's smoking ban, The Dive in Bella Vista is a fun place to sip a local brew and sharpen your pool skills. University City's bars are, as expected, packed with students. Among these, Local 44 is known for its on-tap beers, tasty bar food, and adjacent bottle shop.
The Dive
You can try a regional microbrew or select from a large array of whiskeys in this popular bar, which buzzes at happy hour. Bartenders serve up seasonal tipples like warm pumpkin-spiced brandy for cold winter nights.
947 East Passyunk Avenue, Philadelphia, PA 19147. Tel: +1 215 465 5505
The Dive website
Local 44
Beer is the name of the game in this West Philly bar, with eclectic brands like Dogfish and Russian River on draft.
4333 Spruce Street, Philadelphia, PA 19104. Tel: +1 215 222 2337
Local 44 website
Nightclubs and jazz lounges
Philadelphia nightclubs encompass everything from electro-beats to jazz. Popular dance venues include the huge The Roxxy in East Center City, and the multi-level Voyeur with its theme nights and shows. If you're looking for something different, one of the most eclectic clubs in Philly is Silk City, equal parts club, bar, beer garden, diner, and restaurant. Chris' Jazz Café takes the tempo down with laid-back jazz and Southern dining.
Silk City
Named after the silk industry in its original Paterson, New Jersey location, this eclectic club started as a diner in 1952. Two years later, the diner car stopped at a Philadelphia cocktail lounge, and the rest is history. The "Ultimate BLT" will give you the energy to dance all night on the black-and-white tiles.
435 Spring Garden Street, Philadelphia, PA 19123. Tel: +1 215 592 8838
Silk City website
Chris' Jazz Café
An intimate setting for live jazz, Chris' has the added benefit of a tasty menu of Southern American food and drinks.
1424 Sansom Street, Philadelphia, PA 19110. Tel: +1 215 568 3131
Chris' Jazz Café website