Nightlife in Breckenridge - From Ski Slope Elegance to Casual Fun
Nightlife in Breckenridge - From Ski Slope Elegance to Casual Fun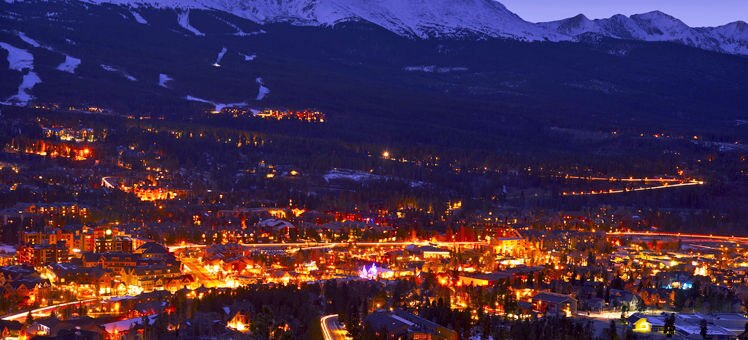 Breckenridge has always had a wild side, which is especially evident when you explore the city's nightlife. Up on the slopes, you'll find late night venues with a sophisticated vibe. If you head downtown, you'll be surrounded by a casual ambiance more reminiscent of the city's previous life as a mining town.
Downtown drinking
The oldest bar in downtown Breckenridge is as old as the city itself, which sets the tone for what an evening of downtown bar hopping can feel like. You can sense the lively spirit of the city's pre-ski resort days every time a glass of whiskey is poured or a new game of pool is racked.
Gold Pan Saloon
At this venue, thought to be the oldest bar west of the Mississippi River, you can order surprisingly modern cocktails like the River Runner, made with vodka, grapefruit juice, and beer.
103 N. Main St., Breckenridge 80424Tel: +1 970 453 5499
Gold Pan Saloon website
Napper Tandy's
Part pub, part club, this watering hole above the Salt Creek Steakhouse serves unfussy bar food and inexpensive pitchers of beer. They also host beer pong on Thursdays if you're really looking to cut loose.
110 Lincoln Ave., Breckenridge 80424. Tel: +1 970 453 4949
Napper Tandy's website
Clubs and lounges
The nightclub scene in Breckenridge is on the smaller side, even in the downtown area. But that means the clubs that are here are bursting with energy. As well as getting you on the dance floor, these venues offer cigars, and drink selections that go beyond basic bar offerings.
Cecilia's Martini Bar
At Cecilia's, you can kick off the night with a martini and a cigar, then head into their Dance Club Room and groove to house and electro music.
520 S. Main St., Breckenridge 80424. Tel: +1 970 453 2243
Cecilia's Martini Bar website
Liquid Lounge
This popular hangout features a rotation of resident DJs spinning the latest dance hits every night. You'll also be able to check out generous drink specials like their weekly free keg on Thursdays.
520 Main St., Breckenridge 80424. Tel: +1 970 485 4201
Liquid Lounge website
Sipping by the slopes
If you'd prefer a more relaxed place to grab a drink, the Breckenridge après-ski scene may be more your speed. Most of these mountainside venues offer the same things as the bars downtown, like craft beers and classic tavern games. They just do so in a quieter, more sophisticated way.
Base 9 Bar
You'll have the opportunity to kick back and indulge in a tasting flight of Colorado craft brews. You can also enjoy wings and other bar food.
620 Village Rd #2, Breckenridge 80424. Tel: +1 970 453 8754
Base 9 Bar website
Park Avenue Pub
Locals love to hang out at this easygoing spot for Colorado microbrews, craft spirits, and late-night snacks. In winter, you can also drop by in the morning for a strong coffee and a hearty breakfast.
535 S Park Ave., Breckenridge 80424. Tel: +1 970 453 2000
Park Avenue Pub website
Breckenridge's spooky past
When you consider that there are around 200 historic buildings in Breckenridge, it's no surprise that this town is loaded with ghost stories and ghoulish legends. If you enjoy an evening of chills that have nothing to do with cold, blustery winds, you can investigate some of the things that go bump in Breckenridge's night.
Breckenridge Haunted Tour
The Breckenridge Historical Society offers late-evening guided walking tours through the allegedly haunted Historic District. The tour includes a stop at a Victorian home and eerie tales of unexplained encounters.
203 South Main St., Breckenridge 80424. Tel: +1 970 453 6767
Breckenridge Haunted Tour website