Fresh Seafood, International Specialties, and Local Flavors - Where and What to Eat in Miami Beach
Fresh Seafood, International Specialties, and Local Flavors - Where and What to Eat in Miami Beach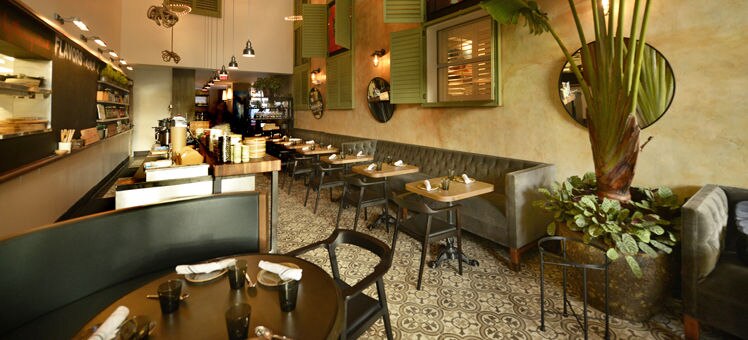 The only problem you'll encounter when dining out in Miami Beach is deciding what you'd like to try first. Nouveau American and classic Mediterranean restaurants sit alongside authentic Cuban and Asian fusion eateries. Whether you're looking to take in the scenery from a beachfront café, see and be seen at an upscale hotel restaurant, or grab an empanada on the go, you'll surely make delicious memories.
Typical dishes
Ethnic specialties abound here, especially Cuban dishes. Look for Cubano sandwiches (grilled ham and cheese with pickles), and heartier dishes like ropa vieja, stewed flank steak with plantains, black beans, and yellow rice.
South Beach
The high-end and late-night restaurants of South Beach capture the taste buds and attention of locals and visiting gourmands. Tucked away inside a Mediterranean villa, Casa Tua's menu presents seasonal cuisine to match its European architecture. Sit under a lantern in the garden and order from the sophisticated menu of Northern Italian dishes, then choose a vintage from its impressive wine list. At The Raleigh hotel, Restaurant Michael Schwartz's modern American eatery offers indoor and poolside seating, as well as a locally focused menu that highlights farm fresh ingredients.
Mid-Beach South
The southern portion of Mid-Beach that starts at 23rd Street is slowly challenging South Beach as the city's hippest neighborhood. You'll find restaurants serving up unconventional cuisine like Indomania, which puts a Dutch spin on Indonesian dishes. Order the rijsttafel and get ready for a multitude of small plates including spicy eggplant, coconut curry chicken, sweet soy braised pork, and sweet and sour cucumber. For a true farm-to-table experience, Essensia at the Palms Hotel & Spa creates eclectic, healthful dishes that are often accompanied with greens and herbs from the chef's own organic garden.
Mid-Beach North
Where the Julia Tuttle Causeway becomes 41st Street, Mid-Beach's northern section gives way to high-rise hotels. Cecconi's, in the restored art deco Soho Beach House hotel, is a hit for its beloved brunch. Guests can choose from classics like asparagus and goat cheese frittata or fancy pizzas. A 5-minute walk north to the Fontainebleau Hotel and Resort will lead you to Hakkasan. The coolly lit, sophisticated eatery serves modern Cantonese and includes signature dishes like Maine lobster noodles, stir-fried venison with ginger and leeks, and charcoal grilled silver cod with Champagne and Chinese honey.
North Beach
North Beach, the area between 63rd Street and 87th Terrace, may be noticeably quieter than its southern neighbors, but this low-key area is home to spectacular dining options. Little Brazil is a no-frills spot revered for its faithful representation of authentic dishes like moqueca de camarão (shrimp stew) and grilled skirt steak. Fresh empanadas, fish ceviche, and traditional Cuban dishes like braised oxtail and ajiaco, a beef, pork, and vegetable stew, keep customers coming back to Sazon. Its extensive menu also includes sandwiches, Cuban coffee, and desserts like coconut custard and guava shells with cream cheese.
Discover
Find your perfect holiday in Miami Beach
From 830 hotels.