Before You Go - Travel Tips for Your Brooklyn Trip
Before You Go - Travel Tips for Your Brooklyn Trip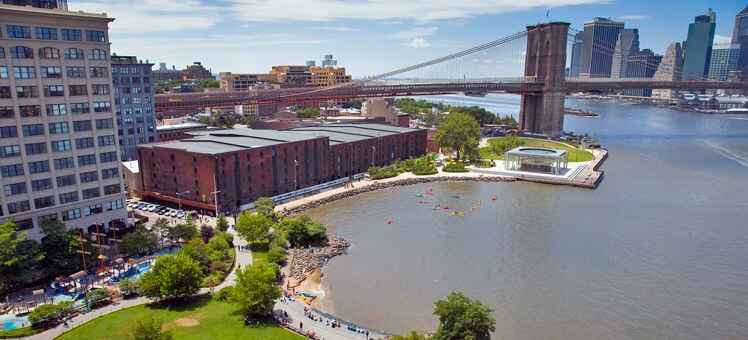 Brooklyn, the most populous of New York City's 5 boroughs, has a reputation as a center of culture and cool. With a thorough transportation system and welcoming atmosphere, it is easy to soak up all that the borough has to offer. One minute you could be eating pierogies(dumplings) at a modest Polish diner in Greenpoint, and the next toasting with a cocktail in a trendy Williamsburg bar.
Best time to travel
In New York City, the winters can be uncomfortably cold, and the summers uncomfortably hot. You can find the sweet spot by traveling during the spring. Springtime sees pink cherry blossoms bloom in Brooklyn Botanic Garden and public art exhibitions pop up around the borough. If you do visit in the heat of the summer, you can keep cool with a cocktail in one of Brooklyn's many rooftop bars and take advantage of the free outdoor concerts held as part of the Celebrate Brooklyn arts festival. In winter, warm up in a museum or at a cozy bar.
Not to miss
Crossing the East River by walking Brooklyn Bridge, which connects Brooklyn and Manhattan, offers spectacular views of Lower Manhattan as well as such landmarks as the Statue of Liberty. Avoid the biggest crowds by going on a weekday or early in the morning. At the Brooklyn end of the bridge, Brooklyn Bridge Park features riverside esplanades, public art, and attractions such as the vintage "Jane's Carousel." For the quirkier side of Brooklyn, try to catch Coney Island's annual Mermaid Parade in June. While there, take a ride on the Cyclone roller coaster, if you dare.
Getting around
Brooklyn is the second largest of New York's boroughs and its layout is not as easily navigable as grid-like Manhattan. The subway system, which runs 24 hours a day, is the most convenient means of getting around and links most major destinations and attractions. John F. Kennedy (JFK), LaGuardia (LGA), and Newark Liberty (EWR) airports are all within 15 miles of Downtown Brooklyn. The subway runs all the way to JFK, but LaGuardia requires transferring to a bus. You can reach Newark Liberty by a combination of the subway and a train.
Cuisine
Brooklyn's culinary scene reflects its multicultural identity, with decades of immigration making their mark on each neighborhood. In Williamsburg, you have a wide range of Jewish and Italian dining options, while in neighboring Greenpoint you'll find Polish restaurants and bakeries. Head to Bushwick for Dominican, Mexican, and Ecuadorian cuisine; Bay Ridge for Middle Eastern, and to Brighton Beach for Russian and Ukrainian eateries.
Customs and etiquette
The residents of Brooklyn are used to living amongst neighbors of many different nationalities, cultures, faiths, and races. Whatever your background, you are likely to find a very accepting environment. As with much of the country, service workers depend upon tips to supplement their generally low salaries. A tip of 20 percent at a restaurant is usually expected, and a dollar per drink at a bar. If service is fine but you are unhappy with your meal, it is a good idea to speak to management rather than penalizing the server by not tipping.
Fast facts
Population: 2600000

Spoken languages: English, Spanish

Electrical: 110 volts, 60 Hz, plug type A, B

Phone calling code: 718, 347, 917 or 929

Emergency number: 911