How to Enjoy Asheville - Useful Information and Tips
How to Enjoy Asheville - Useful Information and Tips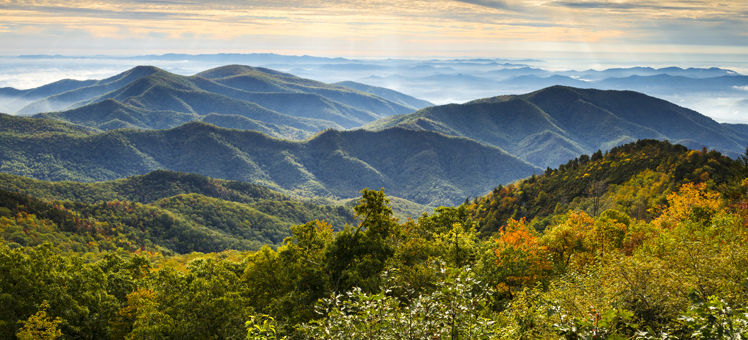 Surrounded by the breathtaking scenery of the Blue Ridge Mountains, Asheville has 4 distinct seasons that attract visitors year-round, and its temperate climate distinguishes the city from other southern destinations. The many sidewalk and rooftop dining and drinking establishments exemplify Asheville's outdoorsy character and diverse cuisine options. Day trips, airport transfers, and some attractions require transportation, but downtown Asheville is very compact and pedestrian-friendly.
Best time to travel
Spring brings those eager to see an array of blooming flora and bright rhododendrons, including those at the Biltmore Festival of Flowers. Summer is peak season as crowds head into the mountains for hiking and swimming holes at the base of waterfalls - the area has hundreds. Autumn brings leaf peepers cruising Blue Ridge Parkway for views of the vibrant fall colors of Western North Carolina's many tree species. Winter is the slowest season, yet still brings lots of visitors for Christmas at Biltmore, nearby skiing, and temperatures that stay around 30-50 degrees F with only a few snow days.
Not to miss
Climb or drive to a nearby pinnacle like Craggy Gardens or Mount Mitchell to get sweeping views of Asheville's surrounding national forests and mountains. You can hop between breweries in the South Slope brewery district downtown. Art-lovers will enjoy strolling between 30 downtown art galleries and the River Art District's 150+ working studios and galleries. Dining al fresco at any number of sidewalk restaurants and cafés evokes Asheville's European influence. Outdoor festivals and concerts dot the calendar, as well as recurring events from spring to fall, like the Friday night drum circle.
Getting around
Asheville Regional Airport (AVL) is 18 miles from downtown, and you can transfer from the airport with a taxi, rented car, or bus service. The city sits at the intersection of 2 major highways, I-26 and I-40, making it easy to take day trips. Asheville's robust transit system, ART, provides service between Asheville's city center and 5 popular neighborhoods. You can take a ride on the town's historic trolley or visit sites with a bike taxi. Bike lanes also connect West Asheville to downtown via River Arts District.
Cuisine
For a small city, Asheville offers nearly every type of international cuisine, with a strong emphasis on the farm-to-table movement and Southern culinary traditions. There are several vegetarian restaurants, and nearly every eatery offers at least one vegetarian option. Breakfast can be found served through lunchtime on most days. The city's high restaurant-to-resident ratio ensures high standards and premium quality at even the smallest eateries.
Customs and etiquette
Asheville attracts people from all walks of life, and its reputation as an artistic and bohemian hub infuses an open-minded and relaxed attitude. This is reflected in the casual dress code. Street performers, or buskers, are often talented local or traveling musicians looking to earn money during the day before gigs start up in the evenings. Asheville's economy depends on tourism, so keep that in mind when tipping your servers.
Fast facts
Population: 87000

Spoken languages: English

Electrical: 110 volts, 60 Hz, plug type A, B

Phone calling code: +1 828

Emergency number: 911