Long Beach Travel Tips - What to Know Before You Go
Long Beach Travel Tips - What to Know Before You Go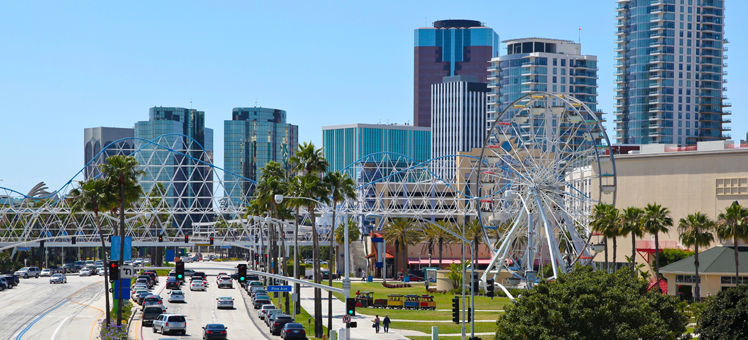 Long Beach sits on 5.5 miles of Pacific Ocean beachfront. Located 23 miles south of downtown Los Angeles, it's within relatively easy reach of the big city, but it still has the feel of a coastal California town. While the beach might be the main draw, it's just the beginning of what the city has to offer.
Best time to travel
Long Beach benefits from a mild California climate throughout the year. Expect highs in the 70s to 80s during the summer and between 67 and 73 degrees in the winter. The city also averages about 345 days of sunshine annually. If you're attending a major event, such as the Toyota Grand Prix of Long Beach in April or Long Beach Jazz Festival in August, you'll want to book your room well in advance.
Not to miss
Downtown Long Beach has plenty of attractions that the whole family will enjoy. Take a guided tour of the Queen Mary, a historic ocean liner that also served during World War II. For the full experience, you can stay in a first-class stateroom. The Aquarium of the Pacific houses 11,000 animals from waters around the world, including penguins, sea otters, and sharks. The aquarium also offers whale- and dolphin-watching cruises, as well as harbor cruises. If time allows, you can hop on the Catalina Express for a ride over to Catalina Island.
Getting around
The Passport Shuttle offers free transportation throughout downtown and to many of the city's biggest attractions. There's also public transportation on the water in the summer, with the AquaBus and the AquaLink running between the Queen Mary and Alamitos Bay Landing. Long Beach was voted one of America's "Most Walkable Cities," so there are plenty of pedestrian paths. Long Beach Airport (LGB) offers nonstop service to 13 destinations, and the Long Beach Cruise Terminal is located next to the Queen Mary.
Cuisine
Long Beach comprises 8 distinct neighborhoods, each with its own assortment of dining options. Downtown alone is home to more than 100 restaurants. Here, you can find familiar chains, along with specialty Latin and Greek eateries and steakhouses with unbeatable views, like Queensview Steakhouse, located on the third floor of Parkers' Lighthouse. If you're looking for a more authentic (or adventurous) dining option, head to Cambodia Town, home to numerous Cambodian restaurants.
Customs and etiquette
Long Beach is casual, so there's no need to dress up unless you're attending a special event or have a reservation at an upscale restaurant. Much of the city is walkable, so you'll want to pack a sturdy, comfortable pair of shoes. Generally speaking, a 15 to 20% tip is acceptable for servers and drivers. Long Beach is an extremely bike-friendly city; those green lanes you see on the road are designated for cyclists.
Fast facts
Population: 469000

Spoken languages: English

Electrical: 110 to 120 volts, plug types A and B

Phone calling code: +1 562

Emergency number: 911