Nightlife and Entertainment in Pittsburgh - Student Venues to Cocktails with Skyline Views
Nightlife and Entertainment in Pittsburgh - Student Venues to Cocktails with Skyline Views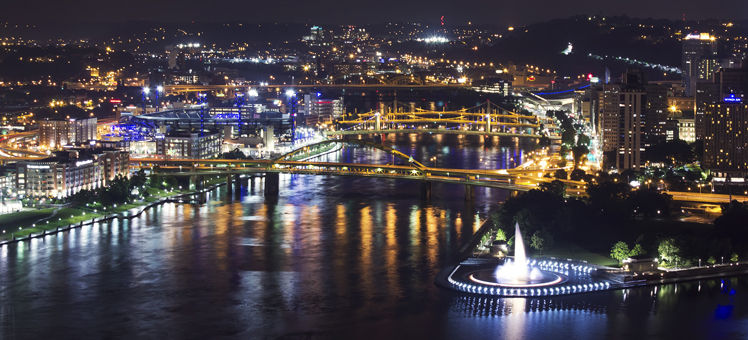 In Pittsburgh you'll have a vast choice of places to drink, hit the dance floor, or listen to live music. The 2 liveliest neighborhoods are The Strip and South Side. Oakland's nightlife is geared towards students. Downtown means a relatively quiet at night, with a focus on highbrow culture.
Bars and beer pubs
Known locally as the "South Side Crawl," you'll find dozens of bars along East Carson Street. But those who enjoy craft beer often head straight for Fat Head's Saloon, which has around 40 taps. Beer lovers also seek out Sharp Edge, which has 2 outlets in central Pittsburgh; Bistro in The Strip has 36 beer taps, while Beer Emporium in East Liberty has no less than 70.
Fat Head's Saloon
This pub serves beer from its sister brewery in Ohio, and offers a range of salads, sandwiches, and burgers.
1805 East Carson St., Pittsburgh, PA 15203Tel: +1 412 431 7433
Fat Head's Saloon website
Sharp Edge Beer Emporium
Sharp Edge has 70 draft beers and 250 bottled ones, as well as offering an extensive food menu.
302 South St. Clair St., Pittsburgh, PA 15206. Tel: +1 412 661 3537
Sharp Edge Beer Emporium website
Dance into the night
If you are in the mood to dance, 2 streets in Pittsburgh stand out. East Carson Street in South Side has several informal bars that transform into loud clubs as the evening progresses. Along Smallman Street in The Strip, old converted warehouses have been turned into party venues. Among the liveliest is Static, where DJs play high-energy dance tracks into the night.
Static
Open Fridays and Saturdays, Static claims to be the city's only high-energy dance venue.
1650 Smallman St., Pittsburgh, PA 15222. Tel: +1 412 720 1396
Static website
Live music
Venues across Pittsburgh host rock, jazz, and blues gigs. Altar Bar in The Strip presents both rock and hip-hop artists, as does Rex Theater in South Side. In the suburb of Munhall, Carnegie of Homestead Music Hall attracts mid-sized international rock acts. If you love jazz, visit James Street Gastropub & Speakeasy in Allegheny. Many regular bars also showcase local bands, often with free admission.
Altar Bar
In a converted church, Altar Bar attracts big-name acts from the worlds of punk, rock, and hip-hop.
1620 Penn Avenue, Pittsburgh, PA 15222. Tel: +1 412 206 9719
Altar Bar website
James Street Gastropub & Speakeasy
Live jazz and blues concerts featuring local and international artists take place here in a 1930s speakeasy-style venue.
422 Foreland St., Pittsburgh, PA 15212. Tel: +1 412 904 3335
James Street Gastropub & Speakeasy website
Cocktail lounges
Wine and cocktail lovers have a wide choice of upscale wine bars and lounges. In The Strip, Bar Marco has a reputation for handcrafted cocktails. There's no menu - bartenders concoct customized drinks based on your personal taste. The Summit, at the top of Mt. Washington, serves cocktails and wines in a chic environment, with views of the city skyline.
Bar Marco
This lounge customizes cocktails to suit individual tastes, and has an extensive cellar with wines from boutique vineyards.
2216 Penn Avenue, Pittsburgh, PA 15222. Tel: +1 412 471 1900
Bar Marco website
Catch a movie
Movie fans will not go wanting in Pittsburgh, as the city and its environs have several dozen multiscreen movie houses showing all the latest releases. There is also an Omnimax theater at the Carnegie Science Center. In Squirrel Hill, The Manor is an art-house movie theater that shows independent US releases and foreign language films.
The Manor
This art-house movie theater shows low-budget independent US releases and foreign-language movies that don't make it into regular theaters.
1729 Murray Avenue, Pittsburgh, PA 15217. Tel: +1 412 422 9851
The Manor website