Eats and treats in Croatia – a food and dining guide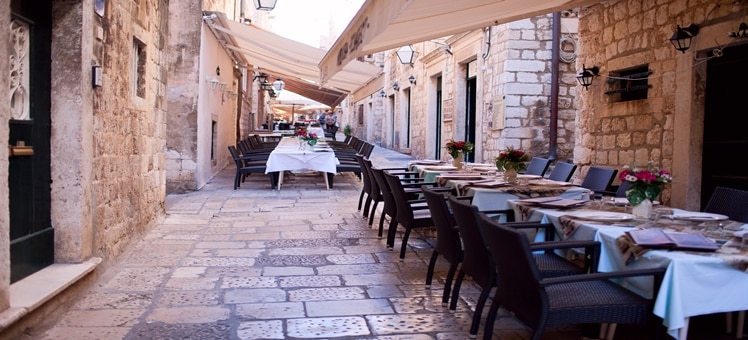 Whether you spend the day uncovering historical findings at one of the seven UNESCO World Heritage Sites, cooling off in the sparkling Adriatic, browsing the local boutiques or being at one with nature, you will want to refuel in one of the many Croatian eateries. From trendy to traditional, top-notch and budget friendly, the eateries of Croatia provide enough variety for even the pickiest pallet.
Croatian specialties include palačinke, tasty Croatian crepes and the sweet but 'moorish' fritule, mini Croatian donuts. On the savory side, punjene paprike (stuffed peppers), šcampi buzara (shrimps in sauce) and cevapi, (grilled minced meat) should all be sought out. Feeling brave? Brudet od jegulje (eel stew) is a local delicacy. Each area across the country is renowned for something. From cheese and lamb in the region of Pag, prsuto from Sinj, wine from Korcula, oysters from Ston, kulen sausage from Slavonija, custard cream cake from Samobor, to the popular dessert rozata from Dubrovnik.
Zagreb
For high-quality restaurants with domestic cuisine that continues to welcome crowds, Zagreb is flying the flag. Restaurants to look out for include Vinodol Restaurant, Okrugljak and Stari Fijaker. Pricey, yet popular restaurants featuring modern menus and gorgeous interiors include Atlanta Bocca Marai, Mano and the ever popular Dubravkin Put. Fast-food junkies will not be disappointed with the enormous offering of sandwich bars, pizza places and burger joints. Excellent newbies to add to the list are Papa's Bar and Grill situated in upper-class Tuskanovac neighborhood and Rocket Burger located on the busy street of Tkalciceva. This is definitely not the time or place to be working on your diet! We highly recommend splurging a bit and not passing on dessert, even if it is just to try traditional fritule (fried donut balls sprinkled with sugar) from a street vendor. Torte I To, Cukarin, The Cookie Factory, Amelie and Vincek are just a few of the places you can enjoy a lavish krempita (cream pie), a divine cheesecake or a warm strudel.
•
Restaurant Vindol
, Teslina 1, Zagreb, 10000. Tel: +385 1481 1427.•
Cookie Factory
, Tkalciceva 21, 10000, Zagreb. Tel: +385 99 4949 400.
Istra & Kvarner
This region of Croatia is extremely well known for its gourmet cuisine, fabulous wines and scrumptious specialties. Some of the best restaurants in the nation are found in Istra and Kvarner. Making it to top of our list are the following fabulous restaurants, Batelina in Banjole, Wine Vault in Rovinj, Johnson in Moscenicka Draga, Marina in Novi Grad, San Rocco in Brtonigla, Buscine in Umag, Dvi Murve in Porec, Pepenero in Novigrad, and Tramerka in Volosko. For some more traditional 'grandma's cooking' type restaurants, be sure to visit Toklarija in Buzet, Trost in Vrsar, or Stari Podrum in Momjan. A local dish in this area which you should definitely try is homemade pasta with truffles (fuzi sa tartufi), alongside a glass of white wine, Istrian Malvazija.
•
Trost
, Obala Marsala Tita 1a, Vrsar, Labin, 52450. Tel: +385 52 445 197.•
Dvi Murve
, Groznjanska 17, Porec, Labin, 25440. Tel: +385 52 434 115.
Dalmatia
The region of Dalmatia covers the greatest coastal area of Croatia, with this in mind you can be sure to enjoy some of the most spectacular fish dishes in the nation right here. Upscale restaurants in the region usually offer a table with an incredible view, as well as a great wine list with excellent local specialties. In this category our recommendations would be Restaurant Gariful on the Island of Hvar, Fosa in Zadar, Pojoda in Vis and Jeny in Tucepi. A few of the off beaten paths restaurants which are definitely worth the trek are Kapetanova Kuca in Ston, Feral in Brela, Villa Neretva in Metkovic, and Jastozera in Vis. If you are looking for a budget friendly restaurant that still offers incredible quality and local dishes visit our personal favourites Kalelarga in Makarska, Palmizana Meneghello on Hvar, or Fife in Split.
•
Restaurant Gariful
, Obala BB, Hvar, 21450. Tel: +385 21 742 999.•
Restaurant Feral
, Obala Kneza Domagoja 30, 21322 Brela, Makarska. Tel: +385 21 618 909.
Discover
Find your perfect holiday in Dubrovnik
From 1110 hotels.