Where to eat in the Bahamas – a food and dining guide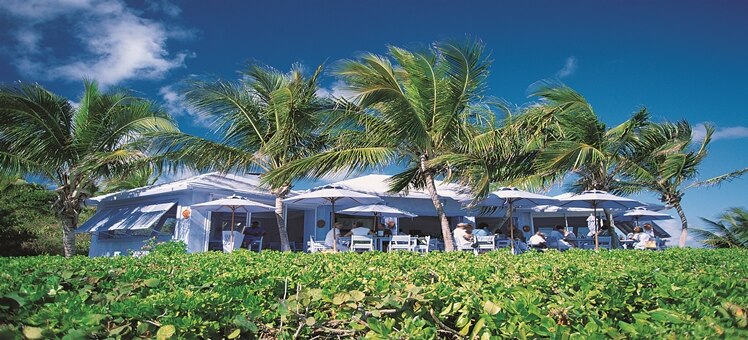 Fresh, filling and flavored with local spices, Bahamian cuisine is undeniably inviting. A diet consisting largely of seafood and shellfish including grouper, conch, lobster and crab, the Bahamas is an ideal spot for foodies (if you like fish, that is!). International gastronomy with a strong American influence can also be found around the islands, however, with surf-and-turf featuring highly on many menus.
To sample the national food of the Bahamas, try the conch. This tiny, tender mollusks are a Bahamian delicacy, often eaten by locals as a bar snack or even as a main dish like Conch salad.
Nassau
A hub of tourist activity from sightseeing to shopping, the Bahamian capital is also filled with many great spots to drink and dine. Known for serving a range of cuisine from authentic Bahamian grub to fine-dining international fare, there is a restaurant to suit all palettes. Head to Café Matisse for a casual Italian menu mixed with lots of local seafood, or, for the full blown 5-star dining experience, visit Graycliff Hotel.
•
Graycliff Hotel
, 8-12 West Hill Street Nassau Bahamas, W Hill St, Nassau N 10246. Tel: +1 242-302-9150•
Café Matisse
, Bank Lane, Nassau. Tel: +1 242-356-7012
Grand Bahama Island
With a more relaxed atmosphere than Nassau, the lesser developed island of Grand Bahama is another popular place to dine in the Bahamas. Bursting with beachside restaurants, alfresco terraces and regular fish frys, this island perfectly captures the relaxed Bahamian spirit. Make your way to Tony Macaroni's Conch Experience for some of an authentic dining experience on Taino Beach or book into the modern seafood restaurant Flying Fish for an added touch of evening elegance.
•
Tony Macaroni's Conch Experience
, Taino Beach Par, Taino Beach, Freeport, Grand Bahama Island. Tel: +1 242 533 6766•
Flying Fish
, Bell Channel Bay, Freeport, Grand Bahama Island. Tel: +1 242 373 4363
Harbour Island
Scattered with various different dining options, all in close proximity to one another, Harbour Island is a great place to eat out in the Bahamas. Usually offering authentic Bahamian food amongst a casual dress code and picturesque al fresco setting, these restaurants have more than enough charisma to keep you happy. Visit the Rock House Restaurant for an upscale menu in Dunmore Town or stop by Queen Conch for a laidback meal beside the harbor. •
Rock House Restaurant
, Bay St, Dunmore Town, Harbour Island. Tel: +1 242 333 2053•
Queen Conch
, Bay Street, Dunmore Town, Harbour Island. Tel: +1 242 333 3811
The Exumas
With some of the most attractive surrounding scenery, The Exumas are one of the most appealing places to eat in the Bahamas. Head to the main island - Great Exuma - to explore the pretty coastal settings and plethora of restaurants. You'll find locals flock to Big D's Conch Stop on Steventon to tuck into a tasty conch burger and salad as well as Santanna's Grill Pit for a rustic beachside brunch.
•
Big D's Conch Stop
, Spot No. 2, Government Dock, Great Exuma. Tel: +1 242 358 0059•
Santanna's Grill Pit
, William's Town, Great Exuma. Tel: +1 242 345 4102