Hawaii Food and Dining Guide - Restaurants, where to eat, and more
Hawaii Food and Dining Guide - Restaurants, where to eat, and more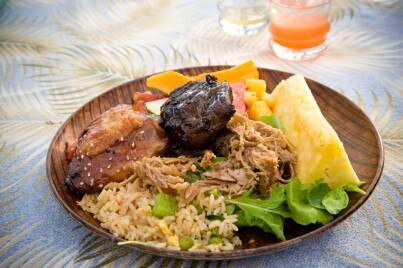 When it comes to eating, there is an excellent variety of culinary styles on offer in Hawaii including traditional Hawaiian, Portuguese, and a whole host of Asian and European flavors. Hawaii also specializes in fusion cuisine, which was mostly invented here.
Fresh seafood is popular here and there is a huge selection available. Although Hawaii has some excellent gourmet restaurants with food prepared by famous chefs such as Sam Choy, Alan Wong, Russell Siu and Roy Yamaguchi, cheap and tasty meals can also be bought from food carts and in the food courts of major shopping malls.

Some of the numerous traditional Hawaii dishes to try include lomi salmon, which is salted salmon mixed with tomatoes, onions and pepper, a pork dish called kalua pig, and dish called luau, where seafood is prepared in a mixture of boiled taro leaves and coconut milk.


Honolulu
Lovers of gourmet food will find an excellent selection of restaurants to choose from, many offering stunning oceans views from their dining areas. There are also branches of fast food outlets such as Zippy's and Bubbies for budget travelers.


Waikiki
Although many of the restaurants here serve large portions of quality food such as steak and lobster, eating in Waikiki doesn't have to break the bank. Many of the restaurants here cater for those on a budget and serve a range of Western and traditional Hawaiian dishes.


Kihei
Located on the southern part of the island of Maui, there are a good number of reasonably priced restaurants to be found here, ideal for those on a budget. Most eateries are located along South Kihei Road and those who want to pinch the pennies can purchase food at the grocery stores here.


Kauai
This area is great for those on a tight budget as cheap bites are available at plenty of places. Those who plan to spend time on the beach can also order a plate lunch and take it away with them to eat later.
Hawaii restaurants
Sam Choy's Diamond Head Restaurant
449 Kapahulu Ave, Waikiki
Phone: +1 808 732 8645
With food expertly prepared by the famous chef, Sam Choy's Diamond Head Restaurant offers diners a colorful array of gourmet seafood and traditional Hawaiian dishes.

Moose McGillyCuddy's Pub & Café
2511 South Kihei Road, Kihei
Phone: +1 808 891 8600
Offering diners a different special each night of the week, Moose McGillyCuddy's Pub and Café serves standard pub grub in a lively atmosphere.

Roy's Restaurant
6600 Kalanianaole Highway, East Honolulu
Phone: +1 808 396 7697
Run by celebrity chef Roy Yamaguchi, Roy's Restaurant never fails to draw the crowds. There are six branches of this restaurant located throughout Hawaii but this location is particularly popular as it features stunning views of Maunalua Bay.

Hamura's Saimin Stand
2956 Kress Street, Kauai
Phone: +1 808 2453271
Winner of the James Beard Award for quality food, this cheap and cheerful restaurant serves large bowls of noodle dishes with extras available such as wontons, roast pork and vegetables.

Find more information about Hawaii and hotels in the area:
Hawaii hotels | United States hotels