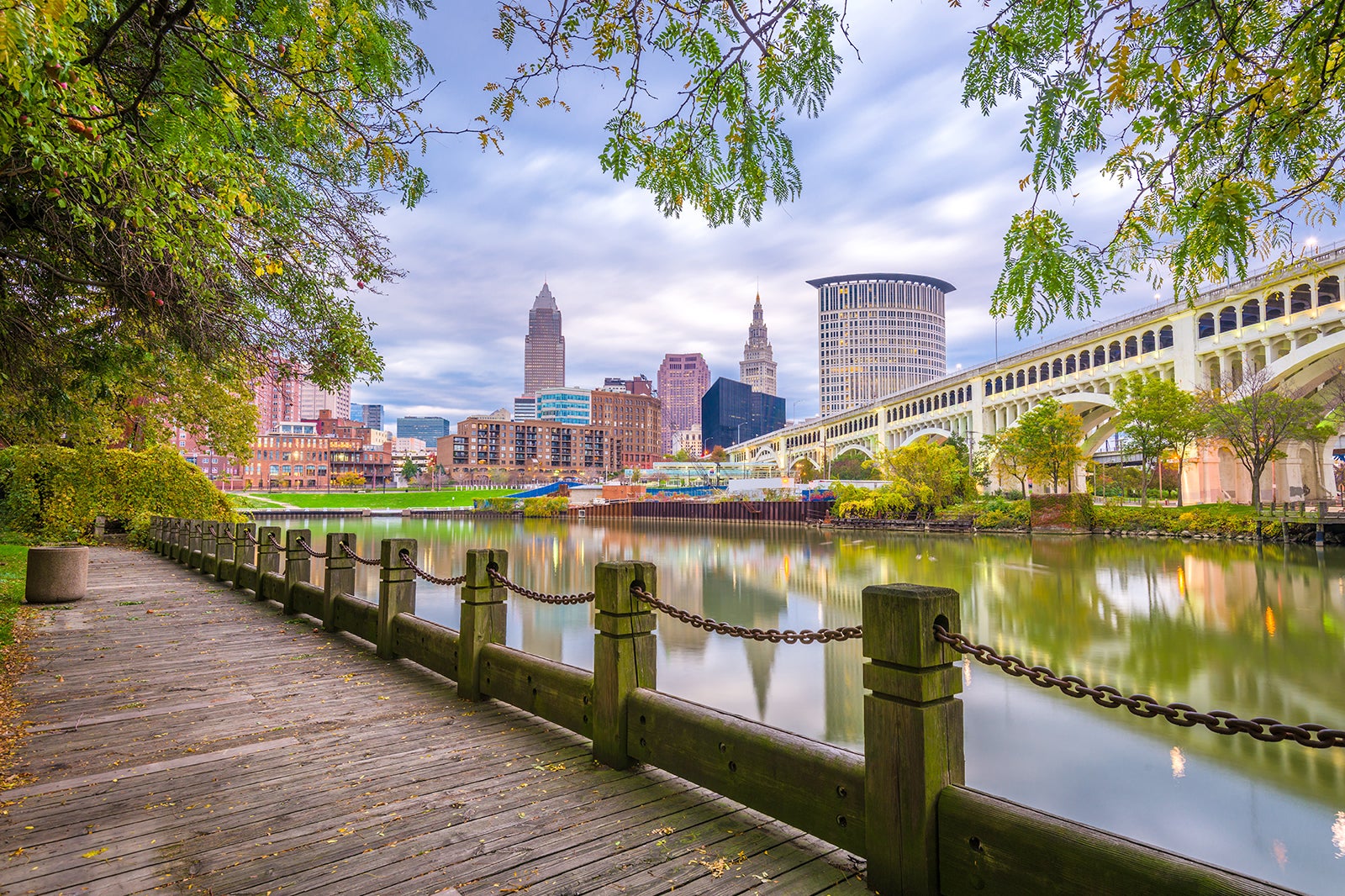 Cleveland
What you need to know before you go
Cleveland, one of the most iconic cities in the American midwest and the second-largest in Ohio, offers a combination of rustic charm and pristine modernization. Here, it's easy to immerse yourself in the local culture whether you're interested in theatre performances or taking in the exhibits at a museum. The Rock and Roll Hall of Fame is one of the city's biggest attractions and features unique architecture and memorabilia from some of the most legendary players in rock music history.
Cleveland is also home to more active adventure spots, such as Flats East Bank, where the Cuyahoga River converges with Lake Erie, offering plenty of opportunities for kayaking, fishing and watersports out on the lake. The Cleveland Botanical Garden is a popular spot for visitors looking for a bit more color, as more than 20 unique gardens here showcase flora found not only in the local area but around the world as well.
Where to shop & what to buy in Cleveland
10 Best Places to Go Shopping in Cleveland

Cleveland, Ohio, offers great options for shopping, from malls with the biggest brand names to unique ethnic and locally made arts and crafts to find that perfect souvenir. From a legacy public market space to multi-floor indoor shopping malls, you can find designer clothing and bags, handmade artwork to hang on your wall, fresh foods and delicacies, and toys...
Where to go & what to do at night in Cleveland
10 Best Things to Do After Dinner in Cleveland

Cleveland has a wide and diverse selection of nightlife that includes ethnic neighborhoods, pinball and video arcades, music and comedy clubs, and even ninja warrior courses. In this city, your fun and excitement don't have to end after dinner. Head to a classic jazz club dressed to the nines for a craft cocktail. You can climb rock walls and ropes...
Cleveland Travel Essentials

Our Cleveland Travel Essentials guide includes information about the best times to travel to Cleveland, the weather and climate here, how to get around, and other important information for your trip. We'll look at getting to your hotel, popular annual events and festivals in the city, and some of the biggest attractions and landmarks you'll want to be sure to...
Back to top