10 Best Things to Do in Yeosu
What is Yeosu Most Famous For?
The name Yeosu means "beautiful (yeo) waters (su)". As the name suggests, there's an abundance of beautiful ocean views in Yeosu. The clean waters and countless uninhabited islands of the southern sea mean that Yeosu is full of great spots across land and water. Yeosu is renowned nationally for having some of the most picturesque places for driving, walking, trekking and bathing, as well as for appreciating the sunrise and night-time panoramas.
Just as the beauty of this city was famously captured in the song "Yeosu Night Sea", the nightscapes of Yeosu leave you with memories to be cherished for years and years. Yeosu, full of not only things to see but also eat, is a must-stop destination no matter the season.
What are the best things to do in Yeosu?
Couples
Adventure
Single
Group
The island of Odongdo, famous for camellia, is often said to be one of the first destinations travelers must visit in Yeosu. It's just a short 10-minute drive from the city centre, so there's really no excuse for missing out. You can walk along the seawall or take the camellia train from the entrance to the island. Odongdo has a dense forest of evergreens such as camellia trees and bamboo. Camellias begin blooming in October and are in full bloom by April, and their beauty is what makes Odongdo so famous and special. A trail encircling the island offers a chance to slowly take in a natural beauty. You can also climb to the lighthouse observation deck and take in a panoramic view of the archipelago.
Couples
Adventure
Single
Group
Dolsan Park is your best bet for a panoramic view of Yeosu in its full glory at a glance. The park is situated at the entrance to Dolsan Island off the coast of Yeosu and is considered a must-see destination. The best views of the city can be had at night when Dolsan Bridge and Yeosu Port are fully lit. Dolsan Park is also home to a marine aerial cableway that will take you over the sea to Jasan Park. It takes about 15 minutes to cross, and you can sit back and savor bird's-eye views of the surrounding sea, Yeosu, Janggundo, Geobukseon Bridge and Hamel Lighthouse.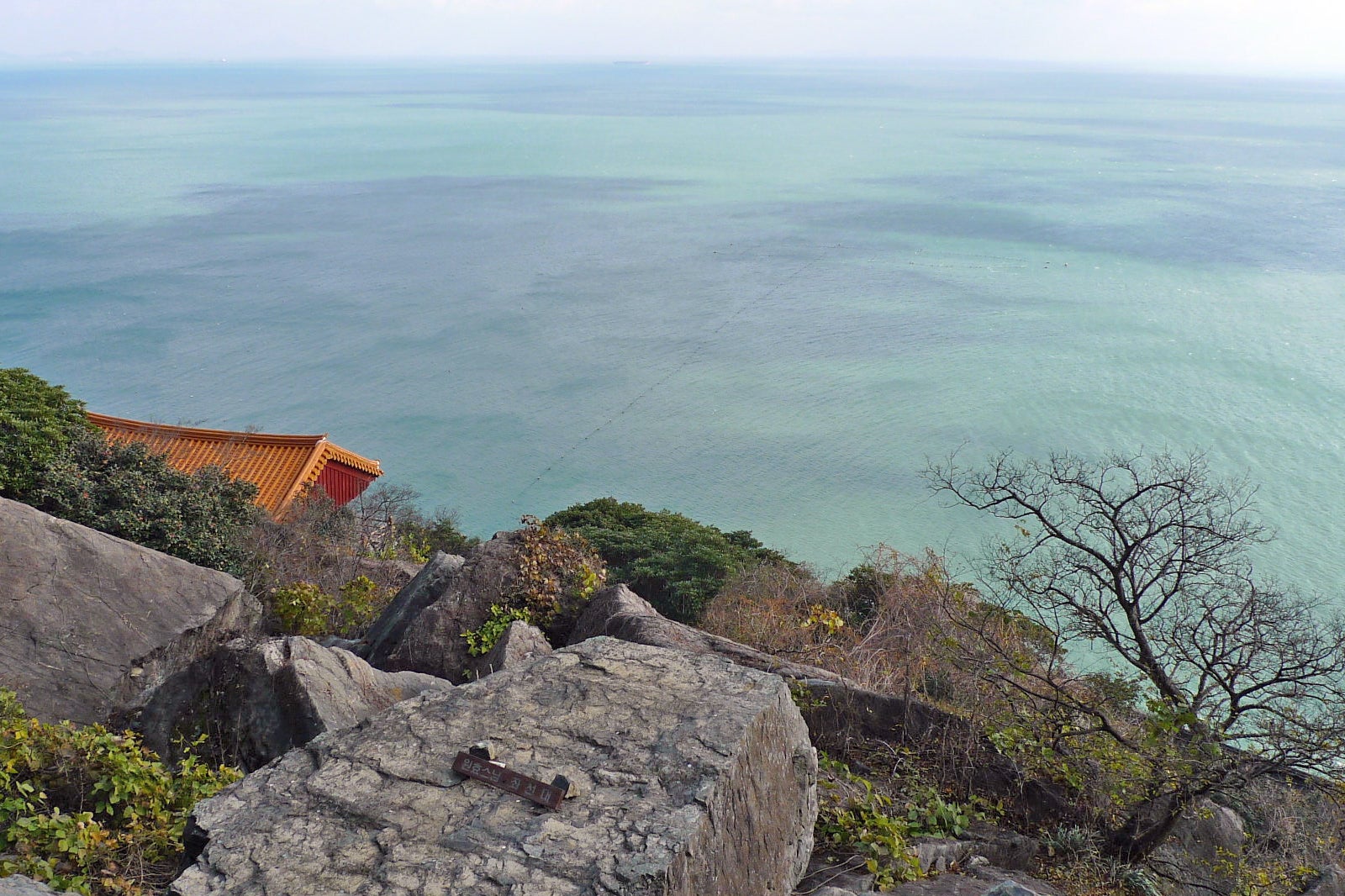 Couples
Adventure
Single
Group
Hyangilam is a temple situated on a steep cliff on Mt. Geumo at the southern end of Dolsan Island. The name means "facing (hyang) the sun (il)", and as it suggests, the temple is a great spot for viewing the sunrise. It was founded by the famous Silla-era Buddhist Wonhyo and is one of four major destinations in Korea for bodhisattva prayers. To climb to the temple, you have to pass through narrow gaps in the rocks. There are seven such gaps in total, and it is said that passing through all gaps will grant you a wish. The front of the inner sanctuary is a famous spot for sunrise viewing and gets rather crowded on New Year's morning. Behind Hyangilam is Mt. Geumo, where a panoramic view of the southern sea awaits you.
Location: 60 Hyangilam-ro, Dolsan-eup, Yeosu-si, Jeollanam-do, South Korea
photo by 날개 (CC BY-SA 3.0) modified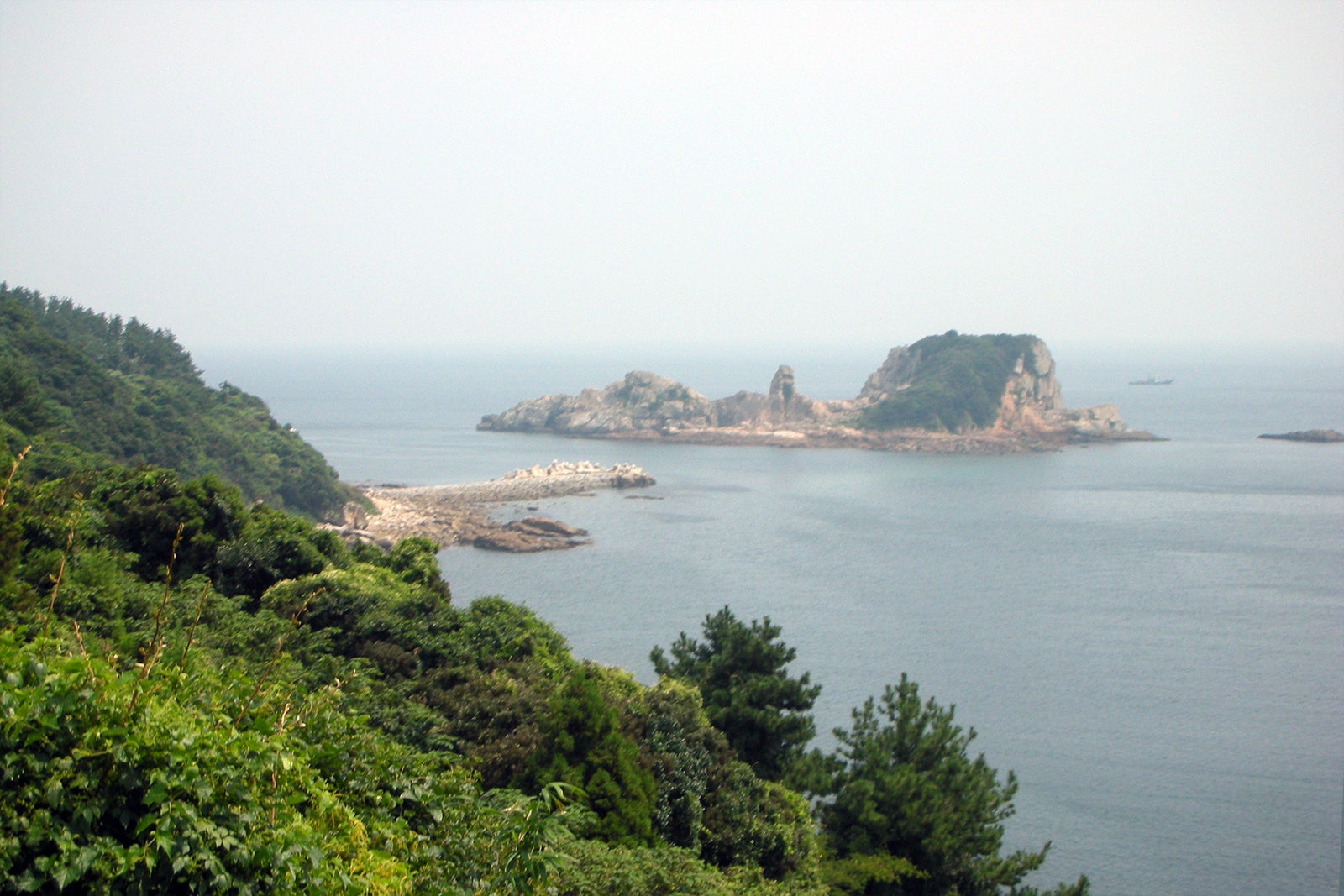 Couples
Adventure
Single
Group
Geomundo is a two-hour boat ride from Yeosu (114 km to the southwest) and is the southernmost island of the region. It's situated right between Yeosu and Jeju-do. Lush camellia forests are strewn throughout, and you can see the picturesque blue sea and islands dotting the archipelago from Geomundo. Geomundo Lighthouse, a symbol of the island, has a long history and is famous for its panoramic views. There are relics related to the British Army who once occupied Geomundo in the late Joseon period. You can also travel to Baek-do, an island that offers the most magnificent views of the southern sea. It's a popular destination for bathing, fishing and trekking.
photo by emailer (CC BY-SA 2.0) modified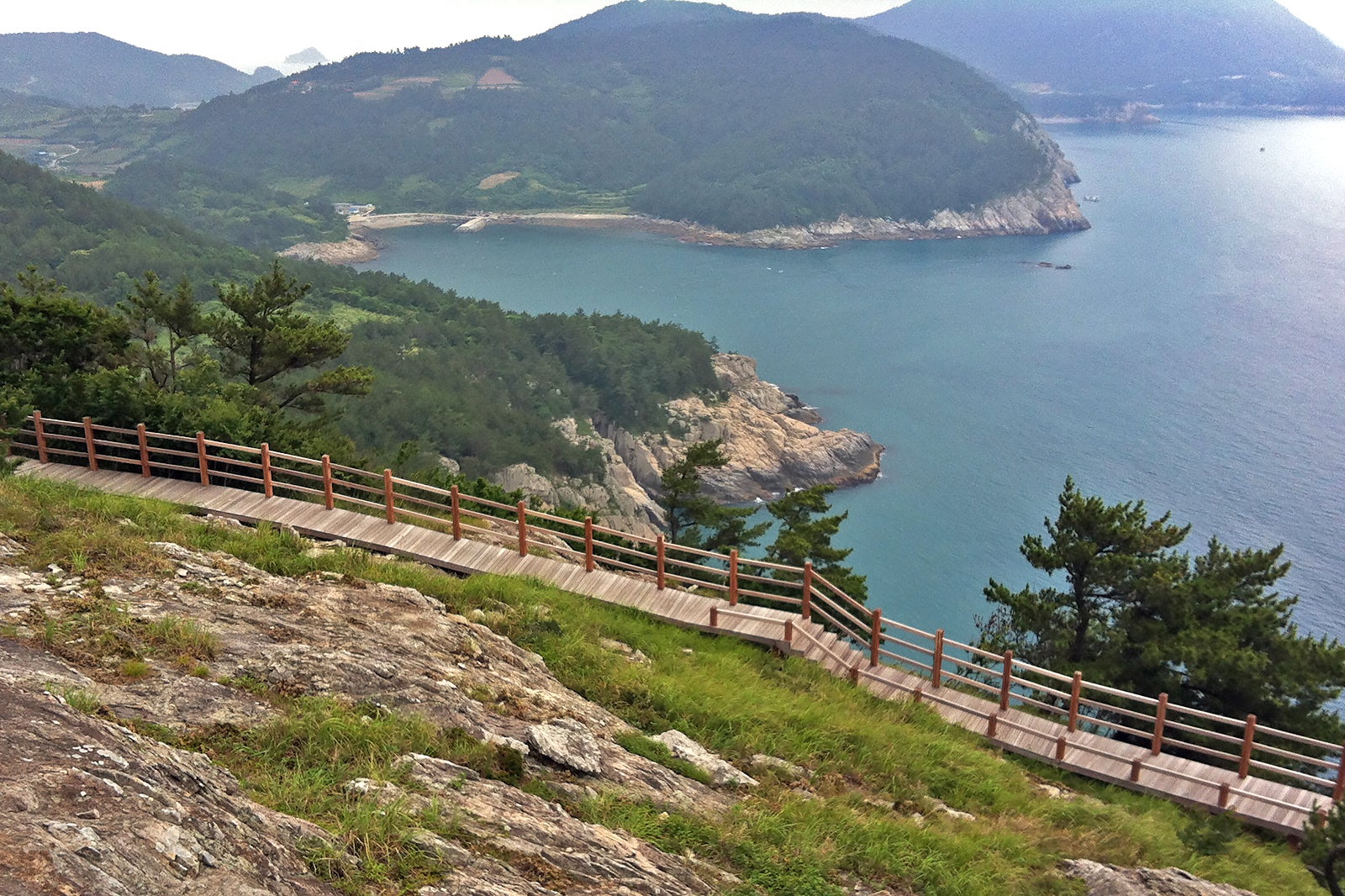 Couples
Adventure
Single
Group
Meaning "cliff" in the Yeosu dialect, Bileong is a trail in Dadohaehaesang National Park on Geumo-do. Needless to say, the trail runs along the seaside cliffs. It's emerged as a premier trekking spot thanks to superb views of the surrounding blue sea and coastal rock formations. The 18.5-km trail is divided into five courses, and it takes about 9 hours to complete the entire trail. People typically complete one or two courses on a given day. Geumo-do is also a famous fishing spot for catching blackhead seabream. Reaching the island takes about 1 to 2 hours from Yeosu, but this can vary depending on the ship.
photo by Republic of Korea (CC BY-SA 2.0) modified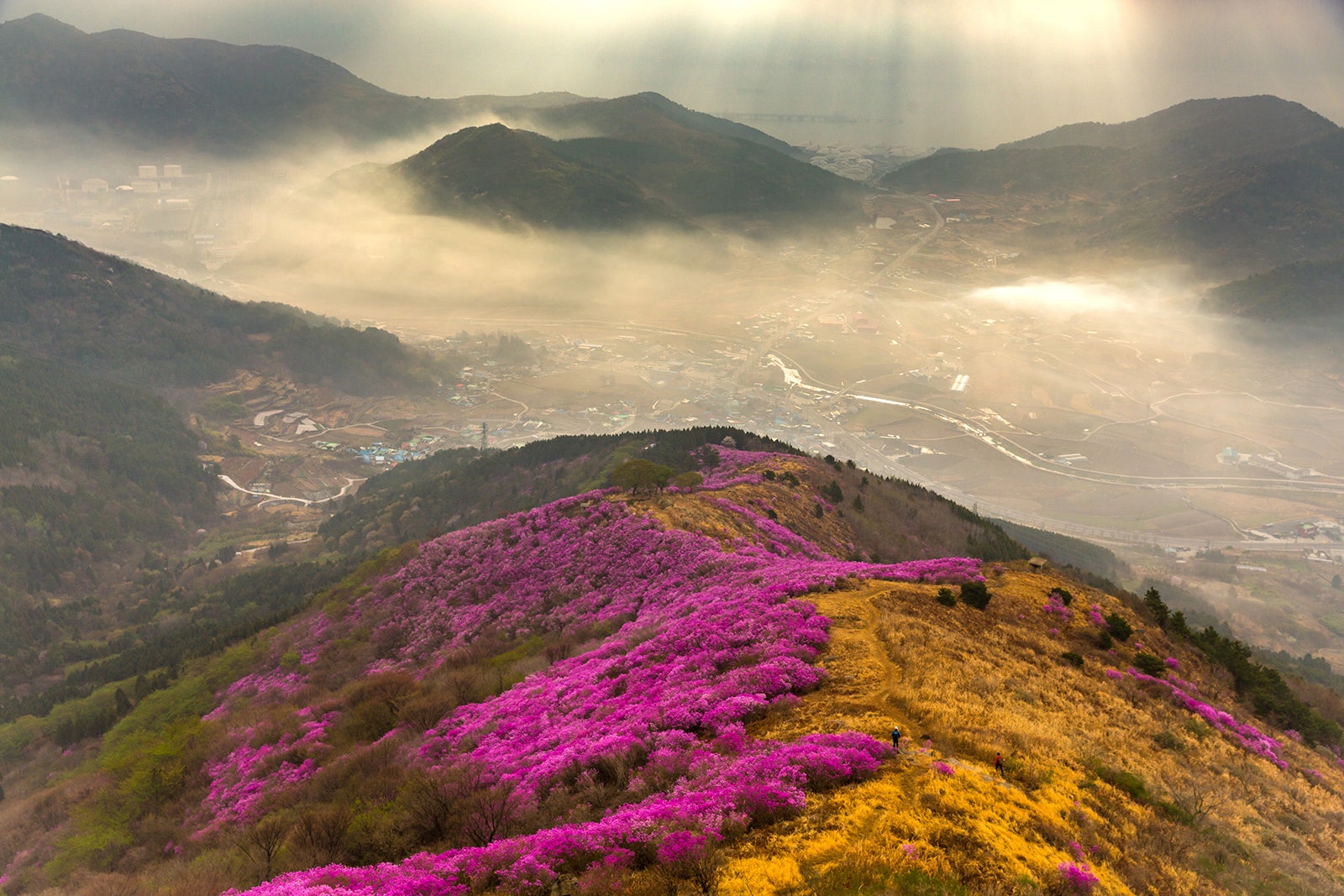 Couples
Adventure
Single
Group
Yeongchwisan must not be missed if you happen to be traveling to Yeosu in April when azaleas are in bloom. The mountain, spanning Samil-dong and Sangam-dong, is about 510 meters above sea level, so you can easily hike there with your family. It's one of the top three destinations in Korea for azaleas, and it happens to be where the flowers bloom the earliest. In early April, you'll be treated to a spectacular view of azaleas that turn the mountain bright red from the middle up to the summit. If you make it to the summit, you can overlook the archipelago, Gwangyang Bay and Yeocheon Industrial Complex. If this sounds up your alley, be sure to visit in April when the Azalea Festival is held.
Couples
Adventure
Single
Group
Jongpo Marine Park is a park built along the coast by Yi Sun Shin Square in downtown Yeosu. Yi Sun Shin Square can be found to the west, and Hamel Lighthouse can be found to the southeast. There's nothing better than taking a walk in the park to fully appreciate Yeosu's seascape. You can view Yeosu sea, Dolsan Bridge, Janggundo Island, Tortoiseon Bridge and the marine aerial cableway at a glance. Yeosu is a city of lights that really comes alive at night. Yeosu Street Food Market is a famous night-time hot spot that's filled with people enjoying the Yeosu sea at night.
Couples
Adventure
Single
Group
Angel Mural Village is located on the hills of Goso-dong and overlooks Yeosu and the sea. Divided into nine zones, each zone of the village sports a unique theme. You can even see murals of Tazza and Sikgaek, two works by manhwa (comic book) artist Huh Young-man, a Yeosu native. Climb to the top of the village where glimpses of old Yeosu can still be seen, and you'll end up at Opodae, which offers a panoramic view of Yeosu. Angel Mural Village is popular with younger crowds thanks to the numerous photo spots and charming cafes. The area is bigger than it seems, so plan your visit well in advance.
Couples
Adventure
Single
Group
Bangjukpo Beach is a small, cozy beach located at the southeastern tip of Dolsan-do. The water is shallow, and the seafloor slopes gently, making it an ideal beach for families with children. An old pine forest can be found behind the sandy beach, providing cool shade to those seeking respite. The surrounding scenery is picturesque all throughout the year, so you should be in for a treat no matter the season. The coastal road from Bangjukpo to Impo, where the temple Hyangilam is located, is quite scenic, and a trekking path was completed recently along the coast of the Yeosu estuary for those seeking something a bit slower-paced.
Couples
Adventure
Single
Group
Baekyado is a small island in Hwajeong-myeon, Yeosu. It's been a popular tourist destination near Yeosu since the opening of Baekya Bridge, making the island easily accessible. From the summit of Mt. Baekho, you can see a superb view of Dadohaehaesang National Park. It's also famous for its sunrise and sunset viewing. The island has well-developed ecological trails for those seeking quiet walks. Along with Mongdol Beach, Baekyado Lighthouse is a popular attraction here. Naturally, the lighthouse offers splendid views of the southern sea. Plenty of fishing spots means that the island is also quite popular with ocean fishing enthusiasts.
Back to top