Best Places to Shopping in Gangneung
Where to Shop and What to Buy in Gangneung
Shopping in Gangneung is mostly concentrated on its traditional marketplaces, where you can experience the local culture and shop for a wide range of goods. Some of the city's most sought-after places to shop are Gangneung Jungang (Central) Market and Jumunjin Fish Market. Both markets sell everyday items, but their seafood section is often the liveliest – expect a huge crowd of tourists looking for fresh raw seafood and dried fish.
1
Gangneung Jungang Market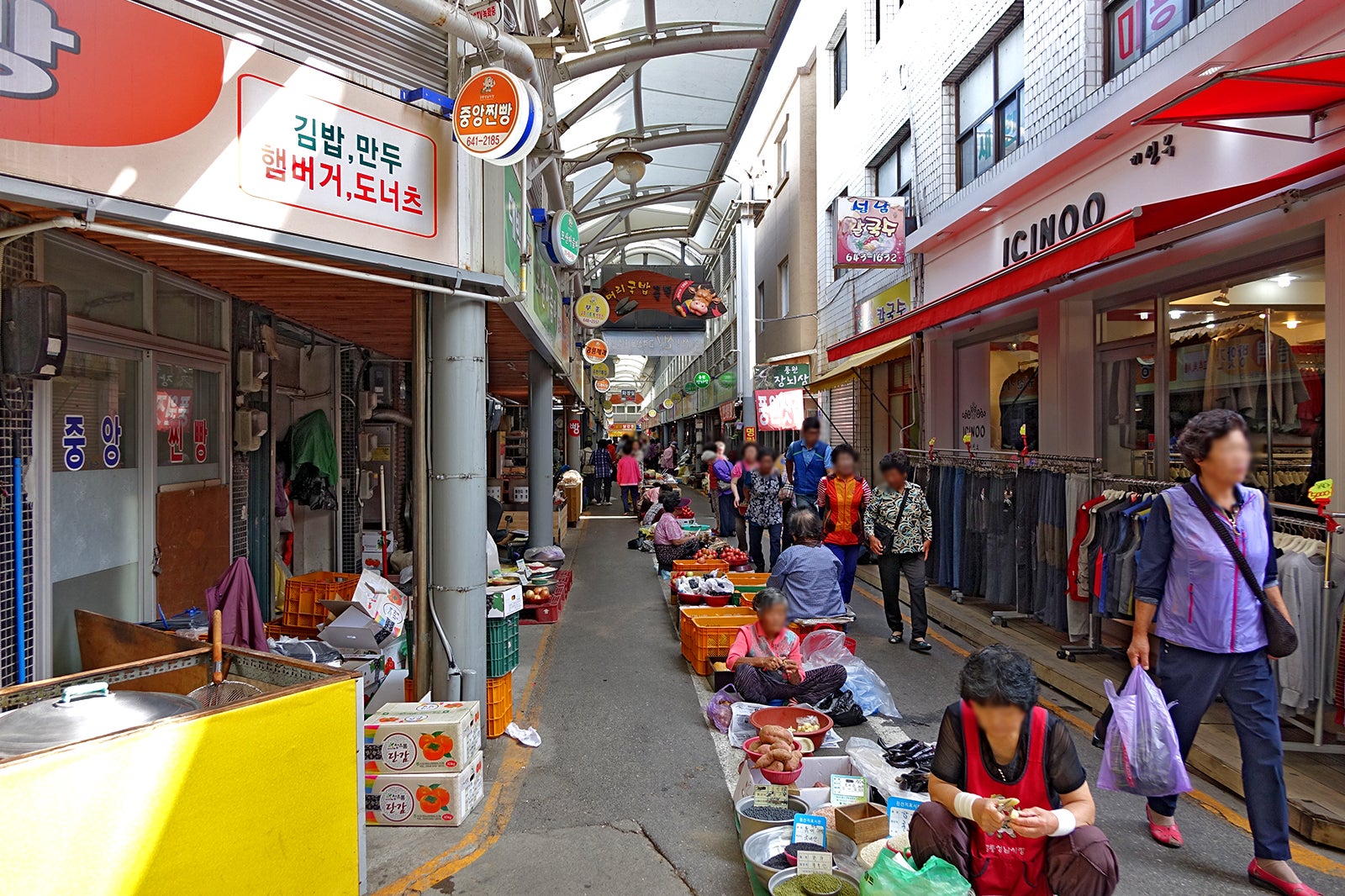 Gangneung Jungang (Central) Market is a historic traditional market in the Yeongdong region of Gangwon-do. You can find everything from daily essentials to food, but the seafood section on the 1st basement level is a favorite among tourists.
You can shop for both live and dried fish, or go to the market's raw seafood (hoi) center to have it prepared right in front of your eyes. There are also plenty of casual dining options specializing in snacks and light meals. The market is also quite famous for sweet and spicy fried chicken (dak-gangjeong), ice-cream pancakes (hotteok), and fishcake croquettes, so don't forget to try them while you're there.
Location: 21 Geumseong-ro, Gangneung-si, Gangwon-do, South Korea
Open: Daily from 8.30 am to 9 pm
Phone: +82 (0)33-648-2285
Jumunjin Fish Market is a place where you can buy fresh seafood at reasonable prices in Gangneung. Most come from the East Sea and brought in through Jumunjin Port. The market has sections for live and dried fish, as well as an area where the fish you have purchased can be prepared directly on the spot.
Jumunjin Fish Market is a must-visit if you happen to be traveling during squid season. Snow crab, red crab, and king crab are also popular among travelers. If you've had your fill of seafood and are looking for a little diversion, there's a marine museum with free admission within the fish market.
Location: 38 Sijang-gil, Jumunjin-eup, Gangneung-si, Gangwon-do, South Korea
Open: Monday–Friday from 7 am to 10 pm, Saturday–Sunday from 7 am to 9 pm
Phone: +82 (0)33-661-7302
Back to top