Hong Kong Festivals
Celebrations and Events in Hong Kong
Hong Kong festivals are often lavish affairs with street parades, packed temples, traditional music and dance performances. Chinese New Year is the most important celebration in Hong Kong and many Asian countries, but the city also has plenty of unique festivals you might not find elsewhere.
Buddhist and Taoist events are observed according to the lunar calendar, which means that the dates shift on a yearly basis. Some of Hong Kong's biggest festivals usually take place in January or February (Chinese New Year), May, and October. It's best to book your flights and accommodations far in advance as prices tend to soar during these months.
1
February: Chinese New Year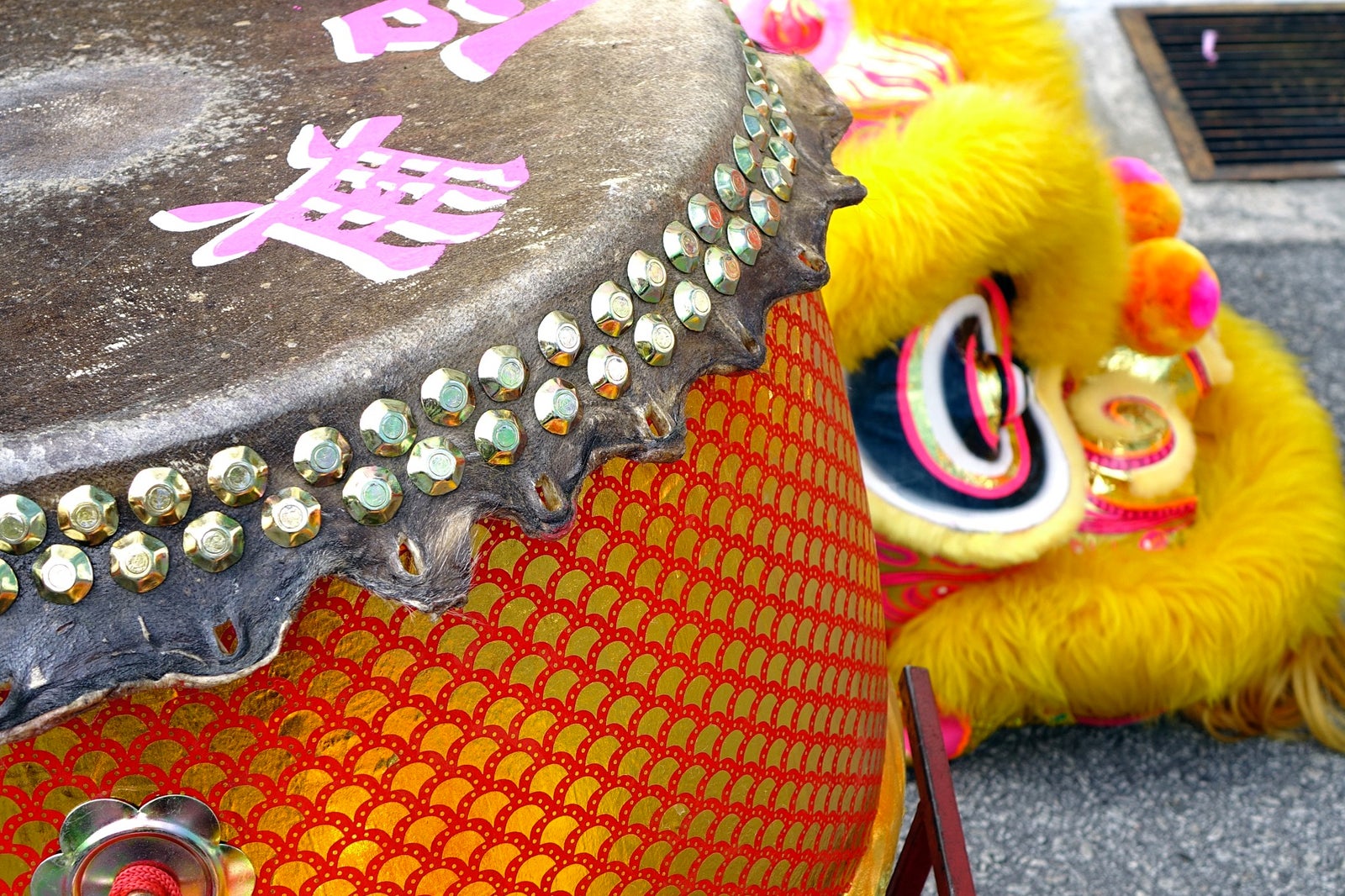 Chinese New Year is one of the biggest celebrations in Hong Kong (and China), as this spring festival brings new hopes for the coming year. It's a time for family reunion dinners and visiting the homes of close friends and relatives.
Red symbolizes good luck and is found everywhere, from paper lanterns and incense sticks, to clothes and jewelry. Of course, wearing black or dark colors is frowned upon in many traditional Chinese households.
A common practice during Chinese New Year is young children and unmarried people receiving red packets from their elders and married relatives. These packets, called ang pow, contain money – the amount varies but often ends with an even digit.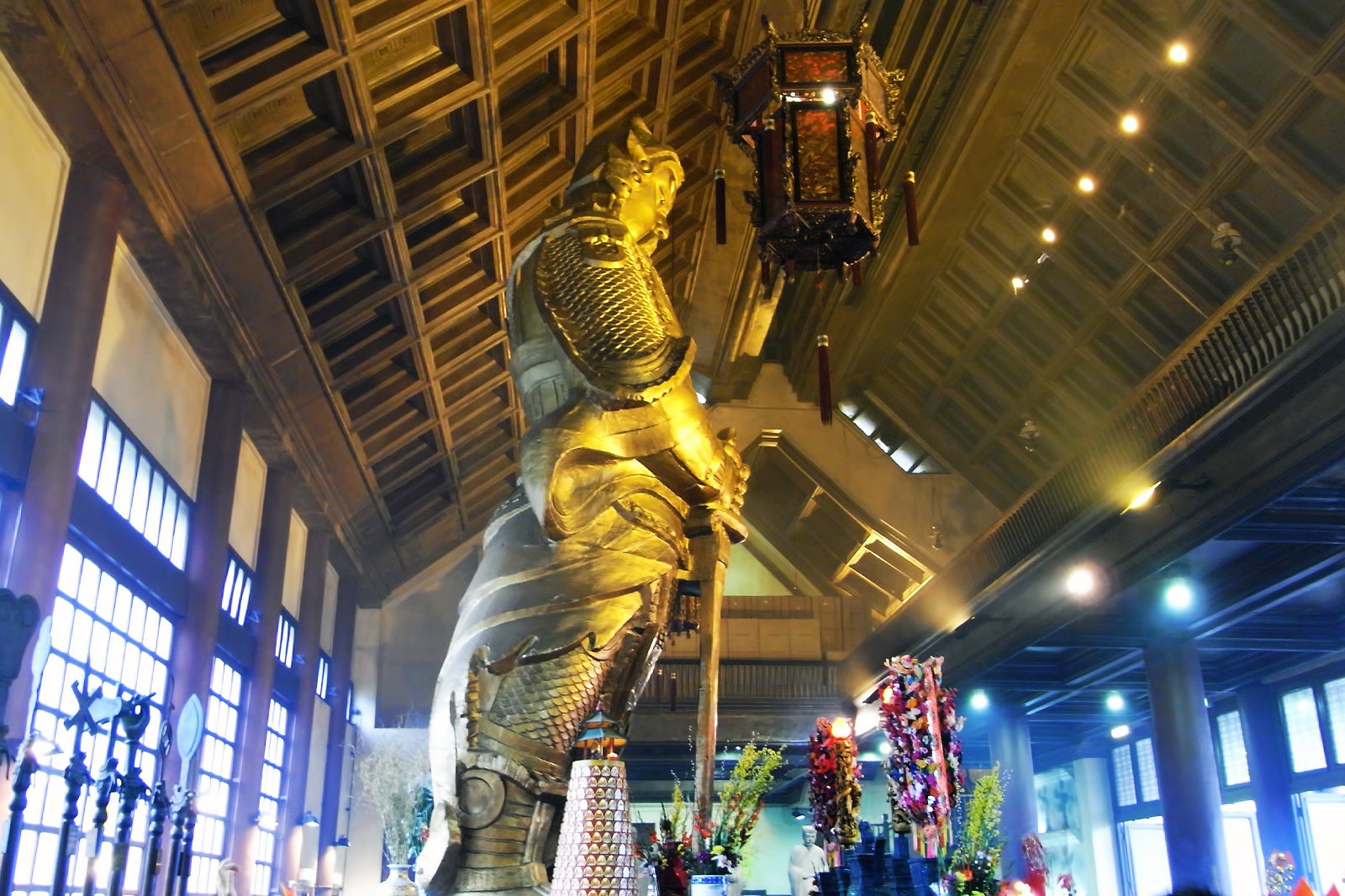 Che Kung was a renowned military commander during the Sung Dynasty (960–1277). Devotees have been faithfully praying to him for centuries, ever since he saved the inhabitants of Sha Tin Valley from a devastating plague. The Birthday of Che Kung is celebrated on the 3rd day of the 1st lunar month. On this day, you'll see thousands of people at the Che Kung Temple in the New Territories.
Read more
photo by Hufoungaow (CC BY-SA 3.0) modified
3
Late-February: Spring Lantern Festival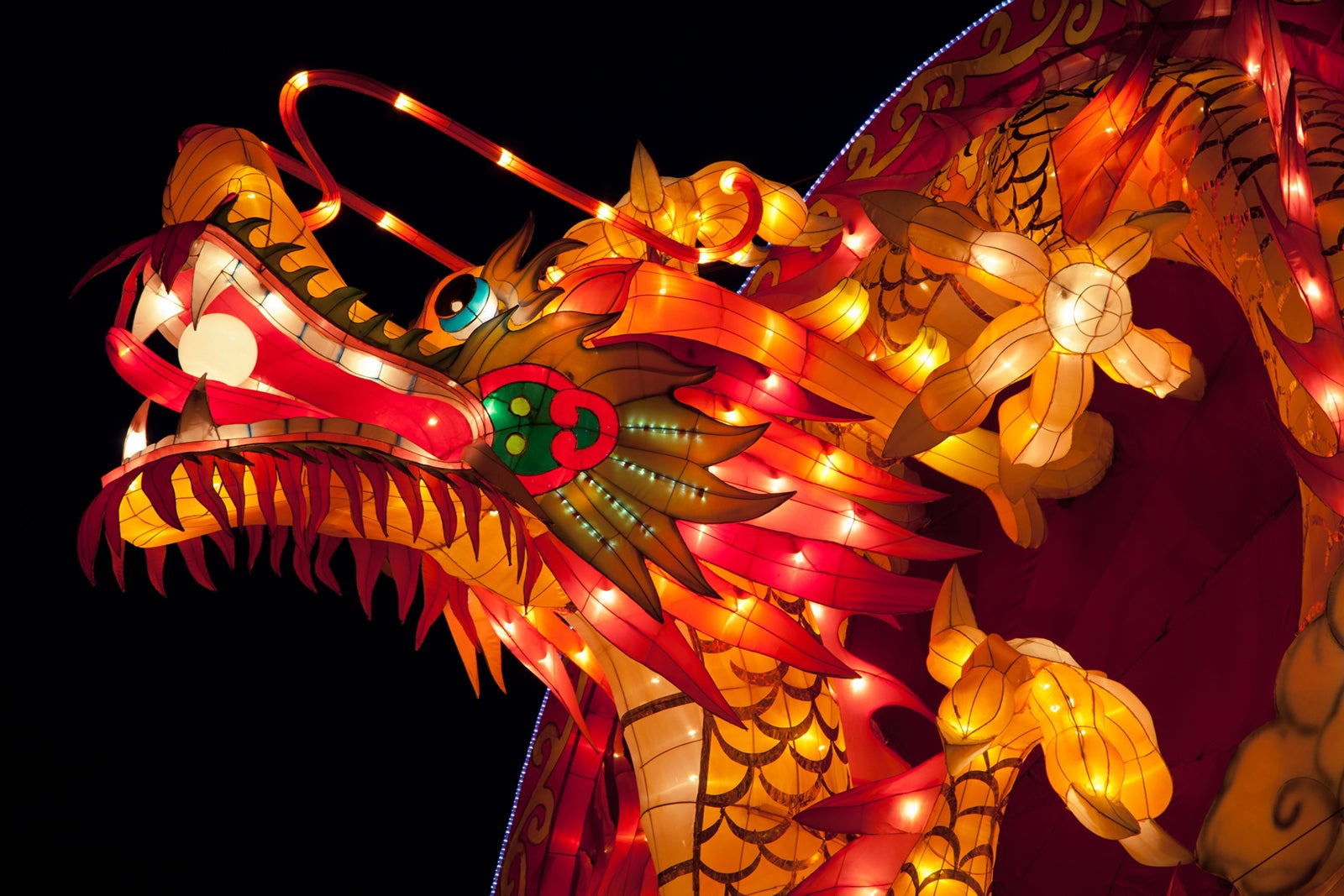 The Spring Lantern Festival takes place on the last day of the Chinese New Year celebrations, usually end of February or early March. You'll see colorful lanterns of various shapes and sizes everywhere in Hong Kong – along the streets, in parks, homes, markets, hotels, and restaurants. The festival is also called Chinese Valentine's Day, and often sees singles participating in matchmaking games throughout the day.
4
April: Qingming Festival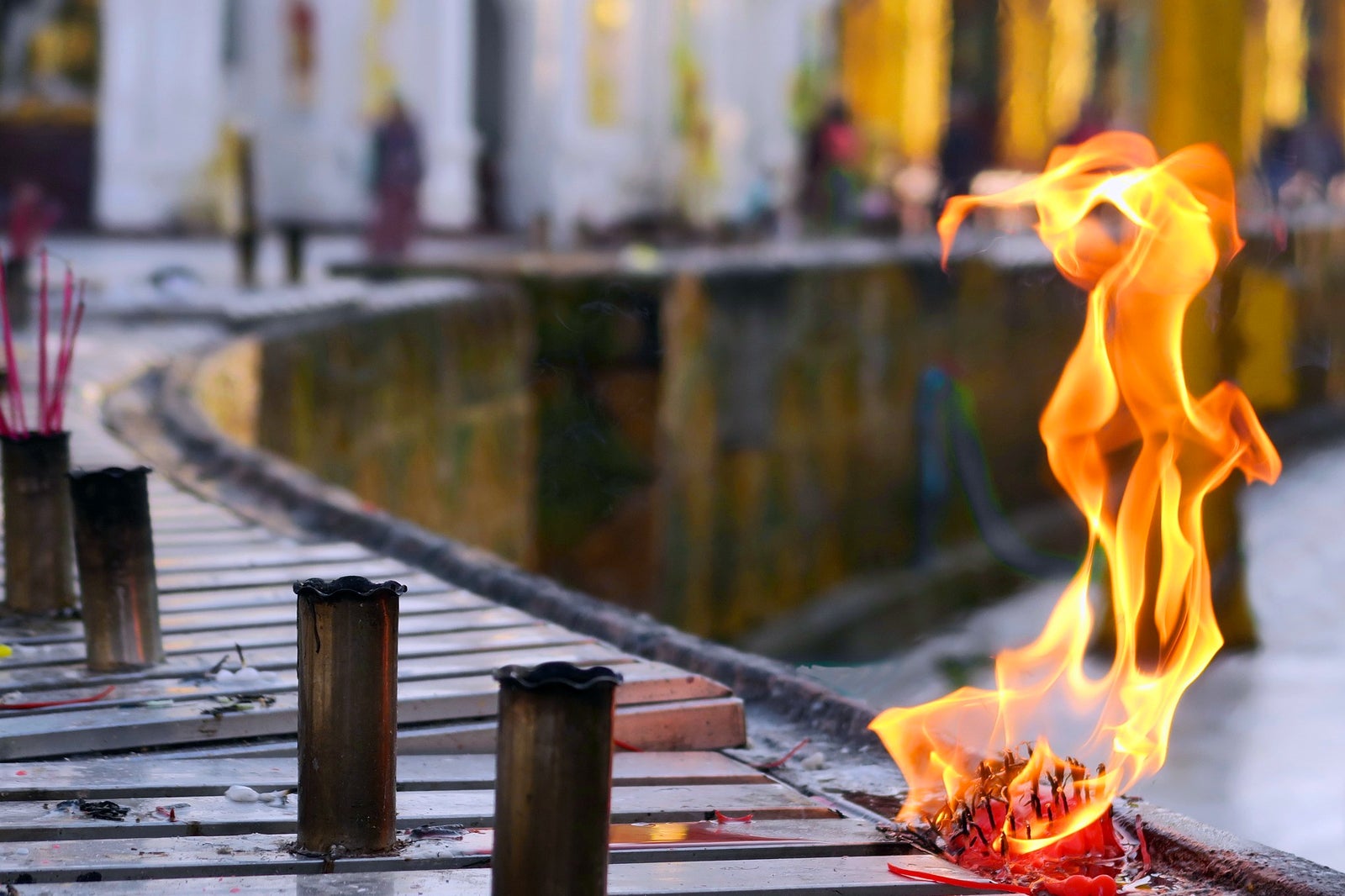 Qingming Festival is a time for a show of filial piety for one's dearly departed. Also called Tomb Sweeping Day, this tradition is practiced by the Han Chinese of Hong Kong (and Asian countries like Malaysia and Singapore). Locals pay visits to the graves of family members to sweep the burial sites, decorating them with flowers. Joss papers and paper models of luxury items are also burned for the dead to use in the afterlife.
5
Late-April: Birthday of Tin Hau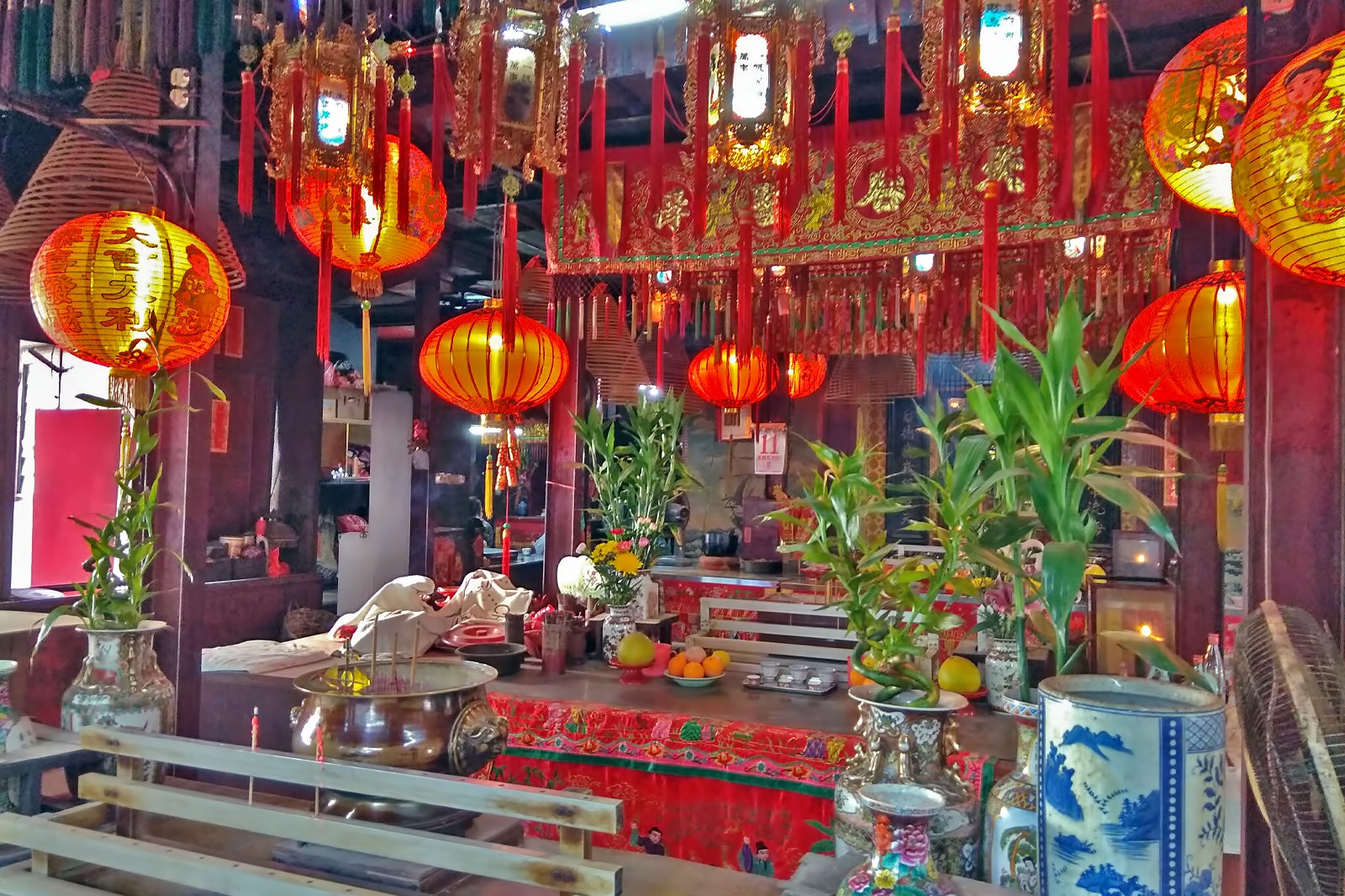 Tin Hau is known as the Goddess of the Sea, and is worshipped at over 70 temples in Hong Kong honor the event. Her birthday is said to fall on the 23rd day of the 3rd lunar month, with street processions, lion dances, dance performances taking place throughout the day. It's one of the best time of the year for local fishermen to pray for prosperity, good weather and safety at sea.
photo by Underwaterbuffalo (CC BY-SA 4.0) modified
6
May: Cheung Chau Bun Festival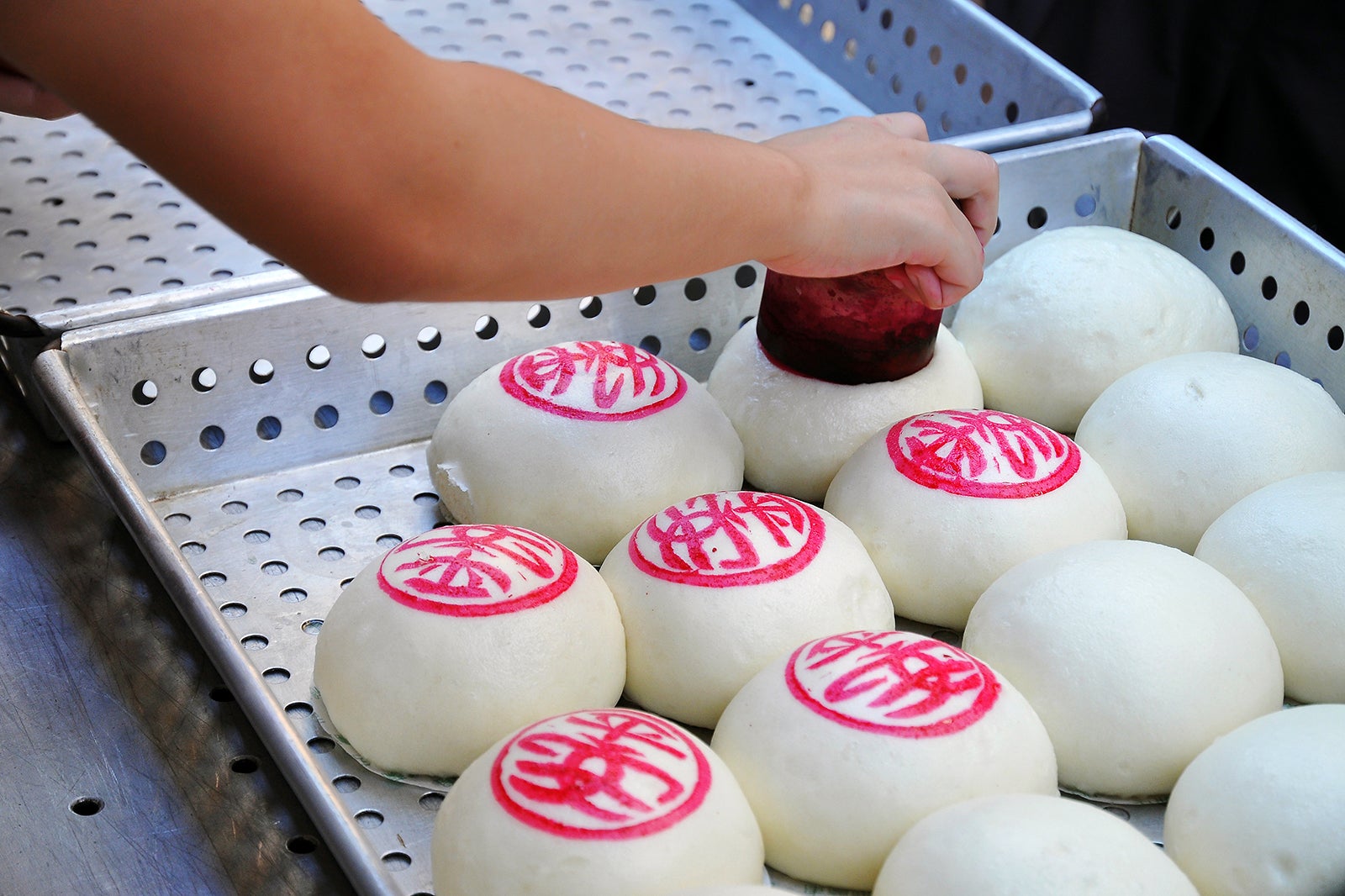 Cheung Chau Bun Festival is held in honor of the deity Pak Tai, who drove away evil spirits from the island. The festival takes place over the course of a week (during the 4th lunar month) on the island of Cheung Chau in Hong Kong.
The usually quiet island receives thousands of visitors during this annual event, which consists of Taoist ceremonies, lion dances, and games. The festival's most unique feature is a gigantic tower of sweet buns, where 12 participants selected from preliminary competitions race against each other to grab the ones on the highest level.
7
May: Birthday of Tam Kung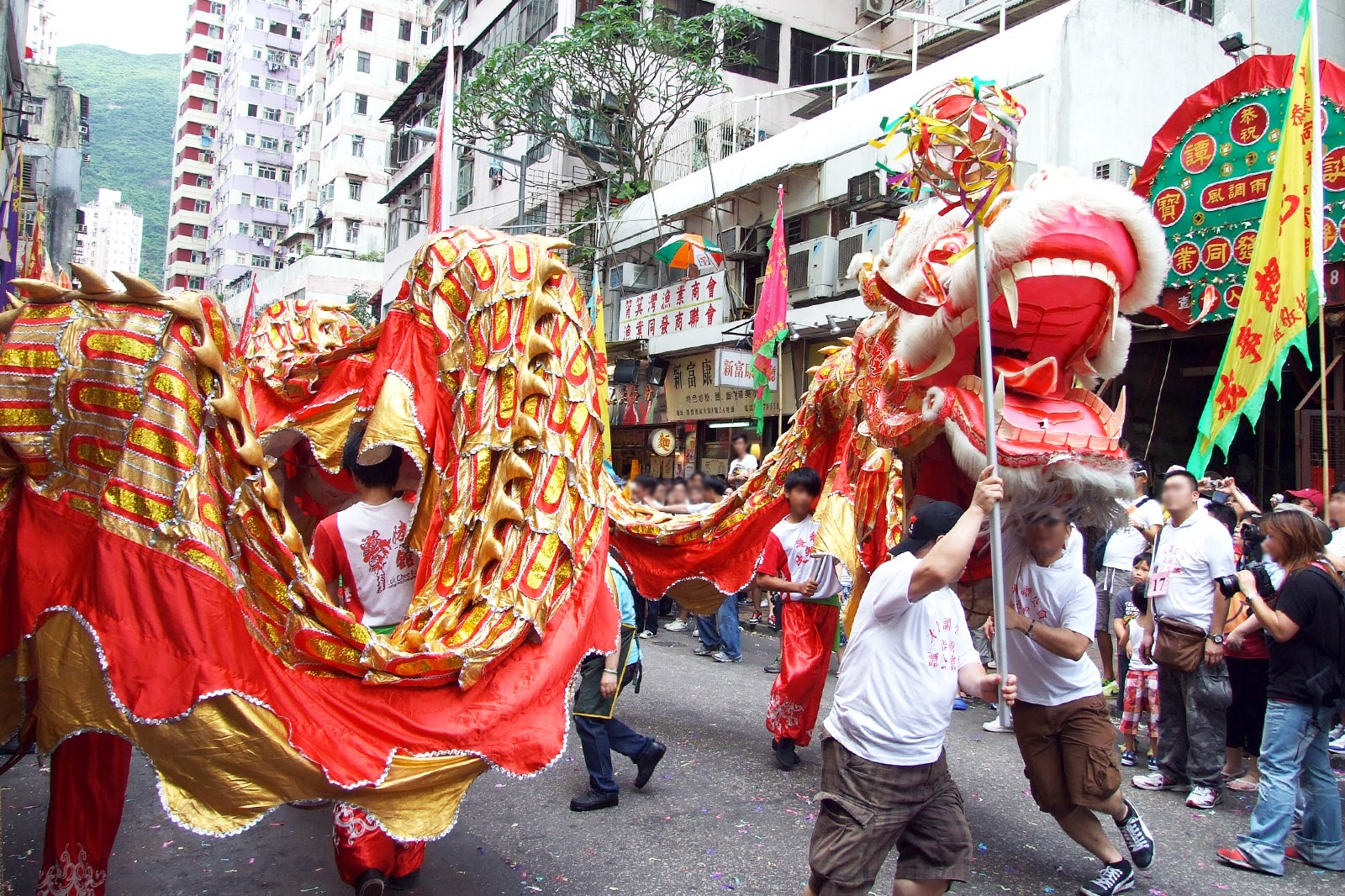 Tam Kung, like Tin Hau (Goddess of the Sea), is a revered deity among the fishing communities of Hong Kong and China. The Tam Kung Temple on Hong Kong Island celebrates his birthday on the 8th day of the 4th lunar month, usually in April or May. Expect a festive atmosphere of street parades, firecrackers, traditional ceremonies, and lion dances.
photo by Chong Fat (CC BY-SA 3.0) modified
Wesak Day, also called the Enlightenment Day of Lord Buddha, is observed at all temples and monasteries throughout Hong Kong.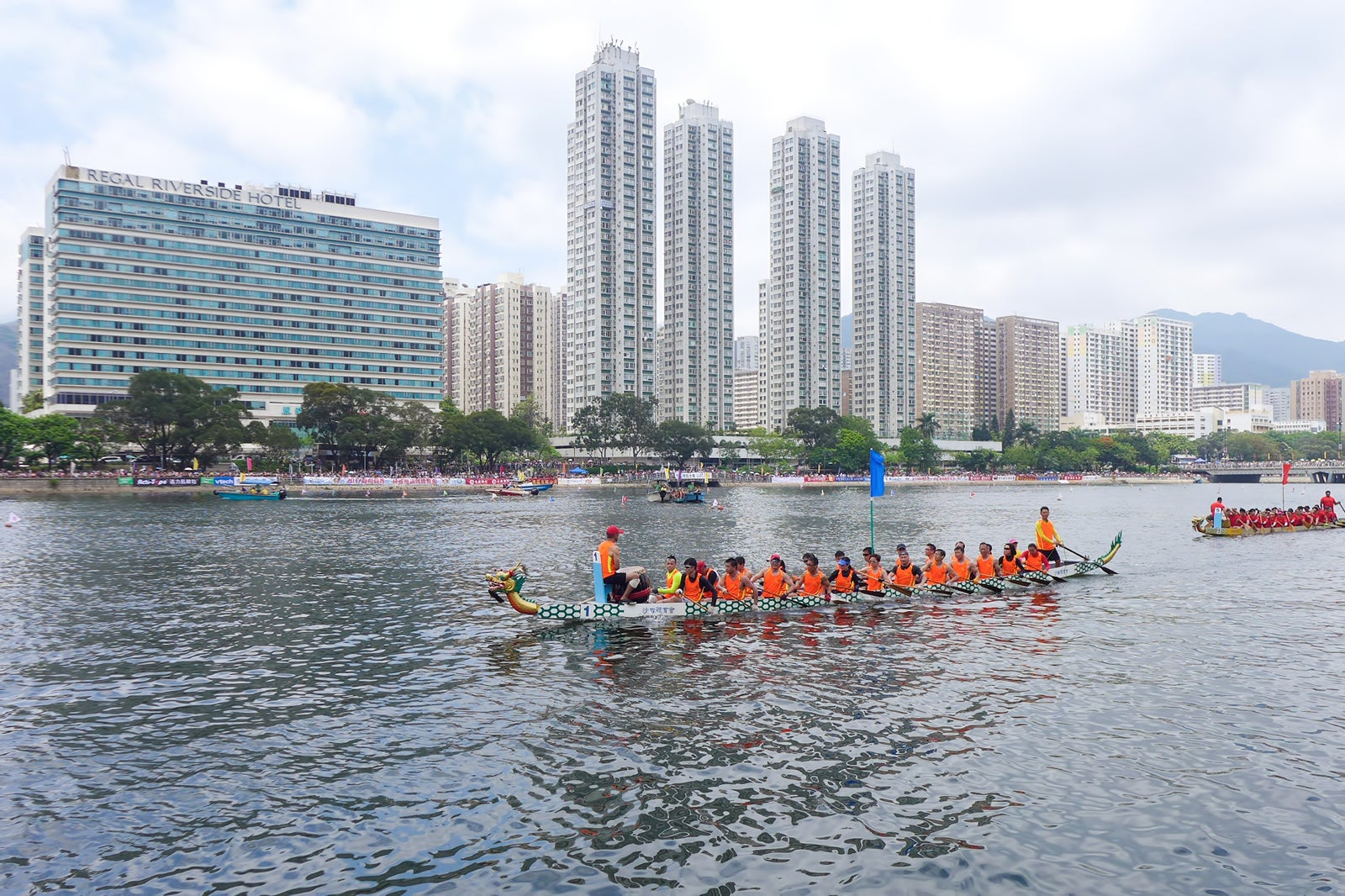 The Dragon Boat Festival sees exciting boat races taking place near Hong Kong's Victoria Harbour. The annual event dates back over 2,000 years to honor Qu Yuan, a Chinese patriot who drowned himself to protest against corruption among officials. It's said that villagers beat drums from their boats and threw dumplings into the sea so that the fish wouldn't eat Qu Yuan's body.
The Dragon Boat Festival is typically held in mid-June, attracting people from all over the world who would cheer for their favorite teams. It's also when the Chinese indulge in bak chang (meat-and-rice dumplings wrapped in bamboo leaves).
Read more
photo by Wpcpey (CC BY-SA 4.0) modified
10
August: Birthday of Kwan Tai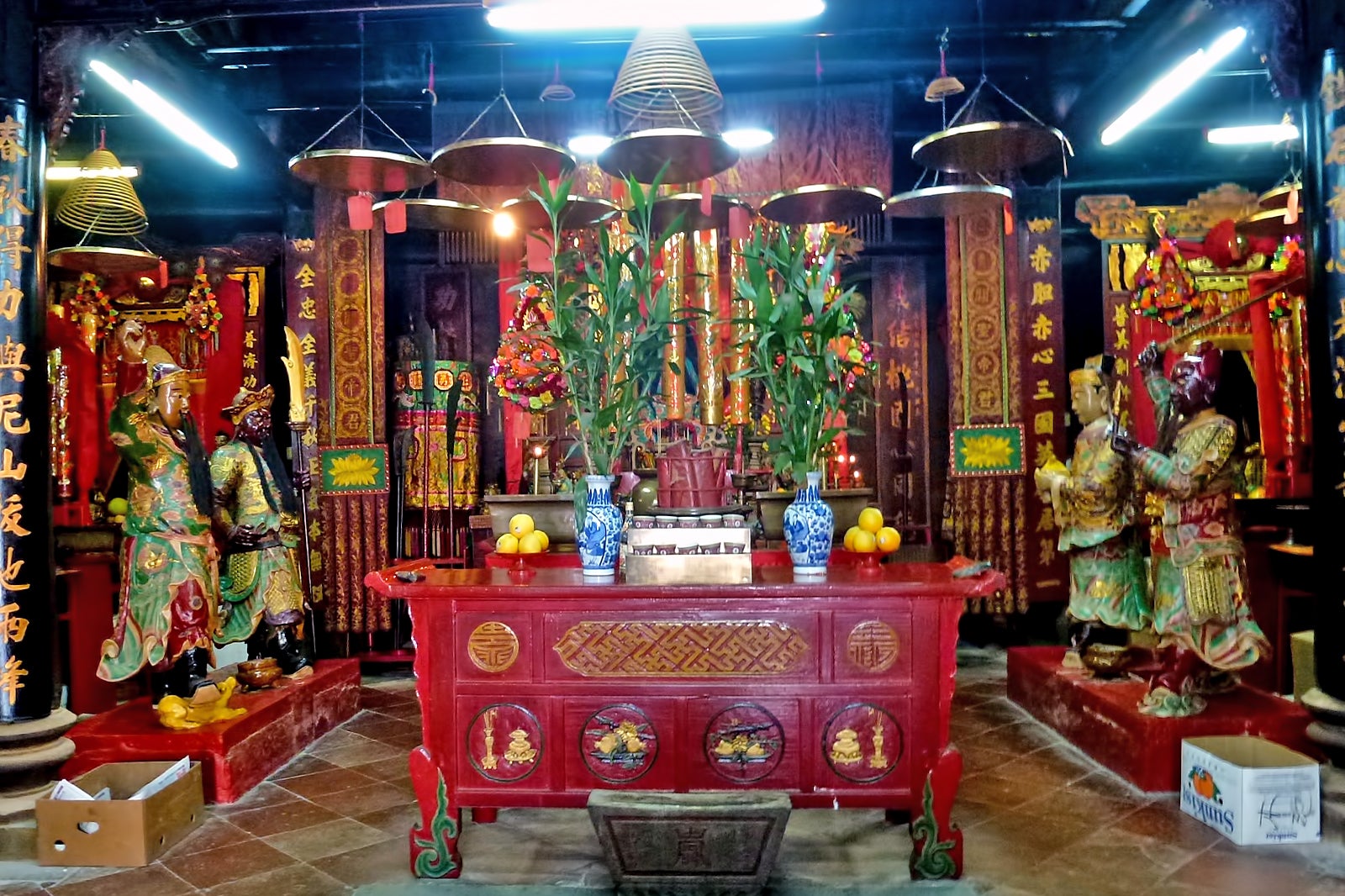 The Birthday of Kwan Tai falls on the 24th day of the 6th lunar month. A symbol of loyalty among the Chinese community, Kwan Tai was a general during the Han dynasty, and immortalized as the Taoist God of War. Man Mo Temple, located on Hong Kong Island's Hollywood Road, honors both the God of War and the God of Literature.
photo by Hiroki Ogawa (CC BY 3.0) modified
11
August: Hungry Ghost Festival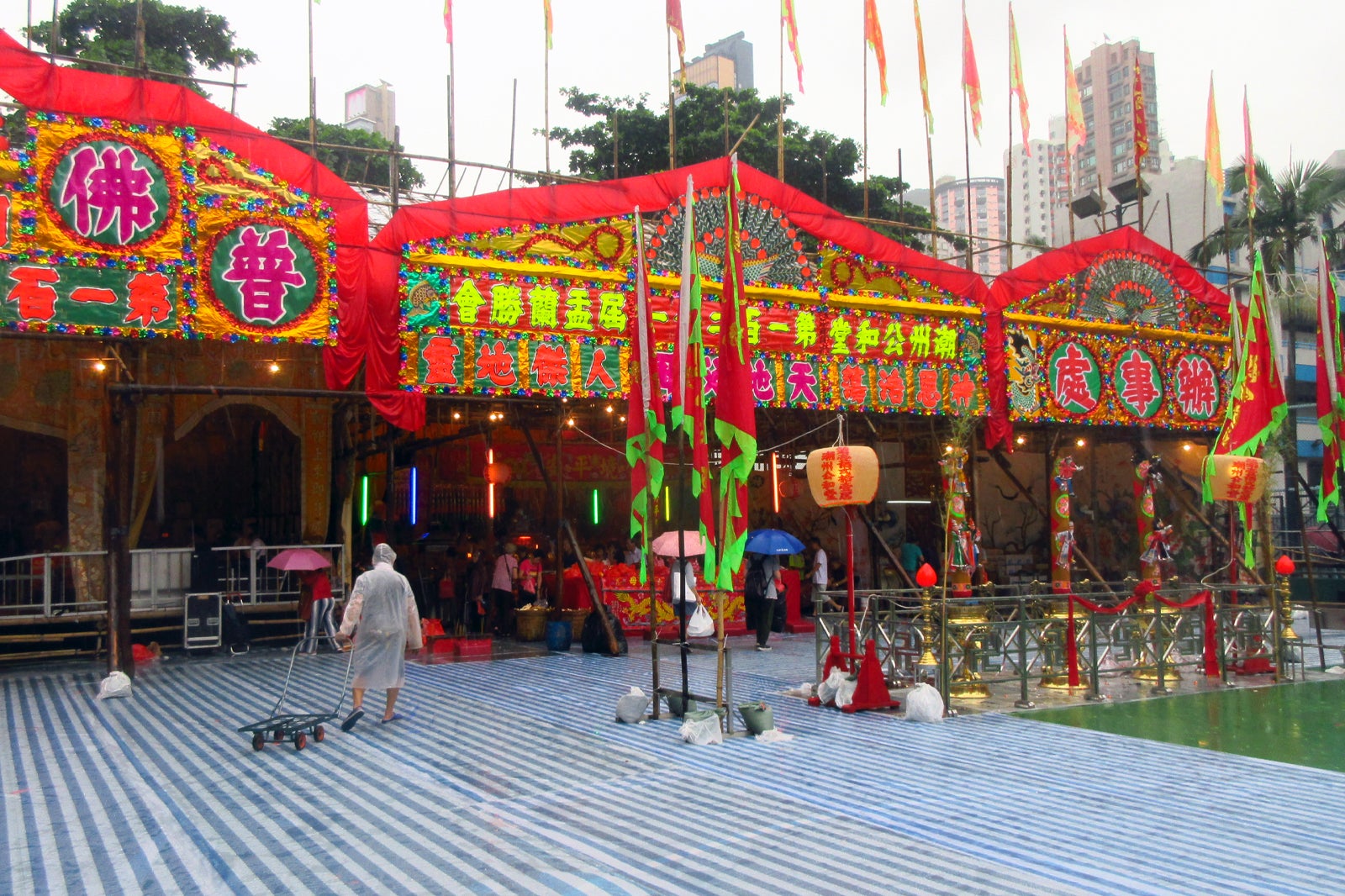 Hong Kong's Hungry Ghost Festival is celebrated on the 15th day of the 7th lunar month, usually in August or September. The Chinese believe that the dead are released from the underworld once a year – parks and public spaces are often packed with people burning incense and paper money, as well as offering food along the streets.
Some spots have temporary stages showcasing live Chinese opera and Chiu Chow-style dramas – the first few rows of seats are left empty for wandering ghosts to sit and enjoy the performances. Locals also avoid staying out late throughout the month-long event to avoid bumping into paranormal beings.
photo by Dakcikyenusjs (CC BY-SA 4.0) modified
12
September: Mid-Autumn Festival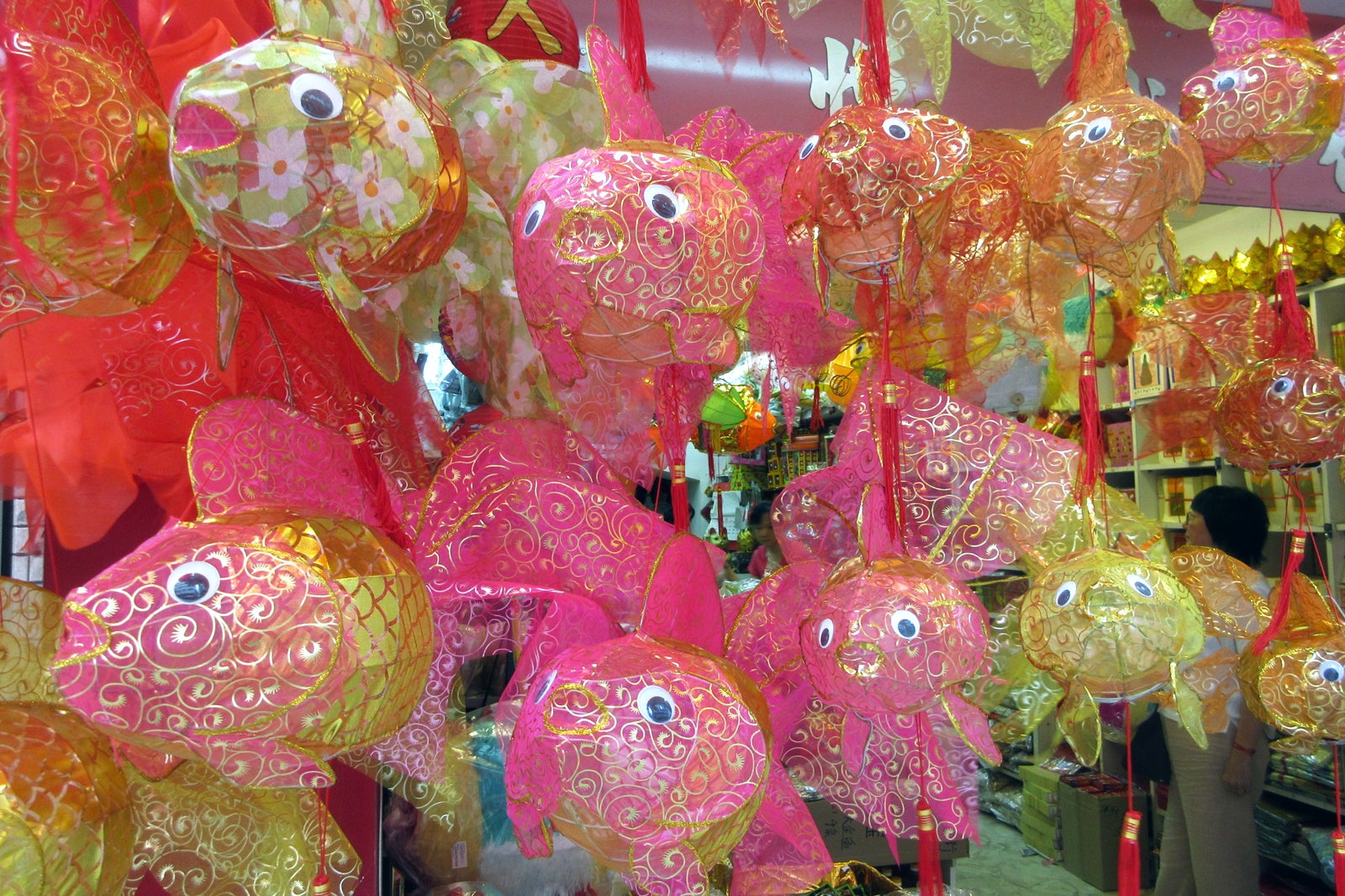 The Chinese celebrate Mid-Autumn Festival with beautiful lantern displays and carnivals illuminating the streets of Hong Kong. It's also a time for enjoying sweet pastries called mooncakes – the original version consists of a salted egg yolk and lotus seed paste encased in a crust, but you'll also find a wide range of fillings in flavors like chocolate, vanilla, and green tea.
Mooncakes are eaten by the Chinese to remember the successful uprising of the Chinese people against the ruling Mongols. The call to arms was written on pieces of paper hidden in the mooncakes, and passed to every household during the tumultuous period.
photo by Aulwingslamws (CC BY-SA 4.0) modified
13
September: Monkey God Festival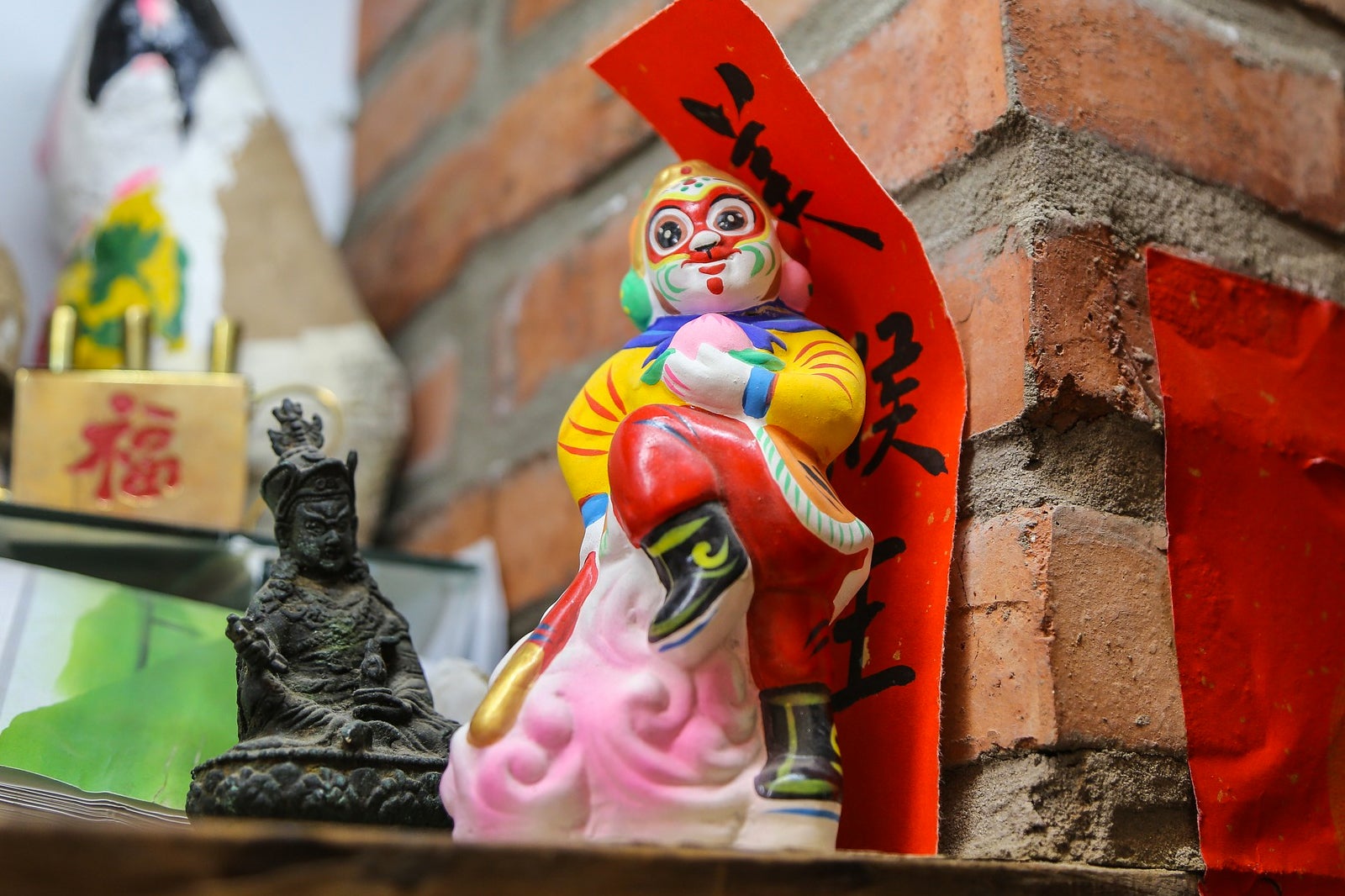 The Monkey God Festival is a lively celebration to honor the mischievous deity, whose adventures in The Journey to the West, a Ming Dynasty (1368-1644) novel, have been brought to life through various movies and stage plays.
The Monkey God Temple in Kowloon sees hundreds of people presenting offerings year-round. On 16th day of the 8th lunar month, check out impressive acrobatic and demonstrations of seemingly impossible acts, including walking barefoot on hot coals.
14
September: Birthday of Confucious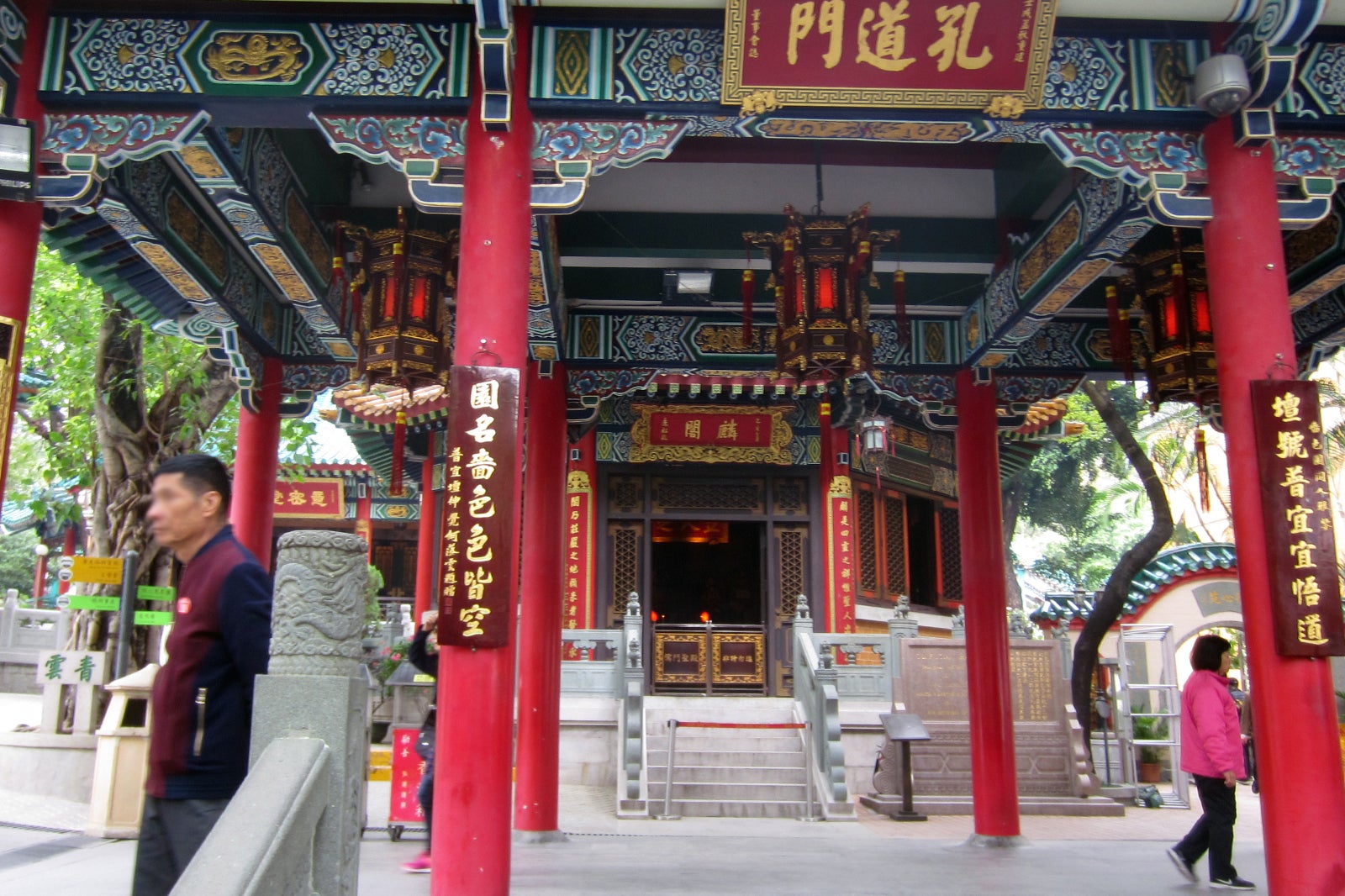 In Hong Kong, the Birthday of Confucius is celebrated on the 3rd Sunday of September. One of China's most famous philosophers, Confucius stressed on the importance of the Five Virtues – justice, charity, wisdom, propriety, and loyalty. To this day, many of his principles and teachings are practiced by the Chinese community across the world.
photo by Another Believer (CC BY-SA 4.0) modified
15
October: Chung Yeung Festival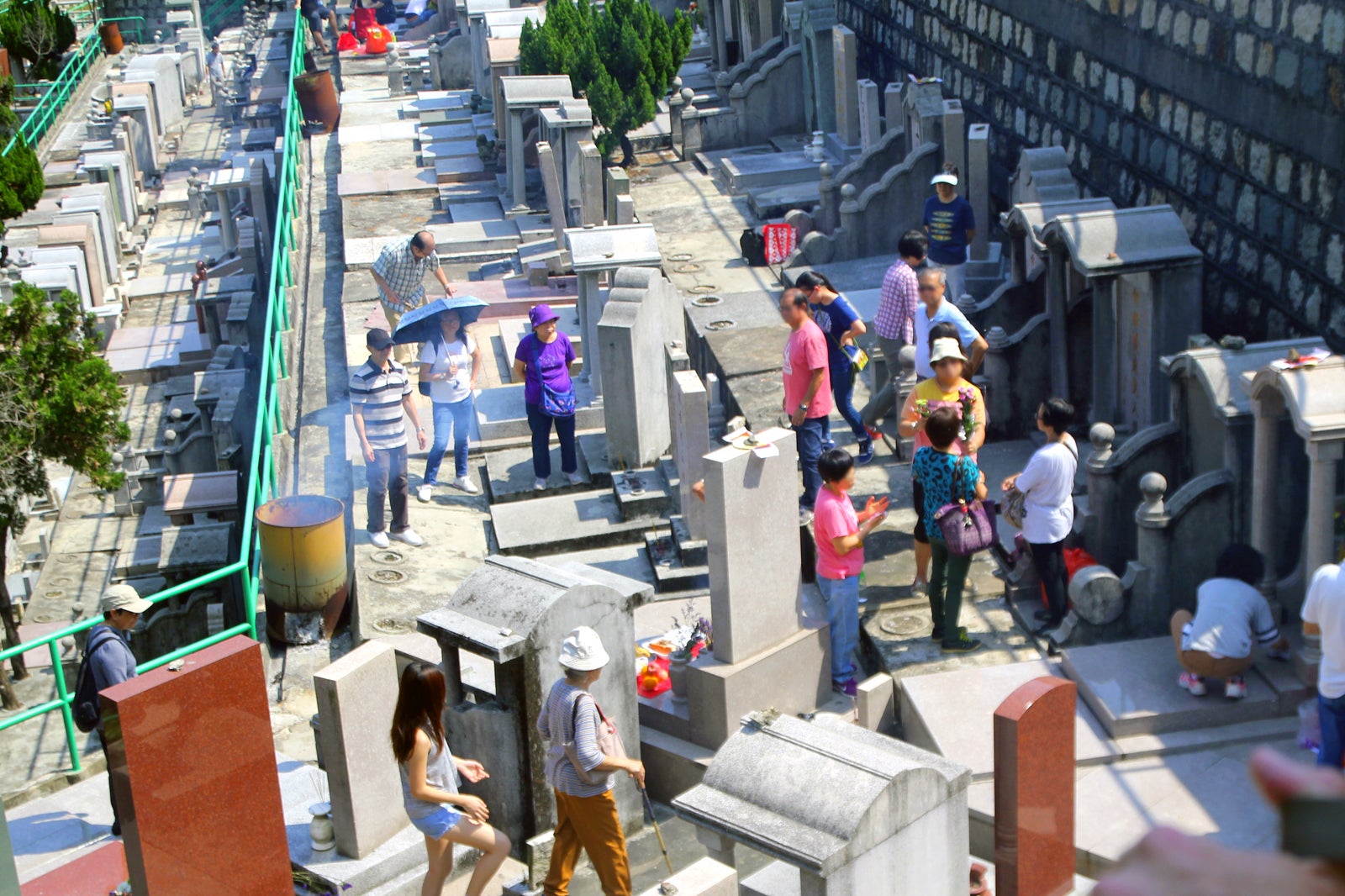 Chung Yeung Festival is a day to remember and respect one's ancestors. According to local legend, it's said that a prophet advised a man to take his family to a high place on the 9th day of the 9th lunar month. It was discovered that everyone in his village were slaughtered while they were kept safe thanks to his words.
Also known as Autumn Remembrance, Chung Yeung Festival sees families gathering at cemeteries to pay respects to their ancestors. Many also enjoy hikes to Hong Kong's many vantage points, as it's believed to bring good luck to the family.
photo by Sgerbic (CC BY-SA 4.0) modified
16
December: Winter Solstice Festival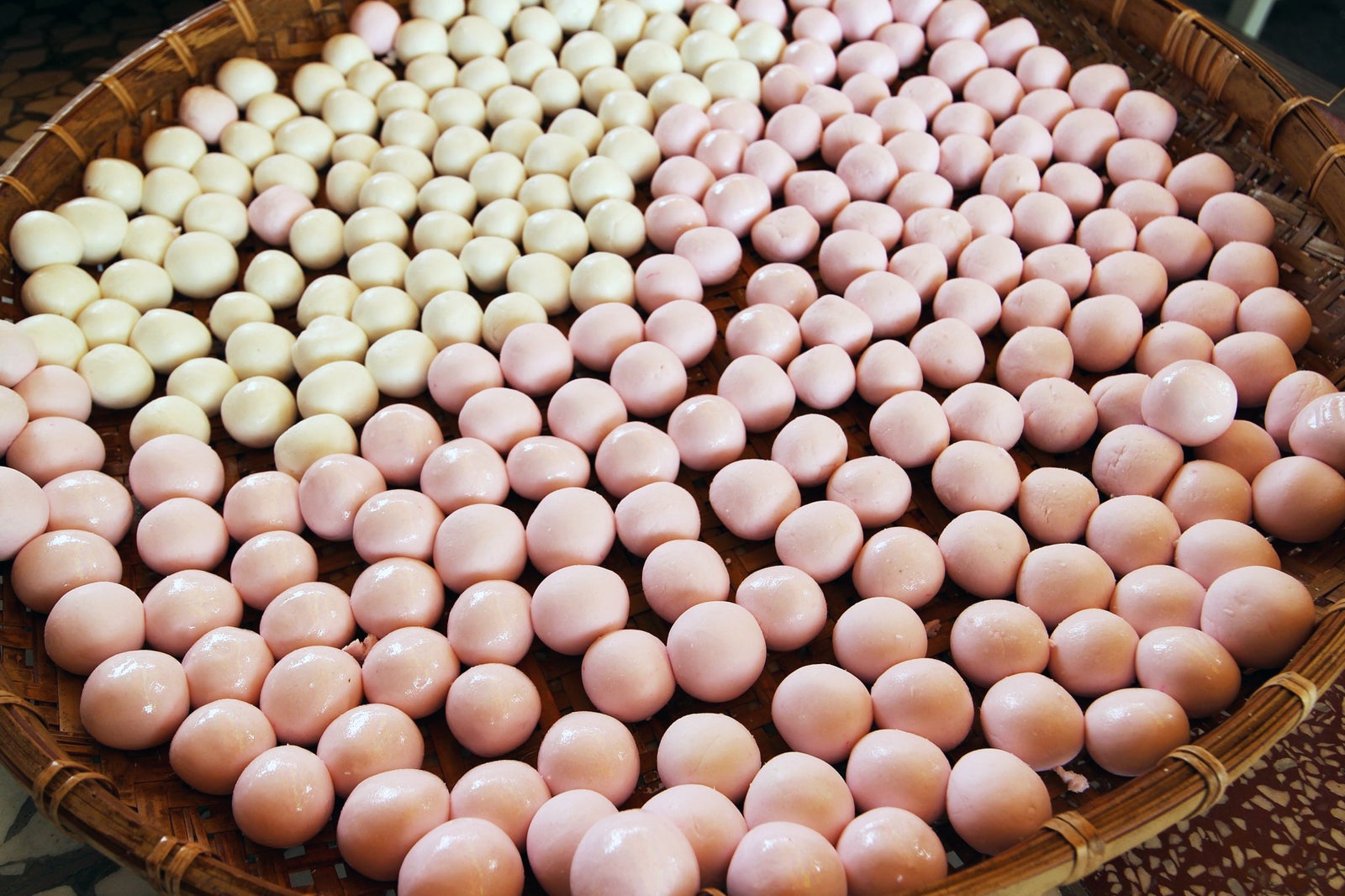 The Winter Solstice Festival (Dong Zhi) is one of the most important celebrations among the Chinese community. A time for reunions, most people in Hong Kong get off work early to prepare for lavish dinners. Families make it a point to be together to make and eat tong yuen – a sweet soup with colorful balls made of glutinous rice.
Back to top