10 Things to Do in Hilton Head Island
What is Hilton Head Island Most Famous For?
Hilton Head Island is a boot-shaped island on the eastern coast of South Carolina and is one of the top destinations in the southeastern US state. Not only will you find plenty of fun by the shore, but even the offerings further inland can create an unforgettable experience that you can't find anywhere else.
Whether you're looking for outdoor fun or something more entertaining in the town center, you'll find much to enjoy with plenty of options for couples and families alike. Here are the best things to do in Hilton Head Island.
What are the best things to do in Hilton Head Island?
1
Coligny Beach Park
Visit the sandy shores for fun and recreation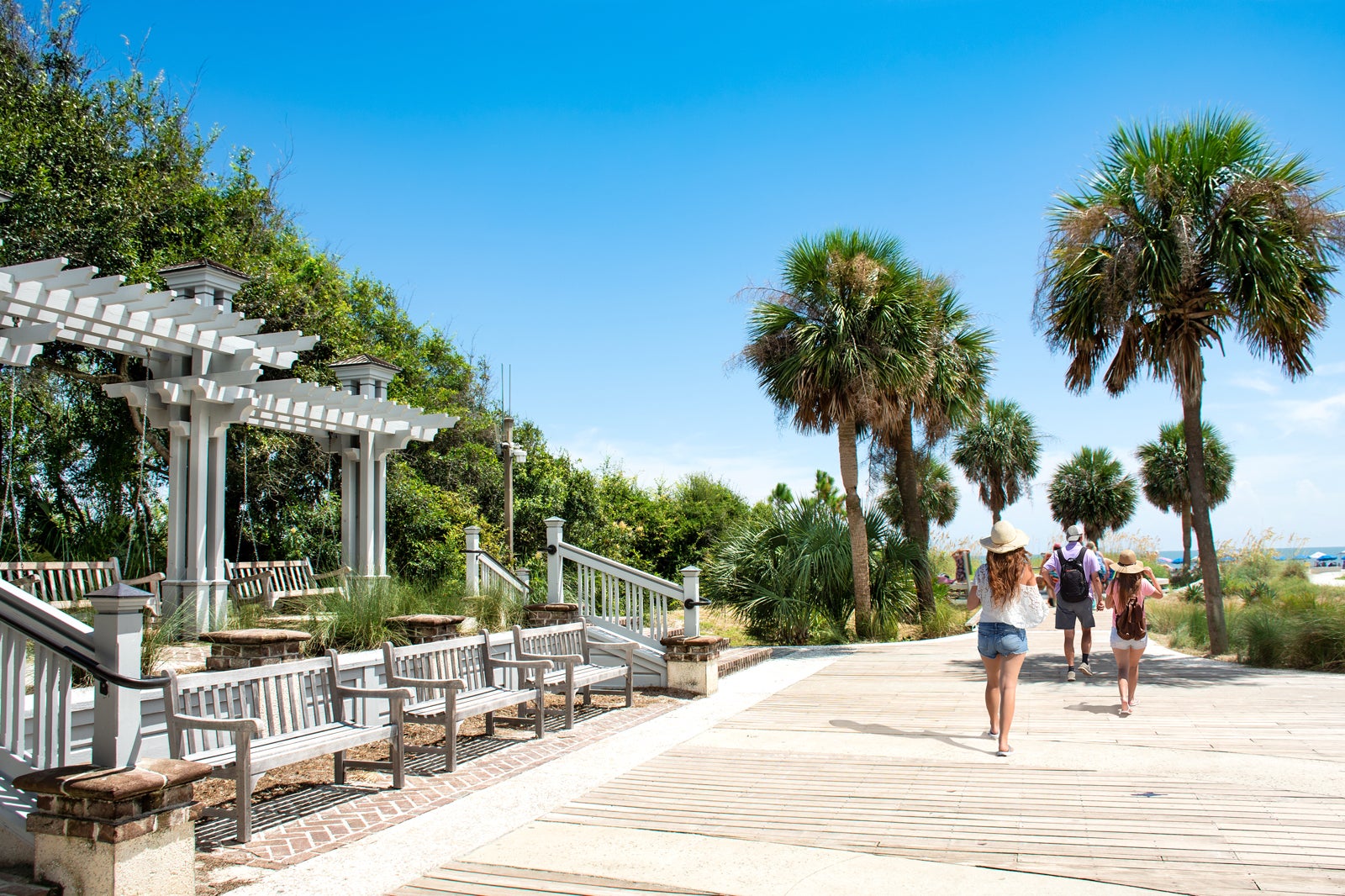 Coligny Beach Park has one of the most popular stretches of sand on Hilton Head Island that's replete with facilities like restrooms and lounging options such as chairs and umbrellas. You'll even find swings and gazebos if you're looking for shade by the shore.
The beach is also wheelchair-friendly and even offers free Wi-Fi if you need to stay connected when you're on vacation. You can set out on the Hilton Head Island bike trails from Coligny Beach as well as enjoy dining and shopping options which aren't too far away.
Location: 1N Forest Beach, Hilton Head Island, SC 29928, USA
Open: Daily from 7 am to 9 pm
Phone: +1 843-342-4580
2
Daufuskie Island
Escape to another small island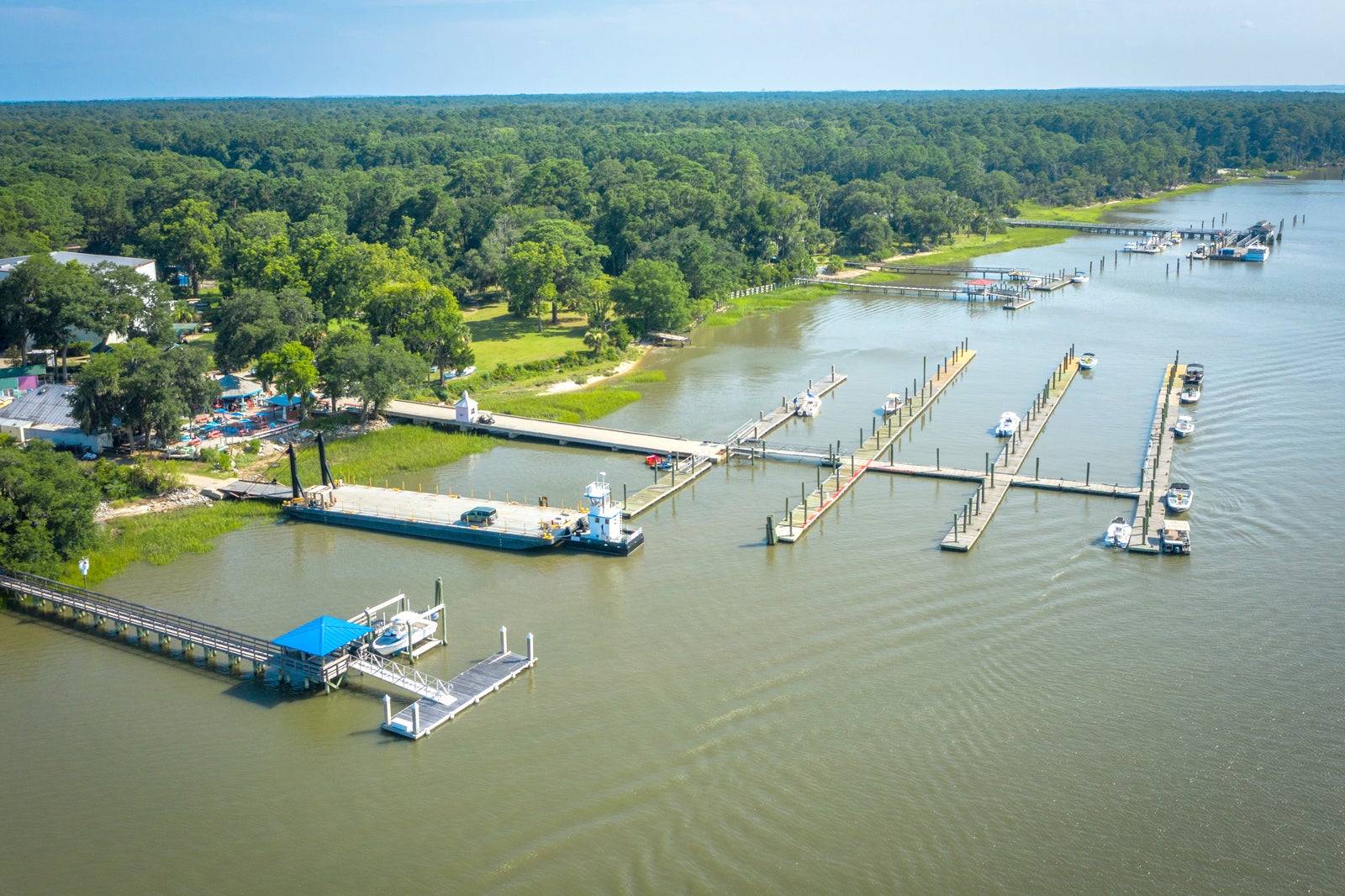 Daufuskie Island is often described as a paradise beyond Hilton Head Island as this separate island offers few paved roads and much simpler and natural surroundings. You'll find ancient oak trees and soft white sandy beaches complimented by Spanish moss hanging throughout the area.
You'll find numerous historical sites here in addition to elegant golf courses and nature trails. The cuisine here is also top-notch with local chefs using fresh ingredients sourced from local providers and with a specialization in seafood.
3
Mitchelville Beach
Find some beachfront tranquility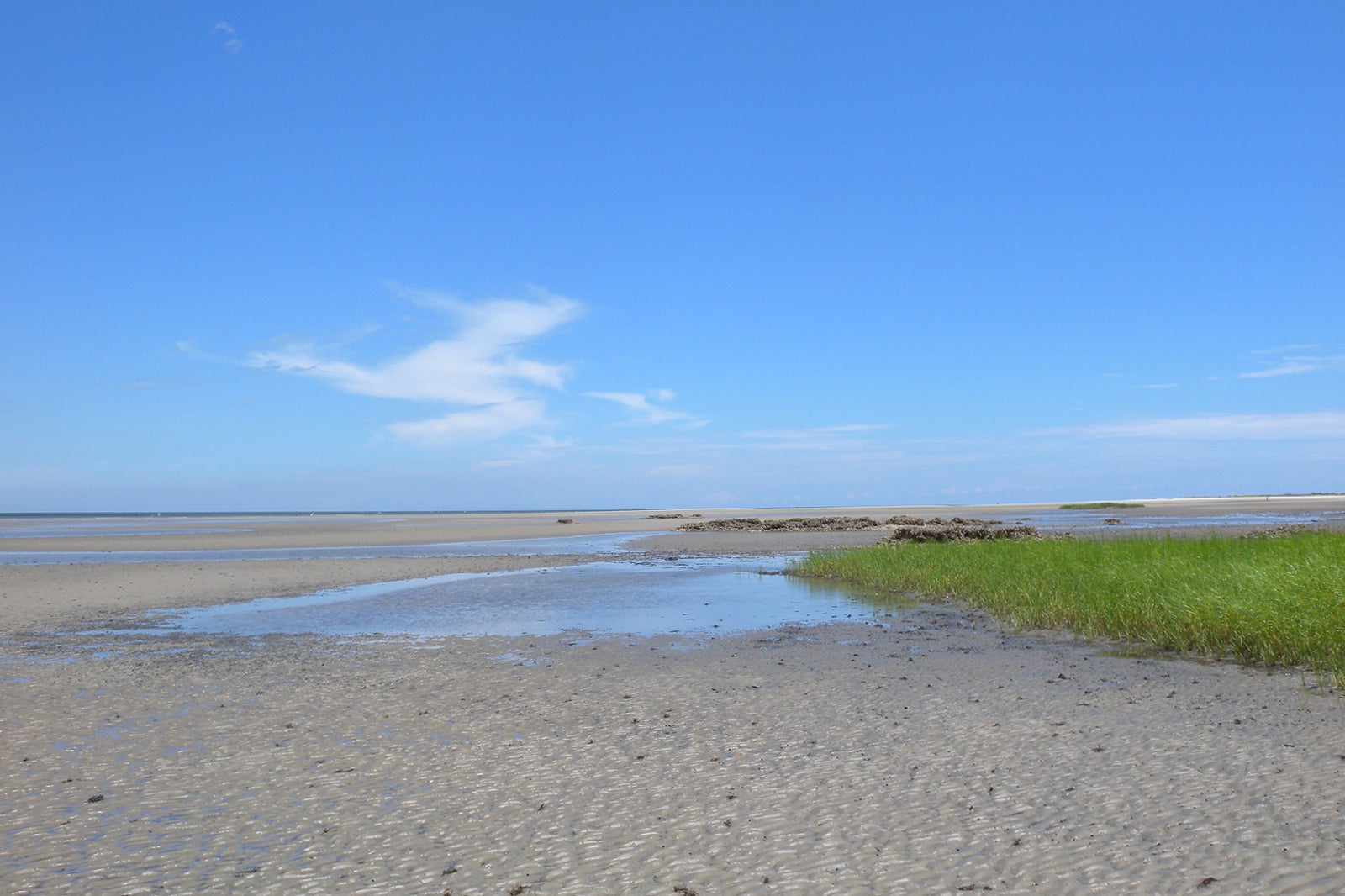 Mitchelville Beach offers a quieter beachfront experience compared to other beaches on Hilton Head Island. Even so, it is a family-friendly beach that's popular with kids, especially for those fond of collecting seashells.
Even though the beach is largely isolated, you'll still find convenient amenities like a sand shower and restrooms. You'll even find several picnic tables amid the trees by the shore. Just make sure to pack your bug spray when you visit in the summer.
Location: 120 Mitchellville Rd, Hilton Head Island, SC 29926, USA
Open: Daily from 9 am to 5 pm
Phone: +1 843-341-4600
4
Harbour Town
Browse the shops and enjoy the seafood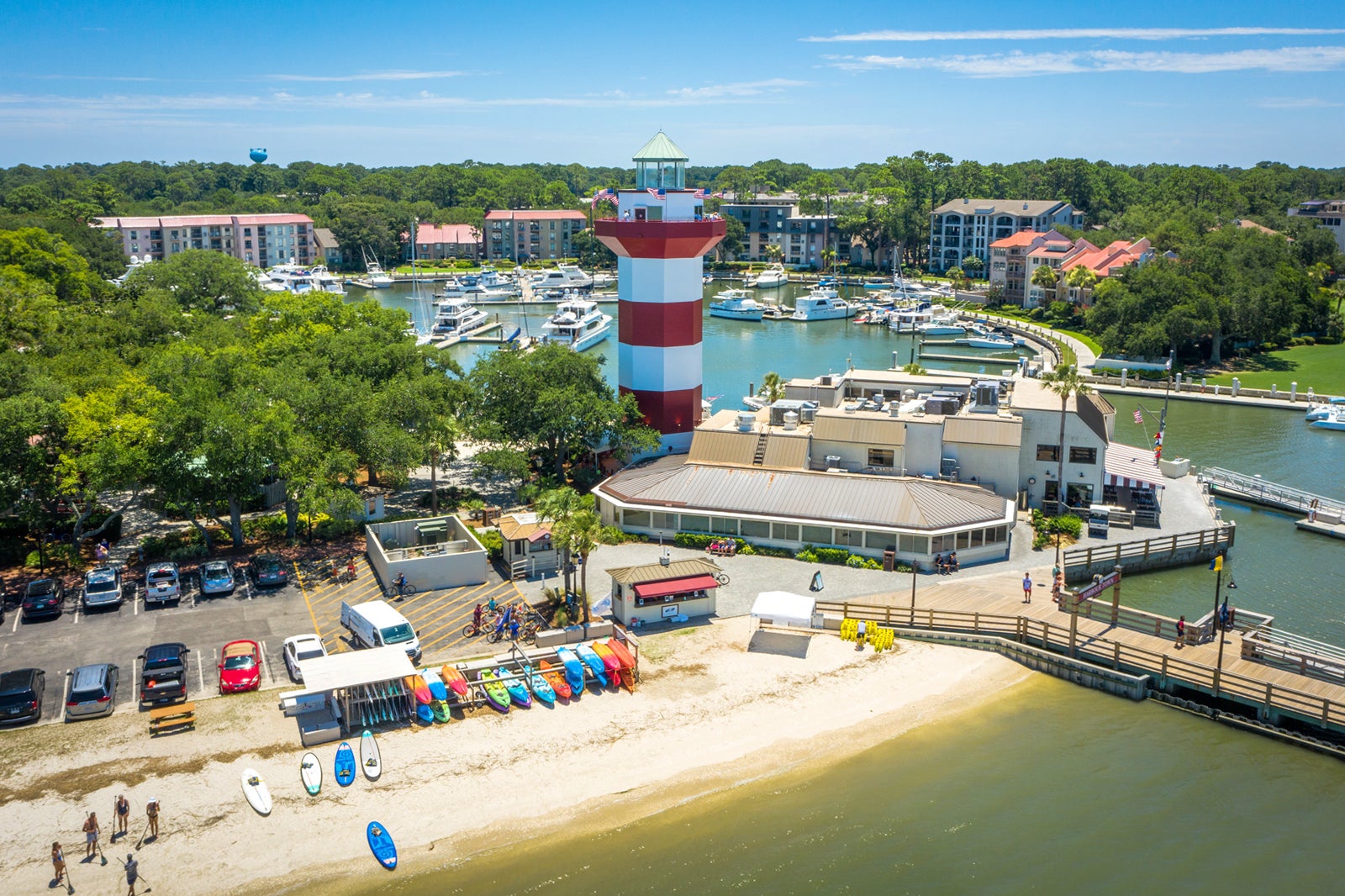 Food
Couples
Families
Shoppers
Harbour Town is one of the most popular spots in Hilton Head for shopping, leisure and dining. You'll find a wide variety of stores available here offering high-end clothing, custom gifts, handmade crafts, and even home decor.
Check out the local restaurants as well as they specialize in delicious seafood along with hearty steaks and specially crafted cocktails. Many of them in this fun town also have outdoor seating, so you can enjoy the refreshing coastal air while you drink and dine.
5
Driessen Beach Park
For a great family day out on the beach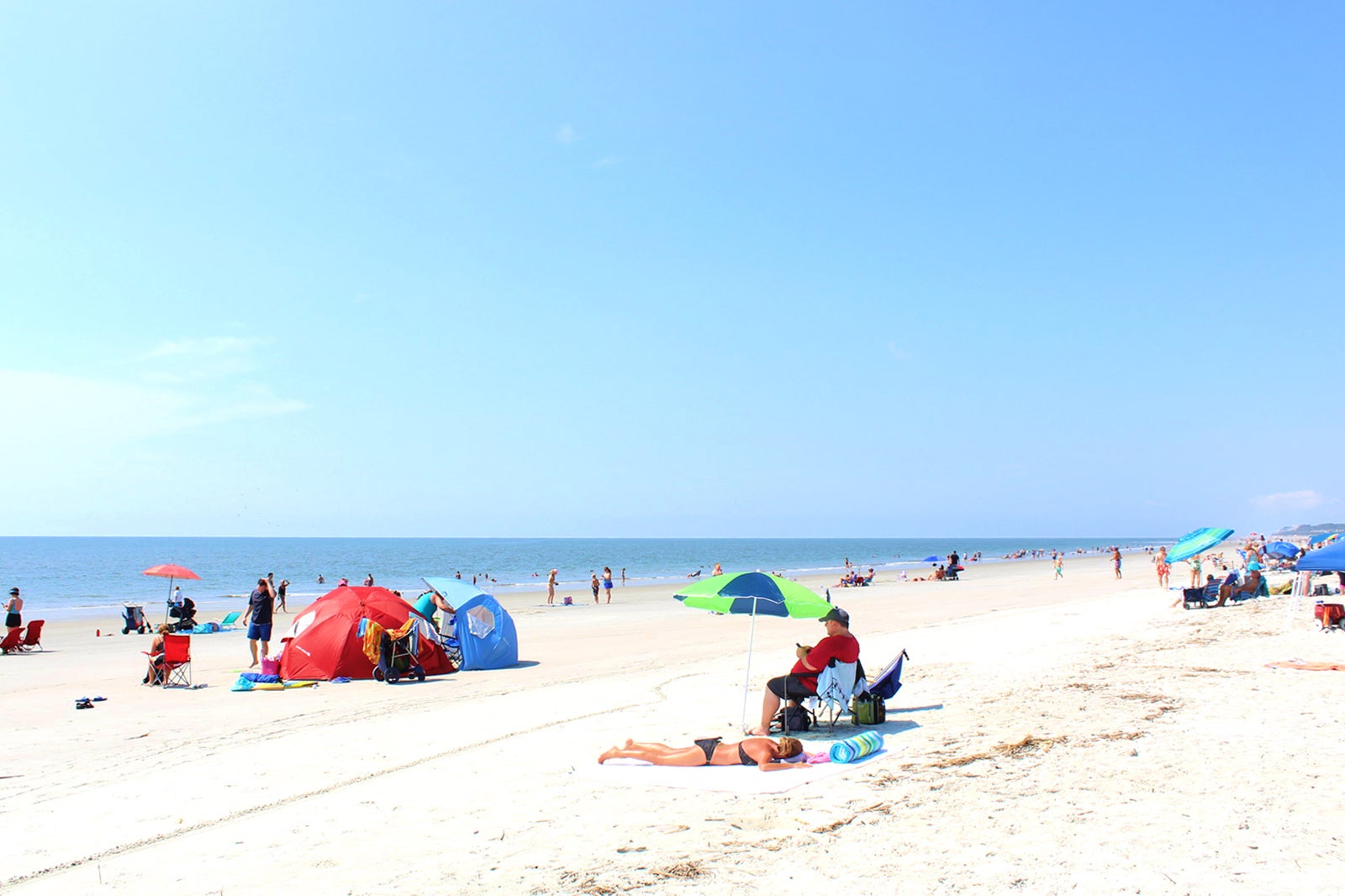 Driessen Beach Park offers a relatively hidden coastal stretch that's a bit out of the way of Hilton Head regulars. Fortunately, that means you won't have to deal with crowds and all its offerings are easily accessible.
This beach park has a sandy beach and inviting water, as you might expect, but you'll also find several playgrounds for kids to enjoy as well as nature trails and walkways that are perfect for a leisurely stroll or bike ride.
Location: 64 Bradley Beach Rd, Hilton Head Island, SC 29928, USA
Phone: +1 843-842-5698
6
Coastal Discovery Museum
Take a guided walk to learn about the natural wonders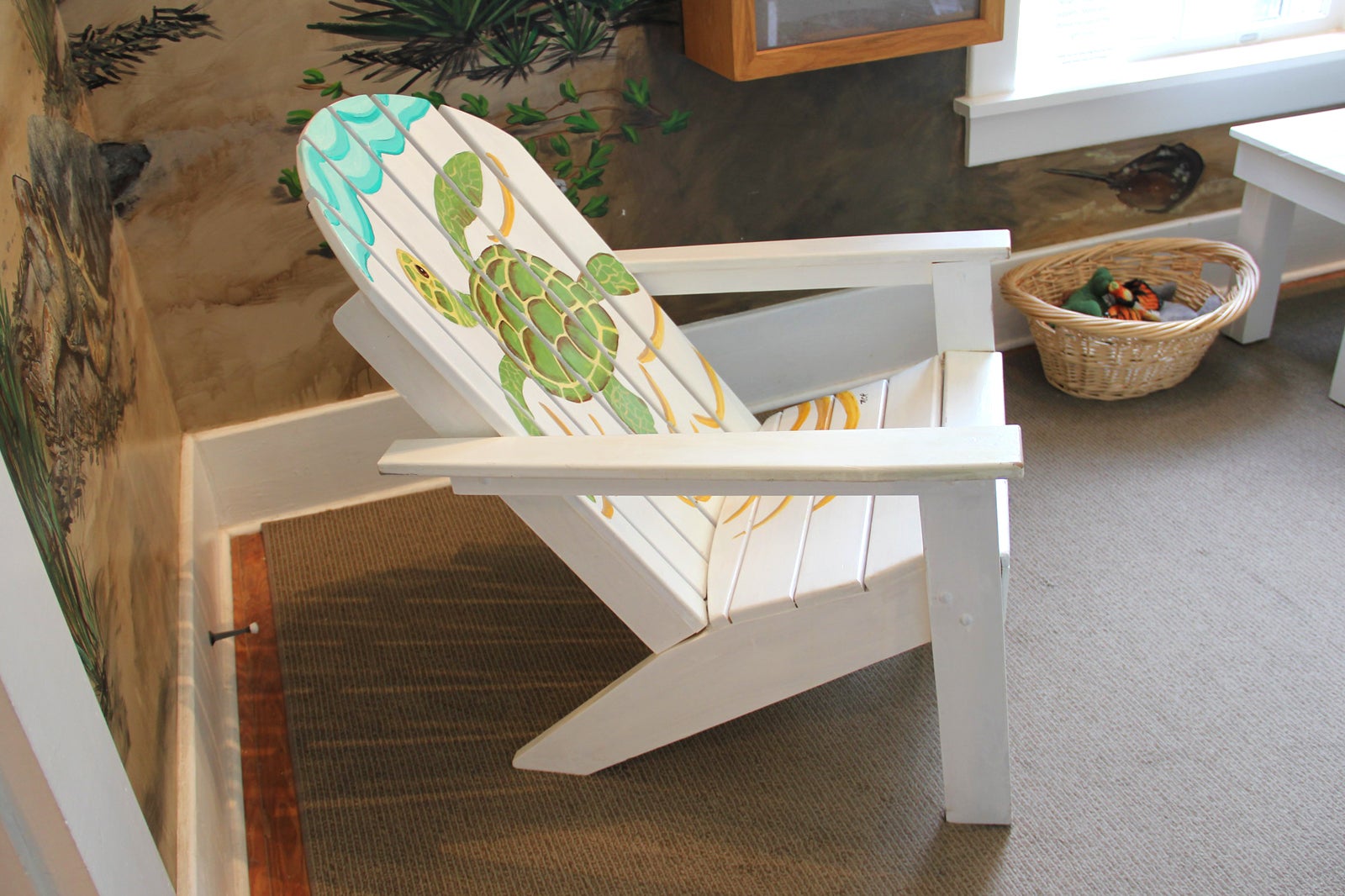 Couples
Families
History
Photo
The Coastal Discovery Museum is the go-to spot if you're looking to learn more about Hilton Head Island and its natural wonders. The exhibits here are set on a rich ecosystem with tours and guided walks available.
There are even special programs made for children to keep them entertained while still offering valuable information about the natural world here. The Salt Marsh Discovery Walk is especially rewarding as you can see live shrimp, crabs, and oysters easily visible in the area's shallow waters.
Location: 70 Honey Horn Dr, Hilton Head Island, SC 29926, USA
Open: Monday–Saturday from 9 am to 4 pm, Sunday from 11 am to 3 pm
Phone: +1 843-689-6767
7
Pinckney Island National Wildlife Refuge
Go fishing or photo hunting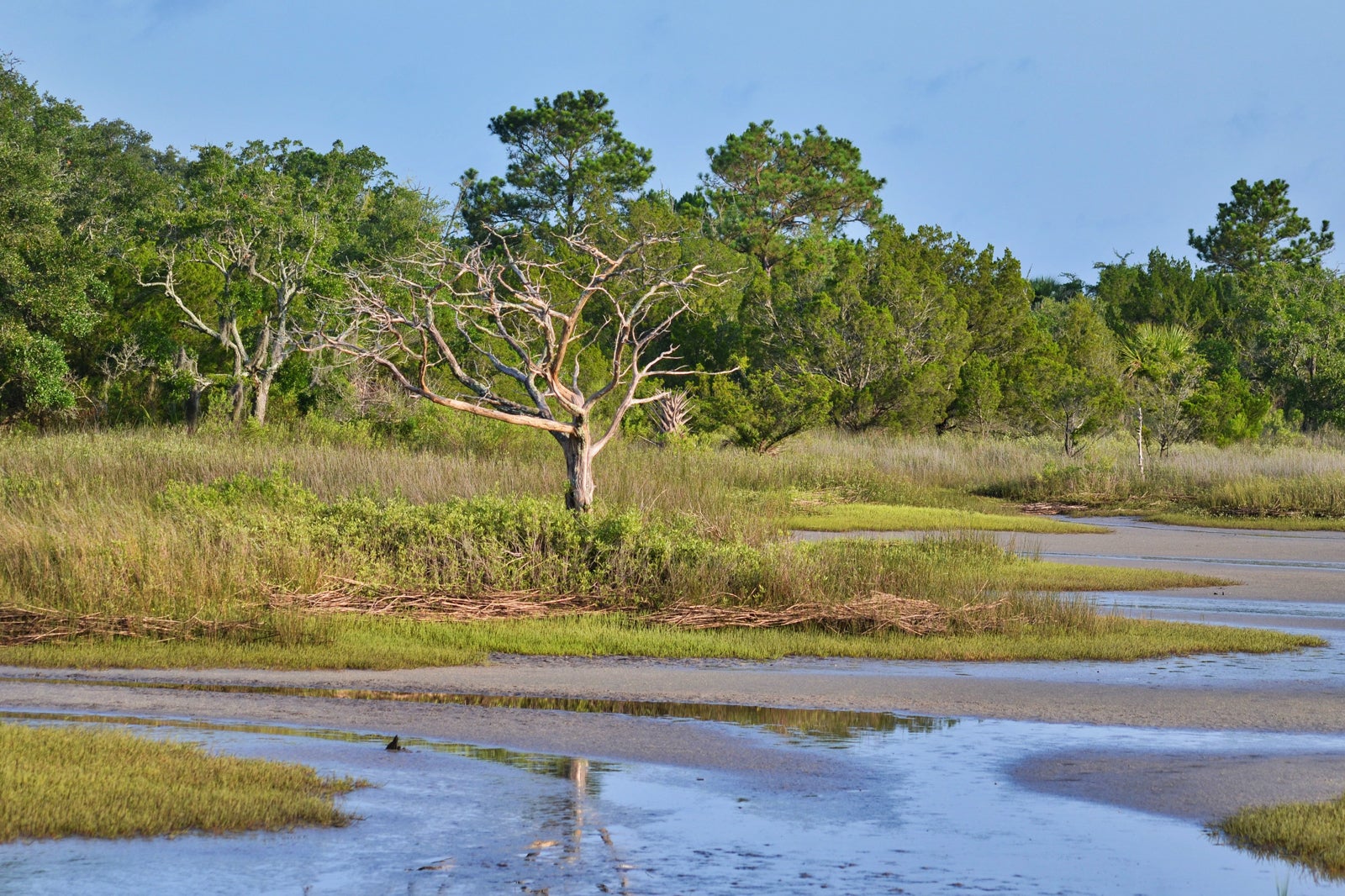 Pinckney Island National Wildlife Refuge offers virtually endless adventure from sunrise to sunset for outdoorsy types. You can see a wide variety of wildlife perfect for taking photos or you can go fishing. The refuge even hosts white-tailed deer hunting season.
Additionally, you can enjoy several hiking and biking trails throughout the area with the White Point trail being the longest at 7.8 miles. You can complete the trail in about 7 hours, but you'll find smaller routes with the shortest taking just 90 minutes to traverse.
Open: Daily from 8 am to 6 pm
Phone: +1 843-784-2468
8
Hilton Head golf courses
Play a round among natural beauty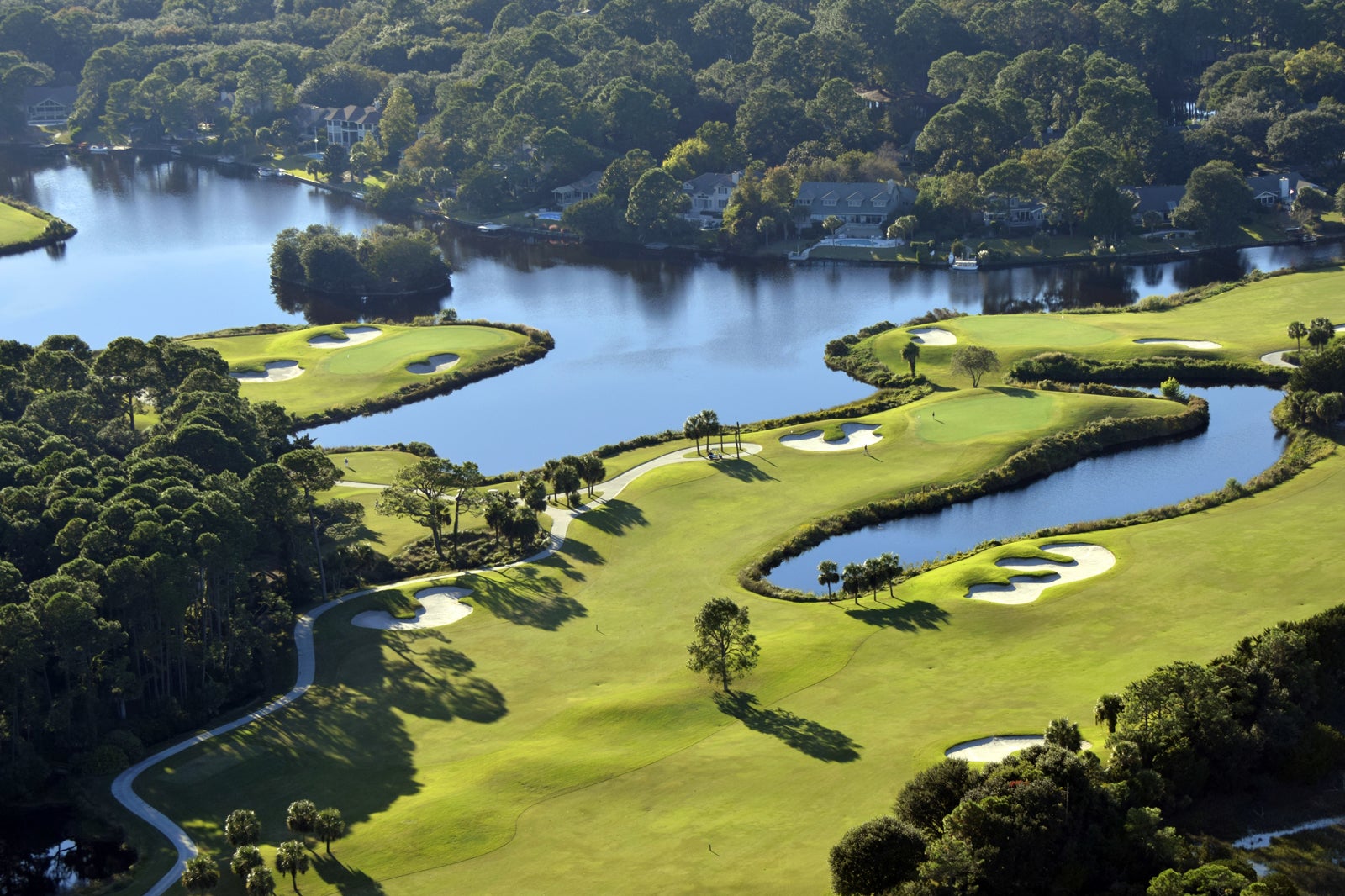 Playing golf on Hilton Head Island is one of the best ways to experience the island's serene natural beauty. There are quite a few different golf courses in the area with expansive and well-maintained greens that are perfect for a relaxing afternoon.
You'll even find that some of the courses are located right along the shore allowing scenic views of the water during your game. Of course, the best courses in town also have facilities offering food and drinks as well.
9
Go ziplining
A thrilling ride above treetops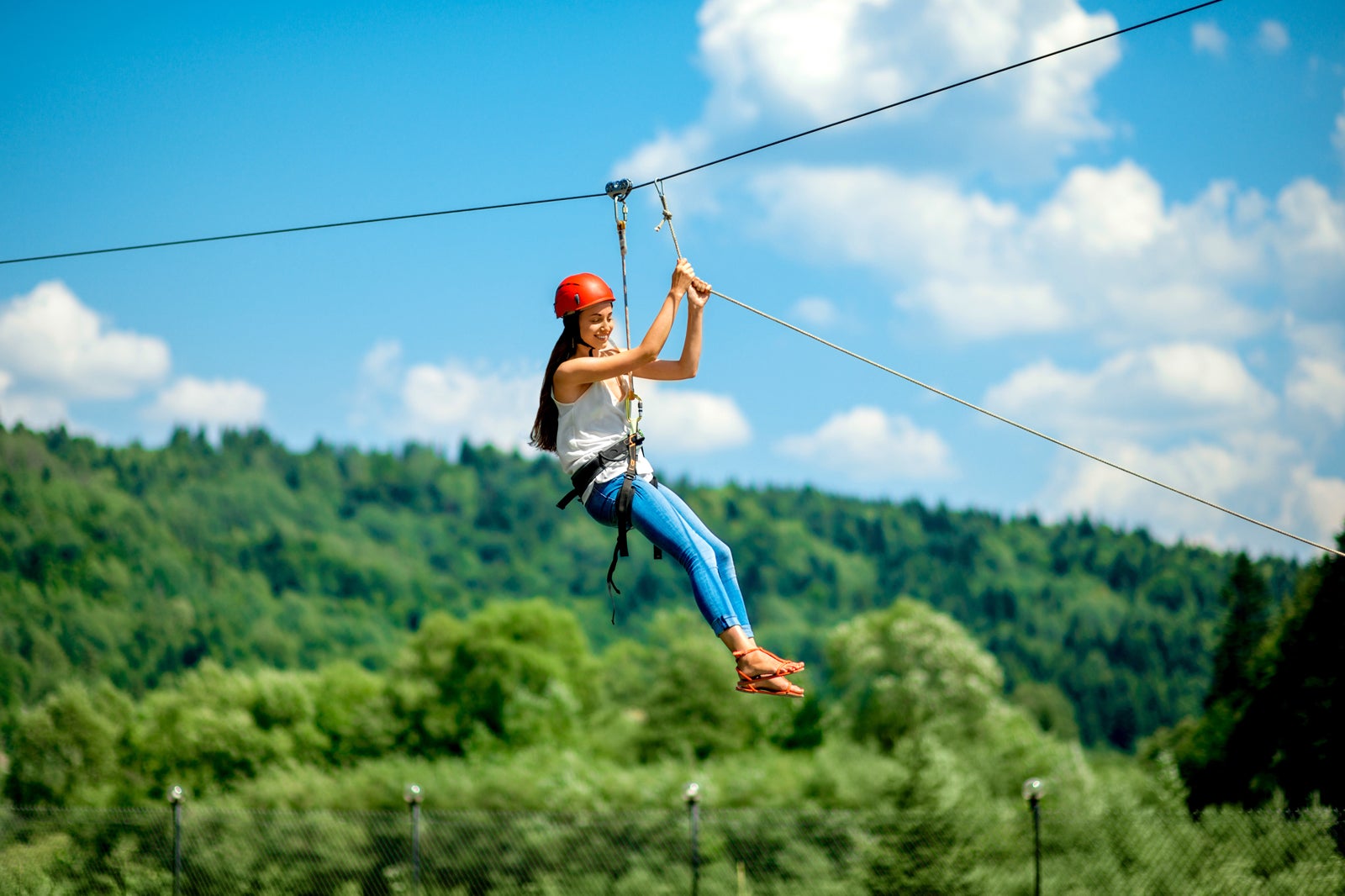 Couples
Families
Photo
Adventure
Ziplining is a thrilling way to take in the beautiful scenery of Hilton Head Island. Sure, you'll find many ways to travel the island's nature paths, but consider this ride if you're tired of doing it from the ground.
Some zip lines cover impressive stretches of land and can send you cruising above the treetops across wide areas at thrilling speeds. Admire the sights and feel the thrill of soaring past the cool canopies and picturesque natural features.
10
Ride the bike trails
Go on a pedaling adventure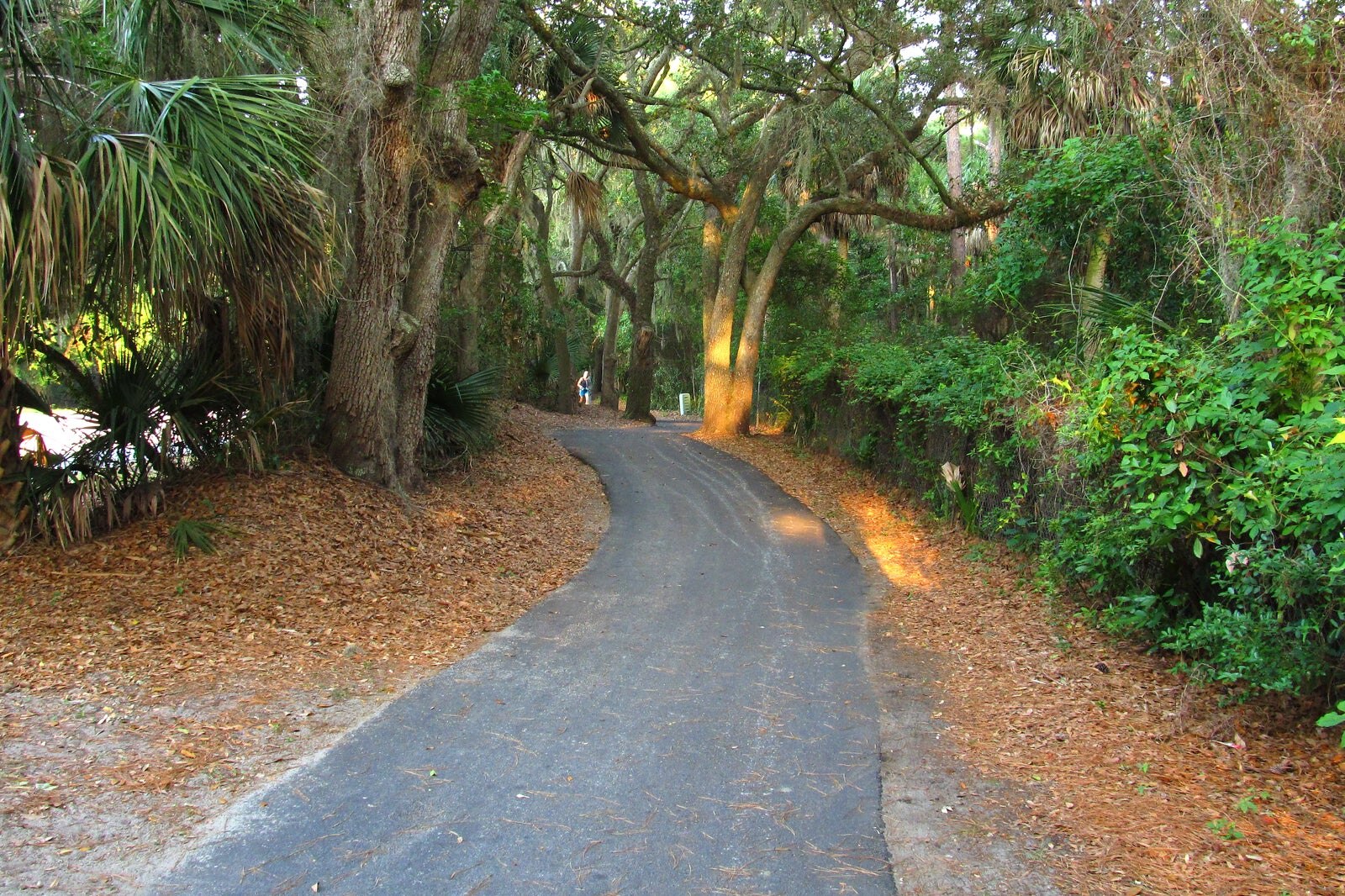 Cruising along the local bike trails on Hilton Head Island offers a rewarding experience. The trails are remarkably well-maintained and can take you through a variety of environments. You can tour Hilton Head using leg power, or go for an easier ride with the help of electric bikes.
Vibrant parkland with plenty of greenery is accessible, but some trails also take you through more wooded areas. You'll even find bike trails that cross swampland by bridges or take you right to the sandy beaches if not onto the beaches themselves.
Back to top