10 Best Things to Do After Dinner in Savannah
Where to Go in Savannah at Night
The best things to do after dinner in Savannah range from romantic moonlit walks through one of the many squares and spooky strolls on ghost tours to enjoying rooftop cocktails and reveling at live music venues. Suffice it to say, there's plenty to do to spice up your evening in the Georgia city.
Savannah is a beautiful southern city with historic buildings and charming cobblestone streets that make it a popular destination for a weekend getaway. While there's plenty to do during the day, it's the nighttime that really comes to life in this small city. Grab a bite to eat at one of the many delicious restaurants and experience the exciting transformation Savannah takes after dark.
1
Savannah ghost tours
Spooky tours show you the haunted past of Savannah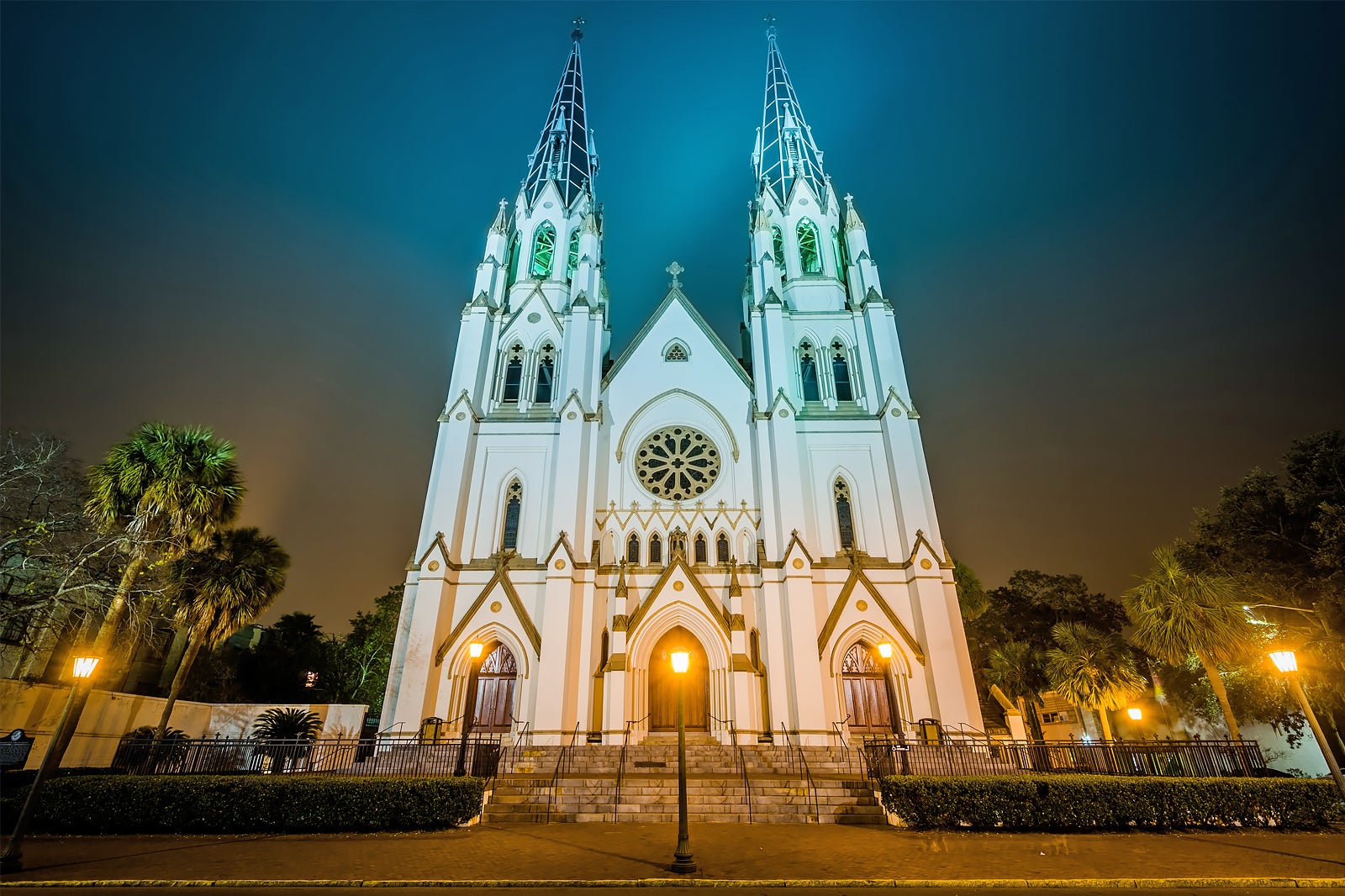 Savannah feels like a quaint relaxing southern town during the day, but former residents haunt the streets at night. Savannah is known as one of the most haunted cities in America, after all. Whether you're a fan of spooky history or just looking to learn more about the ghosts that roam the streets, joining a ghost tour is a great way to finish your night.
With an abundance of elegant historic mansions, hundreds of years of history and dimly lit streets and squares after dark, these tours have excellent scenery to ensure you experience some of Savannah's supernatural activity firsthand. There are tons of tours to choose from like haunted pub crawls, midnight walks, and ghost trolley tours.
2
Savannah Theater
Performing arts in a beautiful historical setting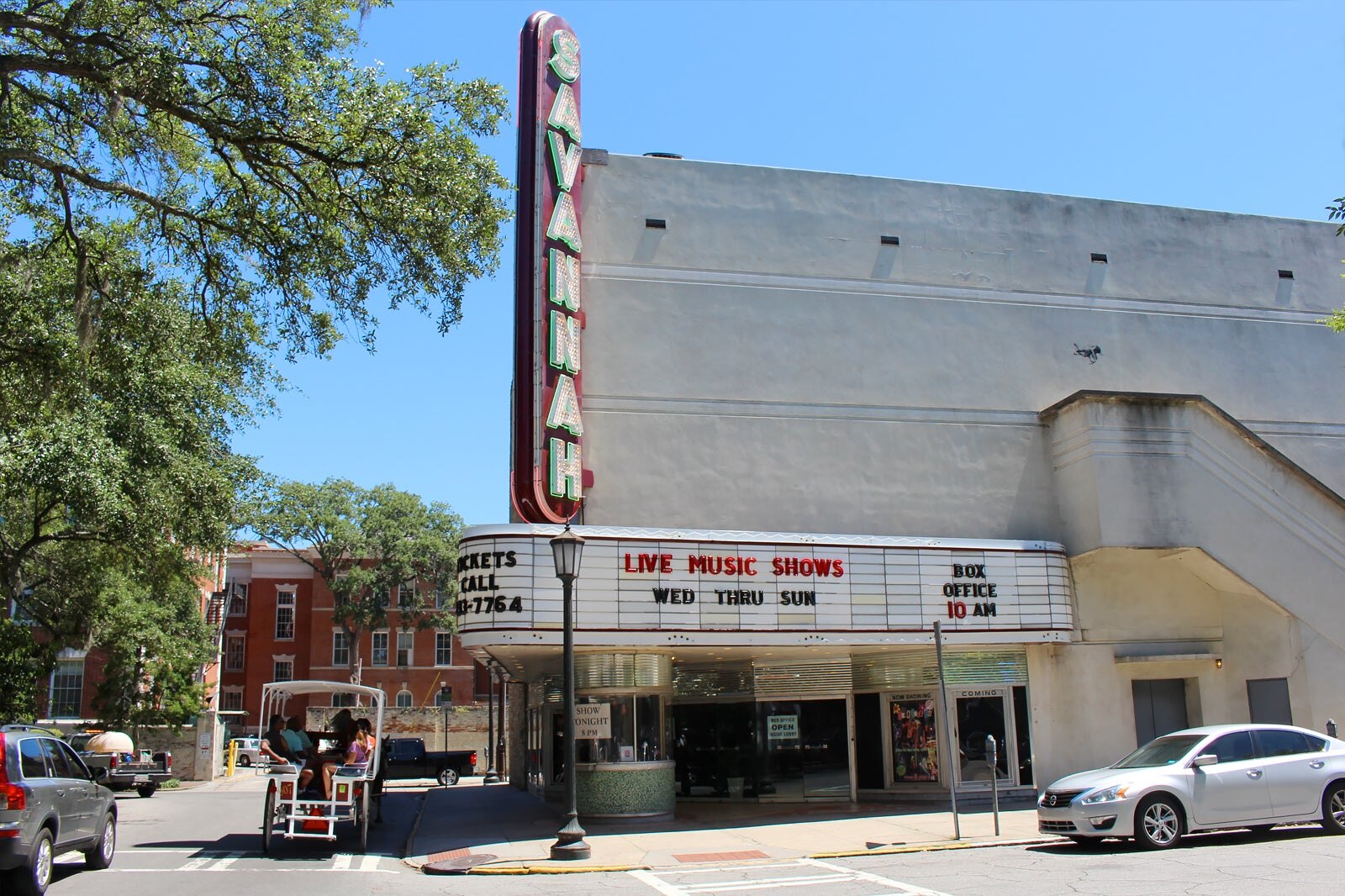 Nightlife
Couples
History
Photo
Savannah Theater is one of the oldest continually operating theaters in America. Located on the charming Chippewa Square, this theater is one of the more beautiful historic buildings in downtown and has truly preserved its charm.
Plan a night out on the town with a lively performance at the theater, which hosts a wide range of entertainment from plays and musicals to singers and comedians. Because of several fires throughout the years, Savannah Theatre's large red curtain and brightly lit marquee are a nod to the most recent architectural style – art deco. Grab a delicious drink at the bar and settle in for a night filled with some of the best entertainment in Savannah.
Location: 222 Bull St, Savannah, GA 31401, USA
Open: Sunday–Tuesday from 10 am to 4 pm, Wednesday–Saturday from 10 am to 8 pm (box office)
Phone: +1 912-233-7764
photo by Michael Rivera (CC BY-SA 4.0) modified
3
Front Porch Improv
For live comedy after dinner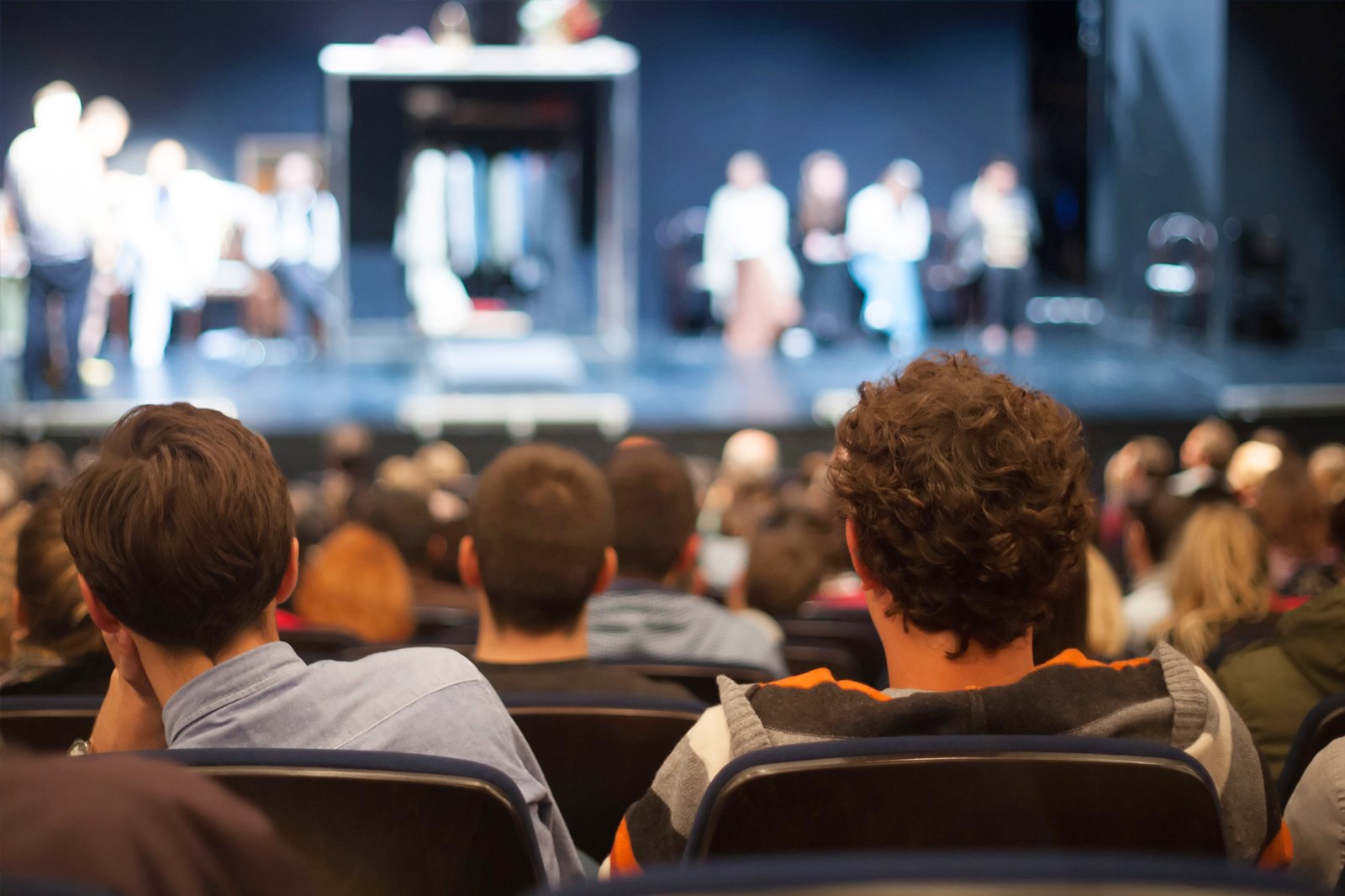 Front Porch is a performance venue offering tons of belly-laughs and entertainment. Known as Savannah's home for improv, the venue is just off W Victory Dr in south Savannah and is where comedians put on a show every weekend to packed seats.
The magic of improv is that you never know what you're going to experience, so getting an awesome seat is always a good idea. General seating fills up quickly so head there early and grab a drink at the bar while you wait for the show to start. If you're heading there by automobile, there's tons of free on-street parking on Barnard and Jefferson Streets.
Location: 210 W Victory Dr, Savannah, GA 31405, USA
Open: Thursday from 6 pm to 10 pm, Friday from 6 pm to 11 pm, Saturday from 6 pm to 12 am (closed Sunday–Wednesday)
Phone: +1 843-868-1553
4
Mata Hari's
Grab a drink at this hidden speakeasy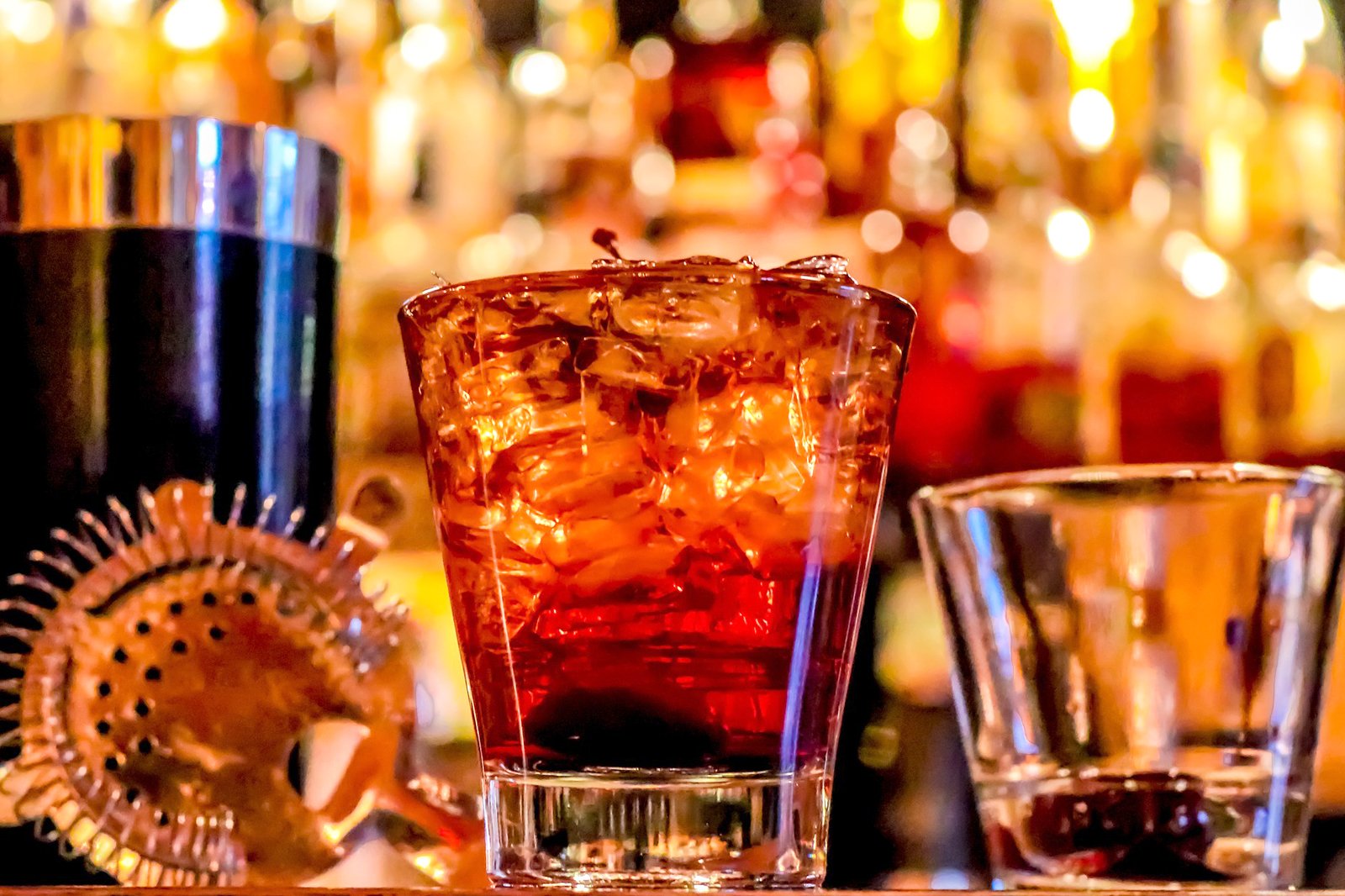 Mata Hari's is one of the most popular speakeasies in Savannah, despite the fact that it's incredibly hard to spot if you don't know just where to look. Located in an alleyway just off River Street, it's tucked away from plain view, so you'll have to keep an eye out for the big wooden door at the bottom of the steps.
Check with local hotels in the area to figure out the password and once you flip the switch and answer correctly, you're transported back to the Roaring Twenties. This swanky bar offers an extensive cocktail list including a flaming absinthe cocktail and classic martinis. If you're looking for some entertainment, grab a ticket for their cabaret shows upon entry.
Location: 306 W Lower, Factors Walk, Savannah, GA 31401, USA
Open: Thursday–Saturday from 9 pm to 3 am (closed Sunday–Wednesday)
Phone: +1 912-272-2848
5
River Street
Evening strolls along the waterfront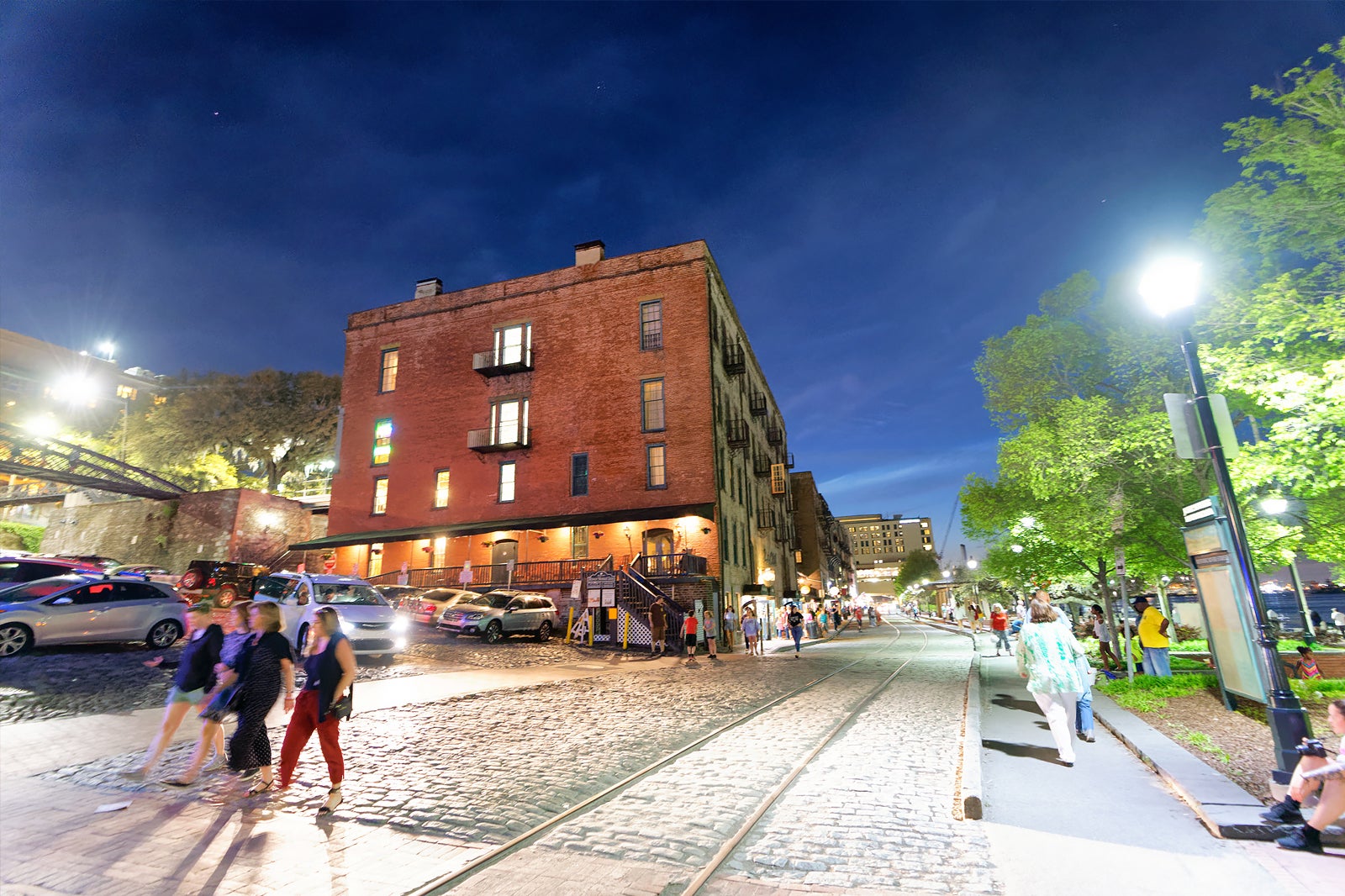 River Street is one of the most popular streets to wander in the city and is one of the hubs for Savannah's nightlife. Located along the Savannah River just north of the historic district, you'll find 9 blocks full of redbrick, historic architecture and plenty of restaurants, bars, and clubs.
If you're looking for a bustling place to grab a drink after dinner, River Street's pubs are always busy and many of them offer beautiful water views. From quaint brewpubs to busy clubs, you can find all types of establishments to enjoy at night. For a more relaxed night, take advantage of Savannah's open-container policy and grab your drink to go for a beautiful stroll along the river.
Location: River St, Savannah, GA 31401, USA
6
Jazz'd Tapas Bar
An intimate basement bar with live music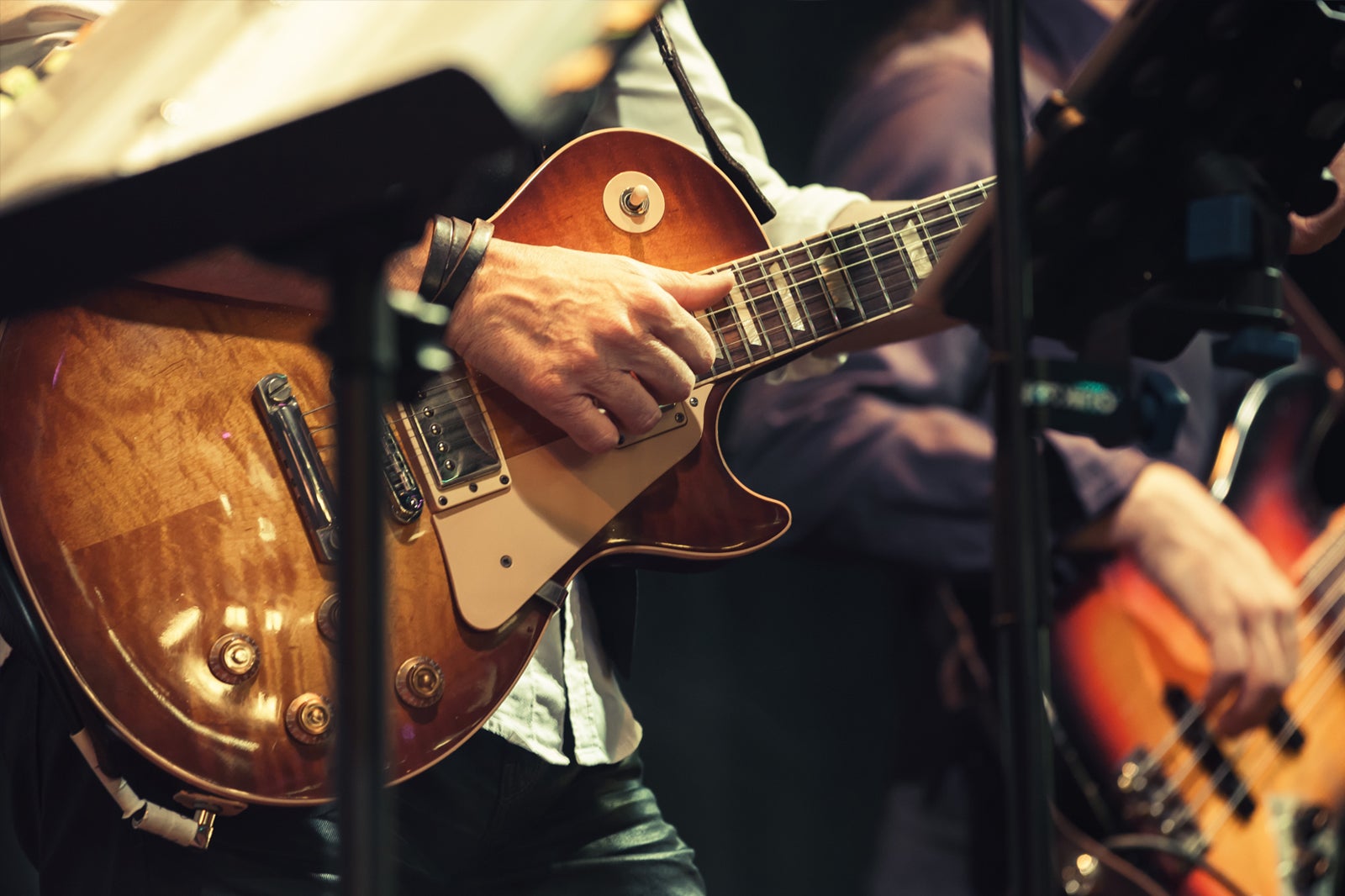 Jazz'd Tapas Bar is a swanky bar in the basement of the Kress Department Store in Savannah's historic district, a block south of Ellis Square. Because Jazz'd is in the basement and lavishly decorated, it gives off an upscale speakeasy vibe that immediately puts you in the mood for a delicious drink.
This bar hosts a variety of music groups from swing and jazz to classic vocals almost every night of the week. Grab a drink from their eclectic cocktail list that has over 25 types of martinis and settle in for some amazing tunes. In addition to cocktails, this bar makes incredible American-style tapas.
Location: 52 Barnard St, Savannah, GA 31401, USA
Open: Wednesday–Thursday from 4 pm to 10 pm, Friday–Saturday from 4 pm to 12 am, Sunday from 4 pm to 10 am (closed Monday–Tuesday)
Phone: +1 912-236-7777
7
Leopold's Ice Cream
Sweet treats at a legendary ice cream shop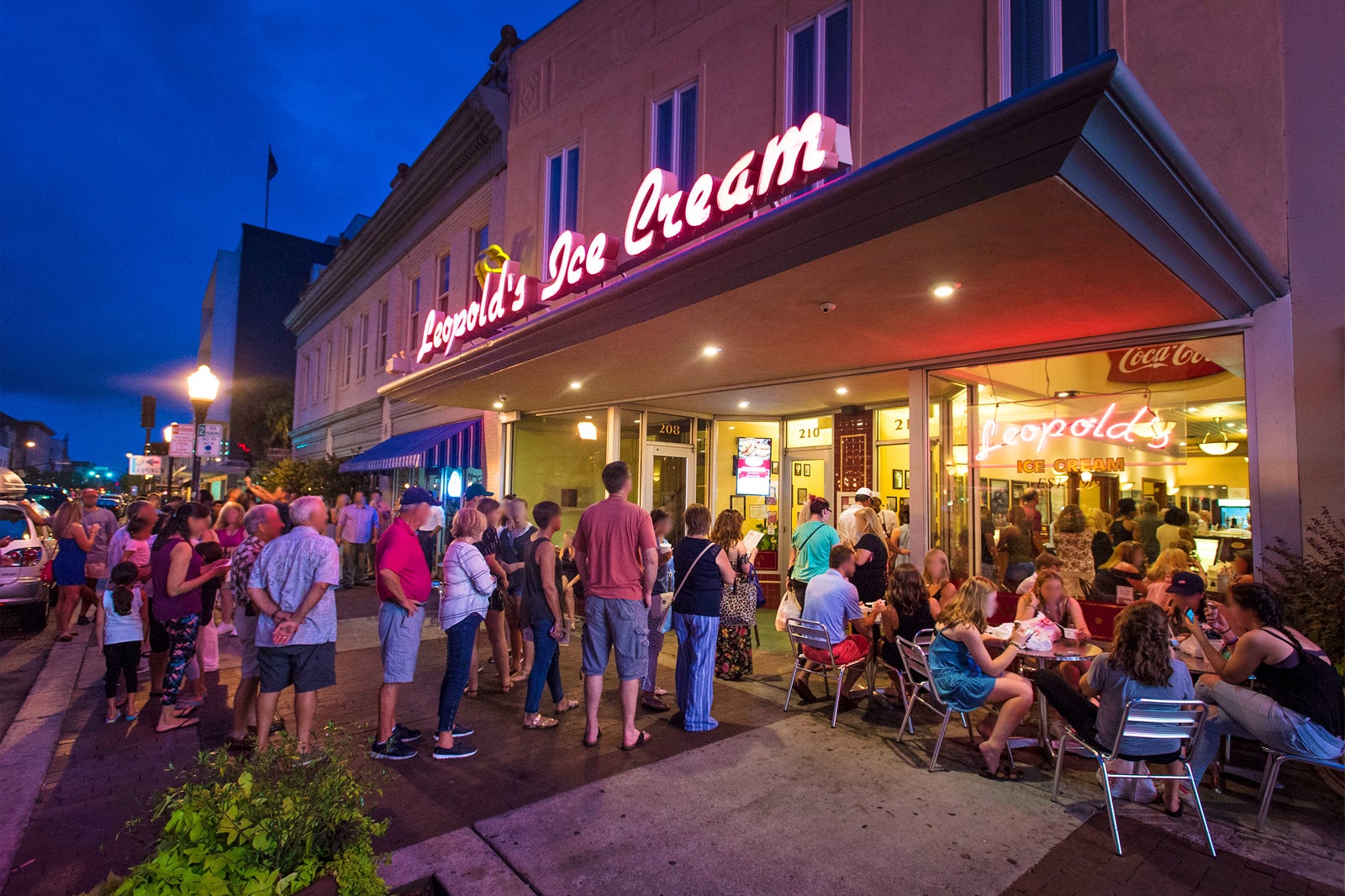 Leopold's Ice Cream is the place to go if you're craving for something sweet in Savannah. Located on Broughton Street in the Historic District, halfway between Oglethorpe Square and Reynolds Square, this shop is hard to miss as there's always a line outside.
A staple in Savannah for over 100 years, Leopold's is a retro ice cream parlor serving homemade super-premium ice cream. Even though there's usually a queue, the wait goes quick so pick from one of their 28 flavors and enjoy a delicious after-dinner treat. If you're feeling adventurous, try their 'tutti frutti' creation.
Location: 212 E Broughton St, Savannah, GA 31401, USA
Open: Daily from 12 pm to 10 pm
Phone: +1 912-234-4442
photo by U.S. Department of Agriculture (CC0 1.0) modified
8
Savannah riverboat cruises
A sunset cruise along the Savannah River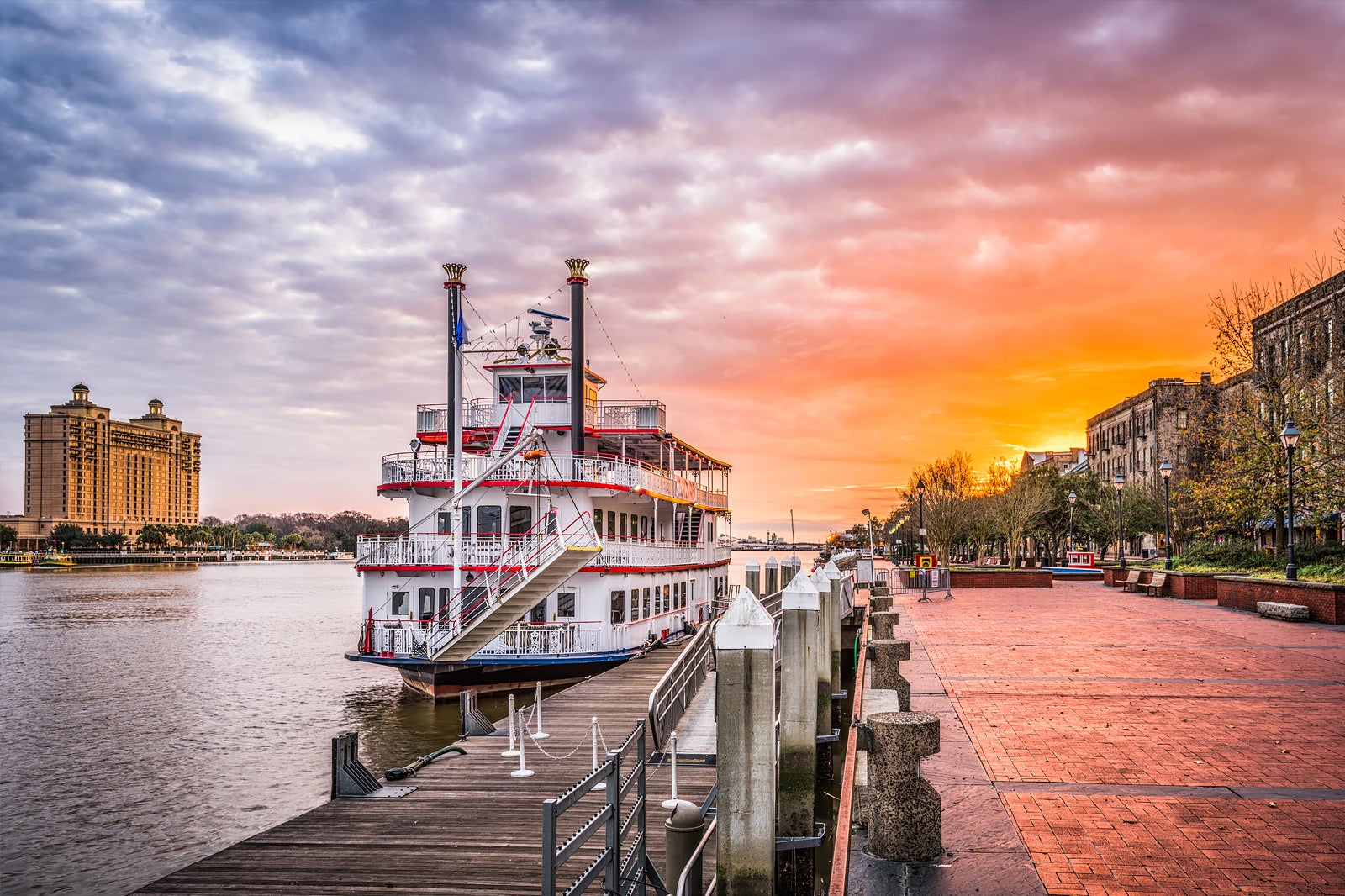 Food
Nightlife
Couples
Photo
One of the best ways to experience the dazzling Savannah River and waterfront is aboard a riverboat cruise. With the entry point right on Bay Street, it's easy to spot these massive riverboat cruises and enjoy some time out on the water.
While there are tons of cruises to choose from, among the most popular ones include dinner, sunset and moonlight cruises under the stars. Reserve your spot in advance and enjoy the views, refreshing breeze, and historical tour aboard the cruise.
9
Rocks on the Roof
Grab a nightcap at this popular rooftop bar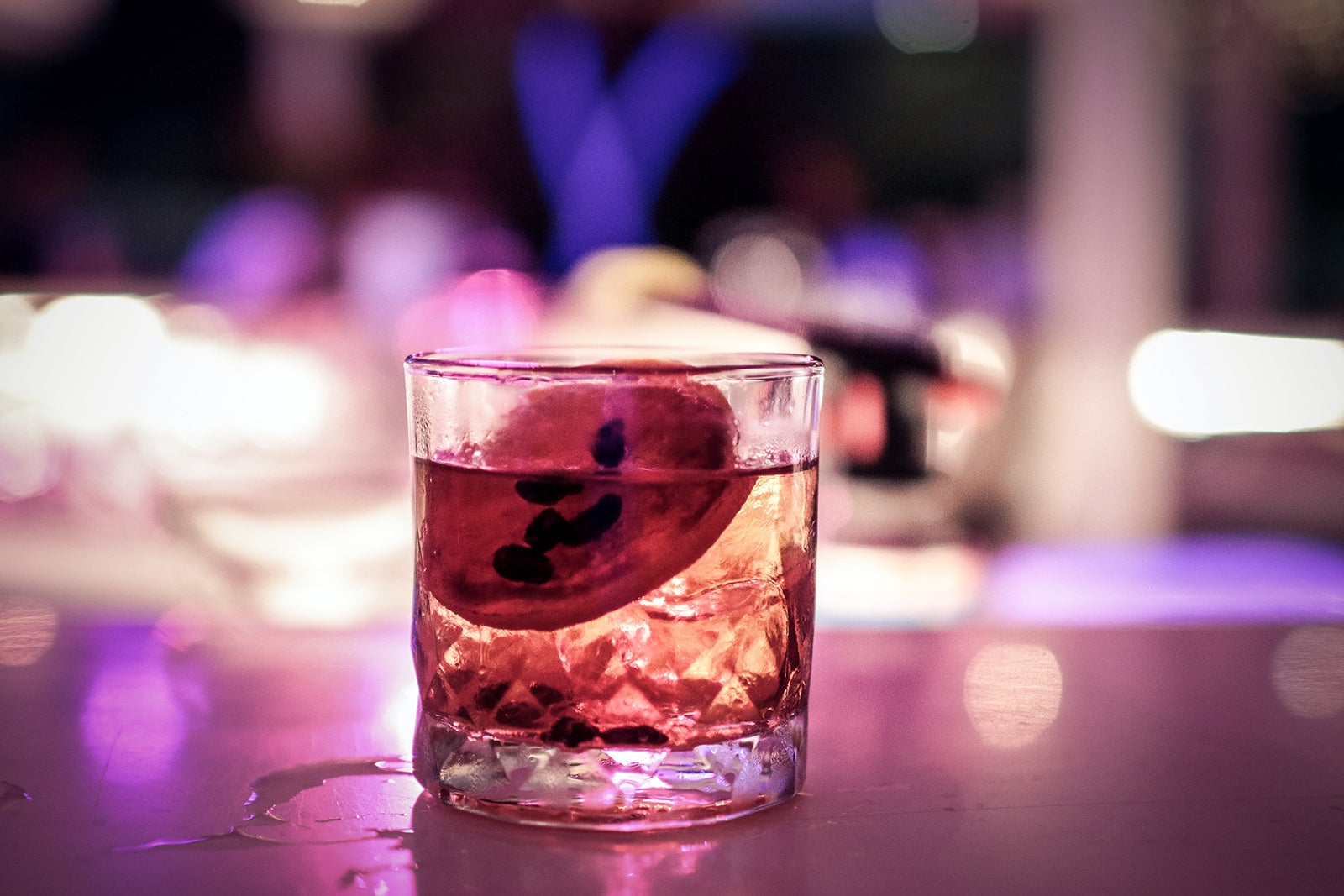 Rocks on the Roof is a rooftop lounge located atop the Bohemian Hotel on River Street. In addition to delicious beverages, this bar features live entertainment, a cozy firepit and one of the best views of the Savannah River.
If you're looking for a small bite to eat after dinner, their menu is filled with tapas-style dishes. Tables outside fill up fast so make sure to head there early if you want to catch a stunning view of the sunset on the water.
Location: 102 W Bay St, Savannah, GA 31401, USA
Open: Monday–Thursday from 4 pm to 11 pm, Friday–Sunday from 11 am to 12 am
10
Savannah's 22 squares
Take a walk through the famous squares at night
Nightlife
Couples
Families
History
Photo
Budget
Savannah is known for its iconic squares and parks that are located all across the city. From cobblestoned pathways to massive oak trees covered in Spanish moss, these historic squares offer the perfect oasis for escaping the southern heat. At night, Savannah's squares are lit by streetlamps giving off a romantic, peaceful vibe.
After enjoying a delicious southern comfort meal, walking through the city's many squares is a great way to wind down. Savannah's downtown district is very walkable so enjoy a stroll through the smaller squares by River Street or head closer to Forsyth Park for a long and relaxing walk.
Back to top