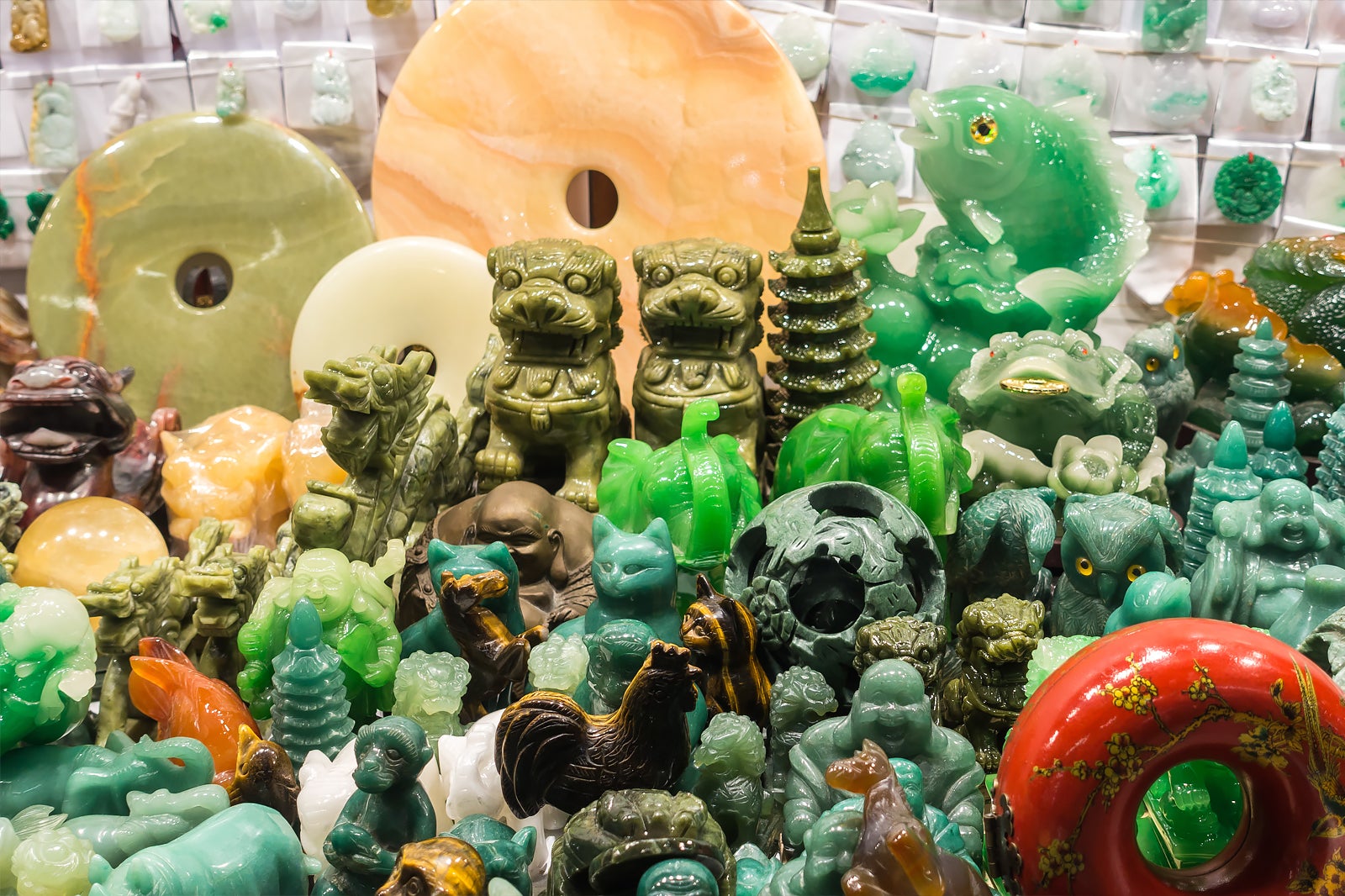 Jade Market is a jewelry wholesale and retail street in Kowloon, about 450 meters southwest of the MTR Yau Ma Tei Station. There are hundreds of jewelers selling precious stones, pearls, and jade of all shapes and sizes. While the stalls carry many of the same good, but prices vary radically depending on the quality of the item.
The traders at Jade Market often drive a hard bargain, but can generally be trusted that their items are as they claim. The market stocks mostly mid-range jewelry and semi-precious stones, so if you're looking for more high-end jade items, there's an entire street of permanent shops next door.
Jade Market Hong Kong - one of the highlights of 14 Best Things to Do in Kowloon and 10 Best Markets in Hong Kong (Read all about Kowloon here)
Jade is believed to bring good luck to its owner, so you'll often see locals (especially the elderly) wearing pendants, bangles, rings, and earrings made with this stone. High-quality jade from the permanent shops usually carries a certificate indicating its grade.
You may not find the highest quality jewelry in Jade Street, but it's still a nice place to buy gifts and souvenirs. Several booths sell Chinese fans, drawings, swords and trinkets. Even if you have no interest in buying jade stone, a visit to this market is still worthwhile.
The market's entrance is at the junction of Canton Road and Jordan Road – look out for a 3-tonne jade stone next to the maps of the market. Vendors on both sides of the street will actively try to attract you to their booths, so expect lots shouting and yelling while you're here.
Jade Market Hong Kong
Location: Junction of Kansu Street and Battery Street, Yau Ma Tei, Kowloon, Hong Kong
Open: Monday–Saturday from 11am to 5.45pm (closed on Sundays)
Back to top