Hong Kong Sevens is by far the biggest sporting event in the calendar and a weekend of rowdy celebrations that brings visitors from all corners of the globe. More beer is drunk over Rugby Sevens weekend than in any other weekend in Hong Kong, which should tell its own story.
Here you will find everything you need to know about the Hong Kong Rugby Sevens tournament: where to watch the action, where to party, the best hotels to book and how to get around. Dress up in costumes, sing and chant with new found friends, drink until you can't see straight…and maybe even watch some international rugby games.
Hong Kong Rugby Sevens Tournament - one of the highlights of 20 Best Things to Do on Hong Kong Island (Read all about Hong Kong here)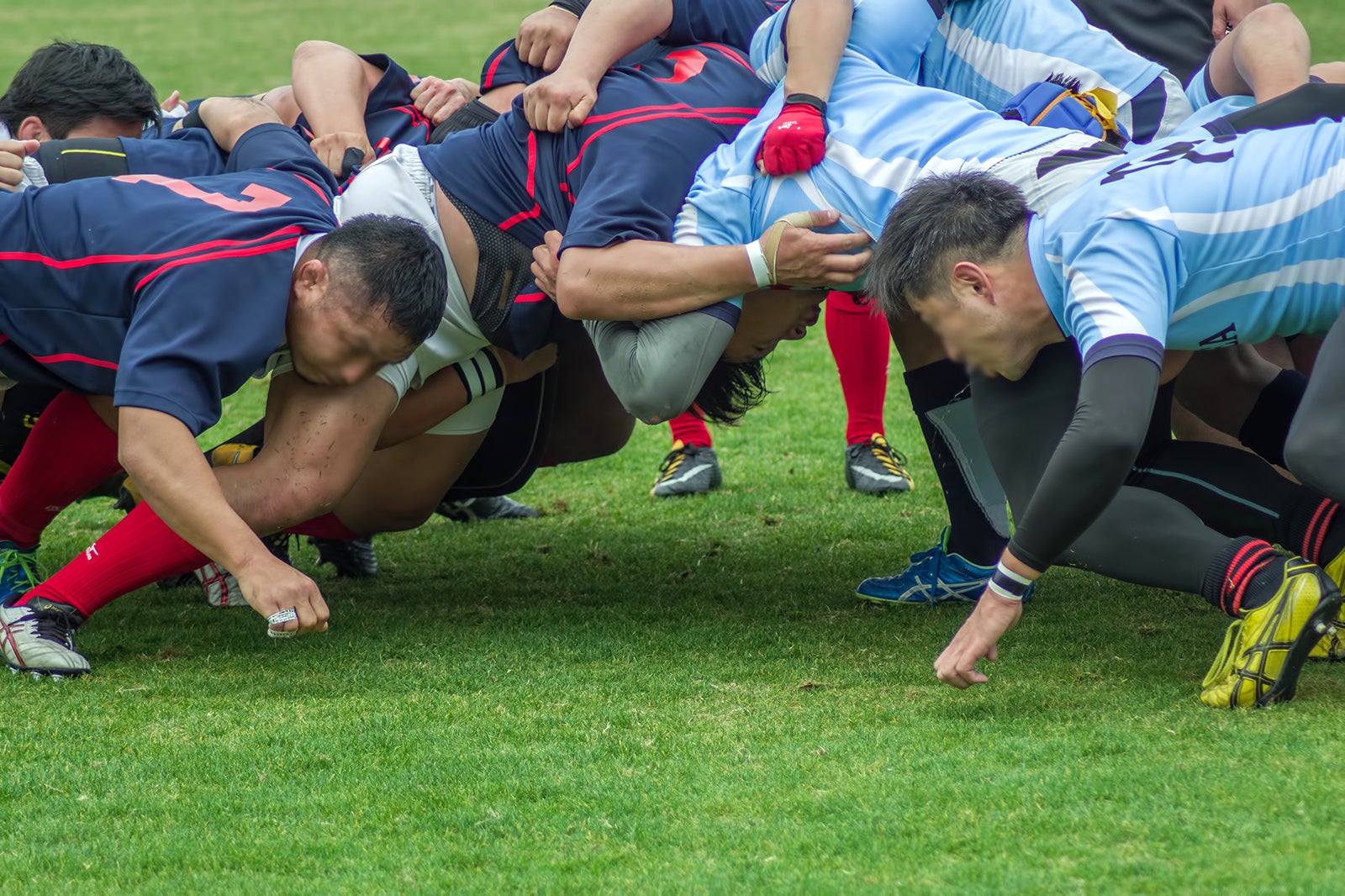 What is Hong Kong Sevens?
As part of the world tour of rugby union seven-a-side competitions, Hong Kong Sevens is the most popular (and most fun) destination on the tour. Held in the spring, around March or April each year, the 28-nation tournament sees the world's finest compete over 3 days; however, much of the appeal of Hong Kong Sevens lies in what happens after the rugby, with the bars of Lan Kwai Fong and SoHo awash with traveling fans, singing and partying late into the night.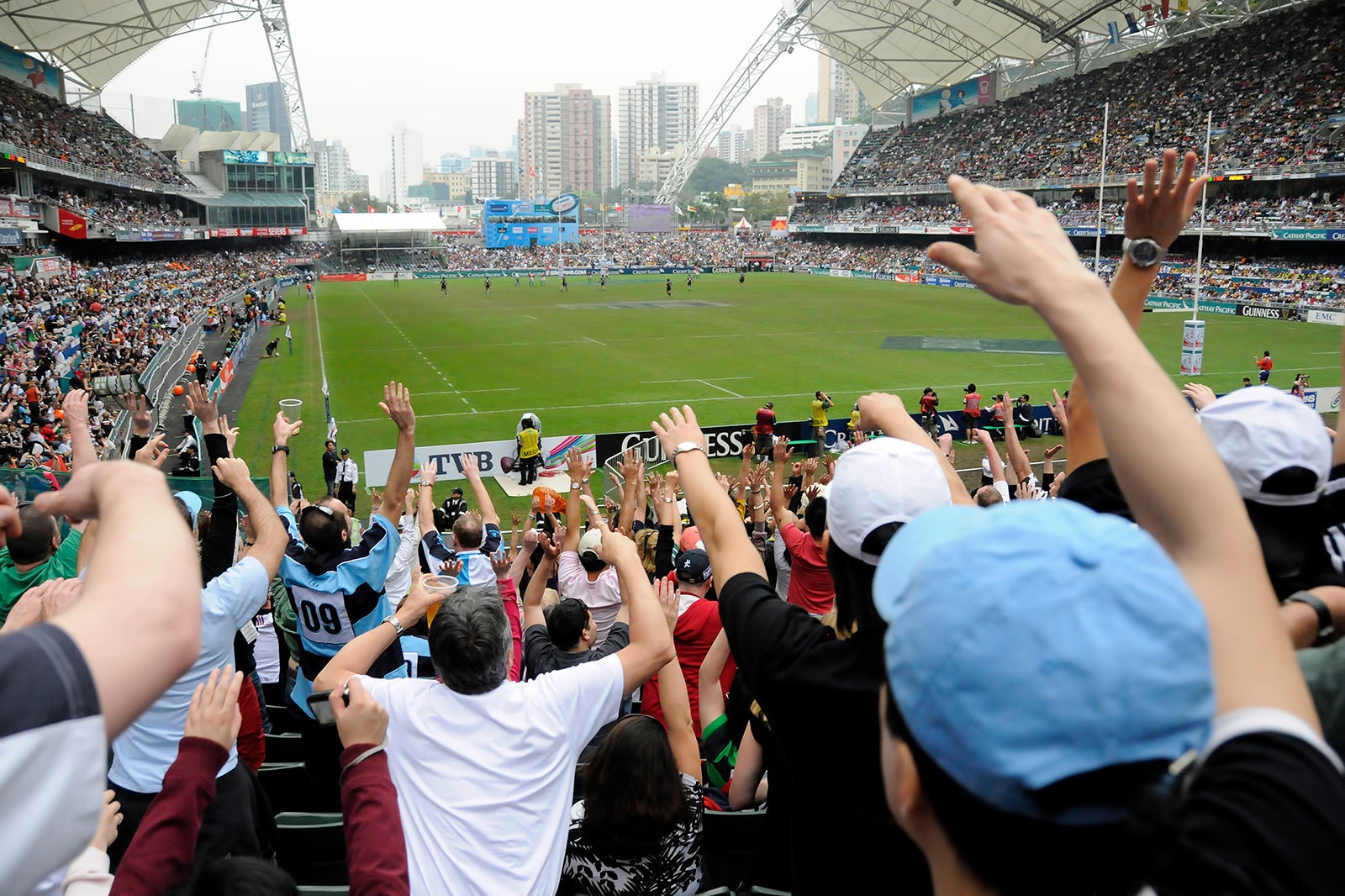 Where to watch Hong Kong Rugby Sevens
All of the matches take place in Hong Kong Stadium, a 40,000-seater capacity ground in Causeway Bay. The closest MTR Station is Causeway Bay, which is by far the best way to get to and from the ground. Take Exit F and follow the signs and the crowds of people to Hong Kong Stadium.
Tickets are allotted on a daily basis, though packages are available offering tickets for all 3 days of action. Tickets for Friday start from HK$350, with Saturday and Sunday starting from HK$800 each. It's worth noting that the stadium sells out quickly and tickets are usually resold at much higher values. It is vital you book in advance from the official website if you want to be assured of a seat. Obviously, tickets for the Sunday are most in demand as this is for the semis and finals of the tournament. Touts on the day will charge ridiculous prices.
If you want to watch the rugby in style, consider a corporate box, which comes with your own seating area, lunch and dinner, full waiter service and free-flow champagne catering to between 20 and 48 people starting from the princely sum of HK$250,000.
If you can't get a ticket to watch live you can still feel the buzz of the crowd in any of the sports bars in downtown Hong Kong. The bars of Lan Kwai Fong in Central Hong Kong should be your first choice, though you might also choose Lockhart Road in Wan Chai if you want cheaper drinks and a 'slightly' less rowdy experience.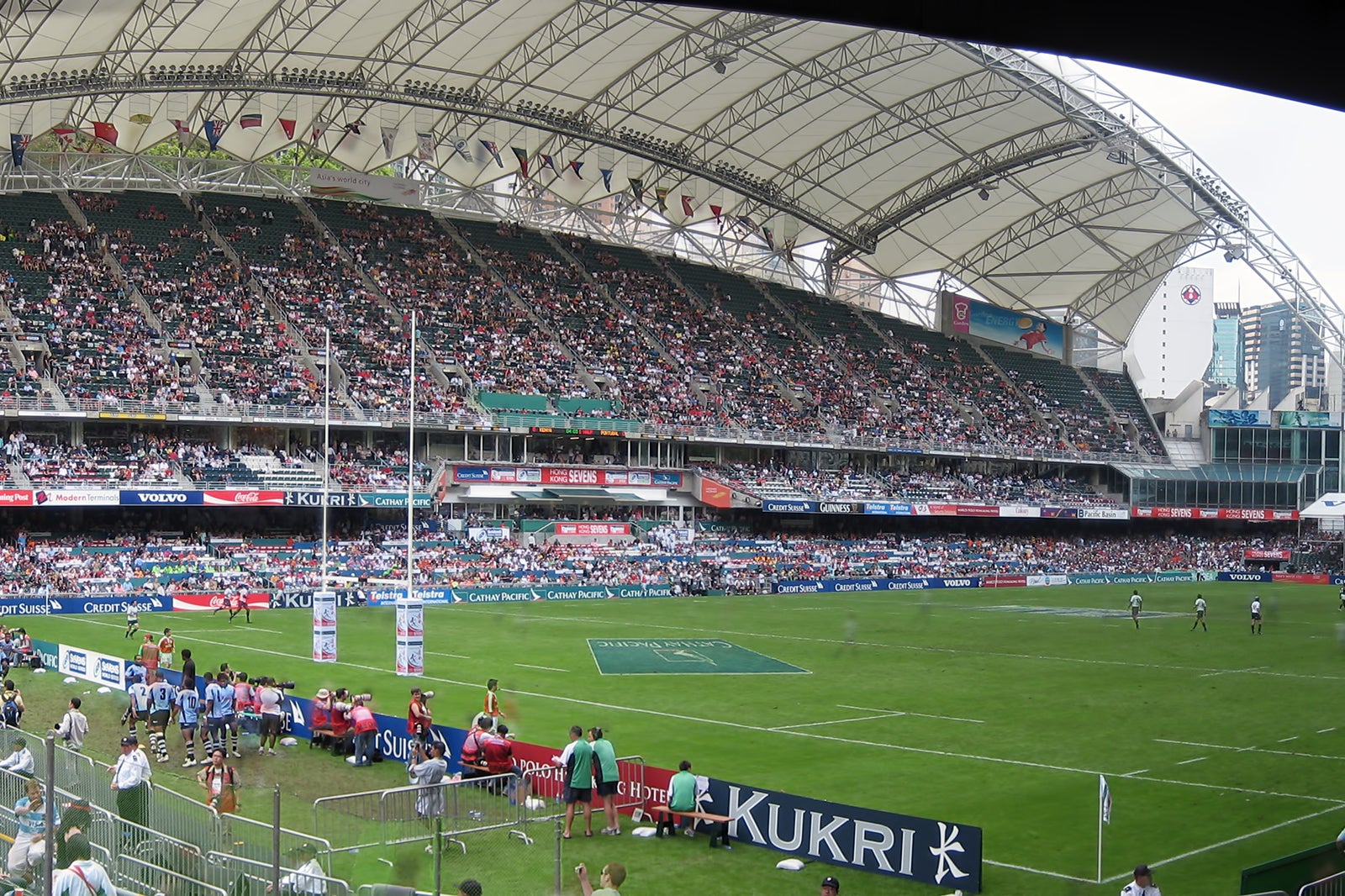 Where is the best place to stay during Hong Kong Rugby Sevens?
As the competition takes place in Hong Kong Stadium, a hotel in Causeway Bay would be the logical choice if you're intending to watch a lot of the live action. This area of Hong Kong is fairly compact so walking around is possible.
If you're thinking of combining a bit of rugby with some city exploration, anywhere in downtown Hong Kong or Kowloon is also a possibility thanks to the excellent public transportation in Hong Kong. If you want to be a staggering distance from the last pub, we suggest a hotel in Central.
Hong Kong Rugby Sevens Tournament
Location: Hong Kong Stadium, 55 Eastern Hospital Road So Kon Po, Hong Kong
Phone: +852 2504 8311
Back to top